Forget Elections—Labor Needs To Get Back to Its Roots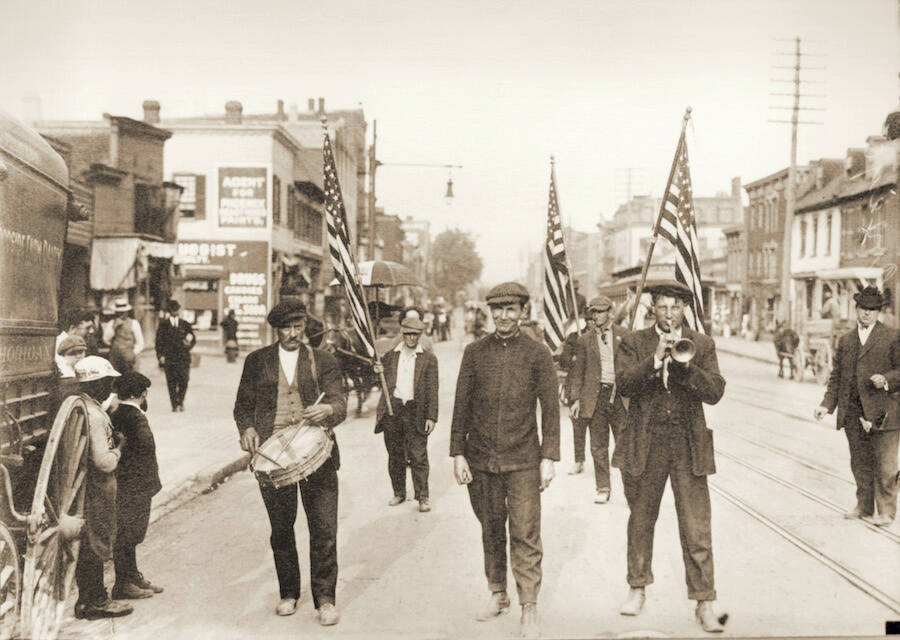 With the midterms behind us, we have Nov. 4, 2020, to look for­ward to — labor's next morn­ing after. On Nov. 5, 2008, we were euphor­ic and full of delu­sion­al hope over the immi­nent pas­sage of the Employ­ee Free Choice Act and the restora­tion of labor. On Nov. 9, 2016, we were par­a­lyzed by despair and denial.
At this point, bet­ting our future on the next bru­tal mat­ing rit­u­al of Repub­li­cans and Democ­rats is not a bet most work­ers are will­ing to take. Since the 1950s, union mem­ber­ship decline has been a straight line down­ward, regard­less of which polit­i­cal par­ty is in pow­er. Only 10.7 per­cent of work­ers are union­ized; an enor­mous 89.3 per­cent are not. That's too low to make much dif­fer­ence for most peo­ple in most places — more mol­e­c­u­lar lev­el Brown­ian motion than labor move­ment. No threat to wealth, the wealthy, or pow­er­ful. Much worse, no voice or pow­er of, by, or, for work­ers. Instead, orga­nized labor has become so mar­gin­al Don­ald Trump has been able to usurp its role as the emo­tion­al voice for workers.
The econ­o­my is doing great — apart from work­ers. Wages remain stag­nant. Forty per­cent of adults don't have enough sav­ings to cov­er a $400 emer­gency expense such as a car repair or med­ical cri­sis. Forty-three per­cent of fam­i­lies aren't mak­ing enough to cov­er month­ly liv­ing expens­es. Uncer­tain work, unpre­dictable work hours, manda­to­ry over­time, dic­ta­to­r­i­al boss­es, mis­er­able job stan­dards, cre­ate day-to-day des­per­a­tion with psy­cho­log­i­cal and social tolls. The labor mar­ket is ripe for an orga­niz­ing explo­sion, but it isn't happening.
Blam­ing the rich and the Repub­li­cans is great sport. The income inequal­i­ty research indus­try is boom­ing and there is no need to cat­a­log Repub­li­can offens­es — they cam­paign on them. Long ago, labor out­sourced its rep­re­sen­ta­tion in the pub­lic sphere to the Demo­c­ra­t­ic Par­ty, and in the process become a depen­dent fran­chise and an easy tar­get. But the truth is that the Democ­rats patron­ize labor on a good day, sell us out on a bad day, and ignore us on most days. (I speak as a recov­er­ing politi­cian, a Demo­c­rat who ran and was elect­ed four times to city coun­cil in my heav­i­ly Repub­li­can small town.)
Par­ti­san and com­pet­i­tive think­ing insid­i­ous­ly affects behav­ior. Fifty per­cent plus one pass­es for sol­i­dar­i­ty. Union­ists suc­cumb to polit­i­cal speak, sound­ing like Wash­ing­ton rather than ​"folks ​'round here." We blame work­ers for vot­ing for Repub­li­cans. If they'd only vot­ed how we told them, then we could get things done. We estrange our­selves from large chunks of work­ers while giv­ing our­selves an excuse for fail­ure. We don't have to do the hard work of build­ing a move­ment, we only need to win an election.
Maybe we should rethink that.
Instead, start today from where we are and who we are. Sim­ple col­lec­tive self-rep­re­sen­ta­tion with­out insti­tu­tion­al, ide­o­log­i­cal, par­ti­san or mon­e­tary arti­fice. Under­stand­ing who and where we are by our own com­pass; by our own posi­tion, not oppo­si­tion. This requires rad­i­cal respect for our fel­low work­ers. For lack of a bet­ter term, this unadorned orga­niz­ing is social organizing.
Abun­dant exam­ple are scat­tered across the globe and buried in his­to­ry. I wit­nessed a jar­ring work­er tuto­r­i­al in social orga­niz­ing in Poland in 1995, when AFL-CIO des­per­a­tion over labor's decline and my good luck result­ed in a leave of absence from my elect­ed Cen­tral Labor Coun­cil job to work in those ear­ly post-rev­o­lu­tion­ary years with Sol­i­darnosc lead­er­ship and mem­ber­ship. Iron­i­cal­ly, at one point, I was tasked with orga­niz­ing a con­fer­ence on Amer­i­can union orga­niz­ing for Sol­i­darnosc activists. Just as the accom­plished, well-edu­cat­ed Amer­i­can orga­niz­er sent over by the union began his pre­sen­ta­tion, one Sol­i­darnosc mem­bers inter­rupt­ed to ask, ​"What do you mean ​"orga­nize?" A moment of awk­ward silence fol­lowed. Then, char­i­ta­bly, anoth­er Sol­i­darnosc mem­ber sug­gest­ed, ​"Do you mean, join our orga­ni­za­tion and we'll rep­re­sent you?" The orig­i­nal ques­tion­er jumped in, ​"we had 45 years of that with the Com­mu­nists." The work­ers then came up with their own def­i­n­i­tion of orga­niz­ing, ​"co-cre­at­ing our own future." Work­ers, not the orga­ni­za­tion, were the of, by, and for.
Post-rev­o­lu­tion, the sol­i­dar­i­ty of Sol­i­darnosc dis­si­pat­ed into polit­i­cal and insti­tu­tion­al fac­tions. Still, this inci­dent illu­mi­nates the com­mit­ment to social orga­niz­ing that helped spark this trans­for­ma­tion­al work­er movement.
When all we have is each oth­er, social orga­niz­ing is where we start.
Back to basics
Social orga­niz­ing built the labor move­ment. When 19th-cen­tu­ry Amer­i­can work­ers had vir­tu­al­ly no insti­tu­tion­al or polit­i­cal voice or pow­er, they devel­oped both by car­ing about and for each oth­er. In near­ly every inch of Amer­i­ca, now-for­got­ten work­ers came togeth­er with that def­i­n­i­tion of solidarity.
In 1894, Coxey's Army of unem­ployed work­ers marched on Wash­ing­ton, D.C., to press for defined jobs and mean­ing­ful work. As branch­es passed through cities and towns — includ­ing Fort Wayne, Ind., where I work — the Fort Wayne Sen­tinel report­ed that local res­i­dents lav­ished them for days with food and social sup­port. That same year the Sen­tinel report­ed, dur­ing the 1894 street­car work­ers strike, house­wives direct­ed gar­den hoses at scabs, horse drawn wag­ons inex­plic­a­bly unhitched on the tracks, and rid­ers boy­cotted the street­cars. Return­ing the sol­i­dar­i­ty, strik­ing work­ers went back to work with­out pay for one day, Memo­r­i­al Day, so cit­i­zens could vis­it the graves of their depart­ed. Street­car work­ers and the com­mu­ni­ty won that strike.
Thou­sands of lost his­to­ries such as this were the roots of com­mu­ni­ty-based sol­i­dar­i­ty in indus­tri­al Amer­i­ca. This pop­ulist indus­tri­al sol­i­dar­i­ty spawned and sup­port­ed Workingmen's Asso­ci­a­tions, Knights of Labor chap­ters, Trade and Labor Coun­cils. In turn, these orga­ni­za­tions incu­bat­ed work­er orga­niz­ing in work­places and by trades. Local sol­i­dar­i­ty in rail­road towns and com­pa­ny towns built the insti­tu­tion­al, polit­i­cal and legal foun­da­tions for our now dimin­ished labor move­ment. The grav­i­ty of sol­i­dar­i­ty drew work­ers into the inex­tri­ca­bly inter­twined labor mar­ket and com­mu­ni­ty. This cul­ture of sol­i­dar­i­ty includ­ed direct actions such as strikes and boy­cotts but, more con­sis­tent­ly and impor­tant­ly, direct edu­ca­tion of, by, and for work­ers. Apprenticeships,"lectors" who read news and lit­er­a­ture aloud to work­ers on the job, and inten­tion­al­ly edu­ca­tion­al union meet­ings with guest speak­ers were part of the cul­ture. Rail­road and indus­tri­al activ­i­ties were reg­u­lar­ly cov­ered in news­pa­pers, with the report­ing focused more on work­ers than boss­es or busi­ness. Jour­nal­ists, whether Knights of Labor or just sol­id reporters, would com­mon­ly cov­er union fed­er­a­tion meet­ings. Union lead­ers under­stood their role as rep­re­sen­ta­tive in the com­mu­ni­ty meant talk­ing to reporters, not hid­ing from them. Every­body had some­thing to teach and every­body had some­thing to learn and an oblig­a­tion to do both. A cul­ture of sol­i­dar­i­ty meant edu­cate to orga­nize and orga­nize to educate.
We could take solace and avoid the hard work of orga­niz­ing by say­ing Amer­i­ca and the world are dif­fer­ent now. Our mid-twen­ti­eth cen­tu­ry insti­tu­tions, econ­o­my, and democ­ra­cy have decayed or been hijacked. Our social divi­sions can feel insur­mount­able. We've been sliced, diced, mon­e­tized, politi­cized and con­trolled. But are we so spe­cial that we now believe we are the first ones to have ever been so seem­ing­ly screwed? Or do we try to work through it, exper­i­ment based on what we can learn from oth­er times and places and most impor­tant­ly, each other?
Social orga­niz­ing after the
2008

Recession

Since 1996, the folks I've been work­ing with at the Work­ers' Project, a research and edu­ca­tion non­prof­it, have exper­i­ment­ed scores of times with work­er rep­re­sen­ta­tion through social orga­niz­ing. We are con­fi­dent and hope­ful var­i­ous con­fig­u­ra­tions of work­ers have been exper­i­ment­ing else­where. We have learned some lessons from our suc­cess­es and failures.

One instruc­tive exper­i­ment focused on unem­ployed work­ers' social orga­niz­ing for voice and pow­er dur­ing and after the Great Reces­sion. A tor­rent of most­ly non-union work­ers, new­ly job­less after the eco­nom­ic crash, were over­whelm­ing Indiana's unem­ploy­ment offices. The state offices were dis­in­ter­est­ed or active­ly hos­tile toward unem­ployed work­ers. Mean­while, a union foundry in Kendal­lville, Ind., was clos­ing. Bust­ed up from years of foundry work, the union pres­i­dent, the late Leonard Hicks, was ready to quit work­ing but unwill­ing to stop rep­re­sent­ing his folks as their lives became even tougher.

To address both prob­lems, we brought togeth­er union and non-union unem­ployed work­ers to bar­gain with the state through a social orga­niz­ing move­ment, Unem­ployed and Anx­ious­ly Employed Work­ers' Ini­tia­tive (UAEWI).

First, we lis­tened as work­ers talked about prob­lems and pos­si­bil­i­ties. We devel­oped a sur­vey. In the unem­ploy­ment office park­ing lot, we sur­veyed unem­ployed work­ers about how the office was doing, giv­ing them a report card style sur­vey to fill out, with a vol­un­tary con­tact infor­ma­tion form. The state imme­di­ate­ly called in the police to stop us — claim­ing that we were tres­pass­ing on pri­vate prop­er­ty, because the pub­lic office was housed on pri­vate land. We alert­ed the media and the state received reams of bad press.

The media cov­er­age revealed to unem­ployed work­ers they could have a voice and some grit. They began com­ing to UAEWI meet­ings, along with the union foundry work­ers in Kendal­lville and oth­er union shops expe­ri­enc­ing mass lay-offs.

Our ranks of unem­ployed includ­ed work­ers with edu­ca­tion and expe­ri­ence in soci­ol­o­gy. With their assis­tance, the UAEWI mem­bers devel­oped and col­lect­ed a broad­er sur­vey. The sur­vey was not for aca­d­e­m­ic pub­li­ca­tion, or for an insti­tu­tion­al or par­ti­san agen­da, but instead for col­lec­tive self-rep­re­sen­ta­tion. It had real val­ue for pub­lic pol­i­cy dis­cus­sions. While the polit­i­cal class talk about or for unem­ployed work­ers, UAEWI rep­re­sent­ed themselves.

Mem­ber­ship was deter­mined sole­ly by a worker's deci­sion to par­tic­i­pate in the sur­vey — to vol­un­tar­i­ly add their voice to the col­lec­tive voice. We con­duct­ed edu­ca­tion and train­ing class­es as well as group talk ses­sions. With­in a few months, the State's unem­ploy­ment office man­age­ment found them­selves in a union hall across a bar­gain­ing table with the UAEWI mem­bers. Unem­ployed work­ers gained improve­ments in ser­vices includ­ing increased staffing and train­ing but most impor­tant­ly, a change in atti­tude. Most UAEWI mem­bers had nev­er been union mem­bers; they learned how col­lec­tive rep­re­sen­ta­tion worked.

For sev­en more years, we con­tin­ued and broad­ened annu­al UAEWI sur­veys. We gath­ered respons­es wher­ev­er we found voice­less work­ers: from folks leav­ing food banks, town­ship trustee office, social ser­vice agen­cies, a mobile Mex­i­can con­sulate. Our sam­pling exceed­ed 500 work­ers in 2012 and was con­duct­ed in Eng­lish, Span­ish and Burmese. We asked more wide-rang­ing pub­lic pol­i­cy ques­tions about issues such as eco­nom­ic development.

UAEWI mem­bers bar­gained in the pub­lic sphere. They pro­vid­ed local, state, nation­al, and inter­na­tion­al jour­nal­ists with reli­able data, con­text, and access to social­ly orga­nized work­ers will­ing to tell com­pelling sto­ries. Some of the sto­ries sup­port­ed Peabody and Mur­row inves­tiga­tive jour­nal­ism awards. UAEWI mem­bers pre­sent­ed sur­vey report results to oth­er mem­bers and the pub­lic in very pub­lic for­mats rang­ing from tra­di­tion­al research reports to semi-the­atri­cal pre­sen­ta­tions and even cin­e­mat­ic effort. UAEWI mem­bers attend­ed and spoke before the local and state Work­force Invest­ment Boards, Fort Wayne City Coun­cil, Indi­ana Eco­nom­ic Devel­op­ment Board meetings.

Just the mod­est act of ask­ing drew work­ers out of their iso­la­tion and into sol­i­dar­i­ty. Many UAEWI mem­bers were per­son­al­ly trans­formed as they shaped pub­lic poli­cies from the unem­ploy­ment office to well beyond. They were co-cre­at­ing their own futures. This was bar­gain­ing in the pub­lic sphere, bar­gain­ing with the state over the terms and con­di­tions of our lives. Bar­gain­ing with state is foun­da­tion­al for work­er rep­re­sen­ta­tion in the 21st cen­tu­ry, just as it was with Coxey's Army in the 19th cen­tu­ry. The UAEWI effort only updat­ed rep­re­sen­ta­tion with a bit of work­er-dri­ven social science.

In the last four years, learn­ing from UAEWI effort, we have exper­i­ment­ed with apply­ing work­er-dri­ven social sci­ence and apply­ing it to orig­i­nal NLRA intent in work­places. In labor speak work­ers devel­op ​"non-cer­ti­fied minor­i­ty sta­tus bar­gain­ing" with so-called pri­vate employ­ers. (This less legal­is­tic, insti­tu­tion­al and tech­no­crat­ic orga­niz­ing was envi­sioned when the NLRA was first imple­ment­ed — the work of labor law schol­ar, the late Clyde Sum­mers, as well as Charles Morris's in Blue Eagle At Work doc­u­ments this well.)

We helped work­ers devel­op their col­lec­tive under­stand­ing and iden­ti­ty to, from the worm's eye view, make things bet­ter at work. In each case, their self-orga­niz­ing grew from ​"sol­i­dar­i­ty self­ies" and a sur­vey of co-work­ers' thoughts on the terms and con­di­tions of their employ­ment. It is simul­ta­ne­ous­ly con­cert­ed activ­i­ty under the NLRA and, more impor­tant­ly, intel­lec­tu­al prop­er­ty owned by the work­ers. We pro­vid­ed sup­port­ive research and edu­ca­tion for Lati­na work­ers at a man­u­fac­tur­ing plant; sub-con­tract­ed work­ers at a retail out­let; and Burmese work­ers at a man­u­fac­tur­ing plant. One group faced unsafe work con­di­tions caus­ing mis­car­riages. The sec­ond faced a clas­sic bul­ly­ing boss cul­ture. The third faced sys­tem­at­ic eth­nic and lan­guage discrimination.

We pro­vid­ed them access to social sci­ence, legal sup­port, and social orga­niz­ing tal­ent, as well as a place in our com­mu­ni­ty of sol­i­dar­i­ty. We sup­port­ed their con­ver­sa­tions to devel­op strate­gies to nego­ti­ate with the boss. They suc­ceed­ed on their own terms. First the sur­vey process over­came employ­er-imposed iso­la­tion. Work­ers expe­ri­enced their own work­place ​"me too" rev­e­la­tions which led to col­lec­tive voice. They built their rep­re­sen­ta­tion­al pow­er by devel­op­ing a research report on their work lives that became col­lec­tive­ly owned and copy­right­ed intel­lec­tu­al prop­er­ty with real bar­gain­ing val­ue. Each unit could choose to share the find­ings with who­ev­er they decide in the pub­lic-pri­vate spec­trum: media, gov­ern­ment reg­u­la­tors, elect­ed offi­cials, cus­tomers, sup­pli­ers, com­peti­tors, stock­hold­ers or, if will­ing, across the table with the boss.

The Lati­na fac­to­ry work­ers met with the plant own­er to present their find­ings. Safe­ty con­di­tions improved, mater­ni­ty leaves were grant­ed, healthy babies were born, and lit­tle Jose Manuel now attends our events. Some of the work­ers were fired, most moved on to oth­er jobs, some won legal set­tle­ments. Most remain active in the His­pan­ic Work­ers Circle.

The sub­con­tract­ed retail work­ers suc­cess­ful­ly con­front­ed top nation­al cor­po­rate man­age­ment. They end­ed the bul­ly­ing man­age­ment cul­ture and main­tain an ongo­ing social ​"sol­i­dar­i­ty union" col­lect­ing no dues and par­tic­i­pat­ing in all Work­ers' Project activities.

The Burmese fac­to­ry work­ers efforts are ongo­ing. They con­sti­tute a sig­nif­i­cant por­tion of our Burmese Work­ers Cir­cle which is devel­op­ing as a work­ers' and civ­il rights organization.

Stay tuned for more news: All groups con­tin­ue full-throat­ed par­tic­i­pa­tion in Work­ers' Project activ­i­ties and Fort Wayne's huge annu­al Labor Day picnic.

We think col­lec­tive intel­lec­tu­al prop­er­ty is an intrigu­ing inno­va­tion. As work­ers we are robbed of our intel­lec­tu­al prop­er­ty as employ­ers pick our brains, pick our pock­ets, only to pick up and leave us job­less. As con­sumers, our data has col­lect­ed by oth­ers, mon­e­tized and politi­cized at our expense to ben­e­fit wealth. Intel­lec­tu­al prop­er­ty we own col­lec­tive­ly can help us bar­gain with any­one in the pow­er spec­trum, from pri­vate employ­er to the state.

Own­ing our own voic­es and pow­er, col­lec­tive human agency, is our democ­ra­cy where we work and where we live. Valu­ing each oth­er, shar­ing our expe­ri­ences, infor­ma­tion, ideas, and respect seems a great place to start espe­cial­ly when you are start­ing at scratch. Social orga­niz­ing, old school or inno­v­a­tive, is still solidarity.

This arti­cle was sup­port­ed by the Eco­nom­ic Hard­ship Report­ing Project.
Tom Lewandows­ki
is co-founder and direc­tor of the Work­ers' Project in Fort Wayne, Ind.