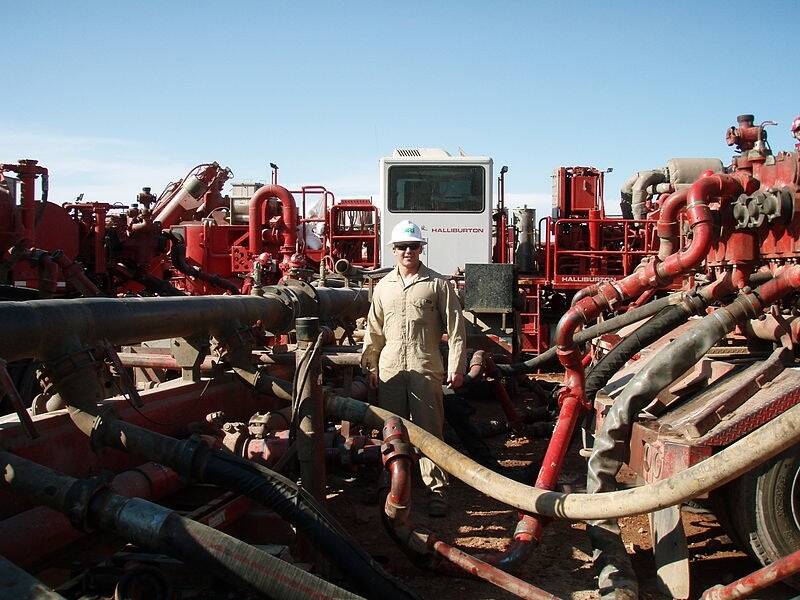 This month, the AFL-CIO unveiled its annu­al ​"Death on the Job" report, which high­lights the often-over­looked toll of work­place acci­dents and fatal­i­ties. This year's biggest take­away: the dan­ger­ous — and dead­ly — con­se­quences of America's frack­ing-fueled oil and gas boom.
In recent years, deaths in the oil and nat­ur­al gas indus­try have seen an espe­cial­ly sharp rise. The toll jumped by a stun­ning 23 per­cent in 2012 alone. This trend dates back to 2008, when hor­i­zon­tal drilling and hydraulic frac­tur­ing, or ​"frack­ing," ush­ered in a new wave of oil and gas drilling across the nation. Frack­ing ​"boom towns" in states like North Dako­ta and Wyoming, rich in the kinds of shale for­ma­tions that frack­ers lust after for their oil and gas deposits, have in turn seen a wave of indus­try-relat­ed acci­dents and health problems.
​"The esca­lat­ing fatal­i­ties and injuries in the oil and gas extrac­tion indus­try demand inten­sive and com­pre­hen­sive inter­ven­tion," the AFL-CIO's report reads. ​"With­out action, the work­place fatal­i­ty cri­sis in this indus­try only will get worse as pro­duc­tion inten­si­fies and expands."
Oil and nat­ur­al gas indus­try work­ers reg­u­lar­ly face haz­ards such as burns and expo­sure to tox­ic sub­stances, which can lead to seri­ous injuries or even death. But there's rea­son to believe that frack­ing work­ers face fur­ther dan­gers, the long-term con­se­quences of which may not yet have even begun to man­i­fest fully.
Use of frac sand, which typ­i­cal­ly has high sil­i­ca con­tent, is an inte­gral part of the frack­ing process. In indus­try-speak, it's known as a ​"prop­pant": Inject­ed deep into rock for­ma­tions, frac sand cre­ates fis­sures in the ground, releas­ing oil and gas. Recent stud­ies sug­gest that frack­ing work­ers are at par­tic­u­lar­ly high risk of expo­sure to sil­i­ca dust from that frac sand. Over time, sil­i­ca dust expo­sure can cause can­cer, sil­i­co­sis and oth­er fatal diseases.
But while labor has decried the dan­gers asso­ci­at­ed with frack­ing, some unions have been tak­ing increas­ing­ly aggres­sive stances in favor of the prac­tice. In a bid to reverse dev­as­tat­ing job loss­es, ener­gy and con­struc­tion unions have entered into labor-man­age­ment part­ner­ships with the Amer­i­can Petro­le­um Insti­tute (API) and oth­er indus­try groups, lin­ing up along­side the same inter­ests that oppose union orga­niz­ing efforts and tougher safe­ty regulations.
​"We hear a lot of com­mo­tion from those who want to unnec­es­sar­i­ly lim­it job growth, force high­er ener­gy bills on us all and sti­fle oppor­tu­ni­ty tied to this abun­dant domes­tic ener­gy source that is improv­ing our envi­ron­ment and our stan­dard of liv­ing," declared Den­nis Mar­tire, vice pres­i­dent and Mid-Atlantic region­al man­ag­er of the Labor­ers' Inter­na­tion­al Union of North Amer­i­ca (LIU­NA) (an affil­i­ate of the AFL-CIO's Build­ing Con­struc­tion Trades Depart­ment), in an pro-frack­ing op-ed that he co-authored with a local Penn­syl­va­nia-based Cham­ber of Com­merce pres­i­dent. In a recent state­ment to the Asso­ci­at­ed Press, Mar­tire called shale drilling a ​"life­saver and a life­line for a lot of work­ing families."
This rais­es the ques­tions of whether some unions are tak­ing a con­tra­dic­to­ry approach to work­place safe­ty in the oil and gas indus­try: urg­ing inter­ven­tion to stop acci­dents while encour­ag­ing expan­sion of a prac­tice that has increased them. Crit­ics say this approach is a self-defeat­ing one. Now, this ten­sion is play­ing out in a fight over a long-await­ed fed­er­al rule that would lim­it work­ers' expo­sure to sil­i­ca dust.
Unions say ​

'

frack it'
Sil­i­ca expo­sure is one of the old­est known work­place dan­gers, but the fed­er­al stan­dards reg­u­lat­ing it are more than four decades out of date, leav­ing them out of sync with both changes in the nature of work­ers' expo­sure and the sci­ence sur­round­ing sil­i­ca-relat­ed dis­eases. Now, after years of entreaties by work­place safe­ty advo­cates, there could be a light at the end of the tun­nel for sil­i­ca-exposed workers.
In April, the Occu­pa­tion­al Safe­ty and Health Admin­is­tra­tion (OSHA) con­clud­ed pub­lic hear­ings for a new rule that would effec­tive­ly halve the per­mis­si­ble expo­sure lim­its for ​"res­pirable crys­talline sil­i­ca" — that is, the par­ti­cles that, inhaled over time, can lead to sil­i­co­sis and oth­er dis­eases. OSHA esti­mates that the rule would save 700 lives per year.
While the AFL-CIO and a host of oth­er labor groups strug­gle to ensure the new rule's quick approval, they're fac­ing famil­iar foes: busi­ness lob­by­ists such as the U.S. Cham­ber of Com­merce, the Con­struc­tion Indus­try Safe­ty Coali­tion and the Amer­i­can Petro­le­um Insti­tute (API), which are lob­by­ing OSHA to with­draw the rule. The API, which rep­re­sents a slew of com­pa­nies heav­i­ly invest­ed in the frack­ing indus­try, charges that the pro­posed reg­u­la­tion would impose new com­pli­ance costs that are too painful for busi­ness­es to swal­low. This is a famil­iar com­plaint from an indus­try famous­ly averse to regulation.
But even as con­struc­tion and build­ing trades unions bat­tle with the API over the new rule, they've aligned with the indus­try group when it comes to the expan­sion of fracking.
In 2009, 15 unions, includ­ing the Labor­ers' Inter­na­tion­al Union of North Amer­i­ca (LIU­NA) the Inter­na­tion­al Broth­er­hood of Team­sters and the Build­ing Con­struc­tion Trade Depart­ment (BCTD) of the AFL-CIO, joined the pro-frack­ing, pro-Key­stone XL ​"Oil and Nat­ur­al Gas Indus­try Labor-Man­age­ment Com­mit­tee," billed as ​"the first time that the oil and nat­ur­al gas indus­try and its labor unions have agreed to work togeth­er for­mal­ly." Accord­ing to a forth­com­ing brief­ing paper from the cli­mate-con­scious coali­tion Trade Unions for Ener­gy Democ­ra­cy, the alliance ​"has been the source of numer­ous pro-frack­ing res­o­lu­tions adopt­ed by state-lev­el fed­er­a­tions of the AFL-CIO. … In [mul­ti­ple] states, unions have stood along­side the Cham­bers of Com­merce, the Nation­al Asso­ci­a­tion of Man­u­fac­tur­ers and the Amer­i­can Petro­le­um Insti­tute in sup­port­ing and pro­mot­ing fracking."
Crit­ics say that the part­ner­ship has also locked build­ing trades-affil­i­at­ed unions into a ​"trans­ac­tion­al rela­tion­ship" with the oil and nat­ur­al gas indus­try (as In These Times has report­ed pre­vi­ous­ly). The API, for instance, was a key spon­sor of the BCTD leg­isla­tive con­fer­ence this March. Mean­while, unions have spent mil­lions lob­by­ing for the expan­sion of oil and nat­ur­al gas projects that depend heav­i­ly on frack­ing. In New York State, for exam­ple, pro-frack­ing unions such as the Inter­na­tion­al Broth­er­hood of Elec­tri­cal Work­ers (IBEW) spent $1.4 mil­lion between 2007 and 2013 on lob­by­ing in favor of expand­ed frack­ing in the state, accord­ing to watch­dog group Com­mon Cause. In Ken­tucky, LIU­NA quick­ly emerged as one of the most promi­nent cham­pi­ons of the now-stalled Blue­grass Pipeline, a project that would trans­port nat­ur­al gas liq­uids from the shale fields of Ohio to Louisiana's Gulf Coast.
This rela­tion­ship doesn't end with drill-to-pipeline projects, either. More recent­ly, build­ing trades and their affil­i­ates have backed indus­try efforts to start export­ing a poten­tial­ly lucra­tive and frack­ing-derived prod­uct from the Unit­ed States — liq­ue­fied nat­ur­al gas (LNG). Most notably, the BCTD has lob­bied heav­i­ly for the con­struc­tion of the hot­ly con­test­ed Cove Point export facil­i­ty in Lus­by, Mary­land, sid­ing with ter­mi­nal oper­a­tor Domin­ion Ener­gy against a large protest move­ment. The Unit­ed Asso­ci­a­tion of Plumbers, Fit­ters and HVAC Techs, mean­while, sup­ports reforms that would speed up the fed­er­al LNG export-per­mit­ting process. Thanks in large part to this swell of pres­sure from the build­ing trades, AFL-CIO Pres­i­dent Richard Trum­ka offered his broad sup­port for gas exports for the first time in January.
In all of these cas­es, con­struc­tion and build­ing trades unions say they're moti­vat­ed by the prospect of well-paid jobs. And indeed, part­ner­ships with the ener­gy indus­try have helped some unions win con­tracts to build ener­gy pipelines and infra­struc­ture serv­ing export facil­i­ties. LIU­NA Vice Pres­i­dent Den­nis Mar­tire has said that the num­ber of hours worked by LIU­NA mem­bers on pipeline projects in Penn­syl­va­nia and West Vir­ginia as a result of shale drilling increased from 400,000 hours in 2008 to 5.7 mil­lion hours in 2012.
But job fig­ures have often fall­en far short of indus­try pro­jec­tions. While indus­try-financed stud­ies have claimed that frack­ing cre­ates as many as 31 new jobs per well, a Novem­ber 2013 analy­sis by the Mul­ti-State Shale Research Col­lab­o­ra­tive, a coali­tion of pol­i­cy groups who oppose frack­ing, found that on aver­age, each new well drilled in the Mar­cel­lus Shale region between 2005 and 2012 cre­at­ed few­er than four jobs. And when it comes work at drilling sites, one of the most dan­ger­ous aspects of frack­ing oper­a­tions, the work­force is still almost exclu­sive­ly non-unionized.
​"For the most part, [frack­ing jobs] are not good jobs, and they're high­ly destruc­tive," says Joe Uehlein, a for­mer Sec­re­tary-Trea­sur­er of the AFL-CIO's Indus­tri­al Union Depart­ment and cur­rent direc­tor of the Labor Net­work for Sus­tain­abil­i­ty. ​"The idea of being for jobs sim­ply because it's a job, that's some­thing we have to re-examine."
Dust in the wind
Sil­i­ca-relat­ed dis­eases are typ­i­cal­ly asso­ci­at­ed with indus­tries such as min­ing, con­struc­tion and mason­ry. But as the shale boom con­tin­ues — accord­ing to an Octo­ber 2013 report from Envi­ron­ment Amer­i­ca, frack­ing oper­a­tions are now under way in 17 states — so, too, do the risks for work­ers in an indus­try that's high­ly dan­ger­ous and still heav­i­ly non-union.
Sil­i­ca-relat­ed dis­eases take far longer to man­i­fest than the burns, bro­ken bones, and the type of fatal­i­ties out­lined in the AFL-CIO report, but recent evi­dence sug­gests that frack­ing work­ers are being exposed to alarm­ing con­cen­tra­tions of sil­i­ca. OSHA and NIOSH issued a haz­ard alert in 2012 after near­ly 50 per­cent of air sam­ples tak­en from a field sur­vey of 11 frack­ing sites in five states were dis­cov­ered to have sil­i­ca rates exceed­ing the cur­rent rule's per­mis­si­ble lev­els. That's par­tic­u­lar­ly notable because many safe­ty experts con­sid­er the cur­rent expo­sure lim­it to be inadequate.
​"These expo­sures were, in some cas­es, 10 times the amount of the allow­able lim­its," says Peter Doo­ley, a health and safe­ty con­sul­tant for the Nation­al Coun­cil for Occu­pa­tion­al Safe­ty and Health (COSH) who tes­ti­fied before OSHA last month.
OSHA has said that approx­i­mate­ly 25,000 work­ers at 444 frack­ing work­sites would ben­e­fit from the pro­posed new rule, and esti­mates that addi­tion­al pro­tec­tions — includ­ing bet­ter ven­ti­la­tion, a mist­ing sys­tem and enclosed ​"oper­a­tor booths" for the most exposed work­ers — would be required for 88 per­cent of frack­ing work­ers in order to com­ply with the change.
Con­cerned with the costs of com­pli­ance, busi­ness and indus­try groups are lob­by­ing OSHA to with­draw the pro­posed new rule. ​"In draft­ing the Occu­pa­tion­al Safe­ty and Health Act, Con­gress nev­er intend­ed to pro­tect employ­ees by putting their employ­ers out of busi­ness," the Amer­i­can Petro­le­um Insti­tute said in its writ­ten com­ments to OSHA, also argu­ing that while sil­i­ca expo­sure does pose a haz­ard to work­ers, exist­ing meth­ods of reduc­ing this expo­sure have been effective.
Mean­while, a host of labor groups have tes­ti­fied in favor of the new rule, includ­ing the Labor­ers' Health and Safe­ty Fund of North Amer­i­ca (LHSF­NA), the AFL-CIO's Build­ing and Con­struc­tion Trades Depart­ment and the Inter­na­tion­al Union of Oper­at­ing Engineers.
Dur­ing API's April 4 tes­ti­mo­ny, Wal­ter Jones, asso­ciate direc­tor of occu­pa­tion­al safe­ty and health for LHSF­NA, rebutted argu­ments made by the indus­try group on a num­ber of points.
Though API has crit­i­cized OSHA for rely­ing on insuf­fi­cient evi­dence in its rule­mak­ing, Jones notes that the indus­try group has kept its own data on frack­ing-relat­ed sil­i­ca expo­sure — gath­ered through a sur­vey of the frack­ing indus­try, as part of a vol­un­tary safe­ty effort focused on res­pirable sil­i­ca — close to the vest. Cur­rent­ly, the API sur­vey results are not avail­able to fed­er­al reg­u­la­tors. A spokesper­son for the STEPS Net­work, the API-coor­di­nat­ed safe­ty effort, told In These Times in mid-May that the study was still ongo­ing, and that the data hadn't been released sim­ply because there wasn't yet enough data to make analy­sis worthwhile.
But LHSFNA's Jones calls API's unwill­ing­ness to share this exist­ing data ​"unfair and unfor­tu­nate." Fol­low­ing the OSHA hear­ings, he told In These Times, ​"The issue for me was that API mem­ber orga­ni­za­tions are out there right now char­ac­ter­iz­ing expo­sures and look­ing at con­trols, and I'd like for them to sub­mit that to the record so that we can have a fuller pic­ture of what's going on."
API also con­tends that sil­i­ca-relat­ed deaths are decreas­ing, accord­ing to sta­tis­tics from the Cen­ters for Dis­ease Con­trol. In response, Jones con­tends, ​"Frack­ing is a rel­a­tive­ly new phe­nom­e­non, and sil­i­co­sis has a laten­cy peri­od of up to 20 years. This is a case where there are long-term con­se­quences that we [typ­i­cal­ly] don't deal with until after the bod­ies start pil­ing up."
An unsa­vory alliance
The fate of the pro­posed rule still remains uncer­tain. After extend­ing its ini­tial pub­lic com­ment peri­od this year by near­ly two months fol­low­ing pres­sure from indus­try groups, OSHA will now con­tin­ue tak­ing post-hear­ing argu­ments and briefs until July, leav­ing any poten­tial reg­u­la­tion still a long way off. While LIU­NA and a num­ber of oth­er unions can attempt to counter API efforts to slow or weak­en the new reg­u­la­tions dur­ing the hear­ing process, they remain key mem­bers of the Oil and Nat­ur­al Gas Indus­try Labor-Man­age­ment Com­mit­tee. To some crit­ics, this strat­e­gy — oppos­ing API's stance on a par­tic­u­lar reg­u­la­tion, while ally­ing with it and oth­er indus­try groups on wide-rang­ing pol­i­cy issues — looks a lot like labor shoot­ing itself in the foot.
The new sil­i­ca rule is the lat­est in a long line of work­place safe­ty reg­u­la­tions opposed by API. The insti­tute has fought union-led efforts to imple­ment new reg­u­la­tions reduc­ing work­ers' expo­sure to the car­cino­genic ele­ment ben­zene, as well as the lead in gaso­line. API oppo­si­tion to such reg­u­la­to­ry efforts may have delayed these rules from com­ing into effect soon­er, there­by putting affect­ed work­ers' lives at risk. In the same fash­ion, API's demand that OSHA with­draw its cur­rent pro­pos­al on sil­i­ca expo­sure could delay the rule's future implementation.
Some in orga­nized labor say the oil and gas indus­try can be made safer — it's just going to take bet­ter reg­u­la­tion and even­tu­al union rep­re­sen­ta­tion of work­ers at drill sites.
On a press call dis­cussing the new AFL-CIO report, In These Times asked AFL-CIO Direc­tor of Safe­ty and Health Peg Sem­i­nario if she believed that labor-man­age­ment part­ner­ships in the oil and gas indus­try were pro­duc­tive in light of the sector's alarm­ing work­place fatal­i­ty rate.
​"I think it is a sec­tor that needs orga­ni­za­tion, as do many," Sem­i­nario said. ​"One of the things I would com­pare is what the expe­ri­ence has been in coal min­ing, for exam­ple. Which is a very dan­ger­ous indus­try where you've had a strong union and you have strong gov­ern­ment over­sight and has made a huge dif­fer­ence. I think we need to … bring that into oil and gas because clear­ly it's just as hazardous."
But oth­ers point out that the path of labor-man­age­ment part­ner­ships is unlike­ly to pro­duce strong reg­u­la­tions. ​"I don't recall a sin­gle time that API did any­thing oth­er than obstruct, delay or file law­suits over the intro­duc­tion of any work­er safe­ty and health pro­gram," says Bob Wages, for­mer pres­i­dent of the Oil, Chem­i­cal and Atom­ic Work­ers (OCAW). ​"I can't under­stand why [the build­ing trades] would have any­thing to do with peo­ple who absolute­ly don't give a shit if peo­ple die on the job."
More­over, this sort of approach still neglects the industry's envi­ron­men­tal impact, says Bob Wages, whose union mobi­lized a high­ly suc­cess­ful labor-envi­ron­men­tal part­ner­ship dur­ing the 1973 Shell Oil Strike.
​"The idea that a union will sit back and say, ​'Well, we're going to coop­er­ate with them because if we're there, we're gonna enforce health and safe­ty, and that's gonna have a pos­i­tive effect on the envi­ron­ment' — I've nev­er seen it [play out] in terms of how the indus­try responds to any of these con­cerns," he says. ​"That's just hap­py talk. There's no rela­tion­ship between build­ing [a facil­i­ty], and enforc­ing health and safe­ty reg­u­la­tions in that phase of it, and what the indus­try does gen­er­al­ly once it comes to pol­lu­tion, [flout­ing] envi­ron­men­tal reg­u­la­tions and dam­ag­ing the environment."
Some trade union­ists have anoth­er path in mind: They argue that it's time to seri­ous­ly con­sid­er mov­ing beyond fos­sil fuels. Not only is renew­able ener­gy gen­er­a­tion bet­ter for the plan­et in the long-term, they note, it's far safer for work­ers and their com­mu­ni­ties in the here and now.
The Cana­di­an union UNI­FOR, for exam­ple, has been at the fore­front of such a for­ward-think­ing approach with­in labor's ranks, argu­ing that ener­gy work­ers must also con­sid­er the health of the com­mu­ni­ties they work and live in. Even though the union rep­re­sents work­ers in the oil and gas indus­try, last Novem­ber it passed a res­o­lu­tion call­ing for a nation­wide frack­ing moratorium.
​"We're going to find a way to build a sus­tain­able future, we're going to find a way to solve the cli­mate cri­sis," says Joe Uehlein of the Labor Net­work for Sus­tain­abil­i­ty. ​"Labor will be far bet­ter off if it fig­ures out how to get on that train and be a part of that move­ment, as opposed to sit­ting back and fight­ing it the way they often do."
(In These Times reached out to the offices of the Build­ing Trades Unions and the Labor­ers' Mid-Atlantic region for com­ment, but did not receive a response).