Why President Obama Must Grant Clemency to Chelsea Manning
The administration is considering whether to free the imprisoned whistleblower. She needs our support now more than ever.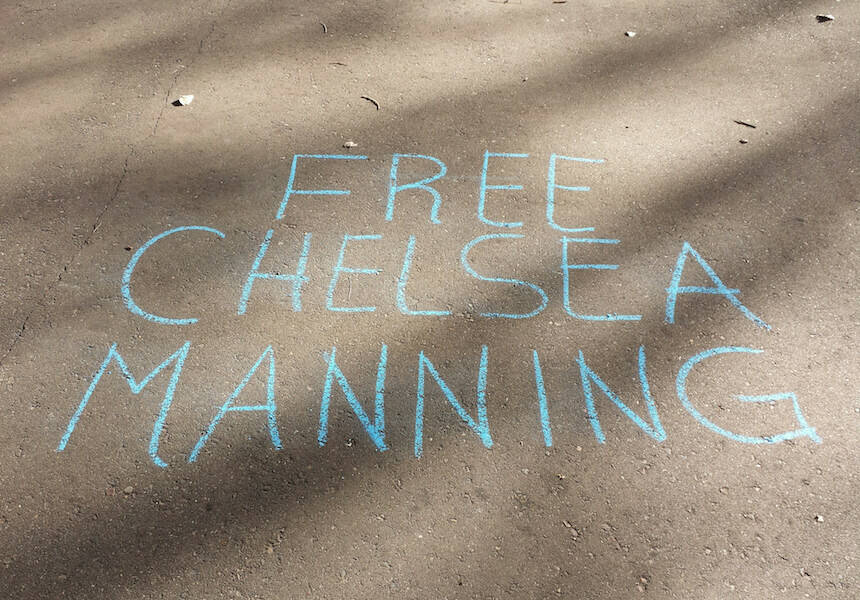 This post orig­i­nal­ly appeared at Jacobin.
Defending Manning and her leaks are not just a matter of goody-two-shoes principle but immense real-life consequences. The U.S. invasion of Iraq was simply not possible but for government secrecy, distortion and lies.
Free­dom is sud­den­ly in sight for Chelsea Man­ning. There is a real chance the Iraq War vet­er­an and Wik­ileaks whistle­blow­er could be home by Groundhog's Day.
Even a year ago it was unthink­able; now, it could be a par­tial redemp­tion of the Oba­ma administration's shod­dy record of per­se­cut­ing leaks and whistleblowers.
Chelsea Man­ning served Army intel­li­gence, the posi­tion from which she leaked thou­sands of field reports from the Afghan and Iraq Wars, as well as thou­sands of State Depart­ment doc­u­ments, to Wik­ileaks. Thanks to Man­ning, we have a mosa­ic por­trait of the flail­ing Afghan coun­terin­sur­gency war: night raids gone wrong, check­point shoot­ings of civil­ians, out­posts built and aban­doned. We know that it was offi­cial U.S. pol­i­cy, in spite of the high­est offi­cial denials, for occu­py­ing U.S. troops to not inter­vene in the tor­ture by Iraqi author­i­ties of local sus­pects. We know that the State Depart­ment pushed hard to keep the min­i­mum wage down in Haiti, the poor­est nation in the Amer­i­c­as, and worked to extend Big Pharma's intel­lec­tu­al prop­er­ty régime to West­ern Europe, where pre­scrip­tion drugs costs a small frac­tion of what they do here.
Not much of this raw self-knowl­edge in Manning's leaks is flat­ter­ing to our nation­al van­i­ty — which makes it all the more essen­tial we face it. The leaks are rou­tine­ly cit­ed in main­stream media and in schol­ar­ly stud­ies of for­eign pol­i­cy. In a domain where over­clas­si­fi­ca­tion is extreme beyond belief — not until 2010 did the gov­ern­ment declas­si­fy one doc­u­ment dat­ing from the James Madi­son admin­is­tra­tion, a wait peri­od of two cen­turies — these leaks were a bad­ly need­ed beam of light.
Such knowl­edge is usu­al­ly unwel­come by those in pow­er, who then attempt to shoot the mes­sen­ger: Whistle­blow­ers get rou­tine­ly blamed for the prob­lems they uncov­er. Manning's shod­dy treat­ment is no excep­tion. But there are three things you should know about her revelations.
First, although offi­cials and media com­men­ta­tors respond­ed to these leaks with vary­ing degrees of pan­ic, pros­e­cu­tors at Manning's long court-mar­tial failed to demon­strate any con­crete harm from the dis­clo­sures to actu­al sol­diers or civilians.
Sec­ond, although this is by vol­ume the largest leak in U.S. his­to­ry, it is still well under 1 per­cent of what the fed­er­al gov­ern­ment typ­i­cal­ly clas­si­fies in a year, and the ​"slip­pery slope" argu­ments that this would lead to total trans­paren­cy in the machi­na­tions of Amer­i­can gov­ern­ment have proved to be non­sense. Over­clas­si­fi­ca­tion con­tin­ues to choke Amer­i­can state­craft and pub­lic dis­course, hid­ing cru­cial infor­ma­tion about our government's actions at home and abroad from the Amer­i­can people.
Third, not a sin­gle doc­u­ment released by Man­ning was clas­si­fied as ​"Top Secret," and many — includ­ing the gun­sight video of a mas­sacre by U.S. heli­copters over a Bagh­dad sub­urb in July 2007 — were not clas­si­fied at all. (Top Secret clas­si­fi­ca­tion itself means much less than it might seem: a whop­ping 1.4 mil­lion peo­ple, not all of them Amer­i­can cit­i­zens, hold Top Secret secu­ri­ty clearance.)
Defend­ing Man­ning and her leaks are not just a mat­ter of goody-two-shoes prin­ci­ple but immense real-life con­se­quences. The U.S. inva­sion of Iraq was sim­ply not pos­si­ble but for gov­ern­ment secre­cy, dis­tor­tion and lies. The archi­tects of that dis­hon­est war have escaped the slight­est pun­ish­ment, yet an on-the-ground pri­vate who tried to share her knowl­edge of that blood­bath is the one being severe­ly punished.
If you're the kind of per­son who thinks it is sin­ful and wicked to know what your gov­ern­ment is doing, by all means, take a pass on this plea for clemen­cy. But if you can see the dystopi­an lev­els of Washington's state secre­cy have done too much dam­age to the world, now is the time to take five min­utes to raise a voice for Chelsea Manning.
This is a rare instance when a mas­sive pub­lic response will make a very real dif­fer­ence. The Depart­ment of Jus­tice is incred­i­bly tight-lipped about its clemen­cy process, and their sur­prise leak to NBC News yes­ter­day that Man­ning is on a ​"short list" for clemen­cy was almost cer­tain­ly a tri­al bal­loon to gauge pub­lic reac­tion to a case that until recent­ly was too hot for the White House to touch.
Not any­more. Sup­port for Chelsea Man­ning has been build­ing steadi­ly, and in some tru­ly unlike­ly places.
Start with the ortho­dox hawks who edit the Brook­ings Insti­tu­tions' influ­en­tial Law­fare blog. Last Octo­ber they called for Manning's sen­tence to be com­mut­ed, a plea reit­er­at­ed this past week.
On the pop­ulist right there is surg­ing sup­port for Man­ning as well. One strange side-effect of Julian Assange becom­ing the dar­ling of InfoWars and Fox News is that all of a sud­den many Trump-lov­ing ​"deplorables" have tak­en on the cause of this trans­gen­der Iraq War vet. (It's hard to imag­ine Trump grant­i­ng clemen­cy to Man­ning, but not quite unimag­in­able — after all, it was con­ser­v­a­tive Repub­li­can War­ren Hard­ing who par­doned social­ist Eugene Debs as part of a blan­ket amnesty on Christ­mas Day in 1921.)
And it would be remiss not to men­tion the sym­pa­thet­ic cov­er­age of Man­ning that has appeared in Cos­mopoli­tan mag­a­zine, focus­ing on Manning's gen­der tran­si­tion, announced the day after her sen­tenc­ing of a bru­tal 35 years in prison. Manning's strug­gle for the dig­ni­ty of trans­gen­der mil­i­tary pris­on­ers, accom­plished with the expert advo­ca­cy of the ACLU lawyer Chase Stran­gio, has brought in LGBT sup­port for this nation­al secu­ri­ty whistle­blow­er as well.
True, there will be some upset stom­achs from neo­con law-and-order types, but the cur­ren­cy of their fear-mon­ger­ing is worth a lot less in 2017. As for the lib­er­al hawks who have often been Manning's nas­ti­est per­se­cu­tors, they are at present too occu­pied with find­ing Putin pup­pets under every sofa cush­ion to raise much of a fuss. They'll deal.
Although Manning's offense is unique, by Amer­i­can stan­dards, the bru­tal pun­ish­ment she has received — near­ly a year of pre­tri­al iso­la­tion con­fine­ment against the express med­ical advice of mil­i­tary prison author­i­ties and an extreme 35-year sen­tence — is not. There are between 70,000 and 100,000 Amer­i­can pris­on­ers doing some form of long-term soli­tary, a prac­tice that is right­ly seen as tor­ture. Long-term soli­tary is a rou­tine fea­ture of the Amer­i­can penal land­scape and it needs to be abol­ished.
Nor of course is Man­ning the only pris­on­er deserv­ing clemen­cy. Two fed­er­al pris­on­ers I've had the plea­sure of talk­ing with, Alice Marie John­son and Euka Wadling­ton, both doing life with­out parole for non­vi­o­lent drug offens­es—life with­out parole for non­vi­o­lent drug offens­es! — just had their peti­tions denied, prob­a­bly because the DOJ decid­ed to let their pros­e­cu­tors weigh in on the deci­sion. The Oba­ma DOJ has grant­ed a record num­ber of com­mu­ta­tions as well as denied a record num­ber of clemen­cy peti­tions, as P. S. Ruckman's excel­lent ​"Par­don Pow­er" blog has point­ed out.
Clemen­cy at the fed­er­al lev­el and in most states remains miser­ly, and Attor­ney Gen­er­al Loret­ta Lynch did not dis­tin­guish her­self when she recent­ly and erro­neous­ly claimed that it is beyond the fed­er­al government's pow­er to issue blan­ket amnesties. In fact, pres­i­dents from Lin­coln to Wil­son to Carter have all grant­ed clemen­cy to entire cat­e­gories of peo­ple, and it is time that our gov­er­nors and pres­i­dents reac­quired this habit.
But the post­mod­ern medieval­ism of U.S. crim­i­nal jus­tice is not any kind of rea­son to deny Chelsea Man­ning or any­one else clemen­cy. And as dis­ori­ent­ed as this coun­try is with the wak­ing-night­mare prospect of ​"Pres­i­dent Trump," it is now time to demand clemen­cy for this coura­geous whistle­blow­er. All it takes is shed­ding off a lit­tle apa­thy on our part. ​"Apa­thy," Man­ning once wrote in an online con­ver­sa­tion with the fed­er­al infor­mant who then turned her in, ​"is far worse than the active par­tic­i­pa­tion [in the Iraq War] … apa­thy is its own 3rd dimen­sion." (These chat­logs by the way are the most grip­ping and pro­found work of non­fic­tion the­ater that our cen­tu­ry has yet produced.)
Free­dom is what she deserves. Our dystopi­an lev­els of state secre­cy have direct­ly led to the car­nage in the Mid­dle East whose con­se­quences are still unwind­ing. Whistle­blow­ers like her should be wel­comed, not bru­tal­ized. So free her, Pres­i­dent Oba­ma, while you still can. Free Chelsea Manning.
You can con­tact the White House about Chelsea Man­ning through the phone num­bers and email address­es found here, and the Depart­ment of Jus­tice here.
In These Times is proud to fea­ture con­tent from Jacobin, a print quar­ter­ly that offers social­ist per­spec­tives on pol­i­tics and eco­nom­ics. Sup­port Jacobin and buy a four issue sub­scrip­tion for just $19.95.