Only a Free Press Can Get to the Bottom of the Trump-Russia Scandal
This week's hearing shows that further inquiry—from both Congress and media—is necessary.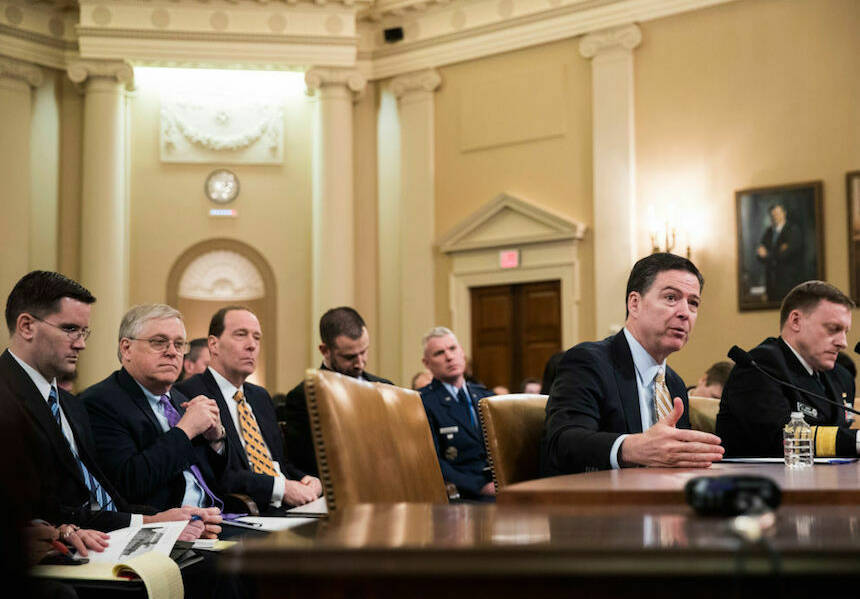 This post first appeared at Bill​Moy​ers​.com.
The spin machines are twirling at cyclonic speeds as the White House and the Republican Party counterattack or try to act as if none of this is happening.
Monday's hear­ing of the House Intel­li­gence Com­mit­tee was proof pos­i­tive of the absolute need for both a spe­cial pros­e­cu­tor and an inde­pen­dent, bipar­ti­san com­mis­sion with sub­poe­na pow­er to con­duct a full inves­ti­ga­tion of the Trump campaign's con­nec­tions with Russ­ian intel­li­gence — as well as Russia's mul­ti­pronged attack on our elec­tions and Trump's busi­ness con­nec­tions with that country's oligarchs.
And it's proof more than ever that even if we get that pros­e­cu­tor and inquiry, a free and inde­pen­dent press may be the only real way to ever get to the bot­tom of what rank­ing com­mit­tee mem­ber Adam Schiff said may rep­re­sent ​"one of the most shock­ing betray­als of our democ­ra­cy in his­to­ry."
Just as FBI Direc­tor James Comey offi­cial­ly revealed for the very first time (final­ly!) that indeed since late July the FBI has been inves­ti­gat­ing whether mem­bers of Trump's cam­paign col­lud­ed with Russia's inter­fer­ence with our elec­tions, Repub­li­cans, led by com­mit­tee chair and Trump enabler Devin Nunes did their best to blow smoke aimed at deflect­ing atten­tion from what Trump and his team may or may not have done. Instead, they asked ques­tion after ques­tion about the ille­gal­i­ty of leaks of con­fi­den­tial mate­r­i­al to the media — in par­tic­u­lar, leaks about for­mer Trump nation­al secu­ri­ty advis­er Mike Flynn's con­tacts with Russia.
(Note that there was agree­ment that leaks are ille­gal but no one men­tioned that it's the media's com­plete and con­sti­tu­tion­al­ly guar­an­teed right to report on them. Nor was any­one asked how many times GOP mem­bers of the com­mit­tee have done their own leaking.)
Trump did what he could to dis­tract as well, fir­ing a vol­ley of five heat­ed ear­ly-morn­ing tweets just before tes­ti­mo­ny began, reit­er­at­ing claims that dis­grun­tled Democ­rats man­u­fac­tured charges about Russia's involve­ment in the elec­tion and con­tact with Trump aides. There were more dur­ing the hear­ing itself — from Trump or some­one at the White House tweet­ing in his name — twist­ing the day's tes­ti­mo­ny by Comey and Nation­al Secu­ri­ty Agency chief Mike Rogers. Bizarrely, the two men then were placed in the posi­tion of hav­ing to rebut Trump's alle­ga­tions while they still were in the wit­ness seats, cor­rect­ing and putting the pres­i­dent in his place — vir­tu­al­ly in real time.
Not only did Comey ver­i­fy that the FBI was active­ly inves­ti­gat­ing Trump and his asso­ciates, he also flat­ly denied on behalf of his agency and the Jus­tice Depart­ment that pri­or to January's inau­gu­ra­tion now-for­mer Pres­i­dent Oba­ma had ordered eaves­drop­ping on Trump Tow­er. Under nor­mal cir­cum­stances this would seem to neu­tral­ize yet anoth­er of Trump's wacky tweet storms, this one from two weeks ago, but as we've learned so well, the truth has nev­er been a bar­ri­er to the social media mad­ness of King Don­ald I.
And yet, as pres­i­den­tial his­to­ri­an Dou­glas Brink­ley told The Wash­ing­ton Post, ​"There's a smell of trea­son in the air. Imag­ine if J. Edgar Hoover or any oth­er FBI direc­tor would have tes­ti­fied against a sit­ting pres­i­dent? It would have been a mind­bog­gling event."
But here we are, adrift in a Cloud Cuck­oo Land of pre­var­i­ca­tion and incom­pe­tence in which lit­tle seems capa­ble of bog­gling or dri­ving our minds agog these days and where the truth shall not set you free but sub­ject you to ridicule from the rabid trolls of the right.
And still there is hope. Even though nei­ther Comey nor Rogers would reveal much of what they are dis­cov­er­ing — con­tin­u­al­ly cit­ing the con­fi­den­tial­i­ty they said was nec­es­sary to an ongo­ing inves­ti­ga­tion — the ques­tions asked, despite the ​"no com­ment" answers, sug­gest­ed ongo­ing areas of inquiry not only for inves­ti­gat­ing com­mit­tees but also for the press.
For it is the free and inde­pen­dent media that con­tin­ue to pro­vide our clear­est win­dow into the extent of the inves­ti­ga­tion and the pos­si­ble inter­face among the Trump cam­paign, Rus­sia and the right. Late Mon­day, for exam­ple, McClatchy News report­ed:
"Fed­er­al inves­ti­ga­tors are exam­in­ing whether far-right news sites played any role last year in a Russ­ian cyber oper­a­tion that dra­mat­i­cal­ly widened the reach of news sto­ries — some fic­tion­al — that favored Don­ald Trump's pres­i­den­tial bid, two peo­ple famil­iar with the inquiry say.

"Oper­a­tives for Rus­sia appear to have strate­gi­cal­ly timed the com­put­er com­mands, known as ​'bots,' to blitz social media with links to the pro-Trump sto­ries at times when the bil­lion­aire busi­ness­man was on the defen­sive in his race against Demo­c­rat Hillary Clin­ton, these sources said."
McClatchy reports that most of the sto­ries were linked from social media posts and many of them con­nect­ed to sto­ries at Bre­it­bart and Alex Jones' InfoWars, as well as Rus­sia Today and Sput­nik News:
"Inves­ti­ga­tors exam­in­ing the bot attacks are explor­ing whether the far-right news oper­a­tions took any actions to assist Russia's oper­a­tives. Their par­tic­i­pa­tion, how­ev­er, wasn't nec­es­sary for the bots to ampli­fy their news through Twit­ter and Facebook."
The spin machines are twirling at cyclonic speeds as the White House and the Repub­li­can Par­ty coun­ter­at­tack or try to act as if none of this is hap­pen­ing. Like the refugee cou­ple in Casablan­ca, they pre­tend to hear very lit­tle and under­stand even less. At the end of Monday's tes­ti­mo­ny, intel­li­gence com­mit­tee chair Nunes actu­al­ly told David Corn of Moth­er Jones that he had nev­er heard of Roger Stone or Carter Page, two of the Trump/​Russia story's most promi­nent and tawdry play­ers. Ingen­u­ous or igno­rant? You be the judge.
"Is it pos­si­ble that all of these events and reports are com­plete­ly unre­lat­ed and noth­ing more than an entire­ly unhap­py coin­ci­dence?" Adam Schiff asked at Monday's hear­ing.
"Yes, it is pos­si­ble. But it is also pos­si­ble, maybe more than pos­si­ble, that they are not coin­ci­den­tal, not dis­con­nect­ed and not unre­lat­ed, and that the Rus­sians use the same tech­niques to cor­rupt US per­sons that they employed in Europe and else­where. We sim­ply don't know. Not yet. And we owe it to the coun­try to find out."
Dur­ing Schiff's ques­tion­ing on Mon­day, Comey seemed to nod toward agree­ing that Russia's hack­ing of the Demo­c­ra­t­ic Nation­al Com­mit­tee was not unlike the 1972 phys­i­cal break-in at the DNC. You know, the one that pre­cip­i­tat­ed the rev­e­la­tions, res­ig­na­tions and prison con­vic­tions of Water­gate. Drip, drip, drip…
Michael Win­ship
is a senior writer for Pub­lic Affairs Tele­vi­sion, which was found­ed by Bill Moyers.