Free Speech Radical
Mario Savio and the Free Speech Movement.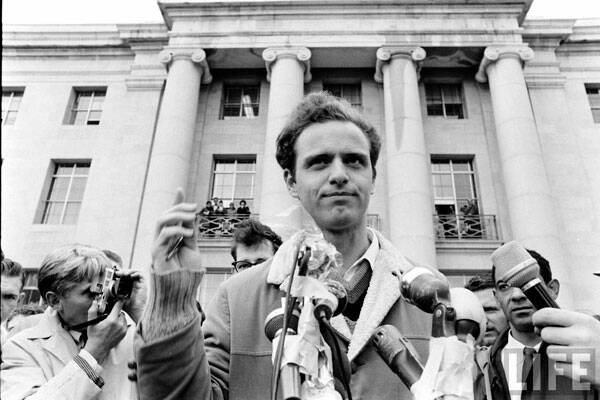 Mario Savio's place in Amer­i­can his­to­ry is defined by the cli­max of the speech he gave as a 21-year-old stu­dent in Decem­ber 1964, on the steps of the Uni­ver­si­ty of Cal­i­for­nia admin­is­tra­tion build­ing, at a key moment in the Berke­ley Free Speech Movement.
'We must free ourselves from obsession with the material. ... Having once again become master of things, we must never again allow things to become our masters,' said Mario Savio.
The move­ment was a protest against the university's clam­p­down on polit­i­cal speech­mak­ing and recruit­ing for civ­il rights activism on cam­pus. Pres­i­dent Clark Kerr and var­i­ous bureau­crat­ic inter­me­di­aries dis­dained the move­ment as a dis­rup­tion of the mod­ern ​"mul­ti­ver­si­ty" (Kerr's own term) as a smooth-run­ning, qua­si-cor­po­rate knowl­edge factory.
When puni­tive action was tak­en against Savio and oth­er lead­ers, Savio responded:
If this is a firm, and if the Board of Regents are the board of direc­tors, and if Pres­i­dent Kerr in fact is the man­ag­er, then I'll tell you some­thing – the fac­ul­ty are the work­ers, and we're the raw mate­ri­als. But we're a bunch of raw mate­ri­als that don't mean to have any process on us, don't mean to be made into any prod­uct, don't mean to end up being bought by some clients of the uni­ver­si­ty, be they the gov­ern­ment, be they indus­try, be they orga­nized labor – be they any­one. We're human beings!

There's a time when the oper­a­tion of the machine becomes so odi­ous, makes you so sick at heart, that you can't take part; you can't even pas­sive­ly take part, and you've got to put your bod­ies upon the gears and upon the wheels, upon the levers, upon all the appa­ra­tus, and you've got to make it stop. And you've got to indi­cate to the peo­ple who own the machine that until you are free, the machine will be pre­vent­ed from work­ing at all!
The speech, fol­lowed by the sit-in of the admin­is­tra­tion build­ing by more than 1,000 stu­dents, was indeli­bly cap­tured on film in Mark Kitchell's doc­u­men­tary Berke­ley In the Six­ties. But it has nev­er been wide­ly pub­lished until its appear­ance this year, along with near­ly 100 pages of Savio's oth­er speech­es, in Robert Cohen's superb Freedom's Ora­tor: Mario Savio and the Rad­i­cal Lega­cy of the 1960s (Oxford, August).
Cohen, pro­fes­sor of his­to­ry and edu­ca­tion at New York Uni­ver­si­ty and the author of pre­vi­ous books on the Free Speech Move­ment and the Old and New Lefts, draws from a wealth of inter­views with Savio, his two wives, two of his sons and oth­ers who knew him best, as well as from Savio's mem­oirs and col­lec­tion of speech­es, left uncom­plet­ed when he died of a heart attack at 53 in 1996.
Savio was born to an immi­grant Ital­ian, work­ing-class fam­i­ly in Queens. He suf­fered in child­hood, and peri­od­i­cal­ly through­out his life, from depres­sion, pan­ic attacks and a stam­mer that he over­came through elo­cu­tion lessons. Rec­og­nized ear­ly as a genius, he was an award-win­ning sci­ence stu­dent at Van Buren High, and pre­dic­tions for his bril­liant future were either as a physi­cist or a priest.
He was also an ardent stu­dent of phi­los­o­phy (his major at Berke­ley), the clas­sics, polit­i­cal the­o­ry and lit­er­a­ture, which pro­vid­ed a poet­ic dimen­sion to his speech­es. His vale­dic­to­ri­an address at Van Buren, includ­ed here, was redo­lent of Emer­son and Thore­au in its cri­tique of the post-war afflu­ent soci­ety: ​"We must free our­selves from obses­sion with the mate­r­i­al. … Hav­ing once again become mas­ter of things, we must nev­er again allow things to become our masters."
That line antic­i­pat­ed these mem­o­rable ones at Berkeley:
The ​

"

futures" and ​

"

careers" for which Amer­i­can stu­dents now pre­pare are for the most part intel­lec­tu­al and moral waste­lands. This chrome-plat­ed con­sumers' par­adise would have us grow up to be well-behaved chil­dren. But an impor­tant minor­i­ty of men and women com­ing to the front today have shown that they will die rather than be stan­dard­ized, replace­able and irrelevant.
Savio's ortho­dox Catholic upbring­ing grad­u­al­ly mor­phed into sym­pa­thy with lib­er­a­tion the­ol­o­gy and Dorothy Day's Catholic Work­er move­ment. At Queens Col­lege in 1963, he spent the sum­mer on a project orga­nized by the cam­pus New­man House, assist­ing the poor in Tax­co, Mex­i­co. That fall, his par­ents moved to Cal­i­for­nia and he trans­ferred to Berke­ley. Bap­tized by San Fran­cis­co protests for civ­il rights and against the House Un-Amer­i­can Activ­i­ties Com­mit­tee in 1963 – 64, he became active in the Stu­dent Non-Vio­lent Coor­di­nat­ing Com­mit­tee, whose cam­paign he joined for the 1964 Free­dom Sum­mer in Mississippi.
His efforts with oth­er stu­dents to con­tin­ue civ­il rights activism when they returned to Berke­ley that fall set off the Free Speech Move­ment (FSM), which, with Savio as its most elo­quent leader, even­tu­al­ly pre­vailed over admin­is­tra­tion opposition.
Savio's life after FSM, far less known, is explored in Cohen's final hun­dred pages. The pos­i­tive achieve­ments and hope for pro­gres­sive, non­vi­o­lent social change com­ing out of the civ­il rights and free speech move­ments were rapid­ly eclipsed by the esca­la­tion of the Viet­nam War and rise of the Black Pow­er move­ment, con­tribut­ing to a peri­od of increas­ing­ly vio­lent clash­es between dis­si­dents and police in Berke­ley and else­where through­out the late ​'60s and ear­ly ​'70s.
Although Savio remained active in the anti-war, civ­il rights and cam­pus move­ments, his moment as a charis­mat­ic leader had passed – large­ly by his own choice. By all accounts, he was a shy, mod­est per­son who was uncom­fort­able in any posi­tion of lead­er­ship and nev­er craved the pub­lic spot­light – he adhered to the New Left cre­do, ​"Don't fol­low leaders."
Savio's rad­i­cal­ism was in the deeply Amer­i­can vein of indi­vid­ual con­science, expressed in tran­scen­den­tal­ist and exis­ten­tial­ist terms. He could nev­er embrace Marx­ism and detest­ed the sec­tar­i­an bat­tles that shat­tered the New Left in the late ​'60s. In his stead­fast com­mit­ment to non-vio­lent activism, he was heart­sick over the mur­ders of pro­gres­sive lead­ers, the turn toward vio­lence on the left, and its exploita­tion by politi­cians like Ronald Rea­gan and Richard Nixon to incite the right-wing back­lash that came to dom­i­nate Amer­i­can pol­i­tics for the next four decades.
Like sev­er­al oth­er lead­ers of the ear­ly New Left, he suf­fered a ner­vous break­down in the ear­ly ​'70s, under both polit­i­cal and per­son­al stress­es. Not until 1978 was he able to com­plete col­lege study at San Fran­cis­co State Uni­ver­si­ty, where he received bachelor's and master's degrees in physics. He was then hired as an instruc­tor at Sono­ma State Uni­ver­si­ty, where, char­ac­ter­is­ti­cal­ly, he taught a range of sub­jects that includ­ed math, log­ic and inter­dis­ci­pli­nary cours­es on ​"Dis­cov­ery of Time" and ​"Sci­ence and Poetry."
One of the rich­est rev­e­la­tions in this book is the seg­ment of speech­es Savio gave, most in con­junc­tion with activist cam­paigns, between the 20th anniver­sary com­mem­o­ra­tion of FSM in 1984 and one writ­ten with his son Nadav oppos­ing an anti-affir­ma­tive-action ini­tia­tive on the Cal­i­for­nia bal­lot in 1996, just before his death. The speech­es include cri­tiques of Pres­i­dent Reagan's refu­el­ing of the Cold War, Amer­i­can inter­ven­tions in Latin Amer­i­ca, Allan Bloom's dis­missal of stu­dent pro­test­ers as mind­less hedo­nists, the rise of right-wing mil­i­tan­cy as expressed in Cal­i­for­nia ini­tia­tives restrict­ing immi­gra­tion as well as affir­ma­tive action, and fee increas­es in Cal­i­for­nia state universities.
Alter­nate­ly inspir­ing and heart­break­ing, Savio's life sto­ry and the text of his speech­es com­bine to pro­vide ample sup­port for Cohen's con­clu­sion: ​"Savio's polit­i­cal biog­ra­phy pos­es a chal­lenge to those who write off the ​'60s generation's demo­c­ra­t­ic ide­al­ism and judge the decade only by its excesses."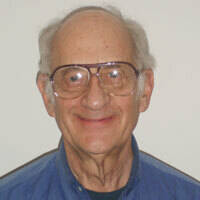 Don Lazere
, who was a grad­u­ate stu­dent at Berke­ley in the post-FSM six­ties, is pro­fes­sor emer­i­tus of Eng­lish at Cal Poly, San Luis Obis­po. He is the author of
Read­ing and Writ­ing for Civic Lit­er­a­cy: The Crit­i­cal Cit­i­zen's Guide to Argu­men­ta­tive Rhetoric
(Par­a­digm Pub­lish­ers,
2009
).