Freedom of the Press Remains Elusive in Turkey
Though the government denies targeting journalists, more than 90 Turkish journalists have spent most of the last year behind bars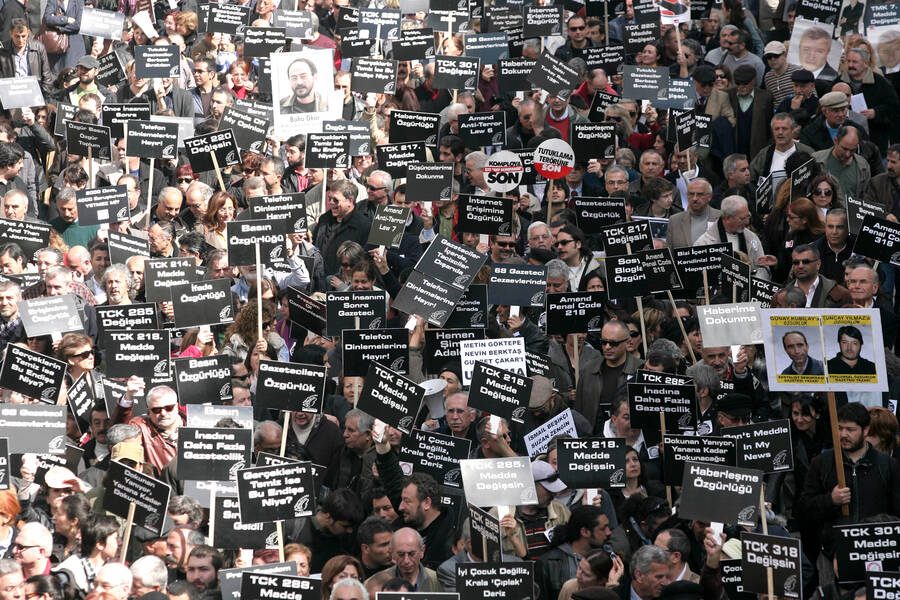 ISTAN­BUL — Necati Abay is not afraid to speak his mind.
​"If I were afraid, I would not be talk­ing to you," he says, after list­ing all the woes he and oth­er Turk­ish jour­nal­ists have faced.
But he is cau­tious, and for good reasons.
​"There are many inno­cent peo­ple in pris­ons," says Abay, sit­ting in a café in Istanbul's Kadikoy sec­tion, look­ing like an anony­mous small busi­ness­man with a heap of things to do on his mind.
He is busy, indeed.
A left­ist jour­nal­ist, who has seen his share of pris­ons, Abay, 56, is the spokesman for the Plat­form for Sol­i­dar­i­ty with Arrest­ed Jour­nal­ists. It's a tiny orga­ni­za­tion with no funds but the enor­mous goal of keep­ing Turks informed on the fate of what jour­nal­ists say is the record num­ber of their ranks in prison. By jour­nal­ists' count, more than 90 jour­nal­ists have been in prison for most of the last year — many in high secu­ri­ty pris­ons' iso­la­tion cells. And near­ly all are there for noth­ing more than their report­ing, says Abay.
Turk­ish offi­cials strong­ly deny what they con­sid­er ​"the myth" of impris­oned jour­nal­ists. They say the jour­nal­ists either com­mit­ted crimes or were car­ry­ing out pro­pa­gan­da on behalf of out­lawed orga­ni­za­tions. They have reject­ed crit­i­cism from groups like the Com­mit­tee to Pro­tect Jour­nal­ists and Reporters With­out Bor­ders, which have con­demned the attacks on free­dom of expres­sion in Turkey.
Yet the gov­ern­ment has sought to blunt crit­i­cism from Euro­pean human rights groups by chang­ing some prac­tices and vow­ing to car­ry out legal reforms. Turkey has long wait­ed to join the Euro­pean Com­mu­ni­ty and the crit­i­cism is one obsta­cle to that.
Frus­trat­ed by their colleague's treat­ment, many Turk­ish jour­nal­ists are cyn­i­cal, how­ev­er, about the government's promises.
The major­i­ty of jour­nal­ists in prison or fac­ing tri­als work for the news media that serves the large Kur­dish minor­i­ty. There's a small of num­ber of left­ists and a few from the main­stream news media, who are also in prison or have been released and face trials.
​"Turkey's over­broad def­i­n­i­tion of ter­ror­ism still allows for arbi­trary impo­si­tion of the harsh­est ter­ror­ism charges against indi­vid­u­als about whom there is lit­tle evi­dence of log­i­cal or mate­r­i­al sup­port for ter­ror­ism or of involve­ment in plot­ting vio­lent activ­i­ties," Human Rights Watch not­ed in a recent report.
Since Abay helped form the orga­ni­za­tion sev­er­al years ago, out of frus­tra­tion from the lack of sup­port for jour­nal­ists, Abay has honed to the same theme.
​"In Turkey there is no press free­dom," he says with a furi­ous wave of his hand. ​"Before they used to kill jour­nal­ists, now they put them in prison."
His group sends out cards to the jour­nal­ists, helps coor­di­nate vis­its, keeps up a web­site and seeks any chance to speak up. He claims jour­nal­ists suf­fer great­ly from psy­cho­log­i­cal tor­ture and depri­va­tion in the prisons.
Nobody has died while in prison but at least one jour­nal­ist lost his wife, accord­ing to Turk­ish jour­nal­ist orga­ni­za­tions. Anoth­er jour­nal­ist, fac­ing seri­ous emo­tion­al and phys­i­cal prob­lems, was recent­ly released await­ing trial.
The real­i­ty that Abay tries to pub­li­cize is one that he too might face soon.
That is because of an 18-year prison term that is hang­ing over his head.
He was arrest­ed in 2003 amid a series of bomb­ings in Istan­bul, but released and then rear­rest­ed on charges of belong­ing to an ille­gal under­ground orga­ni­za­tion. The case dragged on for years until a court in 2011 gave him the 18-year prison term, which he is appeal­ing. He has a court date in September.
He has already paid a heavy price, as he sees it, for his writ­ings and thoughts.
He was giv­en an eight-and-a-half-year prison term in the 1980s for pro­mot­ing Com­mu­nist pro­pa­gan­da. But he served only 20 months.
He was arrest­ed again with six oth­ers in Feb­ru­ary 1997 on charges of belong­ing to an ille­gal armed orga­ni­za­tion. The group claimed they had suf­fered the kind of tor­ture once described by human rights groups as ram­pant in Turkey. They said they had been blind­fold­ed, forced to stand or sit for long peri­ods, deprived of sleep, beat­en, stripped and forced to lie in cold water, accord­ing to the case they brought to the Euro­pean Court of Human Rights. The two women in the group said they were sex­u­al­ly harassed.
A pros­e­cu­tor filed charges against eight police offi­cers for the tor­ture alleged­ly car­ried out against the group. But noth­ing ever came of the charges as the case dragged out in the courts. Abay was held for eight months, released and, along with the oth­ers, began a long legal bat­tle over their treat­ment by secu­ri­ty officials.
Thir­teen years after their arrests, the Euro­pean Court of Human Rights ruled in favor of six arrestees and ordered Turkey to pay €34,200 to each. One of the arrest­ed, who had been arrest­ed again, lat­er died in police cus­tody. The Court ruled against Turkey in favor of his survivors.
As he waits now for the appeal's courts rul­ing, Abay has scraped togeth­er some edi­to­r­i­al work. ​"It's dif­fi­cult, but we can get by."
He has no doubt that he is inno­cent and repeat­ed­ly insists that the pros­e­cu­tor has noth­ing against him.
​"They are pun­ish­ing me for my thoughts. There's no evi­dence. Nothing."
Still.
​"I have my hopes, but I'm worried."
The Pulitzer Cen­ter on Cri­sis Report­ing sup­port­ed this report­ing effort.
Stephen Franklin is a for­mer labor and work­place reporter for the Chica­go Tri­bune, was until recent­ly the eth­nic media project direc­tor with Pub­lic Nar­ra­tive in Chica­go. He is the author of Three Strikes: Labor's Heart­land Loss­es and What They Mean for Work­ing Amer­i­cans (2002), and has report­ed through­out the Unit­ed States and the Mid­dle East.