How 'Friedrichs' Could Actually Unleash Unions from Decades of Free Speech Restrictions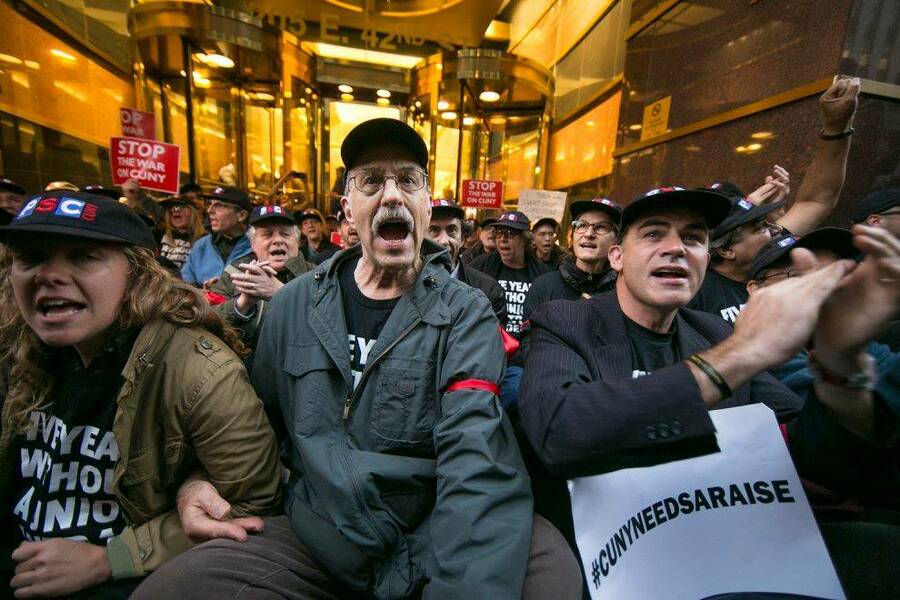 As the spring semes­ter starts up at the City Uni­ver­si­ty of New York, union activists con­tin­ue the painstak­ing work of prepar­ing for a strike autho­riza­tion vote. Fac­ul­ty and staff at CUNY have been work­ing with­out a con­tract for over five years. While Gov­er­nor Cuo­mo dis­in­vests in the pri­ma­ry col­lege sys­tem for work­ing class New York­ers, man­age­ment pro­pos­es salary increas­es that amount to decreas­es after inflation.
The par­al­lels between the strug­gle to save CUNY and the strug­gle over the future of Chica­go Pub­lic Schools are obvi­ous, with one major excep­tion: it is total­ly ille­gal for teach­ers to strike in New York. The last major union to vio­late the dra­con­ian Tay­lor Law, TWU Local 100, was fined $2.5 mil­lion for wag­ing a 60-hour strike that shut down the city's sub­way and bus sys­tem in 2005. On top of that, the union's abil­i­ty to col­lect dues mon­ey was sus­pend­ed for a year, its pres­i­dent jailed for 10 days and each indi­vid­ual strik­er was fined two days pay for each one day on strike.
But in an inter­est­ing twist, the anti-union Friedrichs v. CTA case cur­rent­ly under con­sid­er­a­tion by the Supreme Court could actu­al­ly lay the ground work for mak­ing pub­lic employ­ee strikes in New York and else­where con­sti­tu­tion­al­ly pro­tect­ed free speech.
A long his­to­ry of carv­ing unions out of the 1st Amendment
One could under­stand­ably be con­fused about how a col­lec­tive protest that involves refus­ing to work could even be ille­gal in a coun­try that prides itself on its sup­posed pur­suit of life, lib­er­ty and what­not. How is a strike and pick­et line not a con­sti­tu­tion­al­ly pro­tect­ed exer­cise of free speech and free assem­bly? And how is pro­hibit­ing work­ers from strik­ing not a vio­la­tion of the 13th Amendment's pro­tec­tion from invol­un­tary servitude?
Ear­ly on in our nation's his­to­ry, con­ser­v­a­tive courts treat­ed unions as crim­i­nal con­spir­a­cies and strikes as inter­fer­ing with employ­ers' prop­er­ty and con­tract rights and with Con­gress' respon­si­bil­i­ty to reg­u­late inter­state com­merce. Root­ed in import­ed Eng­lish com­mon law and begin­ning as ear­ly as 1806, these instances of what ear­ly union­ists derid­ed as ​"judge-made law," should be regard­ed as a betray­al of the Amer­i­can Revolution.
As detailed in William Forbath's Law and the Shap­ing of the Amer­i­can Labor Move­ment, unions' leg­isla­tive agen­da dur­ing the 19th and ear­ly 20th cen­tu­ry was basi­cal­ly to get the gov­ern­ment and courts out of labor dis­putes. Unions sought to have labor legal­ly defined as ​"not a com­mod­i­ty" and to restrain judges from issu­ing injunc­tions against pick­ets and boy­cotts, with mixed results.
By the time the Nation­al Labor Rela­tions Act was passed to encour­age and reg­u­late col­lec­tive bar­gain­ing, its framers rec­og­nized that if they root­ed the Act's author­i­ty in the 1st Amend­ment, it would not be found con­sti­tu­tion­al by the con­ser­v­a­tive Supreme Court. And so labor rights in this coun­try are root­ed in the Inter­state Com­merce Clause, which is why they're so wonky.
Pub­lic sec­tor unions, whose abil­i­ty to func­tion is imme­di­ate­ly at stake in the Friedrichs case, are not cov­ered by the fed­er­al labor act. Instead, many states passed laws that are mod­eled on the NLRA. But with a cru­cial dif­fer­ence: when boss­es get to pass laws that apply to their employ­ees (which, if you think about it, is exact­ly what pub­lic sec­tor labor law rep­re­sents), they're guar­an­teed to make it even more unfa­vor­able than pri­vate sec­tor rules.
Unsur­pris­ing­ly, many states make strikes by pub­lic sec­tor employ­ees like the CUNY fac­ul­ty and staff total­ly ille­gal, or else severe­ly restrict them. Many states also make many union demands ille­gal, either by statute or by judi­cial deci­sions. The Friedrichs case, by insert­ing pub­lic employ­ees' 1st Amend­ment rights into col­lec­tive bar­gain­ing could give unions a very use­ful tool for revers­ing many anti-union mea­sures that are on the books.
If col­lec­tive bar­gain­ing becomes polit­i­cal speech…
Pub­lic employ­ees have actu­al­ly enjoyed a degree of free speech pro­tec­tions at work for some time, mak­ing them the only work­ers in Amer­i­ca who do. Remem­ber, the 1st Amend­ment only pre­vents the gov­ern­ment from restrict­ing a citizen's rights of free speech and assem­bly. Since pub­lic employ­ees work for the gov­ern­ment, their employ­er is con­sti­tu­tion­al­ly for­bid­den from restrict­ing or coerc­ing their polit­i­cal speech.
His­tor­i­cal­ly, this has been lim­it­ed to actu­al polit­i­cal speech (sup­port­ing a can­di­date, wear­ing a polit­i­cal but­ton, speak­ing in the press and the like). Unions have care­ful­ly kept their polit­i­cal funds and activ­i­ty sep­a­rate from the agency fees that they col­lect from the pub­lic employ­ees they are required to rep­re­sent by law. Right-wing efforts to fight the abil­i­ty of unions to col­lect dues and fees by argu­ing that the polit­i­cal activ­i­ty of pub­lic employ­ee unions is com­pelled polit­i­cal activ­i­ty have been deci­sive­ly reject­ed since 1978.
So, in order to over­turn this long-set­tled prece­dent the par­ties behind Friedrichs—egged on by Jus­tice Ali­to — are lodg­ing a wild­ly expan­sive argu­ment that every inter­ac­tion that a union has with its gov­ern­ment employ­er is inher­ent­ly polit­i­cal. Bar­gain­ing demands, griev­ances, labor-man­age­ment com­mit­tees, job actions: all of it, goes the Friedrichs argu­ment, is polit­i­cal, there­by mak­ing the col­lec­tion of agency fees com­pelled polit­i­cal speech.
Let's think about some of the impli­ca­tions of this argu­ment. For starters, the Tay­lor law that tells CUNY fac­ul­ty and staff that they will be fined and their lead­ers impris­oned if they strike seems clear­ly to be a coer­cive restric­tion on their cho­sen method of polit­i­cal speech. If the Pro­fes­sion­al Staff Con­gress is hit with any penal­ties for either plan­ning or going through with a job action, one hopes they can time their appeals to reach high­er lev­el courts after the Friedrichs deci­sion comes down in June.
Across the riv­er in New Jer­sey, anoth­er state with strong unions and shit­ty labor law, the scope of items that unions are even allowed to raise at the table is restrict­ed by statute and a num­ber of hor­ri­ble court deci­sions.
One area of restric­tion is a strong pro­hi­bi­tion on pat­tern bar­gain­ing (i.e. one bar­gain­ing unit align­ing its demands with anoth­er bar­gain­ing unit's set­tle­ment). The most far­ci­cal exam­ple of this is Rut­gers Uni­ver­si­ty, where man­age­ment habit­u­al­ly cre­ates new job titles that they argue fall out­side the bounds of the exist­ing fac­ul­ty bar­gain­ing unit.
When the union orga­nizes these new groups (adjuncts, post-docs, sum­mer and win­ter instruc­tors), man­age­ment threat­ens legal hell­fire and judi­cial damna­tion when the union seeks the same rights and ben­e­fits for all their mem­bers. The union could, how­ev­er, pro­pose one con­tract, com­pre­hen­sive of all of the job titles it rep­re­sents, in the next round of bar­gain­ing and tell the state uni­ver­si­ty to go ahead and take them to court when they stick to their guns.
More galling: teach­ers unions in NJ are pro­hib­it­ed from even rais­ing demands around class size and staffing lev­els. I can think of few issues that teach­ers have more of a burn­ing desire to talk about! But they can't, at least at the bar­gain­ing table.
How­ev­er, once those bar­gain­ing ses­sions between unions reps and their gov­ern­ment employ­ers are rede­fined by the Supreme Court to be polit­i­cal speech, any law restrict­ing what can be said, what items can be raised, seems to be a restric­tion by the gov­ern­ment on those union mem­bers' free speech rights. Per­haps the New Jer­seya Edu­ca­tion Asso­ci­a­tion and Amer­i­can Fed­er­a­tion of Teach­ers New Jer­sey locals should cel­e­brate their new rights with a coor­di­nat­ed cam­paign to low­er class sizes across the state?
Per­haps most deli­cious­ly, the right-wing Friedrichs effort is in direct oppo­si­tion to Gov. Scott Walker's offen­sive agen­da in Wis­con­sin. Walker's anti-union Act 10 did a lot of nasty things to pub­lic employ­ees, some of which will con­tin­ue to stand. It took away pay­roll deduc­tion and forced unions to annu­al­ly recer­ti­fy as the col­lec­tive bar­gain­ing agents for their members.
But what most­ly caused union mem­ber­ship to plum­met in the state was that cer­ti­fied unions were pro­hib­it­ed from bar­gain­ing over any­thing of sub­stance; not just rais­es that exceed infla­tion, but duties, hours and work sched­ules and every oth­er every­day issue that work­ers want to have a voice at work about.
If Jus­tice Ali­to gets his way, then Scott Walk­er is sud­den­ly mas­sive­ly vio­lat­ing the free speech rights of Wis­con­sin pub­lic employ­ees. I humbly sug­gest that every union still cer­ti­fied demand to bar­gain the day after the deci­sion. They could throw their old con­tracts on the table and sue every school board and state agency that refus­es to dis­cuss those items. I'd also sug­gest that they begin draw­ing up some new pick­et signs.
Labor needs a Plan B
The hubris and gen­er­al stu­pid­i­ty of Jus­tice Ali­to — who tried and failed to get this rul­ing in last year's Har­ris v. Quinn—and the vast right-wing con­spir­a­cy of union-busters who raced this case through the courts in less than a year per­haps shouldn't be sur­pris­ing. They just want to kill the unions, and they're used to get­ting their way.
But, in their nar­row-mind­ed pur­suit of deny­ing unions in the pub­lic sec­tor agency fee, they are mind­less­ly try­ing to just hand to us free speech rights that con­ser­v­a­tive jurists and politi­cians have stu­dious­ly avoid­ed grant­i­ng to union efforts for over two centuries.
Unions' and their allies' pub­lic mes­sag­ing against the Friedrichs assault has focused on how it is an assas­si­na­tion on the labor move­ments, a naked­ly par­ti­san attempt to weak­en a field oper­a­tion that helps turn out votes against the GOP and how it will deprive many thou­sands of work­ing peo­ple — par­tic­u­lar­ly women and work­ers of col­or — from a path­way to a bet­ter life. And all of that is true. And unions have put togeth­er a very robust defense against Friedrichs, with an impres­sive array of sup­port­ing briefs, that is right on the facts, right on the legal prece­dents and right on the politics.
But labor also needs more peo­ple engag­ing in a debate about what, in the­o­ry, could come the day after an adverse Friedrichs deci­sion. That shouldn't be lim­it­ed to toy­ing with the legal impli­ca­tions of the Court's log­ic, but also what kind of mobi­liza­tions, boy­cotts and — dare we dream? — strikes could be launched in the days and weeks after.
Out­lets like In These Times are great for offer­ing alter­na­tive per­spec­tives that con­tribute to a broad­en­ing debate. But I sure as hell hope that the unions that have the most to lose from a ​"bad" Friedrichs deci­sion, and who have done most of the heavy lift­ing on win­ning in court, are also putting togeth­er alter­na­tive war rooms to fig­ure out Plan B.
The more that we vis­i­bly and loud­ly plan and pre­pare our response, and cal­cu­late the poten­tial upsides of a ​"bad" deci­sion and maybe (some of us) even get a bit excit­ed about the chaos we can cre­ate post-Friedrichs, the more like­ly that five mem­bers of the Court might real­ize that Ali­to is push­ing for them to make a very big mis­take. But if the Supreme Court goes ahead and tears up the cur­rent labor law régime in a naked­ly par­ti­san act in the mid­dle of a pres­i­den­tial elec­tion, then we had bet­ter be pre­pared to cre­ate the chaos that the Court is inviting.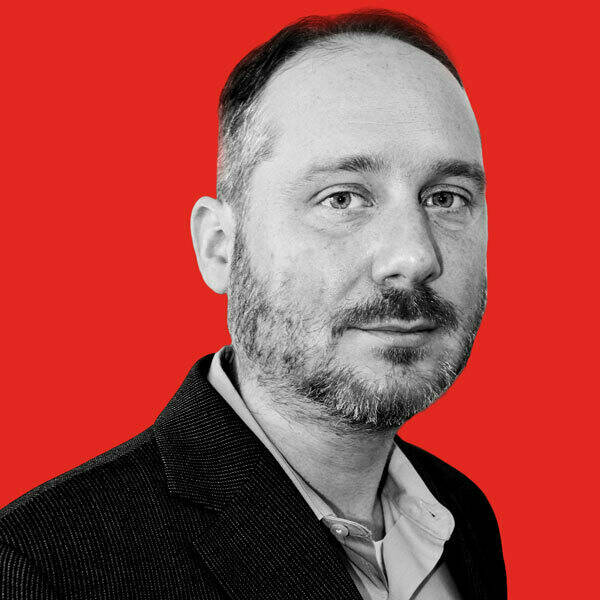 Shaun Rich­man
is an In These Times con­tribut­ing writer and the Pro­gram Direc­tor of the Har­ry Van Ars­dale Jr. School of Labor Stud­ies at SUNY Empire State Col­lege. His Twit­ter han­dle is @Ess_Dog.