U.S. Workers Fly 4,000 Miles To Confront Dutch Bosses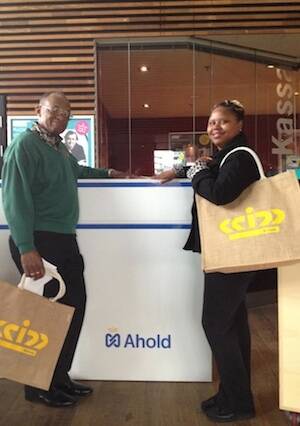 A pair of intre­pid food work­ers from Rich­mond, Va., turned glob­al­iza­tion on its head this week. They trav­eled to one of the cen­ters of Euro­pean finance to con­front their super­mar­ket's for­eign own­ers on issues of work­ers' rights.
Shaqua­na Bat­tle and George Miles took time off from their jobs at Vir­ginia-based Martin's Food stores to attend the annu­al share­hold­ers' meet­ing of Roy­al Ahold NV, a huge mul­ti-nation­al gro­cery retail­er head­quar­tered in the Dutch cap­i­tal of Ams­ter­dam. Ahold is the 8th-largest food retail­er in the Unit­ed States and, in addi­tion to Mar­t­in's, owns Stop & Shop, Pea­pod and Giant Food.
On Wednes­day, Bat­tle, Miles and oth­er labor activists spoke out from the floor of the pub­lic share­hold­ers meet­ing, chal­leng­ing Ahold cor­po­rate boss Dick Boer and oth­er own­ers to respect the col­lec­tive bar­gain­ing rights of work­ers in Rich­mond and else­where (see a web­cast video of the meet­ing here).
The work­ers say they were met with denial and evasion.
"[The own­ers] respond­ed in a very indi­rect way," says Bat­tle, a five-year vet­er­an of the com­pa­ny. ​"They nev­er answered my ques­tions direct­ly – it's kind of upset­ting in that way – but they know we are here, and that we are not going away till we get a union."
Bat­tle is a leader in a cam­paign by the Unit­ed Food & Com­mer­cial Work­ers (UFCW) to orga­nize gro­cery work­ers at Martin's and to push back more broad­ly against Ahold anti-union ini­tia­tives. Accord­ing to union lead­ers, Ahold is pur­su­ing expan­sion in both the U.S. and Europe at the expense of its own work­ers, often by invest­ing new mon­ey in non-union oper­a­tions at the expense of estab­lished union­ized work­places. The toll often falls heav­i­ly on the union­ized as pres­sure builds to reduce wages and ben­e­fits to the bet­ter-paid work­ers, they say.
For instance, Ahold moved last year to shut down a huge union­ized dis­tri­b­u­tion cen­ter in Jes­sup, Md. and trans­fer the work to non-union sites. UFCW Local 400, based in near­by Lan­dover, Md., was already part­ner­ing with Euro­pean unions to fight Ahold, but was unable to save the Jes­sup jobs​.In March, dis­tri­b­u­tion work­ers with the Dutch union group Fed­er­atie Ned­er­landse Vak­be­weg­ing, or FNV, went on strike against anoth­er Ahold sub­sidiary, Dutch super­mar­ket chain Albert Hei­jn over the com­pa­ny's over use of tem­po­rary non-union work­ers. Around that time, five UFCW locals in New Eng­land protest­ed Stop & Shop, a U.S. sub­sidiary of Ahold, for recruit­ing strike­break­ers to pres­sure union­ized work­ers into health­care concessions.
For George Miles, Ahold's glob­al­ized antipa­thy to labor has tak­en the form of an anti-union drum­beat from his boss­es in Rich­mond. ​"What we want­ed was to be able to talk to work­ers in the stores" about join­ing Local 400, he says. ​"They've denied us the right to do that."
At the same time, Miles, says, he and his cowork­ers received let­ters from the com­pa­ny at their homes argu­ing against form­ing a union. ​"The com­pa­ny feels that we don't need a union … they tell us that the union just wants to take our mon­ey. Well, it's just a lie," says Miles, who was a union mem­ber at a pre­vi­ous job in a ship­yard. ​"I know what a union is, and what a union does, so I don't need these guys to tell me."
Miles esti­mates that at least half of his cowork­ers would join the union if giv­en a chance.
Though the Amer­i­can work­ers got a cool recep­tion from the Dutch investors at the Wednes­day meet­ing, Miles says, they did have some sup­port from union­ists in the room. Accom­pa­ny­ing the Vir­ginia work­ers to Ams­ter­dam was Aaron Bren­ner, senior cap­i­tal mar­kets ana­lyst for UFCW, which rep­re­sents a total of about 70,000 U.S. employ­ees of Ahold sub­sidiaries. Bren­ner spoke up in sup­port of the work­ers, as did FNV rep­re­sen­ta­tives. In addi­tion, sup­port came from Giuseppe van der Helm of the Dutch Asso­ci­a­tion of Investors for Sus­tain­able Devel­op­ment, a local share­hold­er activist group inter­est­ed in social and envi­ron­men­tal issues. Also on hand from the U.S. labor move­ment was Lucas Ben­itez of the Coali­tion of Immokolee Work­ers, the Flori­da-based group that is cam­paign­ing to get large cor­po­ra­tions to help finance improve­ments to the pay and work­ing con­di­tions of poor farm work­ers who do the work pro­vid­ing fresh food to com­pa­nies like Ahold.
This was the third con­sec­u­tive year that UFCW and FNV have been joint­ly attend­ing the Ahold share­hold­er meet­ings, Bren­ner tells WITT. The union counts it as a pos­i­tive step that senior Ahold exec­u­tives are no longer sur­prised to see the labor activists at the meet­ings. Orga­niz­ers want Ahold to know that a multi­na­tion­al coali­tion of labor rights groups is close­ly watch­ing the com­pa­ny – and hold­ing it account­able for its employ­ment policies.
Bruce Vail
is a Bal­ti­more-based free­lance writer with decades of expe­ri­ence cov­er­ing labor and busi­ness sto­ries for news­pa­pers, mag­a­zines and new media. He was a reporter for Bloomberg BNA's Dai­ly Labor Report, cov­er­ing col­lec­tive bar­gain­ing issues in a wide range of indus­tries, and a mar­itime indus­try reporter and edi­tor for the Jour­nal of Com­merce, serv­ing both in the newspaper's New York City head­quar­ters and in the Wash­ing­ton, D.C. bureau.