From Steel Mill to Scrap Yard? The Agony of Sparrows Point Drags On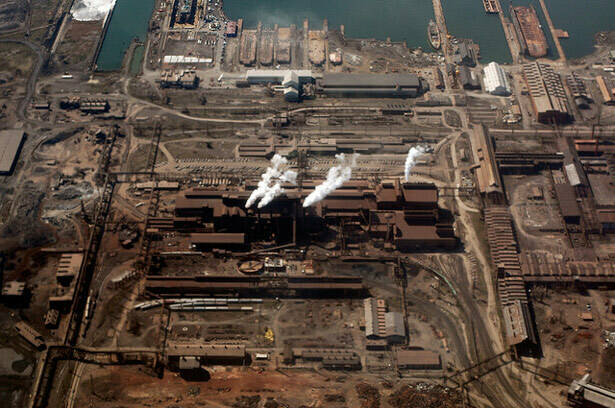 BALTIMORE- – Once the mightiest steel-making complex in the western world, Maryland's Sparrows Point mill was sold for scrap at a bankruptcy sale last week.
In a confused and uncertain process, RG Steel, the absentee owner of the mill, announced it had auctioned the property to a company that specializes in the demolition and scrapping of outdated industrial sites. The sale, however, has not been confirmed by the bankruptcy court, and thorny legal and financial issues seem likely to prevent any speedy consummation of a deal to dismantle the mill.
​"Accurate and reliable information is just not available right now," says Fronda Cohen, a spokesperson for Kevin Kamenetz, the top elected official in Baltimore County. The county, which rings the city of Baltimore and embraces the vast mill and several communities dominated by Sparrows Point steelworkers, is officially objecting to the sale, Cohen says.
Accurate and reliable information has been in short supply for the workers at Sparrows Point as well, she adds. Some 2,000 employees of RG Steel were laid off starting in early June and have been anxiously awaiting any news about the fate of their jobs.
One ray of hope might come from the United Steelworkers (USW), which represents most of the employees at Sparrows Point. (Full disclosure: The USW is an In These Times sponsor.) Cohen says the union is said to have negotiated a six-month moratorium on any demolition work while efforts are made to find an alternate buyer who will resume steel-making at the historic mill.
But thus far, says Deborah Rudacille, author of Roots of Steel: Boom and Bust in an American Mill Town, the collapse of Sparrows Point has been ​"like watching a slow-motion train wreck."
Raised in Dundalk, Md., one of several steelworker communities adjoining Sparrows Point, Rudacille writes in her 2010 book about the impact that the demise of the mill's former owner, Bethlehem Steel, had on local families. Some 25 years of slowly declining company fortunes culminated in the 2001 bankruptcy of Bethlehem Steel, an event that shattered the tranquility and prosperity of the mill town.
​"There were about 30,000 people working there when I was a kid," says Rudacille, 54. The bankruptcy accelerated the decline precipitously, she says, as the property was passed from one owner to another over the next decade. ​"It always seemed that a new owner would invest in the mill and things would turn around, but these companies only wound up picking at the [mill's] carcass," she says.
Referring to the prospect of the mill's demolition, Rudacille says, ​"it is sort of like a family where a member has been sick for a long, long time. It's not unexpected when the end comes, but it still has a strong emotional impact, and there is a period of mourning."
For Dundalk-based politician John Olszewski, Jr., the question now becomes whether some of the damage to the community can be repaired.
​"The union is optimistic, or at least hopeful, that there is a buyer to come in and make the capital upgrades," to revive steelmaking, he says. ​"I don't know if that will happen….but we need to think about what happens if that doesn't take place."
The Sparrows Point mill is a unique industrial site, with a deep-water pier for handling imported iron ore and excellent rail connections to the national distribution network, Olszewski notes. It is a large site, which could easily handle new industrial fabrication businesses or some sort of assembly work. ​"There has even been some talk about the Port of Baltimore taking over some part of it," he says, because of the mill's outstanding transportation infrastructure.
The important goal is to generate new jobs for the battered Dundalk community, says Olzewski, a Democratic Party member of the state House of Delegates. State and local political leaders are already organized for some long-term planning for the future of Sparrows Point area, he says, and it is time to ratchet up those efforts in light of the financial troubles at RG Steel.
Both Olzewski and Cohen point to unresolved environmental pollution issues as an area in need of improvement. First opened in 1890, the Sparrows Point mill produced vast amounts of pollution, in addition to the pig iron, steel rails, soup cans and countless other products that generated steady profits for nearly a century. According to documents filed in the RG Steel bankruptcy case, federal and state officials are particularly concerned that they will be left holding the bag for the cost of the cleanup should future owners try to shift the cost to the government.
USW spokesman Tony Montana says confidentiality agreements between the union and RG Steel prevent him from making any official statements at this time. The willingness of the USW to do anything within reason to help restart the mill is well known, he says, but a more comprehensive statement will have to wait until there are new developments in the bankruptcy court.
Bruce Vail
is a Baltimore-based freelance writer with decades of experience covering labor and business stories for newspapers, magazines and new media. He was a reporter for Bloomberg BNA's Daily Labor Report, covering collective bargaining issues in a wide range of industries, and a maritime industry reporter and editor for the Journal of Commerce, serving both in the newspaper's New York City headquarters and in the Washington, D.C. bureau.