From Steel Mill to Scrap Yard? The Agony of Sparrows Point Drags On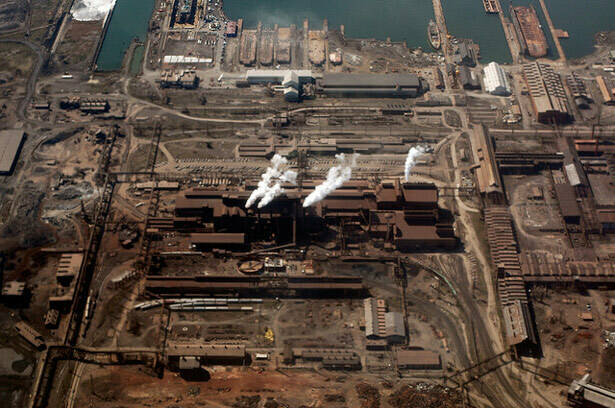 BAL­TI­MORE- – Once the might­i­est steel-mak­ing com­plex in the west­ern world, Maryland's Spar­rows Point mill was sold for scrap at a bank­rupt­cy sale last week.
In a con­fused and uncer­tain process, RG Steel, the absen­tee own­er of the mill, announced it had auc­tioned the prop­er­ty to a com­pa­ny that spe­cial­izes in the demo­li­tion and scrap­ping of out­dat­ed indus­tri­al sites. The sale, how­ev­er, has not been con­firmed by the bank­rupt­cy court, and thorny legal and finan­cial issues seem like­ly to pre­vent any speedy con­sum­ma­tion of a deal to dis­man­tle the mill.
​"Accu­rate and reli­able infor­ma­tion is just not avail­able right now," says Fron­da Cohen, a spokesper­son for Kevin Kamenetz, the top elect­ed offi­cial in Bal­ti­more Coun­ty. The coun­ty, which rings the city of Bal­ti­more and embraces the vast mill and sev­er­al com­mu­ni­ties dom­i­nat­ed by Spar­rows Point steel­work­ers, is offi­cial­ly object­ing to the sale, Cohen says.
Accu­rate and reli­able infor­ma­tion has been in short sup­ply for the work­ers at Spar­rows Point as well, she adds. Some 2,000 employ­ees of RG Steel were laid off start­ing in ear­ly June and have been anx­ious­ly await­ing any news about the fate of their jobs.
One ray of hope might come from the Unit­ed Steel­work­ers (USW), which rep­re­sents most of the employ­ees at Spar­rows Point. (Full dis­clo­sure: The USW is an In These Times spon­sor.) Cohen says the union is said to have nego­ti­at­ed a six-month mora­to­ri­um on any demo­li­tion work while efforts are made to find an alter­nate buy­er who will resume steel-mak­ing at the his­toric mill.
But thus far, says Deb­o­rah Rudacille, author of Roots of Steel: Boom and Bust in an Amer­i­can Mill Town, the col­lapse of Spar­rows Point has been ​"like watch­ing a slow-motion train wreck."
Raised in Dun­dalk, Md., one of sev­er­al steel­work­er com­mu­ni­ties adjoin­ing Spar­rows Point, Rudacille writes in her 2010 book about the impact that the demise of the mill's for­mer own­er, Beth­le­hem Steel, had on local fam­i­lies. Some 25 years of slow­ly declin­ing com­pa­ny for­tunes cul­mi­nat­ed in the 2001 bank­rupt­cy of Beth­le­hem Steel, an event that shat­tered the tran­quil­i­ty and pros­per­i­ty of the mill town.
​"There were about 30,000 peo­ple work­ing there when I was a kid," says Rudacille, 54. The bank­rupt­cy accel­er­at­ed the decline pre­cip­i­tous­ly, she says, as the prop­er­ty was passed from one own­er to anoth­er over the next decade. ​"It always seemed that a new own­er would invest in the mill and things would turn around, but these com­pa­nies only wound up pick­ing at the [mil­l's] car­cass," she says.
Refer­ring to the prospect of the mil­l's demo­li­tion, Rudacille says, ​"it is sort of like a fam­i­ly where a mem­ber has been sick for a long, long time. It's not unex­pect­ed when the end comes, but it still has a strong emo­tion­al impact, and there is a peri­od of mourning."
For Dun­dalk-based politi­cian John Olszews­ki, Jr., the ques­tion now becomes whether some of the dam­age to the com­mu­ni­ty can be repaired.
​"The union is opti­mistic, or at least hope­ful, that there is a buy­er to come in and make the cap­i­tal upgrades," to revive steel­mak­ing, he says. ​"I don't know if that will happen….but we need to think about what hap­pens if that doesn't take place."
The Spar­rows Point mill is a unique indus­tri­al site, with a deep-water pier for han­dling import­ed iron ore and excel­lent rail con­nec­tions to the nation­al dis­tri­b­u­tion net­work, Olszews­ki notes. It is a large site, which could eas­i­ly han­dle new indus­tri­al fab­ri­ca­tion busi­ness­es or some sort of assem­bly work. ​"There has even been some talk about the Port of Bal­ti­more tak­ing over some part of it," he says, because of the mil­l's out­stand­ing trans­porta­tion infrastructure.
The impor­tant goal is to gen­er­ate new jobs for the bat­tered Dun­dalk com­mu­ni­ty, says Olzews­ki, a Demo­c­ra­t­ic Par­ty mem­ber of the state House of Del­e­gates. State and local polit­i­cal lead­ers are already orga­nized for some long-term plan­ning for the future of Spar­rows Point area, he says, and it is time to ratch­et up those efforts in light of the finan­cial trou­bles at RG Steel.
Both Olzews­ki and Cohen point to unre­solved envi­ron­men­tal pol­lu­tion issues as an area in need of improve­ment. First opened in 1890, the Spar­rows Point mill pro­duced vast amounts of pol­lu­tion, in addi­tion to the pig iron, steel rails, soup cans and count­less oth­er prod­ucts that gen­er­at­ed steady prof­its for near­ly a cen­tu­ry. Accord­ing to doc­u­ments filed in the RG Steel bank­rupt­cy case, fed­er­al and state offi­cials are par­tic­u­lar­ly con­cerned that they will be left hold­ing the bag for the cost of the cleanup should future own­ers try to shift the cost to the government.
USW spokesman Tony Mon­tana says con­fi­den­tial­i­ty agree­ments between the union and RG Steel pre­vent him from mak­ing any offi­cial state­ments at this time. The will­ing­ness of the USW to do any­thing with­in rea­son to help restart the mill is well known, he says, but a more com­pre­hen­sive state­ment will have to wait until there are new devel­op­ments in the bank­rupt­cy court.
Bruce Vail
is a Bal­ti­more-based free­lance writer with decades of expe­ri­ence cov­er­ing labor and busi­ness sto­ries for news­pa­pers, mag­a­zines and new media. He was a reporter for Bloomberg BNA's Dai­ly Labor Report, cov­er­ing col­lec­tive bar­gain­ing issues in a wide range of indus­tries, and a mar­itime indus­try reporter and edi­tor for the Jour­nal of Com­merce, serv­ing both in the newspaper's New York City head­quar­ters and in the Wash­ing­ton, D.C. bureau.