From the Mines to Wal-Mart, Hope Dies Last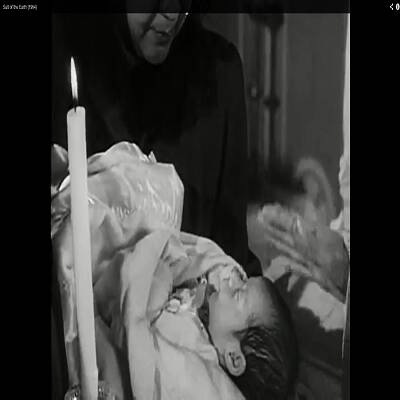 In Salt of the Earth, Herbert Biberman's classic 1954 labor film, a baby is born during a strike by mostly Mexican-American miners against a giant, robber-baron-led company.
The mother's name is Esperanza, which means ​"hope," and the baby's birth is the harbinger of a new day for workers fighting for basic rights to organize, a fair wage, and safety and health protections. They win those rights after the women's auxiliary stands up for the men and forces the company to grant their demands.
In fact, a real baby, whose naming would await completion of the scenes, makes a cameo in the historic film. Juan Chacon, the Silver City union president who played the strike leader in the movie, was about to have a baby with his wife, Virginia. So the filmmakers (including Academy Award-winning screenwriter Michael Wilson) gave the two-week-old a key cameo in the movie's christening scene. (See the 36-minute-mark here.)
By coincidence, more than 15 years ago, during research for the New Mexico supplement to my book Copper Crucible (about the1983 Arizona miners' strike), I interviewed that infant, Esperanza Chacon, by then a grown-up living in New Mexico. And, by further coincidence, she was working not for the mining czars, but for Wal-Mart.
Today—as workers press a historic campaign against Wal-Mart's substandard labor conditions — that interview rings in my mind.
Esperanza (truly named after her fictional mother in the movie) was raised in a radical union family that fought hard to topple barriers of racial discrimination on wages and job assignments. Her father, Juan, was the president of International Mine Mill and Smelter Workers Local 890 in Silver City. Her birth mother, Virginia, was a local Mother Jones-like figure, protesting for justice and helping to run the union hall.
When I met Esperanza in 1997, many of the mines and other related industries had shut down in Silver City. That's why she was working as a supervisor at the area's biggest service industry employer, Wal-Mart.
Sadly, a few years later, cancer would kill Esperanza far too young, at age 47. But our conversation was all about forms of ​"esperanza." Esperanza believed that Wal-Mart would someday have an activist workforce demanding union rights. (Her roots ran so deep that her father used to joke that their apples at the table were union-made because they were picked from the family tree.)
Her employer, then, as now, was full of fight. So much so that back then Wal-Mart used the acronym ​"FOEs" to describe its strategy to fight unions. Today, as Wal-Marts receive visits from hundreds of workers and protesters demanding better wages, health care, and sometimes more locally produced goods over Chinese imports, perhaps the real-life Esperanza could still be the harbinger she played in Salt of the Earth.
Esperanza's story deserves a posthumous telling. Everything flowed from one simple question I posed to her: ​"Why has Wal-Mart never had a sustained union representing its workers in the United States?"
Esperanza responded mockingly that Wal-Mart ​"cares about its associates," echoing a PR campaign at the time. ​"That's what they say. The…managers take care of them, so they don't need a third party. But if anyone needs a union, the hourly [workers] in Wal-Mart need a union. I believe strong heartedly that they do need union representation. They need to secure their wages and secure the way they are treated. They're not animals, they're human beings. They don't need to have their hours cut and they don't need to start at the minimum wage, or start as part timers and work forever on a part-time basis."
Esperanza could see that industry growth would soon be aimed at supercenters. She thought Wal-Mart was ​"going to have to go union because your bakers are unionized, meat cutters are unionized." (Esperanza was prophetic here, because in 2000 Wal-Mart closed down one of its first meat counters in Texas after the butchers there unionized.) ​"This is why Wal-Mart is taking such a strong stand … in dissuading people from having unions. … They have conceived very good brainwashing sessions. I know — I've been there."
She described Wal-Mart's provision of luxurious amenities and special training when the company wanted to impress on supervisors the importance of controlling employee activism. Wal-Mart human-resource trainers ​"called a break, and they had arranged all the drinks and snacks outside by the pool, and nice little cabanas…. We had new little pens, new little pads and little red cards… on the white tablecloth. Everyone was saying, ​'I wonder what these little red cards are for.' I said ​'Oh here we go, this is the big red scare.'
"They had us in these sessions for four days. Four days!"
Wal-Mart taught the supervisors rigid rules for union inquiries: "[F]irst, thank them for asking. Second, state Wal-Mart's position on unions. ​'It is our belief that our associates should not have to pay their hard-earned money to a third party to represent them when they do a good job speaking for themselves.' Then, report the incident to the store manager."
The supervisors received a card from trainers with the word ​"TIPS" on the front and ​"FOES" on the back. That translated to: ​"As a supervisor you legally cannot ​'T' (threaten the union) ​'I' interrogate, ​'P' (promise), ' S' (spy).
"But supervisors legally can: ​'F' state facts, ​'O' give personal opinions, and ​'E' share personal experience(s). Then we would have videos going on, lengthy bullshit, brainwashing videos. A lawyer conducted the video training – not only for Wal-Mart but for all across the country. Then another girl from the legal department gave this long session on ​'TIPS' and ​'FOES'. They're spending more money fighting (unions) than the actual unions are using trying to organize."
Esperanza lamented that she couldn't join a union because of her classification as a supervisor; instead, she became ​"really good at passing the buck" in the matter of TIPS and FOES, avoiding this play acting role..
In another twist of history, after Wal-Mart shut down the newly organized meat department in that Texas store in 2000, an organizing campaign arose in Canadian Wal-Marts from the radical Mine Mill and Smelter Workers, the union Esperanza's father had led the 1950s. Although that campaign floundered, in recent years, the Canadian branch of the United Food and Commercial Workers has organized three Wal-Marts, encountering fierce resistance and store closures along the way.
Meanwhile, a study released by Congressional Democrats last week reported that a single Wal-Mart in Wisconsin had the potential to cost taxpayers as much as $900,000 annually, thanks to its poverty wages forcing workers to use Medicaid and food stamps. The actual cost of received benefits is more than $250,000.
The report said that Wisconsin Wal-Marts had more than 3,000 workers and 6,000 dependents enrolled in aid programs, the largest of any state employer
"When low wages leave Wal-Mart workers unable to afford the necessities of life, taxpayers pick up the tab," the report says.
Over the past two years, unprecedented employee walkouts have been directed at U.S. Wal-Marts and other brand name U.S. service employers, like McDonald's and Burger King. A recent blog post by Interfaith Worker Justice, a Chicago-based group with affiliates in many major cities, described how some 200 striking Wal-Mart workers and protestors arrived at the international corporate headquarters in the early morning of June 3 to greet executive staff.
"For more than an hour, these workers stood in silence with tape across their lips holding signs telling Wal-Mart to stop trying to silence them… Then, in a roar, they removed the tape and began called out ​'Stand up! Live Better!' and other chants and songs."
Today, those workers are rallying at Wal-Mart's annual shareholder meeting. They'll be doing so in the spirit of the late Wal-Mart supervisor, union activist and salt of the earth, Esperanza Chacon.