Garbage Collectors' Lives Are Not Disposable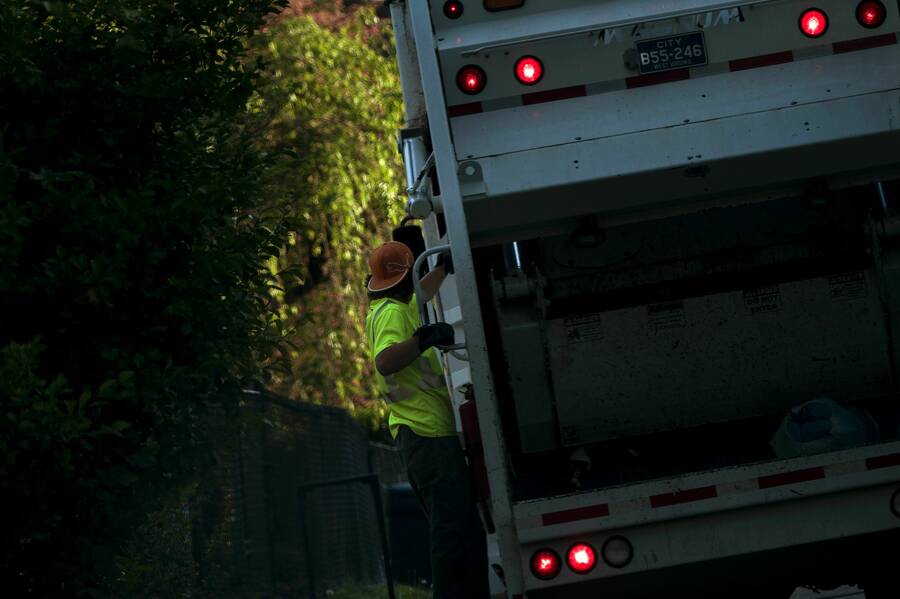 The coro­n­avirus pan­dem­ic is rav­aging our coun­try, man­i­fest­ing both as a health cri­sis and a jobs cri­sis. While the unem­ploy­ment rate could soar to 30%, many work­ers whose indus­tries are gen­er­al­ly ignored or dis­re­spect­ed have been deemed essen­tial, and have been putting them­selves in harm's way to keep our soci­ety functioning.
No role is more crit­i­cal than that of san­i­ta­tion work­ers, who, in times of nor­mal­cy, keep cities and towns healthy, clean and safe. They have one of the most impor­tant — and most dan­ger­ous — jobs in our coun­try, and yet are rou­tine­ly belit­tled. But now, in the midst of a glob­al pan­dem­ic, we need them more than ever: Their work is crit­i­cal in con­tain­ing COVID-19.
While many of us self-iso­late at home, san­i­ta­tion work­ers are on the front lines, pick­ing up our garbage and poten­tial­ly expos­ing them­selves to the virus. San­i­ta­tion work­ers in North Car­oli­na, many of whom are mem­bers of Unit­ed Elec­tri­cal, Radio and Machine Work­ers of Amer­i­ca (UE) Local 150, have been orga­niz­ing to pro­tect them­selves and their fam­i­lies from coro­n­avirus. Unfor­tu­nate­ly, the sec­ond report­ed coro­n­avirus-relat­ed death in the state was of a Raleigh san­i­ta­tion work­er, Adri­an Grubbs. Raleigh City Work­ers Union, a chap­ter of the North Car­oli­na Pub­lic Ser­vice Work­ers Union, UE Local 150, has put for­ward a set of 10 demands, includ­ing imme­di­ate coro­n­avirus tests for all Sol­id Waste Ser­vices work­ers, prop­er per­son­al pro­tec­tive equip­ment, ade­quate haz­ard pay, and the abil­i­ty to imme­di­ate­ly meet and con­fer with the City Manager.
In These Times spoke with Charlen Park­er, Pres­i­dent of Raleigh City Work­ers Union. Park­er hails from Clin­ton, North Car­oli­na and has been a san­i­ta­tion work­er for near­ly 16 years. He is the pres­i­dent of the Raleigh City Work­ers Union.
Mindy Iss­er: I am so sor­ry about what hap­pened to Adri­an. How are you all hold­ing up and deal­ing with his passing?
Charlen Park­er: To a lot of us, it's still sur­re­al because just about every­one knew him. We saw him just about every day when we came into work. We expect­ed it to be like a reg­u­lar work week. But then we came in and first they had a meet­ing where we found out he had it, and then the next day we start­ed hear­ing lit­tle reports that he didn't make it. It's a hard pill to swal­low when it's some­one that you're used to see­ing and being right there with. We hear about the coro­n­avirus and see it on the news and every­thing, but a lot of peo­ple feel like it doesn't affect them until it's right there in your face. Hearts and prayers go out to his fam­i­ly, it's been very difficult.
Mindy: It sounds like you didn't hear that he was sick until right before he passed away.
Charlen: Yes, we had a meet­ing on Tues­day morn­ing as we clocked in, and then they had us divid­ed in groups. Our direc­tor told us that Adri­an Grubbs had con­tract­ed it and that he had per­mis­sion from the fam­i­ly to let us know about his con­di­tion. He made his state­ment, and we walked out and some of us talked amongst our­selves. We sent him our prayers and hoped that he was gonna be alright and that hope­ful­ly in a few weeks that we'd be able to see him. That was Tues­day. Wednes­day we came into work and every­body was doing their route, and we can leave when­ev­er we get done to keep us from being on top of each oth­er. I was leav­ing and walk­ing to the park­ing lot, and I got a phone call from anoth­er employ­ee who told me that he heard that Grubbs didn't make it, that he had passed. He had heard it from two oth­er co-work­ers and I was like, okay, you know how peo­ple spread rumors and what­not and some­times their infor­ma­tion is not fac­tu­al. So I said, I hadn't heard any­thing offi­cial, so maybe it's just that they're run­ning off at the mouth and don't have the right infor­ma­tion. And then we came into work on Thurs­day morn­ing and there's anoth­er meet­ing where it's con­firmed that he had passed away.
Mindy: And when peo­ple found out, obvi­ous­ly they were real­ly upset and sad. Was any­one afraid for their own health? Because I'm sure peo­ple had come into con­tact with him per­haps before he even knew he was sick.
Charlen: Imme­di­ate­ly, we felt the sad­ness. But then right after the sad­ness, the ques­tion was then, how long had he been sick? Who has he been around? What has he touched? Where had he been at? That quick­ly became the imme­di­ate concern.
Mindy: Did any­one get time off of work to self-iso­late or is every­thing kind of busi­ness as usual?
Charlen: When our Direc­tor made the ini­tial state­ment that Grubbs had con­tract­ed coro­n­avirus, he also said that there were two employ­ees that had quar­an­tined them­selves because they had been in close prox­im­i­ty to Grubbs. They didn't iden­ti­fy the two employ­ees, and that was basi­cal­ly it.
We're all always on top of each oth­er, we're always all run­ning into each oth­er, and we were all won­der­ing who the two employ­ees were and if they had inter­act­ed with us — because we don't know who they are. On the admin­is­tra­tive side, they get to work from home, so we don't know if they were talk­ing about them, and since we're stag­gered, you can't pin­point if it was one of us, because we're not all there at the same time.
Mindy: What is Raleigh doing to pro­tect san­i­ta­tion workers?
Charlen: They've been giv­ing out face masks and latex gloves. I think as of Fri­day, and I can­not con­firm, that they've increased the amount of gloves you get. They're sup­posed to be san­i­tiz­ing the build­ing dai­ly, but a lot of my cowork­ers have expressed con­cerns about that. The nor­mal per­son who cleans we saw on Tues­day, but since Tues­day no one that I've talked to can account for see­ing her or any­one else in the build­ing doing addi­tion­al clean­ing. I don't want to say they haven't had any­body, but we haven't seen any­body. And I think they said they have a com­pa­ny that comes in and does a thor­ough clean­ing of the build­ing, but that's only once a week.
Mindy: What do you think the city should be doing to pro­tect you?
Charlen: The major con­cern right now amongst many of my co-work­ers is that, since Grubbs did have it, many of us want to be test­ed. We under­stand that they have lim­it­ed tests, but from my per­spec­tive, we're on the front lines, and we have to go out there and be in the mid­dle of it. The least that they could do is to test us so that we can either con­firm or deny who does or doesn't have it. We have fam­i­lies. One thing that they men­tioned to us was that maybe we can be test­ed if we start to show symp­toms, but you can car­ry the coro­n­avirus and not have any symp­toms — a lot of peo­ple don't feel like they're tak­ing that into account. Many of us have chil­dren, we have peo­ple in our fam­i­lies that have health issues, and no one wants to bring that home to our families.
Mindy: How does it feel to be play­ing such a crit­i­cal role right now with how seri­ous the coro­n­avirus cri­sis is becoming?
Charlen: I've under­stood for a while the health risk of not pick­ing up garbage, includ­ing the spread of dis­ease and the increase of ver­min. Per­son­al­ly, I feel good when I know I'm pro­vid­ing a ser­vice that helps peo­ple. Espe­cial­ly late­ly when peo­ple are stay­ing home from work, you'll see whole fam­i­lies out­side wav­ing and smil­ing. Even though we're going through this cri­sis, you still see fam­i­lies out smil­ing and enjoy­ing them­selves. It makes it worth it.
Mindy: Many peo­ple are work­ing from home right now, but many oth­er work­ers like your­self can't do that. What do you think all essen­tial work­ers — like gro­cery store work­ers, util­i­ty work­ers — deserve right now in terms of pro­tec­tions, haz­ard pay, etc.?
Charlen: All of your front­line employ­ees and essen­tial per­son­nel should be test­ed because we are the ones in direct con­tact, we have to be out there. I feel like it shouldn't be an issue to get us sup­plies, get­ting us test­ed, and doing every­thing you can do to pro­tect us. One of the options we were talk­ing about was alter­nat­ing shifts — one crew comes in for a whole week, and the fol­low­ing week they're off and the oth­er crew comes in for a week. I think this would be a great idea. My only con­cern is that I don't know if we have enough per­son­nel to do it and get stuff up off the ground in a time­ly man­ner to where guys won't be out there all day. That's one of my major concerns.
They have giv­en us a 5% increase in pay, which I don't feel like is enough. The state is con­sid­er­ing time-and-a-half pay. That would be good. Whole Foods is pay­ing an extra $2 an hour, which is more than what we get with our haz­ard pay.
Mindy: In 2006, Raleigh san­i­ta­tion work­ers went on a wild­cat strike. Many of their demands were around health and safe­ty issues. How have things changed since you start­ed in Raleigh six years ago?
Charlen: We're sup­posed to have a safe­ty coor­di­na­tor. Since I have been at the City of Raleigh, I've had four dif­fer­ent safe­ty coor­di­na­tors, and it's been almost a year since the last one was there. We cur­rent­ly don't have a safe­ty coor­di­na­tor at Sol­id Waste Ser­vices. With regards to safe­ty, we still have some issues. They get into meet­ings and stress safe­ty, but I don't think they under­stand that there are cer­tain things we can't do because we don't have enough per­son­nel or equip­ment. A lot of times we have a lot of equip­ment issues. We do have a high turnover rate. They say right now that we're ful­ly staffed, but I don't see how that could be pos­si­ble when the city is con­stant­ly grow­ing, they're build­ing sub­di­vi­sions, and they're increas­ing the amount of work we have to do, which means we have to stay out there longer. Some­times we will go out there and our equip­ment is not always up to par like it should be. We need ade­quate equip­ment to work with.
Mindy: How is UE 150 orga­niz­ing and fight­ing back to pro­tect work­ers dur­ing the coro­n­avirus cri­sis? Have you made any demands of the city?
Charlen: On March 17, we sent a let­ter with some of our con­cerns to May­or Bald­win, City Man­ag­er Ruf­fin Hall, and City Coun­cil. They basi­cal­ly ignored us. After Adri­an Grubbs, we also sent anoth­er let­ter with 10 demands. Some of the demands include meet­ing with the City Man­ag­er to express con­cerns about front­line work­ers. We have con­cerns and don't feel like they're lis­ten­ing to us. Anoth­er demand is since the pass­ing of Adri­an Grubbs, we haven't heard the fol­lowup to how he got sick, where he got sick, where he's been, and who he's been in con­tact with.
Work­ers have been stand­ing up and orga­niz­ing all over the place — I saw Pitts­burgh san­i­ta­tion work­ers went out on a wild­cat strike this past week. Have you all been inspired by oth­er work­ers who have been speak­ing out and tak­ing action since the coro­n­avirus started?
Charlen: Yes, of course, but on the oth­er hand, there is a lot of fear out there where I work at. You have some employ­ees that want to stand up and do some­thing. But oth­er work­ers believe that they're not gonna lis­ten, they're not gonna do any­thing, they're gonna do what they want to do, they're gonna treat us how they want, so what's the point of stand­ing up?
Mindy: How do you think we can fight back against that? Do you think if peo­ple saw oth­er work­ers com­ing togeth­er and win­ning they would be inspired to take action?
Charlen: We have a new admin­is­tra­tion in Sol­id Waste Ser­vices. That's because a cou­ple of years ago we protest­ed peo­ple in man­age­ment, and every sin­gle name on all of the peti­tions we cir­cu­lat­ed are gone — they either left or were ter­mi­nat­ed. The new admin­is­tra­tion cleaned house because of our list of bad super­vi­sors. That's the pow­er that we have, I've been explain­ing that to my cowork­ers. The only way we win is by doing something.
Mindy: What would you say to oth­er work­ers right now — the ones who have to keep com­ing to work — about how they can keep them­selves safe while they're on the job?
Charlen: Work­ing in san­i­ta­tion is the fifth most dan­ger­ous job in the Unit­ed States on fatal­i­ties. We should get haz­ard pay all the time. I don't under­stand how the police and fire depart­ment have no prob­lem get­ting haz­ard pay, but we can't get haz­ard pay.
If I could bor­row from Dominic Har­ris, the pres­i­dent of the Char­lotte City Work­ers Chap­ter of UE Local 150, who said on a con­fer­ence call that the coro­n­avirus cri­sis is the per­fect oppor­tu­ni­ty for work­ers. You can see how much pow­er that you've got dur­ing this cri­sis and how much they rely and depend on us. This is the per­fect oppor­tu­ni­ty to use that pow­er and stand up and get the things that we need.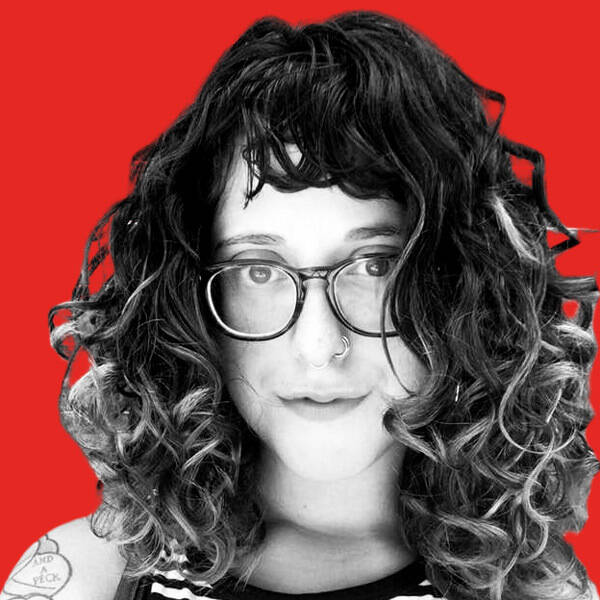 Mindy Iss­er
works in the labor move­ment and lives in Philadelphia.