Why 50,000 Garment Workers in Bangladesh Went on Strike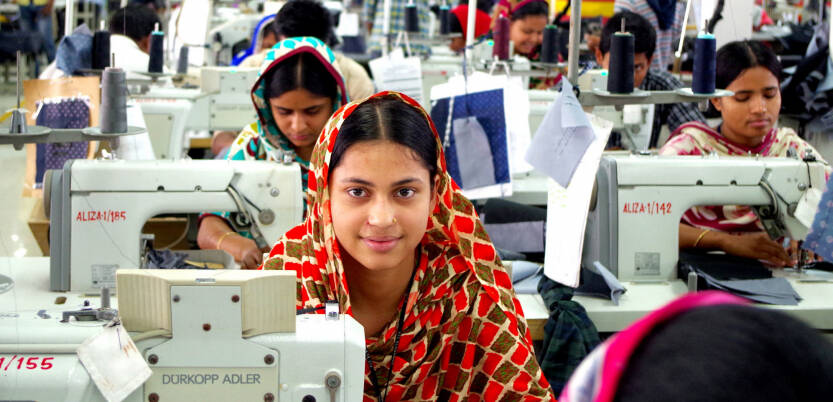 With the sixth anniver­sary approach­ing of the Rana Plaza build­ing col­lapse that killed over 1,000 work­ers, con­di­tions in the world's sec­ond-largest gar­ment export indus­try are tumultuous.
Fifty thou­sand gar­ment work­ers in Bangladesh struck ear­li­er this month for high­er wages and were met with rub­ber bul­lets and tear gas. The min­i­mum wage in the gar­ment indus­try was recent­ly raised 50 per­cent, but still stands at just $95 a month. Five thou­sand have been fired as a result of the strikes and prop­er­ty destruc­tion the strik­ing work­ers are accused of. Bangladesh's high­est court has ordered shut down the Accord on Fire and Build­ing Safe­ty in Bangladesh, an inno­v­a­tive insti­tu­tion mon­i­tor­ing work­place health and safe­ty cre­at­ed five years ago and the coun­try's Supreme Court is delib­er­at­ing on whether to con­firm the order..
In response, activists have orga­nized a week of sol­i­dar­i­ty protests in front of Bangladeshi gov­ern­ment offices, includ­ing in Wash­ing­ton, D.C., New York, and Lon­don. The Inter­na­tion­al Labor Rights Forum and Clean Clothes Cam­paign will also be deliv­er­ing let­ters of protest to Bangladeshi gov­ern­ment offices in cities around the world in addi­tion to the eight cities where demon­stra­tions were held.
The groups are demand­ing liv­ing wages for gar­ment work­ers, safe fac­to­ries, and an end to repres­sion against gar­ment work­ers in Bangladesh. The two non-prof­its are encour­ag­ing par­tic­i­pants to take pic­tures of their Made in Bangladesh cloth­ing and post it on social media with hash­tags like #WeS­tand­With­Gar­ment­Work­ers.
The Accord was estab­lished as the result of a legal­ly bind­ing agree­ment between inter­na­tion­al brands — pre­dom­i­nant­ly Euro­pean — and Bangladeshi unions to address the issues that led to the Rana Plaza col­lapse in 2013, the worst indus­tri­al dis­as­ter in the his­to­ry of the gar­ment sec­tor. For the past five years, the Accord has inspect­ed fac­to­ries and edu­cat­ed work­ers on work­place safe­ty and their rights.
The Accord inspect­ed more than 2,000 fac­to­ries employ­ing more than two mil­lion work­ers and found over 150,000 safe­ty vio­la­tions. Eighty-five per­cent of vio­la­tions from the Accord's ini­tial inspec­tions were reme­died, leav­ing at least half the fac­to­ries far safer than before.
It will be replaced by a gov­ern­ment body that col­lab­o­rates with man­u­fac­tur­ers and the inter­na­tion­al brands. Bangladesh's gov­ern­ment, while it recent­ly raised the min­i­mum wage in the gar­ment indus­try, is noto­ri­ous­ly pro-man­age­ment. In 2013, 10 per­cent of the country's Par­lia­ment was made up of gar­ment man­u­fac­tur­ers, and union offi­cials have alleged that the government's secu­ri­ty forces have harassed, tor­tured, and even mur­dered work­er activists.
Cor­rec­tion: This sto­ry has been updat­ed to reflect that the Bangladesh Supreme Court has not ordered the Accord to shut down.
This arti­cle was first pub­lished by Labor Notes.