Why 50,000 Garment Workers in Bangladesh Went on Strike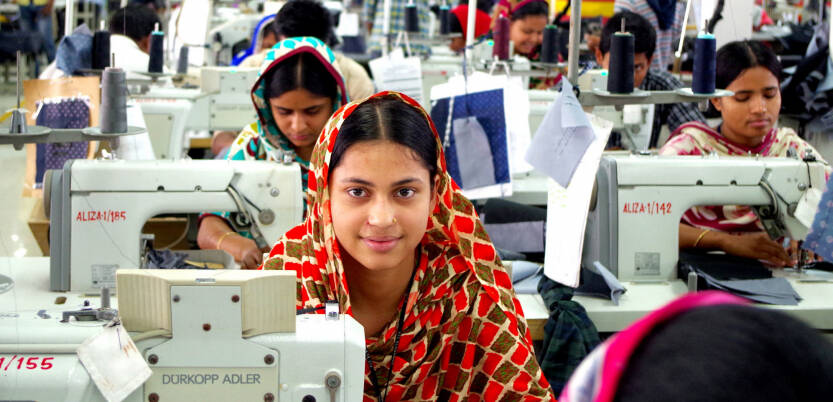 With the sixth anniversary approaching of the Rana Plaza building collapse that killed over 1,000 workers, conditions in the world's second-largest garment export industry are tumultuous.
Fifty thousand garment workers in Bangladesh struck earlier this month for higher wages and were met with rubber bullets and tear gas. The minimum wage in the garment industry was recently raised 50 percent, but still stands at just $95 a month. Five thousand have been fired as a result of the strikes and property destruction the striking workers are accused of. Bangladesh's highest court has ordered shut down the Accord on Fire and Building Safety in Bangladesh, an innovative institution monitoring workplace health and safety created five years ago and the country's Supreme Court is deliberating on whether to confirm the order..
In response, activists have organized a week of solidarity protests in front of Bangladeshi government offices, including in Washington, D.C., New York, and London. The International Labor Rights Forum and Clean Clothes Campaign will also be delivering letters of protest to Bangladeshi government offices in cities around the world in addition to the eight cities where demonstrations were held.
The groups are demanding living wages for garment workers, safe factories, and an end to repression against garment workers in Bangladesh. The two non-profits are encouraging participants to take pictures of their Made in Bangladesh clothing and post it on social media with hashtags like #WeStandWithGarmentWorkers.
The Accord was established as the result of a legally binding agreement between international brands — predominantly European — and Bangladeshi unions to address the issues that led to the Rana Plaza collapse in 2013, the worst industrial disaster in the history of the garment sector. For the past five years, the Accord has inspected factories and educated workers on workplace safety and their rights.
The Accord inspected more than 2,000 factories employing more than two million workers and found over 150,000 safety violations. Eighty-five percent of violations from the Accord's initial inspections were remedied, leaving at least half the factories far safer than before.
It will be replaced by a government body that collaborates with manufacturers and the international brands. Bangladesh's government, while it recently raised the minimum wage in the garment industry, is notoriously pro-management. In 2013, 10 percent of the country's Parliament was made up of garment manufacturers, and union officials have alleged that the government's security forces have harassed, tortured, and even murdered worker activists.
Correction: This story has been updated to reflect that the Bangladesh Supreme Court has not ordered the Accord to shut down.
This article was first published by Labor Notes.
Giving Tuesday: Support Progressive Journalism
Today is the single biggest day of the year for giving to nonprofits—last year, individual donors collectively gave more than $2.5 billion to nonprofit organizations in the U.S. alone on Giving Tuesday.
For In These Times, today also marks the kick-off of one of our most important fundraising drives ever.

Giving Tuesday began nearly a decade ago as a way to harness the power of collective giving and highlight the important work of nonprofit organizations. For In These Times, being a nonprofit is more than just a financial model. It is central to our very mission.
The traditional, for-profit news model was built on a foundation of corporate ad dollars. From the beginning, this has been a devil's bargain that limits what can be published by corporate media outlets and inevitably warps what they do print. In These Times is not beholden to any corporate interest.
Who are we beholden to? You—our community of readers. Support from readers allows In These Times to maintain our independence and speak truth to power. It is how we are able to continue publishing the stories readers—like you—want to read, and the voices that need to be heard in this political moment.

This Giving Tuesday, support independent, progressive journalism by making a tax-deductible donation to In These Times.
Giving Tuesday: Support Progressive Journalism