The Never-Ending Nakba
Israel mass-expelled Palestinians from their lands 70 years ago. The displacement hasn't stopped since.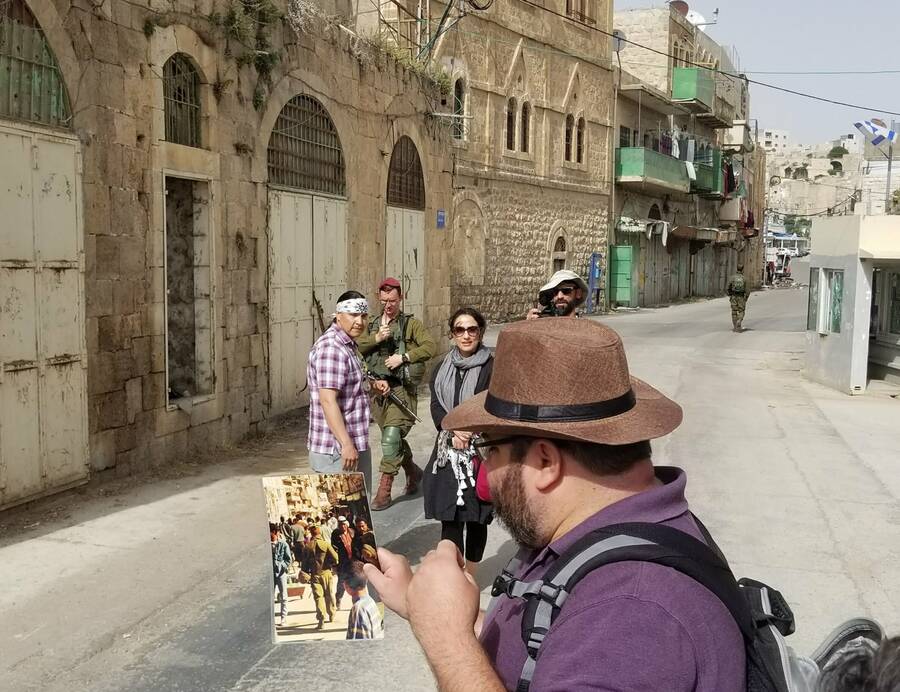 Two weeks ago in Old Hebron, a once-bustling Pales­tin­ian city in the West Bank, I saw a ghost town. The streets were emp­ty except for dozens of Israeli sol­diers, on patrol with auto­mat­ic weapons and flak vests, and a hand­ful of young Israelis from ille­gal set­tle­ments. The occa­sion­al Israeli mil­i­tary vehi­cle rolled by slow­ly, tow­er­ing over us.
The Israeli military forbids Palestinians from walking or driving on their own streets, even welding shut the front doors of Palestinian homes.
I was in Pales­tine with a group of most­ly black and brown activists and lawyers from across the Unit­ed States. We were on a one-week ​"Jus­tice Del­e­ga­tion," orga­nized by the Cen­ter for Con­sti­tu­tion­al Rights and Eye Wit­ness Pales­tine, to see with our own eyes the dire human rights sit­u­a­tion 70 years after the found­ing of Israel, what Pales­tini­ans refer to as the Nak­ba, or ​"cat­a­stro­phe," when up to one mil­lion Pales­tini­ans were expelled from their homes. Since March 30, thou­sands of Pales­tini­ans have demon­strat­ed in Gaza to demand their right of return, with Israel killing at least 108 and wound­ing more than 10,000 since the mobi­liza­tions began.
As Gazans risked their lives to protest, what we saw across Israel and the West Bank was an ongo­ing Nakba.
In Hebron, the group of young set­tlers, no more than eight years old, were not hap­py we were there. They fol­lowed us, scream­ing ​"Arab dogs" and oth­er racist slurs while throw­ing bot­tles at us. The hatred in their young eyes is some­thing I'll nev­er forget.
Though the streets were lined with Pales­tin­ian homes, the Israeli mil­i­tary had ​"ster­il­ized" (the military's term for ​"free of Pales­tini­ans") the neigh­bor­hood. The Israeli mil­i­tary for­bids Pales­tini­ans from walk­ing or dri­ving on their own streets, even weld­ing shut the front doors of Pales­tin­ian homes.
In my lit­tle black jour­nal, I wrote down my obser­va­tions: ​"Ghet­tos. Peo­ple in cages. Check­points. Stones thrown at Pales­tin­ian win­dows. Ster­il­iza­tion. Pales­tin­ian-free zones/​streets. [Set­tler] youth indoc­tri­na­tion and anger."
At Ben Guri­on Air­port in Tel Aviv on Sun­day, before board­ing my flight back to the Unit­ed States, Israeli air­port offi­cials con­fis­cat­ed my jour­nal. I was both angry and sad when they told me they were keep­ing it. ​"On what grounds?" I asked, but they refused to answer. I plead­ed, telling them it includ­ed my per­son­al, pri­vate thoughts. In addi­tion to 28 pages of notes from the trip, the jour­nal con­tained entries about my rela­tion­ship with my boyfriend, writ­ten long before trav­el­ing to Pales­tine. ​"The book stays with us. Have a nice flight," said one of the half-dozen air­port secu­ri­ty offi­cers who were por­ing over my journal.
Why would Israel want my journal?
Was it my notes about our meet­ing with Bassem Tami­mi, a Pales­tin­ian activist who orga­nizes week­ly protests against ille­gal Israeli set­tle­ments and col­o­niza­tion in his West Bank vil­lage of Nabi Saleh? Tami­mi told us about his wife, Nari­man, and his young daugh­ter, Ahed, both of whom are in Israeli mil­i­tary prison. His daugh­ter was arrest­ed and sen­tenced in Israeli mil­i­tary court for slap­ping a heav­i­ly armed Israeli solid­er out­side her home after sol­diers shot her fif­teen-year-old cousin in the head at close range. Tamimi's wife was arrest­ed for film­ing the inci­dent and charged with ​"incite­ment." In my jour­nal I wrote down Tamimi's words to us: ​"Strong and free women make a strong and free generation."
Maybe Israel con­fis­cat­ed my jour­nal because of what leg­endary human rights lawyer Raji Sourani told us, via skype, about the sit­u­a­tion in Gaza. In recent weeks, Israel has respond­ed to mass Pales­tin­ian protests along the Gaza bor­der with grotesque vio­lence, killing dozens of Pales­tini­ans protest­ing peace­ful­ly for basic rights, includ­ing the right to return to their homes, and wound­ing thou­sands more. Sourani said, ​"We want the oppor­tu­ni­ty to end the siege [on Gaza] and to end the occu­pa­tion and to be human beings in dig­ni­ty. They are doing eth­nic cleans­ing of Palestinians."
Or maybe it was my notes from Umm al-Hiran, a Bedouin vil­lage in the Naqab desert. Since Israel's found­ing in 1948, this Bedouin com­mu­ni­ty has strug­gled to pre­serve its tra­di­tion­al, semi-nomadic way of life, despite Israel's efforts to take their land. But their strug­gle seems to be com­ing to an end. Israel will soon force them off their land, demol­ish their homes and their way of life, and replace it with a Jew­ish-only colony.
In my jour­nal, I wrote down what one of the Bedouin activists told us: ​"Vis­it­ing and sol­i­dar­i­ty is not enough. … What's more impor­tant is to speak of our plight back home in Con­gress, [in the] media, and take it to the streets."
As an attor­ney at Pales­tine Legal, I am not sur­prised that Israel doesn't want these sto­ries to be told. I am well-versed in the sup­pres­sion of speech sup­port­ive of Pales­tin­ian rights. Israel and its prox­ies spend tens – if not hun­dreds – of mil­lions of dol­lars to cen­sor speech crit­i­cal of Israeli gov­ern­ment poli­cies and to pun­ish those who speak out for Pales­tin­ian free­dom. Israeli offi­cials know they are on the los­ing end of any debate about their vio­la­tions of Pales­tin­ian rights and inter­na­tion­al law. Their strat­e­gy is to stop the debate from happening.
When it comes to sup­press­ing speech crit­i­cal of Israeli poli­cies, Israeli author­i­ties have pow­er­ful allies in the Unit­ed States. Last year, my col­leagues and I at Pales­tine Legal respond­ed to 308 inci­dents of sup­pres­sion of US-based advo­ca­cy for Pales­tin­ian rights, like­ly just the tip of the ice­berg. From 2014 to the end of 2017, we respond­ed to 958 such incidents.
For exam­ple, when stu­dents at Ford­ham Uni­ver­si­ty want­ed to start a Stu­dents for Jus­tice in Pales­tine club, Ford­ham banned the club, an unprece­dent­ed move. When Israel advo­ca­cy groups pres­sured Uni­ver­si­ty of Cal­i­for­nia at Berke­ley, the birth­place of the free speech move­ment, to can­cel a course about Pales­tine, the uni­ver­si­ty relent­ed.
In recent years Israel's sup­port­ers have pres­sured 24 states to enact laws aimed at pun­ish­ing com­pa­nies, orga­ni­za­tions and indi­vid­u­als who sup­port polit­i­cal boy­cotts for Pales­tin­ian rights, despite the fact that the U.S. Supreme Court has long held such boy­cotts are pro­tect­ed by the First Amend­ment. Leg­is­la­tion in Con­gress that would crim­i­nal­ize boy­cotts for Pales­tin­ian rights tied to actions by the Euro­pean Union or Unit­ed Nations enjoys broad bipar­ti­san sup­port, includ­ing from lead­ing Democ­rats like Chuck Schumer (N.Y.).
These efforts are aimed at shield­ing Israel from account­abil­i­ty for its inex­cus­able treat­ment of Pales­tini­ans. In doing so, Israel's sup­port­ers tram­ple on our First Amend­ment rights. None of this com­pares to Israel's vio­lent respons­es to Pales­tini­ans who advo­cate for their basic rights.
Last week, as the Jus­tice Del­e­ga­tion pre­pared to return to the Unit­ed States, I was assured by sev­er­al lawyers and activists that Israel, which mar­kets itself as the only democ­ra­cy in the Mid­dle East, would not con­fis­cate my pri­vate jour­nal. But over the course of our week there, we had met with numer­ous Israelis and Pales­tini­ans who raised alarms over the rapid rise of far-right author­i­tar­i­an­ism in Israel. Four mem­bers of our del­e­ga­tion, includ­ing promi­nent human rights attor­neys, had been denied entry into Israel. As Ayman Odeh, a mem­ber of the Knes­set who is a Pales­tin­ian cit­i­zen of Israel, told us: ​"Only a state with some­thing to hide would pre­vent peo­ple from com­ing to see."
On our way to Ben Guri­on Air­port on May 6, I had a pit in my stom­ach. I had a feel­ing that air­port offi­cials would go through my belong­ings, read my jour­nal, and con­fis­cate it. As our bus approached the air­port, I took pho­tos of all twen­ty-eight pages of notes I had tak­en over the course of our week there. I may nev­er see my jour­nal again, but at least I can tell the sto­ries that Israel doesn't want us to hear.
Rahul is a staff attor­ney with Pales­tine Legal. His work focus­es on leg­isla­tive issues, advo­ca­cy for activists whose rights are under attack, and build­ing Pales­tine Legal's net­work of legal and oth­er advocates.