We wanted to make sure you didn't miss the announcement of our new Sustainer program. Once you've finished reading, take a moment to check out the new program, as well as all the benefits of becoming a Sustainer.

Gaza has been redefined. Gaza is now synonymous with carnage, rising death tolls, destroyed schools, and city streets slick with blood. As In These Times February issue went to press, the death toll of Palestinians had passed 750 – 219 of them children. Twelve Israelis had died, four of them by ​"friendly fire."
This is not a war against Hamas rocket fire, as Israel claims. (See ​"Gaza in the Crosshairs," published last week.) It is a war against a defenseless, imprisoned population. The Israeli-Hamas ceasefire that Egypt negotiated in June 2008 was largely holding. But in the five months between June and November, Gazan civilians faced a tightening siege, with shortages of food, clean water, electricity, fuel, hospital equipment and medicine – conditions severe enough for humanitarian workers to deem the situation in Gaza as catastrophic.
Israel violated the ceasefire with a Nov. 4 attack in Gaza that killed six Palestinians. On New Year's Eve the influential Israeli daily Ha'aretz, reported that senior Israeli defense officials had confirmed that the government ​"instructed the Israel Defense Forces to prepare for the operation over six months ago, even as Israel was beginning to negotiate a ceasefire agreement with Hamas. … [A]lthough the lull would allow Hamas to prepare for a showdown with Israel, the Israeli army needed time to prepare, as well."
The article described the key components of Israel's war strategy this way: ​"long-term preparation, careful gathering of information, secret discussions, operational deception and the misleading of the public."
On Jan. 4, in an address to the Israeli Cabinet, Foreign Minister Tzipi Livni explained the value of diplomacy this way: ​"The intensive diplomatic activity of the last few days aims to alleviate the pressure for a ceasefire and to allow time for continuing the military operation in order to achieve its goals."
The United States has succeeded in providing full diplomatic protection to Israel in the U.N. Security Council, preventing Tel Aviv from being held accountable for violating international law – specifically, prohibitions against collective punishment, against targeting civilians and against disproportionate force.
So far, council members have not had the courage to insist on a public vote on a U.N. resolution demanding an immediate ceasefire and immediate access for humanitarian support. It is likely the General Assembly will respond. But so far, Gaza cannot look to the United Nations for help.
It remains for the people of the world to respond, and they have – ​"Free Gaza" humanitarian ships have sailed to Gaza (although Israel blocked the group's sixth voyage in international waters), tens of thousands have protested around the world, including inside Israel, and the independent media has continued to defy Israel's effort to keep journalists out of Gaza.
Pressure must also be placed on President Obama. He promised to change the mindset that led to war. The Israeli assault on Gaza reflects the same mindset as the U.S. invasion against Iraq: the belief that power equals right, that terror can somehow be destroyed by war. We must urge Obama to reclaim his commitment to change.
The U.S. government has enabled this attack – by funding, protecting and arming Israel. U.S. citizens must be part of the worldwide voice demanding an immediate, unconditional ceasefire. There is no time to waste.
Become a Sustainer
We surveyed thousands of readers and asked what they would like to see in a monthly giving program. Many of you expressed interest in magazine subscriptions, gift subscriptions, tote bags, events and books —and we've added all of those. Some of you said that cost was an issue, so we've kept our starting tier at just $5 a month—less than 17 cents a day.

Now, for the first time, we're offering three different levels of support, with unique rewards at each level, for you to choose from. Check out the new Sustainer program.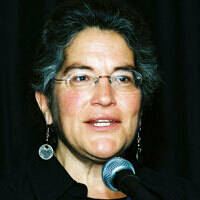 Phyllis Bennis
is a fellow of the Institute for Policy Studies. Her most recent book is the
2018
edition of Understanding the Palestinian-Israeli Conflict: A Primer.