GENOA, ITALY — In the nar­row alley­ways and streets in and around Genoa's city cen­ter, build­ing walls dat­ing back to the 1200s are cov­ered in street art, graf­fi­ti and polit­i­cal messaging.
Whether refugees will be welcomed or not, both the left and right in Genoa have proven thus far that—if you're Muslim—your faith wont be.
There are spray-paint­ed mes­sages decry­ing cap­i­tal­ism, fas­cism and the police; names like Ste­fano Cuc­chi, alleged­ly tor­tured to death by police in jail in 2009, or Car­lo Giu­liani, shot in the head dur­ing mas­sive protests against the 2001 G8 sum­mit in Genoa, are com­mon­place. There are cir­cled ​"A"s for anar­chism, ham­mers and sick­les for com­mu­nism, and, often accom­pa­ny­ing these sym­bols, mes­sages of sol­i­dar­i­ty and sup­port for asy­lum seek­ers: ​"Refugees Welcome."
In recent years there has been a huge rise in refugees mak­ing the dan­ger­ous cross­ing to Italy from Libya. A sim­ple 10-minute walk in and around Genoa's city cen­ter, how­ev­er, sug­gests these refugees — espe­cial­ly Mus­lim refugees — are far from wel­come. They are under threat from an ascen­dant xeno­pho­bic Right that, in recent elec­tions, took over the city gov­ern­ment. And some advo­cates say that, with the excep­tion of street art, refugees have large­ly been aban­doned by the polit­i­cal Left.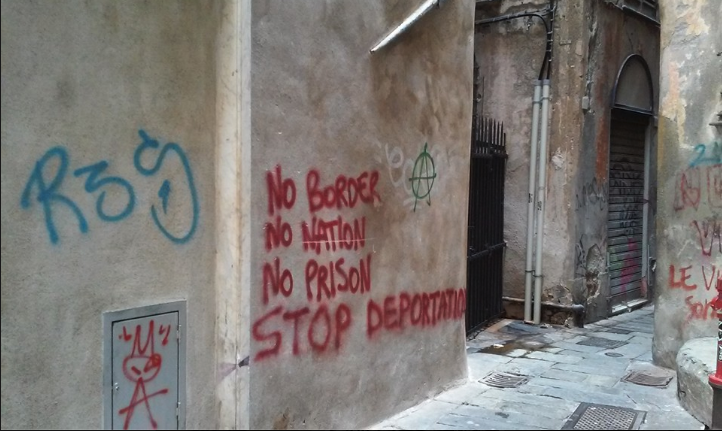 Street art advances left-wing caus­es in Genoa, Italy. (Tere­sa Vinni)
Refugees Wel­come?
Sit­ting at a café a few min­utes walk out­side Genoa's cen­tral train sta­tion, a group of long-time activists explain to me the nuances of Ital­ian fas­cism, the inter­nal rifts and com­pli­ca­tions with­in Ital­ian left­ist move­ments and the chal­lenges fac­ing refugees and migrants in the city.
Amalia Rossi, a 38-year-old fem­i­nist and anti-fas­cist, nods her head in the direc­tion of a dark-skinned, mid­dle-aged refugee with an uneasy smile, attempt­ing to talk with café-goers. They ignore him; a few steps to his left, a sten­ciled sign reads, ​"Refugees Welcome."
His name is Ali; he says he is 42 years old, but looks at least in his mid-50s. Ali says he has been work­ing as a street ven­dor to make ends meet, as many refugees in Italy do.
Ali fled Bangladesh two years ago due to state vio­lence and lack of oppor­tu­ni­ties. ​"There's too much vio­lence in Bangladesh from the police, many are killed for no rea­son," Ali says.
Hop­ing for a chance at a decent future, Ali risked his life dodg­ing bor­der guards and board­ing leaky boats to reach Italy, but has not had any luck. ​"I would nev­er have left my fam­i­ly if I knew life would be like this," he says. ​"I am in a mis­er­able state — my health is fail­ing me, I'm con­stant­ly exhaust­ed and must work 12 or more hours a day sell­ing these [lighters, pens, sun­glass­es and oth­er coun­ter­feit goods]. It's humil­i­at­ing, but I'm thank­ful to Allah for what I have."
A Dying Anti-Fascism
Although Genoa is his­tor­i­cal­ly known for being a ​"Red City" — mean­ing staunch­ly far-left — Rossi argues that in recent years the Left has large­ly ignored sup­port work and polit­i­cal orga­niz­ing with refugees in the city. " Left­ists and com­mu­nists in Genoa almost with­out excep­tion pro­claim their sup­port for refugees," she says, ​"and I believe they're being gen­uine." But this sup­port is ​"only in rhetoric and not material."
Out­side a small, die-hard team of orga­niz­ers at Rete No Bor­ders — Gen­o­va (No Bor­ders Net­work — Genoa) no oth­er left­ist refugee orga­ni­za­tions exist in Genoa, accord­ing to Rossi.
As a result, refugee com­mu­ni­ties had, until now, main­ly them­selves or lib­er­als and groups affil­i­at­ed with the Catholic Church to rely on. Although No Bor­ders — Genoa works with­in the city, they face state repres­sion and are vast­ly lim­it­ed in their sup­port work and actions. ​"We sup­port the refugees here in Genoa by fol­low­ing up on their com­plaints when they con­tact us. We vis­it their flats to check on con­di­tions — which are usu­al­ly deplorable — and we also try to help refugees with their doc­u­men­ta­tion and legal issues" says one No Bor­ders mem­ber who asked to remain anony­mous due to the ever present threat of Italy's intel­li­gence services.
By their actions, Italy's ver­sion of the FBI — The Gen­er­al Inves­ti­ga­tions and Spe­cial Oper­a­tions Divi­sion, (DIGOS)—appears to con­sid­er No Bor­ders Net­work one of the most dan­ger­ous groups in the coun­try, an accu­sa­tion mem­bers of the loose col­lec­tive laugh at. No Bor­ders focus­es most of its work feed­ing and sup­port­ing refugees at the Ven­timiglia bor­der cross­ing with France, but even tak­ing their work out­side the city of Genoa has­n't made things easier.
DIGOS did not respond to a request for comment.
"The repres­sion by the state has hit [the move­ment] hard and it's crip­pling us from doing our work," says anoth­er No Bor­ders mem­ber who also asked to remain anony­mous. ​"As soon as you get [to the Ven­timiglia bor­der] the police check your iden­ti­ty and give warn­ings against remain­ing in the area so we have to find cre­ative ways to sup­port. The police in the Ven­timiglia are even arrest­ing or detain­ing activists who pro­vide food to refugees.
Genoa is Falling to the Right
While the Left con­tin­ues to strug­gle, Genoa has recent­ly tak­en a clear and con­crete step to the right — the hard right.
In June's munic­i­pal elec­tions, the coali­tion of the Right in Genoa, which is head­ed by Mar­co Buc­ci of the racist Lega Nord (North­ern League), won local elec­tions and is now gov­ern­ing the city — mak­ing an already pre­car­i­ous sit­u­a­tion for refugees even worse.
Since the elec­tion, refugees across Genoa have been com­plain­ing of increased police harass­ment and fines for beg­ging. Two nights ago a Niger­ian refugee friend, Vin­cent, whose name has been changed due to secu­ri­ty issues, con­tact­ed me with a plea for sup­port, telling me he was arrest­ed and fined 75 Euros for begging.
With no access to a legal job, Vin­cent has no option but to break Ital­ian law, risk­ing his already shaky asy­lum case by either work­ing ille­gal­ly, beg­ging again or hav­ing to resort to oth­er ille­gal activ­i­ties like sell­ing drugs and coun­ter­feit goods. If he can't pay his fine, he risks being jailed or pos­si­bly deported.
Mean­while, many low-income Genoa res­i­dents have bought into right-wing rhetoric asso­ci­at­ing refugees with crime and vio­lence. ​"These alle­ga­tions against the refugees are total­ly unfound­ed and with­out mer­it," Rossi says — yet they are working.
"The work­ing class and the poor have moved toward the right, at least in Genoa," she explains. ​"This is also large­ly due to a sharp decline in pow­er of Ital­ian unions that slow­ly sold the ​'rank and file' work­ers out and have got­ten too friend­ly with politi­cians. [It's] also because the Left here in Italy — sim­i­lar to the fas­cist Right — is sus­pi­cious of Mus­lims and Islam and there­fore do not see them as poten­tial allies." She attrib­ut­es this fail­ure to the Left being ​"so frac­tured with inter­nal dis­putes, but its also obvi­ous that many athe­ists on the Left hold hos­tile and Islam­o­pho­bic ideas as well."
While Rossi rec­og­nizes the impor­tance and urgency of what lib­er­als and orga­ni­za­tions con­nect­ed to the Catholic church do to sup­port the basic needs of refugees — help­ing to pro­vide hous­ing, food, cloth­ing and sup­port with legal process­es and bureau­cra­cy — she main­tains that these groups ​"have clear and obvi­ous limitations."
"The church and lib­er­als … sim­ply do not do enough to bring refugees out of the shad­ows to nor­mal­ize their exis­tence here." Thanks to the Left's fail­ure, she argues, ​"far-right politi­cians and fas­cist groups … have been able to con­trol main­stream nar­ra­tives about refugees."
Although Rossi cau­tions against com­plete­ly dis­miss­ing the efforts of the Catholic Church, she explains that what is need­ed from the polit­i­cal Left is to think out­side the con­text of what is tech­ni­cal­ly legal and com­mit their efforts and actions toward doing what is right ​"as a human."
"It's going to take a lot more," she says.
The Death of One Move­ment, The Birth of Another?
On June 30th rough­ly 1,000 peo­ple gath­ered at Piaz­za Alimon­o­da — where Car­lo Guil­lani was killed by police, under a new ban­ner. The ban­ner had no insignias rep­re­sent­ing any par­tic­u­lar polit­i­cal per­sua­sion or par­ty, and instead read in giant let­ters: GEN­O­VA ANTIFASCISTA.
The mas­sive group of antifas­cists came from diverse back­grounds: chil­dren, elder­ly, high school and col­lege stu­dents as well as an assort­ment of com­mu­nists, anar­chists, union mem­bers and others.
The group lit flares as they marched behind a large flat bed truck with mas­sive speak­ers and decried the ​"racism and fas­cism" that was tak­ing over their city.
"Gen­o­va will always be antifas­cist!" one young woman exclaimed from the speak­er system.
Between the march's start­ing point and its end, groups broke off the march to light off M‑1000 fire­crack­ers at the entrance of what is set to become the new office of neo­fas­cist polit­i­cal par­ty Casa Pound.
Accord­ing to Maria, a 30 year old teacher who attend­ed the march and ral­ly, there was a sense of oblig­a­tion to attend the action ​"I'm hor­ri­fied at what's hap­pen­ing here, but it's our fault as the Left, for let­ting it come to this. We lit­er­al­ly fought off the fas­cists from this city with our hands [in 1945] — and now they govern?"
Rossi, who also attend­ed the action said that while the group was a wel­come devel­op­ment, she was wor­ried that state repres­sion might keep the new orga­ni­za­tion from reach­ing its rad­i­cal and mil­i­tant potential.
"We have a very dif­fi­cult task ahead of us now that the far Right has tak­en over the city. We need to be tak­ing over aban­doned build­ings to house refugees who are home­less or feel uncom­fort­able stay­ing at the sup­posed ​'shel­ters.' We are in des­per­ate need of coun­ter­ing the racist rhetoric of fas­cists and the far Right in a prop­er way. … And some­times this means that we are going to have to strug­gle phys­i­cal­ly in the streets against not only fas­cists, but aggres­sive polic­ing and the inhu­mane, anti-refugee poli­cies of the Ital­ian parliament."
Accord­ing to the Inter­na­tion­al Orga­ni­za­tion for Migra­tion (IOM), Italy has seen more than 93,000 refugees arrive so far this year, a 17 per­cent increase over the same peri­od last year. Whether refugees will be wel­comed or not, both the left and right in Genoa have proven thus far that — if you're Mus­lim — your faith wont be.
In a recent vis­it to one of Genoa's at least six Islam­ic cen­ters, con­gre­ga­tion mem­bers ner­vous­ly told me that DIGOS was keep­ing watch over their community.
"They ask us to reg­is­ter every mem­ber who comes to the Islam­ic cen­ter," said one con­gre­ga­tion mem­ber before being pulled away from our con­ver­sa­tion by oth­ers in the Islam­ic cen­ter who were wor­ried about speak­ing to the press.
Although there is no law pro­hibit­ing the cre­ation of a mosque in the city of Genoa, Mus­lim immi­grants and refugees claim they have been forced to opt for ​"Islam­ic Cen­ters" instead due to road­blocks from both the city gov­ern­ment (for­mer­ly cen­ter-left), as well as locals. The city gov­ern­ment confirms/​denies did not respond to a com­ment request.
Stand­ing out­side one of Genoa's oth­er Islam­ic cen­ters, Yusuf, a tall 32-year-old refugee from Ghana, tells me that the city has been ​"play­ing games with the immi­grant Mus­lim com­mu­ni­ty" on the issue of start­ing a mosque. ​"We have had the mon­ey for the cre­ation of the mosque, the blue­prints and legal doc­u­ments, but when we fin­ish one per­mit — anoth­er one comes," says Yusuf.
"We thought we were risk­ing our lives to attain free­dom, but we're stuck here," says Yusuf, ​"At least at home — even if we did not feel free — we had our dignity."