In Genoa, A Budding Antifascist Movement Seeks To Protect Refugees From a Resurgent Right
Refugee advocates are rebuilding the city's once-strong anti-fascist tradition.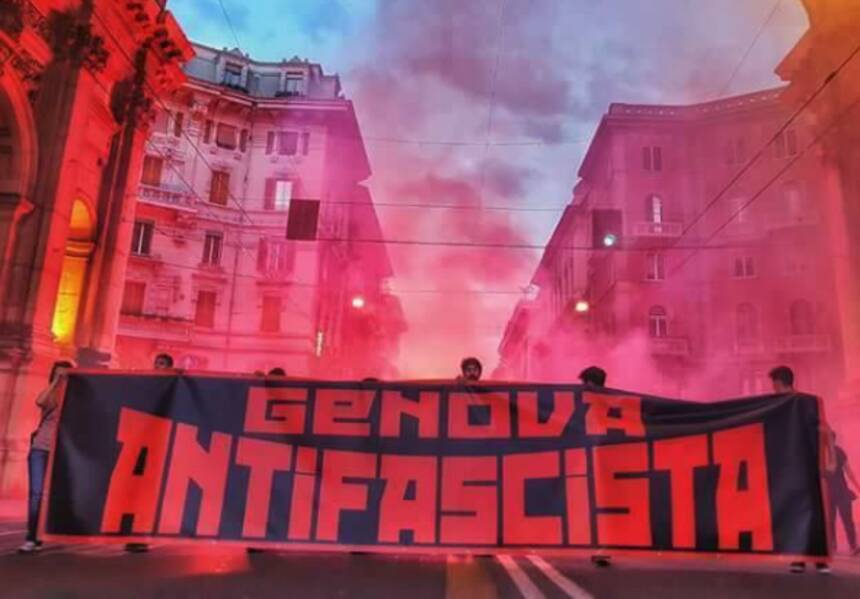 GENOA, ITALY — In the narrow alleyways and streets in and around Genoa's city center, building walls dating back to the 1200s are covered in street art, graffiti and political messaging.
Whether refugees will be welcomed or not, both the left and right in Genoa have proven thus far that—if you're Muslim—your faith wont be.
There are spray-painted messages decrying capitalism, fascism and the police; names like Stefano Cucchi, allegedly tortured to death by police in jail in 2009, or Carlo Giuliani, shot in the head during massive protests against the 2001 G8 summit in Genoa, are commonplace. There are circled ​"A"s for anarchism, hammers and sickles for communism, and, often accompanying these symbols, messages of solidarity and support for asylum seekers: ​"Refugees Welcome."
In recent years there has been a huge rise in refugees making the dangerous crossing to Italy from Libya. A simple 10-minute walk in and around Genoa's city center, however, suggests these refugees — especially Muslim refugees — are far from welcome. They are under threat from an ascendant xenophobic Right that, in recent elections, took over the city government. And some advocates say that, with the exception of street art, refugees have largely been abandoned by the political Left.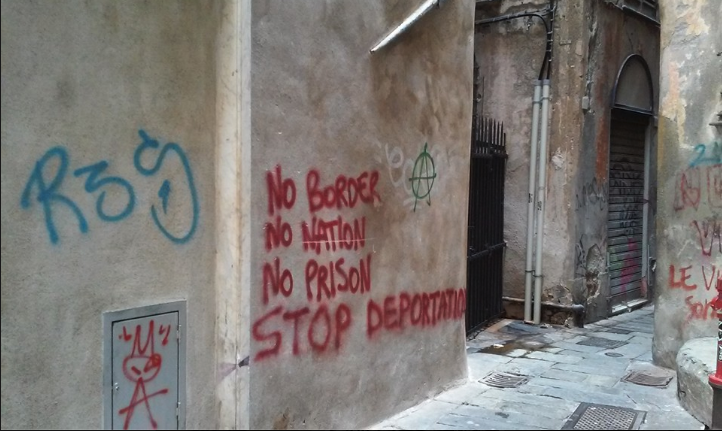 Street art advances left-wing causes in Genoa, Italy. (Teresa Vinni)
Refugees Welcome?
Sitting at a café a few minutes walk outside Genoa's central train station, a group of long-time activists explain to me the nuances of Italian fascism, the internal rifts and complications within Italian leftist movements and the challenges facing refugees and migrants in the city.
Amalia Rossi, a 38-year-old feminist and anti-fascist, nods her head in the direction of a dark-skinned, middle-aged refugee with an uneasy smile, attempting to talk with café-goers. They ignore him; a few steps to his left, a stenciled sign reads, ​"Refugees Welcome."
His name is Ali; he says he is 42 years old, but looks at least in his mid-50s. Ali says he has been working as a street vendor to make ends meet, as many refugees in Italy do.
Ali fled Bangladesh two years ago due to state violence and lack of opportunities. ​"There's too much violence in Bangladesh from the police, many are killed for no reason," Ali says.
Hoping for a chance at a decent future, Ali risked his life dodging border guards and boarding leaky boats to reach Italy, but has not had any luck. ​"I would never have left my family if I knew life would be like this," he says. ​"I am in a miserable state — my health is failing me, I'm constantly exhausted and must work 12 or more hours a day selling these [lighters, pens, sunglasses and other counterfeit goods]. It's humiliating, but I'm thankful to Allah for what I have."
A Dying Anti-Fascism
Although Genoa is historically known for being a ​"Red City" — meaning staunchly far-left — Rossi argues that in recent years the Left has largely ignored support work and political organizing with refugees in the city. " Leftists and communists in Genoa almost without exception proclaim their support for refugees," she says, ​"and I believe they're being genuine." But this support is ​"only in rhetoric and not material."
Outside a small, die-hard team of organizers at Rete No Borders - Genova (No Borders Network - Genoa) no other leftist refugee organizations exist in Genoa, according to Rossi.
As a result, refugee communities had, until now, mainly themselves or liberals and groups affiliated with the Catholic Church to rely on. Although No Borders - Genoa works within the city, they face state repression and are vastly limited in their support work and actions. ​"We support the refugees here in Genoa by following up on their complaints when they contact us. We visit their flats to check on conditions — which are usually deplorable — and we also try to help refugees with their documentation and legal issues" says one No Borders member who asked to remain anonymous due to the ever present threat of Italy's intelligence services.
By their actions, Italy's version of the FBI — The General Investigations and Special Operations Division, (DIGOS)—appears to consider No Borders Network one of the most dangerous groups in the country, an accusation members of the loose collective laugh at. No Borders focuses most of its work feeding and supporting refugees at the Ventimiglia border crossing with France, but even taking their work outside the city of Genoa hasn't made things easier.
DIGOS did not respond to a request for comment.
"The repression by the state has hit [the movement] hard and it's crippling us from doing our work," says another No Borders member who also asked to remain anonymous. ​"As soon as you get [to the Ventimiglia border] the police check your identity and give warnings against remaining in the area so we have to find creative ways to support. The police in the Ventimiglia are even arresting or detaining activists who provide food to refugees.
Genoa is Falling to the Right
While the Left continues to struggle, Genoa has recently taken a clear and concrete step to the right — the hard right.
In June's municipal elections, the coalition of the Right in Genoa, which is headed by Marco Bucci of the racist Lega Nord (Northern League), won local elections and is now governing the city — making an already precarious situation for refugees even worse.
Since the election, refugees across Genoa have been complaining of increased police harassment and fines for begging. Two nights ago a Nigerian refugee friend, Vincent, whose name has been changed due to security issues, contacted me with a plea for support, telling me he was arrested and fined 75 Euros for begging.
With no access to a legal job, Vincent has no option but to break Italian law, risking his already shaky asylum case by either working illegally, begging again or having to resort to other illegal activities like selling drugs and counterfeit goods. If he can't pay his fine, he risks being jailed or possibly deported.
Meanwhile, many low-income Genoa residents have bought into right-wing rhetoric associating refugees with crime and violence. ​"These allegations against the refugees are totally unfounded and without merit," Rossi says — yet they are working.
"The working class and the poor have moved toward the right, at least in Genoa," she explains. ​"This is also largely due to a sharp decline in power of Italian unions that slowly sold the ​'rank and file' workers out and have gotten too friendly with politicians. [It's] also because the Left here in Italy — similar to the fascist Right — is suspicious of Muslims and Islam and therefore do not see them as potential allies." She attributes this failure to the Left being ​"so fractured with internal disputes, but its also obvious that many atheists on the Left hold hostile and Islamophobic ideas as well."
While Rossi recognizes the importance and urgency of what liberals and organizations connected to the Catholic church do to support the basic needs of refugees — helping to provide housing, food, clothing and support with legal processes and bureaucracy — she maintains that these groups ​"have clear and obvious limitations."
"The church and liberals … simply do not do enough to bring refugees out of the shadows to normalize their existence here." Thanks to the Left's failure, she argues, ​"far-right politicians and fascist groups … have been able to control mainstream narratives about refugees."
Although Rossi cautions against completely dismissing the efforts of the Catholic Church, she explains that what is needed from the political Left is to think outside the context of what is technically legal and commit their efforts and actions toward doing what is right ​"as a human."
"It's going to take a lot more," she says.
The Death of One Movement, The Birth of Another?
On June 30th roughly 1,000 people gathered at Piazza Alimonoda — where Carlo Guillani was killed by police, under a new banner. The banner had no insignias representing any particular political persuasion or party, and instead read in giant letters: GENOVA ANTIFASCISTA.
The massive group of antifascists came from diverse backgrounds: children, elderly, high school and college students as well as an assortment of communists, anarchists, union members and others.
The group lit flares as they marched behind a large flat bed truck with massive speakers and decried the ​"racism and fascism" that was taking over their city.
"Genova will always be antifascist!" one young woman exclaimed from the speaker system.
Between the march's starting point and its end, groups broke off the march to light off M-1000 firecrackers at the entrance of what is set to become the new office of neofascist political party Casa Pound.
According to Maria, a 30 year old teacher who attended the march and rally, there was a sense of obligation to attend the action ​"I'm horrified at what's happening here, but it's our fault as the Left, for letting it come to this. We literally fought off the fascists from this city with our hands [in 1945] — and now they govern?"
Rossi, who also attended the action said that while the group was a welcome development, she was worried that state repression might keep the new organization from reaching its radical and militant potential.
"We have a very difficult task ahead of us now that the far Right has taken over the city. We need to be taking over abandoned buildings to house refugees who are homeless or feel uncomfortable staying at the supposed ​'shelters.' We are in desperate need of countering the racist rhetoric of fascists and the far Right in a proper way. … And sometimes this means that we are going to have to struggle physically in the streets against not only fascists, but aggressive policing and the inhumane, anti-refugee policies of the Italian parliament."
According to the International Organization for Migration (IOM), Italy has seen more than 93,000 refugees arrive so far this year, a 17 percent increase over the same period last year. Whether refugees will be welcomed or not, both the left and right in Genoa have proven thus far that — if you're Muslim — your faith wont be.
In a recent visit to one of Genoa's at least six Islamic centers, congregation members nervously told me that DIGOS was keeping watch over their community.
"They ask us to register every member who comes to the Islamic center," said one congregation member before being pulled away from our conversation by others in the Islamic center who were worried about speaking to the press.
Although there is no law prohibiting the creation of a mosque in the city of Genoa, Muslim immigrants and refugees claim they have been forced to opt for ​"Islamic Centers" instead due to roadblocks from both the city government (formerly center-left), as well as locals. The city government confirms/​denies did not respond to a comment request.
Standing outside one of Genoa's other Islamic centers, Yusuf, a tall 32-year-old refugee from Ghana, tells me that the city has been ​"playing games with the immigrant Muslim community" on the issue of starting a mosque. ​"We have had the money for the creation of the mosque, the blueprints and legal documents, but when we finish one permit — another one comes," says Yusuf.
"We thought we were risking our lives to attain freedom, but we're stuck here," says Yusuf, ​"At least at home — even if we did not feel free — we had our dignity."
Mohammed Harun Arsalai is an independent journalist and political activist from the Bay Area in California, and co-founder of the independent media project
Documenting Afghanistan
. Currently based in his native Afghanistan, Mohammed's recent work focuses on refugees, the War on Terror, and militant groups operating inside Afghanistan. Follow him on Twitter:
@ArsalaiH
. Teresa Vinni is an independent journalist and photographer based in Genoa.