Why Hundreds of Georgia Bus Drivers Just Staged a Massive Sickout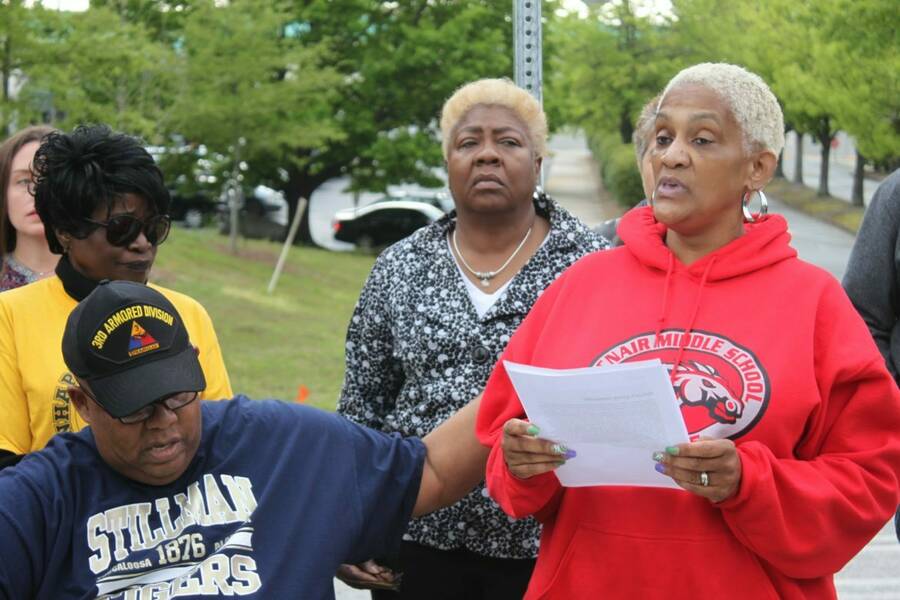 Rob­bie Brown loved her stu­dents. For 18 years, she drove them in her yel­low bus to and from schools in DeKalb Coun­ty, Geor­gia. And then, last Fri­day, two police offi­cers showed up at Brown's house with a let­ter. She'd been fired.
Brown is one of at least sev­en dri­vers sacked after stag­ing a ​"sick­out" to demand bet­ter pay and ben­e­fits. Last Thurs­day, near­ly 400 school bus dri­vers and mon­i­tors in DeKalb Coun­ty called in sick, aim­ing to pres­sure school dis­trict offi­cials to boost dri­ver pay, improve retire­ment pack­ages and reclas­si­fy dri­vers from part-time to full-time employ­ees. The dri­vers have 50 demands in all. Some paint a pic­ture of a bus sys­tem in dis­re­pair: Dri­vers say they need restrooms at park­ing lots, work­ing inter­com sys­tems, air con­di­tion­ing on bus­es. Oth­er demands, like ​"fair treat­ment for bus dri­vers," tell a sto­ry of work­ers who are tired of being pushed around.
While dis­trict offi­cials say they fired ​"ring­lead­ers," dri­vers say plans for the sick­out emerged infor­mal­ly, and spread by word of mouth. Dri­vers in DeKalb, which cov­ers part of Atlanta, are not union­ized, and as pub­lic employ­ees in Geor­gia, they're barred from col­lec­tive bar­gain­ing and strik­ing. But Brown, who's 51, felt like she had to speak out.
"My mort­gage is $1,000 a month, and there's no way, even if I retire in 20 or 30 years, that I can afford to keep my home," she told Scalawag Mag­a­zine. Brown's retire­ment plan would net her only about $400 a month after she stopped work­ing, she says. Many of her col­leagues work well into their 70s just to keep the lights on.
"Once we get old enough to retire, we can't pay the bills."
The sick­out, which con­tin­ued through Mon­day, comes after months of meet­ings in which dri­vers voiced con­cerns over ben­e­fits and pay to dis­trict offi­cials. And it fol­lows waves of wild­cat strikes by pub­lic school teach­ers across the South and West who are demand­ing bet­ter treat­ment and pay. It's too ear­ly to tell what effect the DeKalb sick­out will have, but sup­port­ers hope it will add fuel to a resur­gent labor move­ment in pub­lic edu­ca­tion. Clos­er to home, Brown hopes the action will pres­sure dis­trict offi­cials to meet dri­vers' demands, and per­haps pro­voke teach­ers, cus­to­di­ans and oth­er work­ers in Geor­gia schools to fight for bet­ter pay, ben­e­fits and work­ing conditions.
"They need to stand up," Brown said. ​"If you stand togeth­er, if you make a chain link with your hands and hold on, it can be done."
While a num­ber of DeKalb teach­ers sup­port the sick­out, teach­ers in Geor­gia might be reluc­tant to jump on a pick­et line, says Verdalia Turn­er, Pres­i­dent of the Geor­gia Fed­er­a­tion of Teach­ers, a chap­ter of the Amer­i­can Fed­er­a­tion of Teachers.
"We don't even have the word strike in our vocab­u­lary here because there is no rea­son for our mem­ber­ship to strike," Turn­er said. ​"Our plan is to con­tin­ue to orga­nize as issues come about … I hope all work­ers can get orga­nized with an orga­ni­za­tion that they con­trol and can run democratically."
In DeKalb Coun­ty, employ­ment incen­tives dis­cour­age teach­ers from orga­niz­ing, accord­ing to a teacher in the dis­trict. She spoke on the con­di­tion of anonymi­ty, cit­ing con­cerns about retal­i­a­tion. Some teach­ers are com­pla­cent, she said. And because enough teach­ers want to leave the class­room for the admin­is­tra­tive ranks, where they can expect much high­er salaries, it's dif­fi­cult to whip up sup­port for col­lec­tive protest, the teacher, who is a mem­ber of the Geor­gia Asso­ci­a­tion of Edu­ca­tors, explained.
"The way the sys­tem has been cre­at­ed, it incen­tivizes keep­ing your head down and fol­low­ing the rules," she said, adding that ​"there's no indi­ca­tion of a walk­out, a sick­out, or a protest."
Yet strikes in West Vir­ginia and Okla­homa have shown that teach­ers in states hos­tile to orga­nized labor, and bat­tered by fund­ing cuts, can win mate­r­i­al gains through col­lec­tive protest. It's worth remem­ber­ing that the teacher strikes began in only a hand­ful of coun­ties in south­ern West Vir­ginia, weeks before there was pub­lic chat­ter about a state-wide work stop­page. Even though the dri­ver sick­out only affect­ed one Geor­gia coun­ty, 42 per­cent of DeKalb's dri­vers refused to work last Thurs­day. If dri­vers win some of the improve­ments they're ask­ing for, it could be an ear­ly sign that dri­vers, cus­to­di­ans and oth­er non-teacher staff can use direct action to suc­cess­ful­ly push for bet­ter labor con­di­tions in the right-to-work south.
It'll be a tough fight, though. While a DeKalb spokesper­son told Scalawag that dis­trict offi­cials have been devel­op­ing a time­line for address­ing dri­ver con­cerns, the DeKalb Coun­ty Super­in­ten­dent con­demned the sick­out last week, say­ing the action put stu­dents in dan­ger. ​"This is not accept­able and it will not be tol­er­at­ed," Super­in­ten­dent Stephen Green told reporters at a press con­fer­ence last Thurs­day, say­ing they will now require doc­tors' notes from dri­vers who call in sick. ​"Your actions will have con­se­quences and there will be reper­cus­sions for putting our chil­dren in harm's way."
For Brown, who has three chil­dren of her own, the sug­ges­tion that dri­vers would inten­tion­al­ly endan­ger their stu­dents is ​"total­ly ridicu­lous." ​"I love my kids, I know all my kids' names," she said. She's sad to think she might not see them again. ​"That's the biggest regret I have – that I didn't have the chance to say good­bye to them."
Dri­vers have been rais­ing con­cerns about pay and con­di­tions for over two years. In recent months, a com­mit­tee of dri­vers and bus mon­i­tors met reg­u­lar­ly with dis­trict high­er-ups, and dri­vers flood­ed recent DeKalb Coun­ty Board of Edu­ca­tion meet­ings with ques­tions and com­plaints. On April 17, two days before the sick­out, dri­vers met with Super­in­ten­dent Green to dis­cuss their demands. When dri­vers didn't get con­ces­sions they'd asked for, they informed dis­trict offi­cials about a planned sick­out, giv­ing them time to alert par­ents about pos­si­ble delays. The district's deci­sion to sub­se­quent­ly fire alleged ​"ring­lead­ers" prompt­ed dri­vers to seek assis­tance from out­side orga­ni­za­tions, includ­ing Atlanta's Gen­er­al Defense Com­mit­tee, which is affil­i­at­ed with the Indus­tri­al Work­ers of the World, a labor union.
On Thurs­day, fired dri­vers held a press con­fer­ence call­ing on Super­in­ten­dent Green to rehire Brown and her col­leagues. They were joined by still-employed dri­vers, par­ents of DeKalb stu­dents, and mem­bers of sup­port­ive organizations.
Melanie Dou­glas, a fired dri­ver, cen­sured Super­in­ten­dent Green for behav­ing con­trary to what DeKalb schools teach stu­dents about the impor­tance of free speech. ​"The mes­sage is if you speak up about injus­tice, if you use your First Amend­ment rights, then we will strike you down," she said.
A dis­trict spokesper­son told Scalawag Super­in­ten­dent Green has no plans to rehire fired dri­vers, but did meet with mem­bers of the Dri­ver and Mon­i­tor and Advi­so­ry Com­mit­tee on Thurs­day. ​"The dis­trict has been open, is open, and will con­tin­ue to be open to sit­ting down and think­ing about issues and how to solve them," the spokesper­son added.
But dur­ing the press con­fer­ence, Dou­glas said the super­in­ten­dent was try­ing to ​"sow divi­sion between the fired and still-employed dri­vers." Anoth­er fired dri­ver, Mar­i­on Payne, said he wasn't con­fi­dent the Dri­ver and Mon­i­tor and Advi­so­ry Com­mit­tee would advo­cate for rehir­ing dri­vers. ​"They're afraid to death. They might not say any­thing," he said.
A cur­rent dri­ver, who asked to remain anony­mous, expressed that retal­i­a­tion has not entire­ly chilled their efforts. He said dri­vers may yet resolve to take fur­ther action if their demands are not met.
Dri­vers are also con­sult­ing with lawyers about pos­si­bly con­test­ing the ter­mi­na­tions in court, accord­ing to Sara Khaled, a com­mu­ni­ty orga­niz­er work­ing with the dri­vers. ​"But we're hop­ing we can resolve this out­side the court to get the dri­vers hired again and get some of their orig­i­nal demands met," they added.
What­ev­er comes of it, the sick­out is his­to­ry-mak­ing. It's the first work stop­page by school bus dri­vers in Atlanta since 1980, when dri­vers shut down schools in Ful­ton Coun­ty. And it comes on the heels of sev­er­al suc­cess­ful orga­niz­ing efforts by bus dri­vers else­where. In Feb­ru­ary, Seat­tle school bus dri­vers staged a week-long strike, forc­ing man­age­ment to expand ben­e­fit pack­ages and pro­vide com­pre­hen­sive health­care cov­er­age. Also in Feb­ru­ary, city tran­sit work­ers in Atlanta went on strike to protest unfair labor prac­tices, ulti­mate­ly prompt­ing their employ­er to agree to improve­ments in their con­tract. (Cru­cial­ly, dri­vers in DeKalb insist that their action was not a strike.)
Mean­while, Brown's future remains uncer­tain. ​"I am apply­ing for jobs," she said, a lit­tle wist­ful­ly. ​"My license is a Class A, and I'm think­ing of dri­ving trucks, even though I love my kids and I loved my eigh­teen years."
This arti­cle first appeared in Scalawag Mag­a­zine.
Casey Williams is a researcher and free­lance writer based in New Orleans. He cov­ers issues from envi­ron­men­tal jus­tice to south­ern cul­ture, and has pub­lished work in The New York Times, The Nation, Huff­Post, and oth­er local and nation­al outlets.