Get the Door, It's Domino's (Drivers, Suing for a Fair Wage)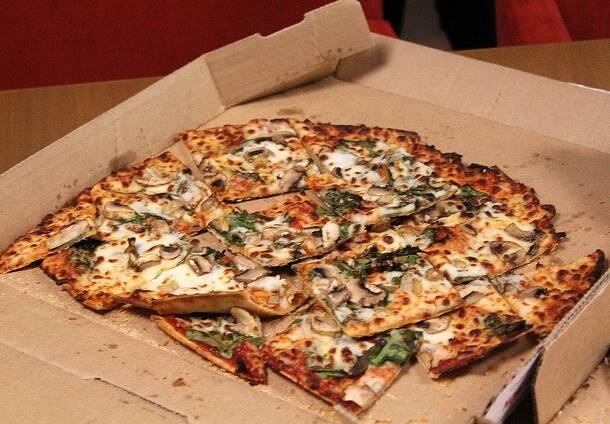 It's not uncommon for pizza delivery drivers to make $100 in tips on a Saturday night, only to find on Sunday that their gas tank is empty and their oil needs changing, meaning that they'll have to sink half their pay right back into the job.
For many drivers, the cycle is set on repeat-until-broke, but for the employees of RPM Pizza, the largest Domino's Pizza franchise in the US, there may be some good news. On July 23, fair wage law firm Heninger Garrison Davis filed a collective action lawsuit suing RPM on behalf of their drivers for unreimbursed expenses. The lawsuit Firmin v. RPM Pizza alleges that RPM violated the Fair Labor Standards Act by failing to adequately compensate former delivery driver Dale Firmin and other similarly situated drivers for the cost of gas and the cost of maintaining a safe and legal vehicle. Because of RPM's ​"flawed" reimbursement policy, according to the complaint, the owners of the Domino's franchise ​"thereby enjoy ill-gained profits at the expense of their employees."
The case adds to a docket of over a dozen similar lawsuits representing delivery drivers from about as many states. Though none of the cases have gone to trial so far, at least seven have settled, winning reimbursements for more than ten thousand pizza delivery drivers nationally. The details of many of the settlements remain confidential, but in one case, Castillo v. Pizza Hut, the largest pizza chain in the world agreed to pay $5.1 million to the plaintiff class in a 2006 settlement. Another settlement, Wass v. NPC in 2012, was estimated by The Edwardsville Intelligencer to be in the ballpark of $8 million. If anything, this precedence bodes well for the RPM employees.
Establishing a legal series against the country's top pizza delivery companies may lead to changes in the industry, but meanwhile many still find themselves stuck in a game of pizza roulette. ​"It's a gamble," says Scott Lightner who delivers for an independent pizzeria in Chicago (which he asked to leave unnamed).
When I meet up with Lightner, he's between deliveries, on his way back to his garage to fix his ignition switch, which doesn't stop dinging when the key is removed. ​"Most people turn the key twice a day. I do it about forty times." Luckily, he tells me, he is a mechanic and he knows how to fix anything with a motor. Otherwise, he wouldn't be delivering pizzas. ​"If I had to pay for all the maintenance — no way."
Lightner is not paid an hourly wage, but is compensated for each delivery he takes and is allowed to take home all of his tips. During this particularly slow seven-hour shift, Lightner made a total of $57 dollars, already below the Illinois minimum wage of $8.25 an hour. Subtract $10 for gas and he's at $6.70 an hour. But after replacing his truck's ignition switch, which cost him around $80, Lightner went about $30 into the red. ​"I'm going to have to have a killer day this week," says Lightner, ​"to make up for this one."
Certainly, there are some killer days. Drivers on the night shift at Lightner's workplace can sometimes make over $150 in tips and per-delivery compensation. Subtract $20 for gas and the driver's wage is still pushing $17 an hour. That's likely why, as Lightner tells me, ​"a line forms outside the door" as soon as the store's owner puts an ad on Craigslist​.com.
But the calculated risk that every driver makes is like any gamble — it tends toward a losing game. Lightner, who has been in the business on and off for about twenty years, estimates that only about 20 percent of new hires stick around and the rest quit ​"once they realize the real costs of driving your own car and paying for your own gas."
Essentially, the constantly rotating staff of drivers absorbs the true expenses on behalf of the owner in exchange for tips (which the customer absorbs for the owner) and then leaves the delivery business once they realize how little their actual earnings amount to. For the owner, says Lightner, ​"it's the perfect scheme."
One of the primary achievements of the lawsuits, therefore, has been to put into question the companies' insulation from risk. In a 2010 hearing for Smith v. Pizza Hut and Darrow v. WKRP, attorney Richard Paul exposed the rigged policy of expense calculation. The plaintiffs hired an automobile expert to estimate the car expenses they incurred while on the job, but Pizza Hut's lawyers countered with what Paul called the ​"futility argument" — that an expert's estimate of unreimbursed expenses is not adequate grounds to sue. Paul pointed out in court that there's a ​"significant hypocrisy" in their objection:
Pizza Hut has employed them [Runzheimer International] to determine what the reasonable estimation of expenses are. That is the same type of expert that we would employ…. That's why we don't need…to see each and every expense for gas, tires, alternators, whatever the case may be. That's not how expenses are estimated in the real world. And to say that these plaintiffs can be cheated grossly out of a bare minimum wage, and [that] because they didn't keep each and every receipt they can't state a claim and recover those unpaid wages that they're owed, is an outrage.
Ultimately, the delivery drivers overcame the ​"futility argument." WKRP, a large Pizza Hut franchise, settled for an undisclosed amount with Robert Darrow and the other 150 pizza delivery drivers represented in the collective action suit, while Smith v. Pizza Hut, which now represents around 6,000 delivery drivers, may be the first lawsuit of this legal series to go to trial next year, according to Mark Potashnick of the firm Weinhaus & Potashnick, another firm representing the defendant in Firmin vs. RPM Pizza.
But how effective will these lawsuits be in reforming the pizza business? Joseph Riedel, a driver for Papa John's and a labor organizer, isn't betting on it. ​"I don't know if it will get drivers better wages. I think the companies kind of see it as a cost of doing business." The solution, in his opinion, would be to organize. Riedel was involved in the now-defunct Association of Pizza Delivery Drivers, a donation-based labor union with around a thousand members in the early 2000s—the first attempt to organize a pizza deliver union, but which never succeeded in organizing a store. If anything, these lawsuits are gaining much-needed attention for pizza deliver drivers as a class, Riedel believes. But he urges audacity in the effort to organize: ​"As far as the big three," meaning Pizza Hut, Domino's, and Papa John's, ​"it would take a massive, massive effort."
Amien Essif
is a regular contributor to Working In These Times and maintains a blog called The Gazine, which focuses on consumerism, gentrification, and technology with a Luddite bent. His work has also appeared on the Guardian and CounterPunch. You can find him using Twitter reluctantly: @AmienChicago