Edi­tor's Note: A few weeks ago, the first snows of the sea­son came ear­ly and hard to the Yel­low­stone Riv­er coun­try of south-cen­tral Mon­tana, where I live. On a sun­ny day after the snow­fall, I packed my camp­ing gear and cross-coun­try skis and set out to dri­ve a favorite road into the moun­tains. I nev­er made it. Where the road crossed a grassy and windswept hill, the gusts had blown snow into drifts a foot and a half deep, and I deter­mined that the road was not pass­able. Unfor­tu­nate­ly, I did­n't make this deter­mi­na­tion until after I had lodged my car up to the axles in one of the drifts.
In hon­or of the return of the sea­son of get­ting stuck, Rur­al Amer­i­ca In These Times is tak­ing a short break from the cycle of ever-more-seri­ous news to bring you some­thing more light­heart­ed. I wrote this essay last win­ter and it was first pub­lished by the Liv­ingston Enter­prise in Liv­ingston, Mon­tana. I hope you enjoy it.
-Joseph Bulling­ton, Edi­tor of Rur­al Amer­i­ca In These Times
It's amaz­ing how sud­den­ly you real­ize that you're a lot far­ther gone than you thought you were.
In that way, get­ting stuck is a sort of mag­i­cal spell that in an instant trans­forms the world into a much larg­er and wilder place. You ride like a way­ward knight, arro­gant atop your trusty steed — until the drag­on appears and snatch­es your horse from under your ass, its four legs kick­ing, four tires spin­ning pathet­i­cal­ly in the air. One moment you're dri­ving along care­free, or at least care-less, an easy one- or two- or four-hour dri­ve from the near­est house, and the next moment you find that you're a hard day's walk from that same house. Magic.
The roads — those umbil­i­cal cords of civ­i­liza­tion — are still there, of course. But once you've plant­ed your auto­mo­bile secure­ly in a hole of mud or snow, the roads just don't mean the same thing they meant before. By get­ting stuck, you arrive, in effect, by road in a road­less area. Get­ting stuck is the fastest route to the mid­dle of nowhere.
It's been a few years since I got prop­er­ly stuck but, like catch­ing up with old friends, I got reac­quaint­ed with these thoughts this last week­end when my accom­plice, Ari­ety, and I attempt­ed to dri­ve the old 4Runner to Upper Poto­si, west of Pony. We planned to park where we could and ski the rest of the way into the hot springs across untracked snow, pow­dery and light in the sub­ze­ro cold, with a bot­tle of red wine and glass­es in my back­pack. Instead, we found our­selves thrash­ing about with an avalanche shov­el and ski pole, try­ing to dig the car out of a drift as the west­ern trees smoth­ered the last of the day's weak light. Anoth­er les­son in the futil­i­ty of mak­ing plans.
* * *
Get­ting stuck: ​"It's the one thing you nev­er real­ly want to hap­pen while dri­ving your couch on wheels around," says Dominic, red­neck Bud­dha, old friend, wise man. ​"But when you pre­pare for the even­tu­al­i­ty of being stuck it is reward­ing to have that Boy Scout men­tal­i­ty pay off, and you can real­ly push into some deep places."
There was a peri­od when get­ting stuck was some­thing of a pas­time for Dominic and me. I don't remem­ber, though, that we ever pre­pared par­tic­u­lar­ly well for the even­tu­al­i­ty. We would talk much of winch­es and land-anchors, but we didn't have the means to build or buy them. Hell, I only remem­ber a time or two when we had so much as a shovel.
But when things are easy, your mem­o­ry tends to slide over them like a stream over mossy stones. For every hun­dred dri­ves we've tak­en togeth­er, I remem­ber but one — the one where we got stuck. And of the times we got stuck, I remem­ber most vivid­ly the times when we didn't have the tools we need­ed. The time we dug my dad's Sub­aru out of a snowy ditch south of Hele­na, each wield­ing one of my dad's cross coun­try skis. The time we tried to extract Dominic's old baby blue Bron­co from a mud pit using — what? A two-by-four and an ice scraper?
When we failed, Dominic care­ful­ly typed out a T9 mes­sage to his sis­ter, Lau­ren, con­tain­ing our loca­tion as best we could fig­ure it, the time, and a plea for her to bring some tow straps. He then walked to the top of the high­est near­by hill and, find­ing no cell ser­vice, pro­ceed­ed to throw his flip phone repeat­ed­ly in the air, catch­ing it each time, until the mes­sage final­ly caught some lost breeze of recep­tion and deliv­ered itself into the void. We didn't know if it had worked until, an hour or two lat­er, Lau­ren came trundling along in the old fam­i­ly Tahoe and pulled us out.
Each time we got stuck was dif­fer­ent, each its own adven­ture. But there was one time … one time that we got stuck­er than we had ever been before or have been since, a time that tow­ers in my mem­o­ry above all the oth­er times, like a mon­u­ment to get­ting stuck. I can't feel the car wheels start to bog down with­out think­ing of it.
* * *
Our mis­sion was sim­ple: Take a plane to Den­ver, a Grey­hound bus to San­ta Fe, and retrieve there the truck of a fam­i­ly friend — who shall remain name­less, but who reads this paper and knows who she is. Return the truck to Liv­ingston for her. No problem.
But it was Dominic's and my first time in the South­west, at least since we were chil­dren, and we weren't exact­ly look­ing for the quick­est route home. We had a map — a fold­ing AAA pro­duc­tion called ​"Indi­an Coun­try" — and we'd pick a road we liked, no mat­ter how remote or off-course it was, and dri­ve it, wind­ing our slow way home on back roads, stick­ing to dirt when­ev­er possible.
The road looked sub­stan­tial enough on the map — a firm white line lead­ing up into the Man­ti-La Sal Nation­al For­est, down into the blank expanse of BLM land south of Canyon­lands Nation­al Park, and then north into the Nee­dles dis­trict of the park itself. We made our last sup­ply stop in Bland­ing, Utah and then head­ed up into the Man­ti-La Sal to camp that night. Next morn­ing we were descend­ing into the BLM sec­tions when a light rain began to fall.
Expe­ri­enced desert-dwellers know that a rain­storm is no time to head far­ther into the canyon coun­try. Wash­es, usu­al­ly dry, flash flood with tor­rents of water the col­or of red choco­late milk and can be dead­ly. The roads them­selves turn to impass­able gum­bo. Need­less to say, we pushed on.
Lat­er, when it seemed doubt­ful the truck would ever make it out of the state of Utah, we blamed the map — for hav­ing showed this par­tic­u­lar road at all. And, lat­er still, we would laugh, imag­in­ing some poor fam­i­ly grind­ing their giant RV on its one-way trip down into this gnarly coun­try, just fol­low­ing a route marked on their AAA map …
* * *
We were about 50 miles as-the-car-dri­ves from Bland­ing when it hap­pened. I was dri­ving and Dominic was say­ing some­thing about how I should stay high, avoid the ruts. I was express­ing my agree­ment when the truck's wheels began to slide like but­ter slides across a hot pan. And then our long dri­ve was sud­den­ly over.
The driver's side front wheel had sunk so deep in a hole of watery mud that the passenger's side rear wheel was lift­ed off the ground at an ugly angle. As it con­tin­ued to rain, the lev­el of the red soup con­tin­ued to rise, lap­ping at the bot­tom of my door and threat­en­ing to flood in. We tried to rock the truck — reverse, dri­ve, reverse, dri­ve — and dug and scooped, but the liq­uid mud flowed into the hole faster than we could push it out. I went search­ing for some­thing — any­thing — firm that we could cram under the back tires, to get some pur­chase. I found only a BLM road sign mount­ed on a four-by-four post, which lift­ed eas­i­ly from its hole in the sog­gy ground. It helped not at all, and I replant­ed it as eas­i­ly as I had pulled it out.
We admit­ted defeat. In a storm like this, it would prob­a­bly be days before any­one dared ven­ture down this road. Best get as com­fort­able as we could. Wet and mis­er­able, we decid­ed to seek some shel­ter, build a fire, dry our clothes, eat some lunch. We couldn't find a scrap of dry ground or wood and, defeat­ed again, returned to the truck. On the way, I near­ly stepped on a small rat­tle snake who lay, look­ing sog­gy and gray and mis­er­able, in the grass along the road. We mused uneasi­ly about how one wrong step could turn this incon­ve­nience into a life-and-death emergency.
Back in the truck, we strug­gled to find a com­fort­able way to wedge our­selves in the off-kil­ter cab. Dominic stripped off his soaked and mud­dy clothes and prompt­ly fell asleep in the pas­sen­ger seat, wear­ing only his box­ers. I sat there as the rain fell and our breath fogged the win­dows, read­ing Edward Abbey and dozing.
* * *
Voic­es? Impos­si­ble. I had fall­en asleep. But there they were again, unmis­take­able this time, and I thought I saw shapes mov­ing through the fogged wind­shield. I opened my door to one of the hap­pi­est sights of my life — a souped-up, desert-run­ner Jeep Wran­gler, com­plete with heavy-duty jack, winch, shov­el, and two spare tires. The occu­pants, a father and son who had start­ed out on the oppo­site end of the road, said they couldn't promise they could get the truck out, but they hooked a tow strap to our hitch to try. And, at last, with a squelch­ing sound, we pulled free.
We gave our sav­iors the last two Tecates from our cool­er and piled into the truck to fol­low them out. Dominic took over behind the wheel. Dominic is a much bet­ter dri­ver than I am and we both know it. He knows when to hes­i­tate and he knows when hes­i­ta­tion can ruin you. He dri­ves aggres­sive­ly, because he knows what he's doing, knows what the con­di­tions call for. He also wrecks his cars a lot, so I nev­er can quite trust him. In this case, though, he was the man for the job. Sor­ry I kicked you out of the driver's seat, he told me lat­er, but I knew that get­ting out of there was going to require that the dri­ver do things to that truck that you, on account of your close­ness to the own­er, wouldn't be capa­ble of doing.
He was right. The road out seemed to have turned into some­thing like bacon grease, and there was no way to hold a straight line. The truck, with its long and nar­row wheel base, is not the ide­al desert vehi­cle. Even in four-wheel-dri­ve its hind end kept try­ing to pass its front end. There were places where the grease and gra­di­ent of the road were so bad that the ditch sucked us toward it like a black hole, and the only way to avoid get­ting stuck again was to accel­er­ate and ram the truck into the berm with enough force to ric­o­chet it back onto the road.
When we emerged onto the paved high­way next morn­ing, the truck bore some fresh dents, which I have yet to live down or make up for, but it was alive and so were we. I'm told that, near­ly six years lat­er, that red mud still turns up in pecu­liar places in the truck, rem­nants of that long-ago adventure.
* * *
When we at last got the 4Runner dug out of the snow last week­end, it was near­ly dark so we head­ed back the way we had come in. We were sad to miss the hot springs, but I was glad in a way that the world had dis­rupt­ed our plans. Get­ting stuck makes for bet­ter sto­ries, anyway.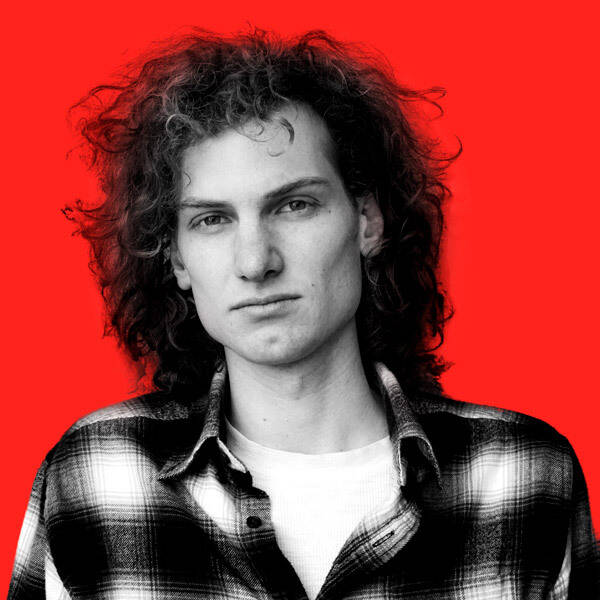 Joseph Bulling­ton
grew up in the Smith Riv­er water­shed near White Sul­phur Springs, Mon­tana. He lives now in Liv­ingston, where he works as an inde­pen­dent jour­nal­ist, part-time ranch hand and the edi­tor of Rur­al Amer­i­ca In These Times.