Will GM Workers Stay Out On Strike In Hopes of a Better Deal?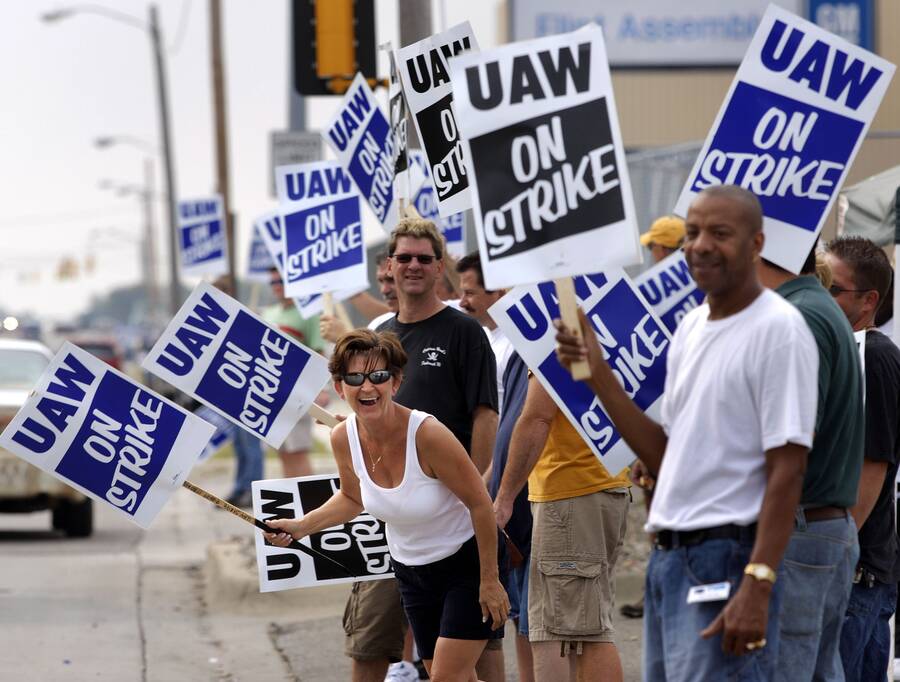 "They always say it will take mul­ti­ple agree­ments to reach equal­i­ty — we can't win it all in one go," said Sean Craw­ford, a sec­ond-tier work­er at Flint Truck Assem­bly in Michigan.
For Craw­ford, the GM strike, the longest at a Big 3 com­pa­ny in 50 years, was the best chance the union had to put an end to the many tiers that have frac­tured the workforce.
"This is the third con­tract since the 2009 bank­rupt­cy — that is a third of a career," Craw­ford said. ​"If we don't get this now, when GM is more prof­itable than they have ever been, when will we ever get it? So no, I don't sup­port the contract."
GM's prof­its were $35 bil­lion over the last three years.
After near­ly six weeks on the pick­et lines, auto work­ers will make a sober­ing choice: accept the agree­ment pro­posed or vote no and stay out in the hopes of get­ting some­thing bet­ter. In 2015 Chrysler work­ers reject­ed their ten­ta­tive agree­ment 2 – 1 and sent bar­gain­ers back for more. GM work­ers, vot­ing lat­er, approved their pact by just 58 per­cent for pro­duc­tion work­ers; skilled trades vot­ed it down.
UAW lead­ers decid­ed that work­ers will remain on strike dur­ing the rat­i­fi­ca­tion vote. Vot­ing will end Fri­day, Octo­ber 25 by 4:00 p.m.
Tiers main­tained
The con­tract makes some gains. Work­ers will receive 3 per­cent rais­es in the first and third years of the con­tract and lump-sums equal to 4 per­cent of annu­al wages in the sec­ond and fourth years. Sec­ond-tier work­ers, who until now were on an eight-year track to get with­in a few dol­lars of first-tier work­ers' pay, will now top out at equal pay — $32.32 — at the end of the con­tract, a short­er four-year track. The cap on prof­it shar­ing has been lift­ed and a path­way has been cre­at­ed for thou­sands of tem­po­rary work­ers to become per­ma­nent once they've been temps for three years.
"In Jan­u­ary, they will con­vert 850 tem­po­rary work­ers and will con­tin­ue con­vert­ing each month after that as peo­ple get their time, so they will con­vert up to 2,000 in 2020," said Tim Stan­nard, pres­i­dent of UAW Local 1853 in Spring Hill, Tennessee.
John, a 35-year work­er at Detroit-Ham­tram­ck Assem­bly, said on the pick­et line today, ​"What we're get­ting is what we're going to get. It's not a bad-look­ing con­tract." Was the strike worth it? ​"Yes. The temps got moved up. There's decent rais­es. Health care stayed the same."
Even with these gains, though, GM has main­tained all the tiers that it had before. Sec­ond-tier work­ers — those per­ma­nent employ­ees hired after 2007 — will still receive a 401(k) for retire­ment rather than a defined pen­sion. They are not eli­gi­ble for retiree health care, and their Sup­ple­men­tal Unem­ploy­ment Ben­e­fits when laid off will last half as long as first-tier workers'.
GM work­ers at ware­hous­es and at four ​"com­po­nents" plants will con­tin­ue to make far less than assem­bly work­ers, with an eight-year grow-in.
And tem­po­rary work­ers will con­tin­ue at pay bare­ly more than half that of Tier 1 work­ers. GM can con­tin­ue to use them as pro­ba­tion­ary employ­ees – with a very long probation.
"I know the lan­guage says that temps will be in pro­gres­sion to be hired in as employ­ees after so many years, but they are still using temps," said Beth Baryo, a mate­ri­als han­dler at a parts ware­house near Flint.
Under the new agree­ment, temps hired after Jan­u­ary 1, 2021 who main­tain two years of con­tin­u­ous employ­ment must be hired on as per­ma­nent. Temps can be laid off for up to 30 days and still main­tain con­tin­u­ous service.
"As sure as god wears san­dals, you know that GM will lay peo­ple off for 31 days," said Baryo. ​"I don't trust any­thing they will say."
What they did­n't win
The biggest sting of all was the shut­ter­ing of Lord­stown (Ohio) Assem­bly, War­ren (Michi­gan) Pow­er­train, and Bal­ti­more Pow­er­train, which GM announced last Thanks­giv­ing. Every con­tract cycle, GM clos­es more plants and every con­tract cycle the UAW claims to have stronger lan­guage to pro­tect jobs.
The steady pro­ces­sion of con­ces­sions was also sold as a job-sav­ing mea­sure and yet the num­ber of union auto work­ers employed by GM has dropped from 470,000 in 1979, when con­ces­sions began to the Big 3, to less than 50,000 today.
Many of the con­ces­sions made in 2007 and 2009 are still in effect, show­cas­ing just how chal­leng­ing it is for the union to get out of the hole it is in. Those include a cost of liv­ing allowance and over­time pay after eight hours (many plants now work reg­u­lar 10-hour days with­out over­time pay). Tier 2 work­ers got noth­ing for retire­ment. Future Tier 1 retirees got one $1,000 lump sum.
How will they vote?
As often hap­pens in a strike, many peo­ple unhap­py with the agree­ment pre­dict­ed that oth­er peo­ple would vote yes. ​"Peo­ple are going to say yes because of the mon­ey," said Adri­ana Jaime, a 21-year work­er at Detroit-Ham­tram­ck Assem­bly, at the pick­et line today. ​"But for the weeks we've been walk­ing here, it's not enough."
One man said the offer was basi­cal­ly the same as what GM offered before the strike, except for the sign­ing bonus (which increased from $8,000 to $11,000). ​"I'm not impressed," he said. ​"But a lot of peo­ple want to get back to work."
Jack Jack­son, with 50 years, will vote no. ​"I'm mad as hell," he said. ​"This con­tract was prob­a­bly decid­ed before we even went out and this was a show and tell, a lit­tle pony show.
"I hope it's good for the young folks. It should be 90 days and you're at full pay. This con­tract is real­ly not for me. Give the retirees some mon­ey — our pen­sion ben­e­fit has been the same for 12 or 15 years. You ded­i­cate half your life to GM and they treat the retirees like an old horse they take out in the field and shoot him. We didn't get the retiree issues — and the peo­ple com­ing behind me are going to retire some­day too."
Car­la Duck­ett, with 37 years, says she's ​"on the fence. I'm going to retire — I want to see what this leaves for those who have to stay."
"The lead­er­ship is going to try and make the case that this is the best they can get," Craw­ford said, ​"but if you look at the 2015 agree­ment, after Chrysler peo­ple vot­ed that down, they came back with some­thing sig­nif­i­cant­ly better."
Ara­mark jan­i­tors also have an agreement.
The 850 Ara­mark jan­i­tors and skilled trades work­ers at five Ohio and Michi­gan GM plants who struck along­side GM work­ers were told yes­ter­day that they also have a ten­ta­tive agree­ment. They do work for­mer­ly done by GM work­ers, but at far less pay.
"Every­one makes $15. If you've been there 10 years you still make $15." said Karen Cool, from GM's Tech Cen­ter near Detroit. GM hired replace­ment jan­i­tors dur­ing the strike who, with police sup­port, crossed pick­et lines there daily.
The south­ern problem
Eco­nom­ic con­straints placed on the Big Three by the influx of for­eign-owned, non-union automak­ers in the U.S. South are one of the forces out­side the con­trol of strik­ing GM workers.
Even though GM has gone from bank­rupt to prof­itable, the com­pa­ny is still los­ing mar­ket share to these non-union com­peti­tors like Toy­ota, Nis­san, BMW, Hon­da, and Volk­swa­gen. All use high pro­por­tions of tem­po­raries and con­tract work­ers at will. The UAW has engaged in three high-pro­file orga­niz­ing dri­ves at Nis­san and Volk­swa­gen over the past five years, los­ing all of them.
Until the whole auto indus­try is orga­nized, non-union employ­ers will pay their work­ers less, give few­er ben­e­fits, hire more temps, and out­source more work, to gain a com­pet­i­tive advan­tage over their union rivals.
This arti­cle first appeared on Labor Notes.
Chris Brooks is an orga­niz­er and writer for Labor Notes. Jane Slaugh­ter is a for­mer edi­tor of Labor Notes and co-author of Secrets of a Suc­cess­ful Organizer.