GM Just Took Away Our Insurance, But They Can't Stop Our Strike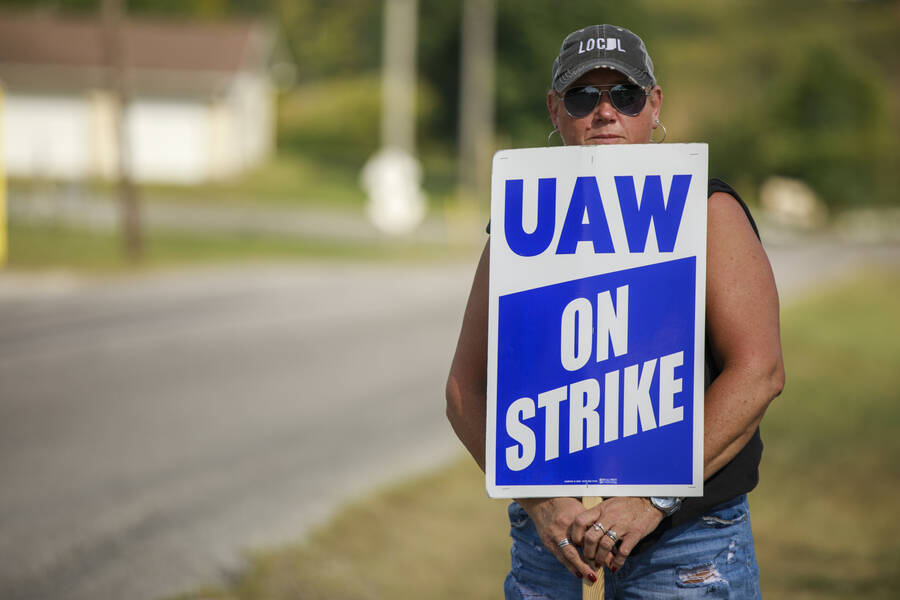 Just after mid­night on Sep­tem­ber 15, near­ly 50,000 mem­bers of the Inter­na­tion­al Union, Unit­ed Auto­mo­bile, Aero­space and Agri­cul­tur­al Imple­ment Work­ers of Amer­i­ca (UAW) walked off their jobs at 33 Gen­er­al Motors (GM) plants across the Mid­west and South. For two days, work­ers have been pick­et­ing against GM's dis­mal wages and two-tier con­tracts. Steve Frisque was among them. Frisque is a full-time union stew­ard and com­mit­tee lead at the GM parts plant in Hud­son, Wis­con­sin.
When asked why all 74 of his fel­low union mem­bers decid­ed to go on strike, Frisque said the issues are the same in Hud­son as they are at GM plants around the coun­try: a rise in tem­po­rary work­ers, the grow­ing cost of health insur­ance, and anger over the automaker's per­ceived lack of appre­ci­a­tion for the employ­ees and mem­bers of the pub­lic who Frisque says bailed the com­pa­ny out just ten years ago.
GM doesn't appear to be tak­ing the strike light­ly. On Sep­tem­ber 17, the com­pa­ny effec­tive­ly can­celed its pay­ment of health insur­ance pre­mi­ums for all strik­ing work­ers. The com­pa­ny said in a state­ment, accord­ing to Reuters, that it is stan­dard prac­tice for ​"some ben­e­fits to shift to being fund­ed by the union's strike fund." But work­ers were quick to denounce the move as a scare tac­tic aimed at crush­ing the work action. UAW offi­cials say they are review­ing GM's deci­sion, which will amount to lim­it­ed health care cov­er­age for strik­ing workers.
In These Times spoke with Frisque about what it's like to work for GM, why work­ers are walk­ing out, and how morale is on the pick­et lines.
Sarah Lahm: Tell me about your work at GM.
Steve Frisque: I am a GM employ­ee and was hired around 1986, orig­i­nal­ly at the Janesville, Wis­con­sin assem­bly plant. I spent the first 21 or so years of my career there, with GM. Of course, that plant closed down at the end of 2008.
I knew the writ­ing was on the wall, so I actu­al­ly trans­ferred up to the Hud­son facil­i­ty in 2008.
Sarah: Has the threat of plant clo­sures been a con­stant com­pan­ion of your time at GM?
Steve: That time in Janesville was real­ly the only time I've had to deal with it. I jumped ship a lit­tle ear­ly and sort of got the pick of where to go, and I chose Hud­son because it was close. My wife and kids still lived in Janesville for quite a few years after I moved, just because we couldn't sell our house because the area was so depre­ci­at­ed when GM left. The hous­ing mar­ket just took a dive, then, and we couldn't get rid of the house.
So I worked up in Hud­son dur­ing the week and drove home on the week­ends until 2014, when my wife and daugh­ter moved up here.
Sarah: What do you do at the Hud­son plant?
Steve: When I first got here, I was just on the line, and then I was elect­ed union pres­i­dent for three terms and served two, from 2011 to 2017. I did turn down the last term, because it just got to be too much. I was doing that job, plus I am the stew­ard and first shift union com­mit­tee­man. I was doing both jobs and trav­el­ing a lot, and it was impact­ing my fam­i­ly life.
So now I am just the union stew­ard. I am a full-time union employ­ee and rep­re­sent all employ­ees on my shift, if there are any health and safe­ty con­cerns or issues with management.
Sarah: What are the key issues for workers?
Steve: It's basi­cal­ly the same as it is on the nation­al lev­el. We have tem­po­rary employ­ees in our build­ing, and they have real­ly no ben­e­fits or path to full-time employ­ment. We have con­vert­ed quite a few of our temps to full-time employ­ment. We have pushed that with our local man­age­ment, and they've been pret­ty good at work­ing on that with us.
The temp work­ers face long hours, not much pay, and min­i­mal ben­e­fits, includ­ing no vaca­tion time. That's our issue. They are right along­side us on the line, doing the same job, and they should be com­pen­sat­ed in the same way.
Sarah: Do you see any con­nec­tion here, with temp work­ers, to over­all con­cerns about the gig econ­o­my, on the one hand, and union-bust­ing on the other?
Steve: Yes, we do. GM did send out a let­ter today, say­ing that pay­ment for our health care would be ter­mi­nat­ed imme­di­ate­ly, even though it was sup­posed to go until the end of the month. They are using scare tac­tics, mak­ing peo­ple wor­ried about how they're going to make it.
We are also hear­ing that at big plants like in Flint and Arling­ton, GM is plan­ning on bus­ing in what we call scabs into the build­ing to try and do the work. It does look like almost a union-bust­ing type of plan at this point.
Sarah: What do you think of GM's posi­tion on the strike?
Steve: GM's offer of a 2% wage increase is an insult. We gave up much more than that when they were going into bank­rupt­cy. Then, we vol­un­tar­i­ly gave up our cost of liv­ing increas­es with the idea that once GM got back on its feet and was viable again, we would get them back.
But now, we are at the point where we will actu­al­ly be los­ing mon­ey every month on health insur­ance with GM's lat­est offer. That's our reward for GM mak­ing four years of prof­its, and the peo­ple have had enough.
So we decid­ed, ​"Hey, we're going out." As of right now, all 74 of our peo­ple are out on the pick­et line. That includes temps. No one has any plans of cross­ing the line, and every­body pays union dues, even though Wis­con­sin is a right-to-work state and they don't have to.
Every­body in our plant has vol­un­tar­i­ly decid­ed they are going to pay union dues, which is nice because it keeps peo­ple togeth­er. There's no division.
Our temp work­ers and jan­i­tors are rep­re­sent­ed by our local, so they are out on the pick­et line with us. No one is in the build­ing except for managers.
Sarah: Do the temp work­ers and jan­i­tors get the $250 per week in strike ben­e­fits, too?
Steve: Yes, they do. As long as they show up for their shift on the pick­et line, jan­i­to­r­i­al staff and the temps will get strike pay and UAW Inter­na­tion­al, with their union dues, will be pick­ing up our health insur­ance pre­mi­ums for as long as the mon­ey lasts.
Sarah: How has morale been?
Steve: Morale has been stu­pen­dous. Bet­ter than what we could have hoped for. It's scary for all of us. There's always con­cerns, when you are deal­ing with new employ­ees who haven't been around the union in their life­time and don't real­ly know what a strike entails. But they've been out there march­ing with us since 11 o'clock on Sun­day evening.
They're show­ing up, even when it's not their shift, and bring­ing food for their union broth­ers and sis­ters. And it's just been fan­tas­tic. Everybody's com­ing togeth­er and sup­port­ing each other.
Sarah: Do you see any end to the strike in sight?
Steve: It's hard to say. My per­son­al opin­ion is, I think it's going to go on for a bit. The soon­er we get an agree­ment, the bet­ter, but I know there are a lot of stick­ing points, with tem­po­rary employ­ees, the cost of health insur­ance, and some of the closed plants.
If I was a bet­ting man, I'd say this might go on for a bit longer than most peo­ple would like. If it was set­tled in a few days, that would be awe­some, because these peo­ple want to work. They want to go to work and do their jobs.
Sarah: This is about more than ben­e­fits and wages.
Steve: The work­ers just want to be acknowl­edged that they are a big part of why GM is where it is today. If it wasn't for their employ­ees and the tax­pay­ers of this coun­try — I don't want any­one to for­get that — the tax­pay­ers bailed GM out. The work­ers on the floor appre­ci­ate that – words can­not express how much.
We sac­ri­ficed for GM, and now it's time for GM to share the wealth. They paid essen­tial­ly no tax­es last year, and they act like they're broke. They have made record prof­its for the last four or five years.
When their CEO Mary Bar­ra is mak­ing over $20 mil­lion and they say they don't have enough mon­ey to pay their employ­ees on the floor, then I have an issue with that and I think all of us do.
We are mak­ing less today than we were in 2000, if you fac­tor in the cost of liv­ing. We have had min­i­mal rais­es for the last 20 years, and I am talk­ing about the lega­cy employ­ees. I am not even talk­ing about the tem­po­rary, or two-tier, employ­ees that are mak­ing a lot less. And there's no more pen­sions. That stopped in 2008. There are always cuts, cuts, cuts, even though GM is mak­ing record profits.
Sarah: Would you advise your kids to work for GM?
Steve: No. My father worked for GM, so did my grand­fa­ther. My father was the pres­i­dent of UAW Local 95 in Janesville, and my grand­fa­ther was one of the first GM employ­ees back in the 1920s, so this runs in my blood.
I have a long his­to­ry with the com­pa­ny, but I told my kids to go to col­lege and get a degree. These jobs aren't sta­ble any­more. The days of hav­ing a full-time job and being able to take care of your fam­i­ly are gone.
Sarah: What are some of the key goals of the strike?
Steve: Our key point is to keep our health insur­ance at the sta­tus quo, or close to it. It's about get­ting these tem­po­rary employ­ees a path to full-time employ­ment. It's not about us. We don't need a huge pay increase. We are look­ing out for the younger peo­ple, who aren't mak­ing as much mon­ey as some of us, to have bet­ter wages and ben­e­fits and come up and be with us.
That's what the union was formed on. Every­body does an hon­est day's work and gets an hon­est day's pay. It shouldn't be three or four dif­fer­ent tiers. It should be, we're all doing the same work, we should all be get­ting the same pay. It doesn't mat­ter what col­or you are, what sex you are. The union was formed on equal­i­ty, and that's what we've got to get back to.
Sarah: Do you have any thoughts on the cor­rup­tion scan­dals that have hit UAW?
Steve: Yes. Par­don my lan­guage, but we are damn mad. They have abused our trust, espe­cial­ly when unions are under attack in our coun­try right now. For them to do this, and wipe out the good name of our union and the trust of the mem­bers. If they're guilty, I hope they get the max­i­mum penalty.
I know these guys per­son­al­ly. I have had din­ner with them at con­fer­ences. I know who they are, or thought I knew who they were. And, for them to do this to the mem­ber­ship, I hope they get the max. I want a full inves­ti­ga­tion, and so do my peo­ple on the floor. The impro­pri­ety needs to stop, and we need to get back to who we are sup­posed to be work­ing for – the membership.
We have to get back to fight­ing for the peo­ple on the floor, so that they can get back to tak­ing care of their families.