Going Postal: How All-Mail Voting Thwarts Navajo Voters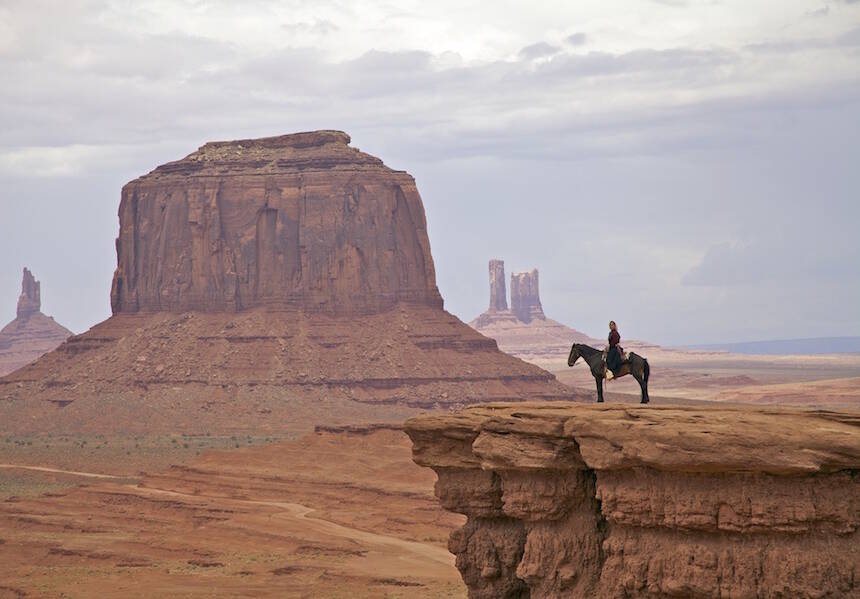 All-mail-in vot­ing has arrived in the red-rock bluffs and canyons of San Juan Coun­ty, Utah, which over­laps the Nava­jo Nation's reser­va­tion. In 2014, the coun­ty sent vot­ers mail-in bal­lots for the gen­er­al elec­tion, while clos­ing local precincts in the shad­ow of Red Mesa's rud­dy flat-topped butte; in Mon­u­ment Val­ley, the fabled loca­tion for John Ford West­erns; and in oth­er towns and ham­lets. Just one polling place remained open, in the coun­ty seat, Mon­ti­cel­lo, in the pre­dom­i­nant­ly white north­ern por­tion of the county.
Also gone were 20-some elec­tion judges and trans­la­tors who had pro­vid­ed vot­ing help and fed­er­al­ly man­dat­ed lan­guage assis­tance to non-Eng­lish-speak­ing Nava­jos. Just one part-time offi­cial inter­preter was left to cov­er about 8,000 square miles — an area near­ly the size of Massachusetts.
As states and coun­ties around the nation increas­ing­ly offer vot­ers con­ve­nient ways to cast a bal­lot — ear­ly vot­ing, in-per­son absen­tee vot­ing, vote-by-mail — Native peo­ple find them­selves shut out, accord­ing to an In These Times sto­ry, ​"The Miss­ing Native Vote." Since 2012, Natives have sued three times in fed­er­al court to obtain in-per­son absen­tee vot­ing on reser­va­tions, claim­ing that offer­ing this option only in dis­tant, off-reser­va­tion coun­ty seats means they do not have vot­ing rights that are equal to that of non-Natives. The Depart­ment of Jus­tice has pro­posed leg­is­la­tion to rem­e­dy this prob­lem, accord­ing to a Rur­al Amer­i­ca In These Times arti­cle.
Lan­guage assis­tance is anoth­er hur­dle for non-Eng­lish-speak­ing Native vot­ers. It's required by the Vot­ing Rights Act, but in prac­tice may not be offered. In 2014, Alas­ka Natives won a court deci­sion reaf­firm­ing their right to have the state give them elec­tion infor­ma­tion in their own lan­guages. As a result, Native vot­ers in Alas­ka were cred­it­ed with help­ing elect a Native lieu­tenant gov­er­nor, pro­tect the vast Bris­tol Bay region from min­ing and raise the state's min­i­mum wage.
This shows that secur­ing vot­ing rights lets Natives work to bet­ter their world, says OJ Semans, the Rose­bud Sioux co-direc­tor of vot­ing-rights group Four Direc­tions. ​"If you don't vote, you're not at the table when all man­ner of deci­sions are made. Keep­ing us from the bal­lot box is a way of pre­vent­ing us from being part of the body politic and improv­ing our lives, our com­mu­ni­ties, and our economies."
Ready to vote, but no bal­lot boxes
On Elec­tion Day, some Nava­jo vot­ers in Red Mesa showed up at their old precinct loca­tion, says Her­man Far­ley, pres­i­dent of Red Mesa Chap­ter, a Nava­jo Nation sub­di­vi­sion. Either they hadn't heard about the vote-by-mail require­ment, or they had heard but hadn't received a bal­lot, Far­ley recalled. At that moment, the vot­ers had two options. They could give up on par­tic­i­pat­ing in the elec­tion or dri­ve the three-hour round trip to the coun­ty seat — assum­ing they had the gas mon­ey to do so. Mean­while, vot­ers left in the lurch in the Nava­jo Moun­tain com­mu­ni­ty, in the remote south­west­ern cor­ner of the coun­ty, faced a nine-hour round trip to Monticello.
When the dust cleared after the 2014 gen­er­al elec­tion, the county's offi­cial results showed that Red Mesa's vot­er turnout (that is, the county's fig­ures for lev­el of par­tic­i­pa­tion among vot­ers it had deemed ​"active" via a mail-in process) was down. Red Mesa lost 15 per­cent turnout over 2006 and 6 per­cent over 2010, the most recent non-pres­i­den­tial con­tests. Red Mesa was among the five major­i­ty-Nava­jo precincts, out of sev­en, where elec­tion par­tic­i­pa­tion was low­er than in 2006. The largest drop was 20 percent.
When com­pared to 2010, turnout for 2014 fell as much as 26 per­cent in four major­i­ty-Nava­jo precincts. In the oth­er three, turnout rose between 16 and 20 per­cent — prob­a­bly because vot­ers there were inter­est­ed in a local race, accord­ing to James Fran­com, a spokesper­son for the San Juan Coun­ty Clerk's office.
Vot­ing by mail was more con­sis­tent­ly suc­cess­ful in major­i­ty-white areas, with 2014 elec­tion par­tic­i­pa­tion ris­ing between 2 and 39 per­cent in 9 of 10 precincts over 2006 and (after two most­ly white precincts were split) in 7 of 12 precincts over 2010 fig­ures. Also in com­par­i­son to 2010, turnout held even in one more pre­dom­i­nant­ly white precinct. Loss­es were gen­er­al­ly minimal.
In the end, white vot­ing increas­es appear to have been the force that pushed the county's turnout up about 5 per­cent — from 59 per­cent in 2010 to 64 per­cent in 2014. This helped ensure that the three seats on the coun­ty com­mis­sion — and its con­trol over coun­ty resources — would remain occu­pied by two whites and one Native, even though the coun­ty is about even­ly divid­ed between the two pop­u­la­tion groups, accord­ing to both the U.S. Cen­sus and the Nava­jo Nation. The coun­ty has nev­er had two Nava­jo com­mis­sion­ers, accord­ing to the Nava­jo Nation Human Rights Com­mis­sion (NNHRC).
In a post-elec­tion wrap-up to the coun­ty com­mis­sion on Nov. 17, 2014, then-coun­ty clerk and head elec­tions offi­cial Norm John­son spec­u­lat­ed that vot­ers in some Nava­jo precincts may have been unac­cus­tomed to or ner­vous about the new sys­tem, low­er­ing turnout. ​"They're total­ly out of whack," he said, adding, ​"We cor­rect­ed any­thing that came to our atten­tion, but if we didn't know, we couldn't fix it."
When civ­il-rights attor­ney Maya Kane, of the law firm Maynes, Brad­ford, Shipps and Shef­tel, set out to deter­mine what had gone awry for San Juan County's Nava­jo vot­ers, she found plen­ty of leaks in the bal­lot pipeline.
Kane learned that impov­er­ished Nava­jos may share P.O. box­es or use gen­er­al deliv­ery and wor­ried that this low­ered the like­li­hood that they received essen­tial elec­tion com­mu­ni­ca­tions, includ­ing vot­er-reg­is­tra­tion infor­ma­tion and the bal­lot itself. ​"If any­thing was off about a voter's reg­is­tra­tion — an incor­rect address or mid­dle ini­tial, for exam­ple — it had to be cor­rect­ed in order to receive a bal­lot," Kane says.
Exac­er­bat­ing these dif­fi­cul­ties are the mul­ti-hour round trips some Nava­jos make to area post offices to pick up their mail. As a result, Kane learned, they may go only every few weeks, cut­ting their chances of receiv­ing elec­tion com­mu­ni­ca­tions in time to reg­is­ter or vote.
When local precints closed and mail-in bal­lots were lost, some vot­ers were left with the deci­sion to dri­ve all day to a polling place or not par­tic­i­pate in the elec­tion. (US Route 163 into Mon­u­ment Val­ley, Wikipedia)
Votes lost in the mail
After reser­va­tion vot­ers mailed their bal­lots, the items some­times took the scenic route. While inspect­ing 2014 elec­tion-relat­ed cor­re­spon­dence at the coun­ty clerk's office, Kane found pieces with postal-ser­vice nota­tions show­ing they had mean­dered to Mon­ti­cel­lo via oth­er coun­ties and even oth­er states, arriv­ing weeks or months after Elec­tion Day. Some items were post­marked at the facil­i­ty where they were dropped off; oth­ers were post­marked at anoth­er post office down the line, pos­si­bly caus­ing a bal­lot to miss the deadline.
In the precincts of Mon­ti­cel­lo and Bland­ing, where the bulk of San Juan County's white vot­ers live, bal­lots typ­i­cal­ly had one-day ser­vice in both direc­tions, with post­marks reflect­ing the day they were mailed, accord­ing to Mon­ti­cel­lo post­mistress Dorothy Can­non. ​"We know how impor­tant they are," she says.
To Kane, reser­va­tion postal ser­vice seemed a world away from that expe­ri­enced by most Amer­i­can vot­ers, includ­ing those in Mon­ti­cel­lo and Bland­ing. ​"San Juan County's Nava­jo vot­ers have to rely on a com­pli­cat­ed and incon­sis­tent sys­tem," she says. ​"This cre­ates vot­ing-rights dis­par­i­ties right out of the gate."
Vote-by-mail sys­tems are noto­ri­ous­ly unre­li­able, accord­ing to Jean Schroedel, a polit­i­cal sci­ence pro­fes­sor at Clare­mont Grad­u­ate Uni­ver­si­ty, in Cal­i­for­nia. In a 2014 paper, she ana­lyzes recent schol­ar­ship show­ing ways the process can be derailed — when bal­lots don't get through to vot­ers or back to the elec­tion offi­cial, when bal­lots are dis­qual­i­fied by miss­ing sig­na­tures and oth­er errors that could have been cor­rect­ed dur­ing precinct vot­ing, and more. Slight­ly more than 20 per­cent of attempts to vote by mail fail, Schroedel writes.
Accord­ing to coun­ty com­mis­sion­er Phil Lyman, the coun­ty made spe­cial efforts to rem­e­dy poten­tial­ly dis­qual­i­fy­ing mis­takes. When Nava­jo bal­lots arrived with errors, the county's inter­preter took them to vot­ers' homes for cor­rec­tion — ​"even if that meant a 70-mile dri­ve," Lyman says.
Junk mail ballots
The short­fall in lan­guage assis­tance was anoth­er major fac­tor in depress­ing Nava­jo turnout, accord­ing to Far­ley. ​"Some of our elders don't speak or read Eng­lish," he says, adding that con­vo­lut­ed propo­si­tion lan­guage is espe­cial­ly prob­lem­at­ic. Accord­ing to NNHRC Exec­u­tive Direc­tor Leonard Gor­man, some vot­ers mis­took their Eng­lish-only bal­lots for junk mail and dis­card­ed them.
The elec­tion mate­ri­als did offer non-Eng­lish-speak­ers a rem­e­dy. Eng­lish-only print pieces and relat­ed Nava­jo-lan­guage radio ads direct­ed them to con­tact the coun­ty via tele­phone or Inter­net. That's a non-starter, accord­ing to Far­ley. ​"Don't assume every­one [on the reser­va­tion] has Inter­net or phone," he says.
Fran­com con­firmed that the idea just doesn't work. ​"We did radio ads telling them to call the coun­ty," he says. ​"In most cas­es, that doesn't hap­pen, though. Most of them have some­one who helps them with their mail, so they rely on them [to translate]."
The county's part-time inter­preter has crit­i­cized the depen­dence on fam­i­ly for lan­guage assis­tance, not­ing that Eng­lish-lan­guage elec­tion ter­mi­nol­o­gy doesn't trans­late eas­i­ly into Nava­jo. To do his job, Nava­jo Liaison/​Elections Coor­di­na­tor Ed Tapa­ha uses a 60-page hand­book com­piled with the aid of flu­ent Nava­jo elders — a resource not pro­vid­ed to the public.
Lyman, on the oth­er hand, describes fam­i­ly mem­bers as ​"very qual­i­fied" to trans­late and says this ​"allows [vot­ers] a chance to dis­cuss the bal­lot with some­one they trust."
The all-mail elec­tion ​"caught us by sur­prise," accord­ing to Far­ley, who says it was imple­ment­ed with­out con­sult­ing the Nava­jo Nation. ​"I'm sure hop­ing the coun­ty has learned it can't ram­rod this type of elec­tion change anymore."
The election's flaws may expose San Juan Coun­ty to a law­suit, accord­ing to promi­nent civ­il-rights attor­ney Laugh­lin McDon­ald, direc­tor emer­i­tus of the Amer­i­can Civ­il Lib­er­ties Union's Vot­ing Rights Project. He notes that in 2010 a fed­er­al dis­trict court reject­ed mail-in vot­ing as a sub­sti­tute for precincts on a North Dako­ta reser­va­tion, find­ing that this was like­ly to lim­it access for Native vot­ers there. There is also the mat­ter of Sec­tion 203 of the Vot­ing Rights Act, McDon­ald says: "[It] requires mate­r­i­al relat­ing to the elec­toral process, includ­ing bal­lots, to be pro­vid­ed in both Eng­lish and the applic­a­ble minor­i­ty language."
Says Lyman, ​"The last elec­tion was a test case. We aren't wed­ded to vote by mail if some­thing shows us it was worse than what we had." When asked whether he knew of papers such as Schroedel's indi­cat­ing that bet­ter-off, bet­ter-edu­cat­ed vot­ers par­tic­i­pate more read­i­ly in mail-in elec­tions, he said it was the first he'd heard of that.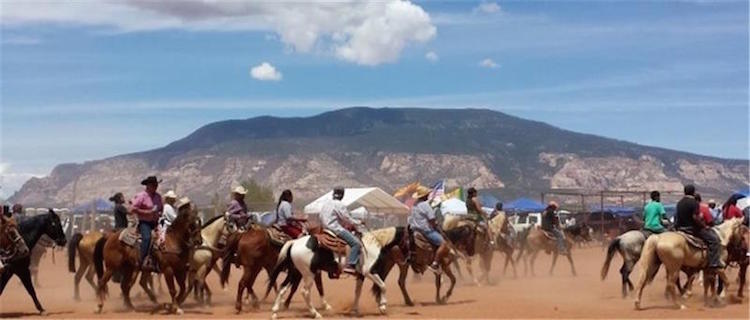 Nava­jo Moun­tain, near the Ari­zona-Utah bor­der, reach­es an ele­va­tion of 10,416 feet (pho­to: http://​nava​jo​moun​tain​.nava​jochap​ters​.org)
The Native fight for vot­ing rights
San Juan Coun­ty is no stranger to vot­ing-rights com­plaints. It is one of the juris­dic­tions — states, coun­ties, schools boards and more — that have fought scores of Native law­suits since the pas­sage of the Vot­ing Rights Act in 1965, accord­ing to Uni­ver­si­ty of Utah polit­i­cal sci­ence pro­fes­sor Daniel McCool, writ­ing in Native Vote: Amer­i­can Indi­ans, the Vot­ing Rights Act, and the Right to Vote. Under set­tle­ments nego­ti­at­ed in two Depart­ment of Jus­tice law­suits filed in the 1980s, San Juan Coun­ty revamped its dis­trict struc­ture to improve Nava­jo elec­tion par­tic­i­pa­tion and promised to pro­vide lan­guage assis­tance. Coun­ty elec­tions were under DOJ over­sight until 2002.
Nation­wide, Natives are strug­gling for civ­il rights that are large­ly set­tled for oth­er groups. Gain­ing cit­i­zen­ship in 1924 should have, but didn't, guar­an­tee suf­frage, writes McCool, in Native Vote: ​"To achieve that, Indi­ans would have to over­come a panoply of state laws, con­sti­tu­tion­al claus­es, and court deci­sions that blocked the way." After World War II, Native vet­er­ans accel­er­at­ed the demand for equal rights. At the time, McCool reports, a Nava­jo vet said, ​"We went to Hell and back for what? For peo­ple back home in Amer­i­ca to tell us we can't vote?" Today, groups includ­ing NNHRC, the Nation­al Con­gress of Amer­i­can Indi­ans' Native Vote project, and the ACLU are still striv­ing to ensure that Natives can cast a bal­lot and have it counted.
In 2012, San Juan Coun­ty was back in court again. The Nava­jo Nation and indi­vid­ual plain­tiffs sued the coun­ty, alleg­ing that it had packed most of its trib­al res­i­dents into one 95-per­cent-Nava­jo super-major­i­ty dis­trict. This pre­vents them from ever hav­ing a chance to elect a can­di­date of their choice to more than one of the three seats on the coun­ty com­mis­sion, accord­ing to Gorman.
For its part, the coun­ty asked a judge to dis­miss the suit, claim­ing it can't change the dis­tricts because they were part of the DOJ set­tle­ment. In March 2015, the judge refused, remind­ing the coun­ty that the bound­aries were estab­lished sep­a­rate­ly from that nego­ti­a­tion. (The suit has not yet gone to trial.)
Despite this pos­i­tive devel­op­ment, Kane remains con­cerned. ​"Even if Nava­jos win the redis­trict­ing law­suit, they still lose if mail-in vot­ing and lack of lan­guage assis­tance pre­vent them from cast­ing a bal­lot," she says. ​"The Nava­jo Nation has spent about a mil­lion dol­lars so far on this law­suit. How much more do we expect them to pay to put trib­al mem­bers on a par with white people?"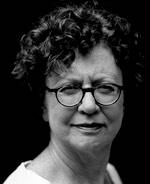 Stephanie Woodard
is an award-win­ning jour­nal­ist who has writ­ten inves­tiga­tive arti­cles for
In These Times
. Her new book is
Amer­i­can Apartheid: The Native Amer­i­can Strug­gle for Self-Deter­mi­na­tion and Inclu­sion
.