Goodbye to the 'Middle Class'? A Lesson for Labor From Occupy Wall Street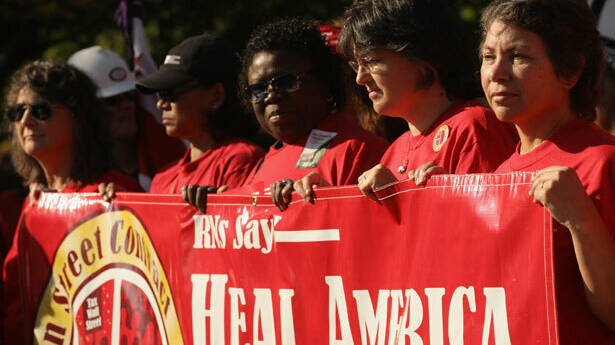 Occu­py Wall Street (OWS) has giv­en our tim­o­rous, unimag­i­na­tive and polit­i­cal­ly ambiva­lent unions a much-need­ed ide­o­log­i­cal dope slap. Some might describe this, more diplo­mat­i­cal­ly, as a sec­ond injec­tion of ​"out­side-the-box" think­ing and new orga­ni­za­tion­al blood.

Top AFL-CIO offi­cials first sought an infu­sion of those scarce com­modi­ties in labor when they jet­ted into Wis­con­sin last win­ter. With­out their plan­ning or direc­tion, the spon­ta­neous com­mu­ni­ty-labor upris­ing in Wis­con­sin was in the process of recast­ing the debate about pub­lic sec­tor bar­gain­ing through­out the U.S. So they were eager to join the protest even though it was launched from the bot­tom up, rather than in response to union head­quar­ters direc­tives from Wash­ing­ton, D.C.

This fall, OWS has become the new Lour­des for the old, lame, and blind of Amer­i­can labor. Union lead­ers have been mak­ing reg­u­lar vis­its to Zuc­cot­ti Park and oth­er high-pro­file encamp­ments around the coun­try. Accord­ing to NYC retail store union leader Stu­art Apple­baum, ​"the Occu­py move­ment has changed unions" — both in the area of mem­ber­ship mobi­liza­tion and ​"mes­sag­ing."

It would be a mirac­u­lous trans­for­ma­tion indeed if orga­nized labor sud­den­ly embraced greater direct action, demo­c­ra­t­ic deci­sion-mak­ing and rank-and-file mil­i­tan­cy. Since that's unlike­ly to occur in the absence of inter­nal upheavals, unions might want to focus instead on cast­ing aside the crutch of their own flawed mes­sag­ing. That means adopt­ing the Occu­pa­tion movement's bril­liant pop­u­lar ​"fram­ing" of the class divide and ditch­ing labor's own mud­dled con­cep­tion of class in America.
Them and us, updat­ed

In his 1974 mem­oir and union his­to­ry, Unit­ed Elec­tri­cal Work­ers co-founder Jim Matles remind­ed read­ers that labor strug­gles are about ​"them and us" — or, as OWS puts it, ​"the 1 per­cent" vs. the ​"99 per­cent." Unfor­tu­nate­ly, most oth­er unions have long relied on high-priced Demo­c­ra­t­ic Par­ty con­sul­tants, their focus groups and opin­ion polling, to shape labor's pub­lic ​"mes­sag­ing" in much less effec­tive fash­ion. The results of this col­lab­o­ra­tion have been unhelp­ful, to say the least. Orga­ni­za­tions that are sup­posed to the voice of the work­ing class major­i­ty have instead posi­tioned them­selves – nar­row­ly and con­fus­ed­ly – as defend­ers of America's ​"mid­dle class," an always fuzzy con­struct now being ren­dered even less mean­ing­ful by the reces­sion-dri­ven down­ward mobil­i­ty of mil­lions of peo­ple.

As SUNY pro­fes­sor Michael Zweig argued in his book, The Work­ing Class Major­i­ty: America's Best-Kept Secret, labor's nev­er end­ing mantra about the ​"mid­dle class" leaves class rela­tions — and the actu­al class posi­tion of most of the pop­u­la­tion — is shroud­ed in rhetor­i­cal fog.

Zweig points out that the work­ing class in Amer­i­ca today looks quite dif­fer­ent than the blue-col­lar pro­le­tari­at of the last cen­tu­ry, which leads many to believe that dif­fer­ences in ​"sta­tus, income, or life-styles" define where they stand on the eco­nom­ic and social lad­der. But ​"the real basis of social class lies in the vary­ing amounts of pow­er peo­ple have at work and in the larg­er society….The soon­er we real­ize that class­es exist and under­stand the pow­er rela­tions that are dri­ving the eco­nom­ic and polit­i­cal changes swirling around us, the soon­er we will be able to build an open­ly work­ing class pol­i­tics."

As Zweig would agree I'm sure, labor's ​"fram­ing" not only lacks the clear res­o­nance of that employed by the new anti-cap­i­tal­ist cam­paign­ers of OWS; ​"one of the great weak­ness­es" of the stan­dard union view of class ​"is that it con­fus­es the tar­get of polit­i­cal con­flict." When the work­ing class dis­ap­pears into an amor­phous ​"mid­dle class," not only do the ​"work­ing poor" (a mere 46 mil­lion strong) drop out of the pic­ture, but ​"the cap­i­tal­ist class dis­ap­pears into ​'the rich.' And when the cap­i­tal­ist class dis­ap­pears from view, it can­not be a tar­get."

Well, thanks to OWS —but not most unions — that tar­get is back in view. As a result of Occu­pa­tion activ­i­ty, there is now a far more favor­able cli­mate of pub­lic opin­ion for wag­ing key con­tract fights at Ver­i­zon and oth­er For­tune 500 com­pa­nies.

A cor­po­rate pig roast in Albany

Dur­ing the two-week strike by 45,000 Ver­i­zon work­ers in August, union PR peo­ple issued leaflets urg­ing sup­port for the CWA-IBEW ​"fight to defend mid­dle-class jobs." This char­ac­ter­i­za­tion of strike goals enabled Ver­i­zon to run news­pa­per ads claim­ing that the $75,000 a year or more earned by tele­phone tech­ni­cians made them part of the ​"upper mid­dle class" — and thus, appar­ent­ly not wor­thy of sym­pa­thy from cus­tomers or mem­bers of the pub­lic whose jobs pro­vide fam­i­ly incomes clos­er to the nation­al or region­al aver­age.

By late Octo­ber, Ver­i­zon tech­ni­cians, who are part of a reform move­ment in CWA Local 1101, had marched through low­er Man­hat­tan in sol­i­dar­i­ty with OWS and along with NYC teach­ers, team­sters, and tran­sit work­ers. Sim­i­lar links between occu­piers and Ver­i­zon con­tract cam­paign­ers devel­oped in Boston.

Mean­while, in upstate New York, mem­bers of CWA Local 1118 held a ​"cor­po­rate pig roast" — right around the cor­ner from ​"Cuo­moville," the OWS encamp­ment in down­town Albany that has so annoyed the state's Demo­c­ra­t­ic gov­er­nor. At this OWS-inspired event, Ver­i­zon work­ers invit­ed occu­piers (more used to veg­an and veg­e­tar­i­an fare) to join them. They were also bran­dish­ing new signs, with a far bet­ter, more uni­ver­sal­ist mes­sage: ​"We are the 99 per­cent!"

Inter­ac­tion like this, between OWS and union rank-and-fil­ers, has been mutu­al­ly ben­e­fi­cial in many oth­er places. On the labor side, Occu­pa­tion activ­i­ty has been a much-need­ed source of new ener­gy and ideas. Lets hope that union mem­bers can keep push­ing labor's com­mu­ni­ca­tions strat­e­gy in a more res­o­nant OWS-influ­enced direc­tion. If they suc­ceed with that objec­tive, more sub­stan­tive and hard­er to achieve orga­ni­za­tion­al change could be next on the agenda.
An ear­li­er ver­sion of this arti­cle appeared in Logos.
Steve Ear­ly is a for­mer nation­al staff mem­ber of the Com­mu­ni­ca­tions Work­ers of Amer­i­ca (CWA) who has been active in labor caus­es since 1972. He is the author of The Civ­il Wars in U.S. Labor (Hay­mar­ket Books, 2010) and a con­trib­u­tor to the forth­com­ing, Wis­con­sin Upris­ing: Labor Fights Back, from Month­ly Review Press.
Steve Ear­ly worked for 27 years as an orga­niz­er and inter­na­tion­al rep­re­sen­ta­tive for the Com­mu­ni­ca­tions Work­ers of Amer­i­ca. He is the author of sev­er­al books, includ­ing Refin­ery Town: Big Oil, Big Mon­ey, and the Remak­ing of an Amer­i­can City (Bea­con Press).