Grace Bog­gs has been protest­ing for pro­gres­sive change in Amer­i­ca since 1941, when she became involved in the March on Wash­ing­ton Move­ment (which pushed for the deseg­re­ga­tion of U.S. armed forces). Since then, she has par­tic­i­pat­ed in most of the defin­ing social move­ments of the 20th cen­tu­ry — includ­ing the labor, envi­ron­men­tal, women's and civ­il rights movements.
Bog­gs is the author of Rev­o­lu­tion and Evo­lu­tion in the Twen­ti­eth Cen­tu­ry (with her hus­band James Bog­gs), Women and the Move­ment to Build a New Amer­i­ca and Liv­ing for Change: An Auto­bi­og­ra­phy. In 1995, friends and asso­ciates of Bog­gs and her hus­band found­ed The James & Grace Lee Bog­gs Cen­ter to Nur­ture Com­mu­ni­ty Lead­er­ship in Detroit. The non­prof­it orga­ni­za­tion hon­ors and con­tin­ues the couple's lega­cy as move­ment activists and the­o­reti­cians by engag­ing in diverse com­mu­ni­ty build­ing activ­i­ties includ­ing youth lead­er­ship devel­op­ment, urban agri­cul­ture and envi­ron­men­tal justice.
In These Times cor­re­spond­ed with Bog­gs, now 93, and mem­bers of the Bog­gs Cen­ter ear­li­er this year.
In 25 words or less, what makes you so spe­cial? (Keep in mind that humil­i­ty, while admirable, is boring.)
I'll soon be 93 and still have most of my marbles.
What's the first thing that comes up when your name is Googled?
Philosopher/​Activist.
Shame­less­ly plug a colleague's project.
On the east side of Detroit, with­in walk­ing dis­tance of the Bog­gs Cen­ter, 79-year-old Lil­lie Wim­ber­ley and her 45-year-old son, Michael, have cre­at­ed the Hope Dis­trict, a project to engage com­mu­ni­ty res­i­dents in ongo­ing activ­i­ties that will pro­vide afford­able hous­ing and employ­ment for every­one. The dis­trict includes ​"Club Tech­nol­o­gy," an enter­tain­ment cen­ter for meet­ings and par­ties and a train­ing cen­ter for con­struc­tion, the culi­nary arts and com­put­ers; com­mu­ni­ty gar­dens where res­i­dents grow their own food; store­fronts for local busi­ness­es; and a cor­ner lot where res­i­dents are encour­aged to post their dreams.
Describe your politics.
I believe that at this piv­otal time in our country's his­to­ry — when the pow­er struc­ture is obvi­ous­ly unable to resolve the twin crises of glob­al wars and glob­al warm­ing, when mil­lions are los­ing their jobs and homes, when Obama's call for change is ener­giz­ing so many young peo­ple and inde­pen­dents, and when white work­ers in Ohio, Michi­gan and Penn­syl­va­nia are react­ing like vic­tims – -we need to be strug­gling to define and begin mak­ing the next Amer­i­can revolution.
The next Amer­i­can rev­o­lu­tion will be rad­i­cal­ly dif­fer­ent from the rev­o­lu­tions that have tak­en place in pre- or non-indus­tri­al­ized coun­tries like Rus­sia, Cuba, Chi­na or Viet­nam. As cit­i­zens of a nation that had achieved its rapid eco­nom­ic growth and pros­per­i­ty at the expense of African Amer­i­cans, Native Amer­i­cans, oth­er peo­ple of col­or, and peo­ples all over the world, our pri­or­i­ty has to be cor­rect­ing the injus­tices and back­ward­ness of our rela­tion­ships with one anoth­er, with oth­er coun­tries and with the Earth.
This vision of an Amer­i­can rev­o­lu­tion as trans­for­ma­tion is the one pro­ject­ed by Dr. Mar­tin Luther King Jr. in his April 4, 1967 anti-Viet­nam war speech. Speak­ing for the weak, the poor, the despair­ing and the alien­at­ed, in our inner cities and in the rice pad­dies of Viet­nam, he was urg­ing us to become a more mature peo­ple by mak­ing a rad­i­cal rev­o­lu­tion not only against racism but against mate­ri­al­ism and mil­i­tarism. He was chal­leng­ing us to ​"reded­i­cate our­selves to the long and bit­ter, but beau­ti­ful, strug­gle for a new world."
King was assas­si­nat­ed before he could devise con­crete ways to move us towards this rev­o­lu­tion of trans­for­ma­tion. Forty years after his assas­si­na­tion, in our Detroit, City of Hope cam­paign, we are engaged in this ​"long and beau­ti­ful strug­gle for a new world" –  – not because of King's influ­ence (we iden­ti­fied more with Mal­colm) –  – but because we have learned through our own expe­ri­ence that just chang­ing the col­or of those in polit­i­cal pow­er was not enough to stem the dev­as­ta­tion of our city result­ing from de-industrialization.
Our cam­paign involves rebuild­ing, redefin­ing and re-spir­it­ing Detroit from the ground up: grow­ing food on aban­doned lots, rein­vent­ing edu­ca­tion to include chil­dren in com­mu­ni­ty-build­ing, cre­at­ing co-oper­a­tives to pro­duce local goods for local needs, devel­op­ing Peace Zones to trans­form our rela­tion­ships with one anoth­er in our homes and on our streets, replac­ing puni­tive jus­tice with Restora­tive Jus­tice pro­grams to keep non-vio­lent offend­ers in our com­mu­ni­ties and out of pris­ons that not only mis­spend bil­lions much need­ed for roads and schools but turn minor offend­ers into hard­ened criminals.
Despite the huge dif­fer­ences in local con­di­tions, our Detroit-City of Hope cam­paign has more in com­mon with the strug­gles of the Zap­atis­tas in Chi­a­pas than with the 1917 Russ­ian Rev­o­lu­tion because it involves a par­a­digm shift in the con­cept of revolution.
This par­a­digm shift requires view­ing rev­o­lu­tion not as a sin­gle event but as an extend­ed process. It involves all of us, from many dif­fer­ent walks of life, eth­nic­i­ties, nation­al ori­gins, sex­u­al ori­en­ta­tions, faiths and gen­er­a­tions. At the same time, based on our expe­ri­ences in Detroit, I see the Mil­len­ni­al gen­er­a­tion, born in the 1980s, play­ing a piv­otal role because their apti­tude with the new com­mu­ni­ca­tions tech­nol­o­gy empow­ers them to be remark­ably self-inven­tive and mul­ti-task­ing and to con­nect and recon­nect 24⁄7 with indi­vid­u­als near and far. As Frantz Fanon put it in The Wretched of the Earth: ​"Each gen­er­a­tion, com­ing out of obscu­ri­ty, must define its mis­sion and ful­fill or betray it."
What has kept you active all these years?
Think­ing dialec­ti­cal­ly, i.e. rec­og­niz­ing that every prac­ti­cal step for­ward cre­ates new and more chal­leng­ing contradictions.
Media
[Scott Kurashige, mem­ber of the Bog­gs Cen­ter.]
Name a jour­nal­ist whose work you read reli­gious­ly. Why?
I don't always agree with David Brooks, but Amer­i­ca needs more smart con­ser­v­a­tives. The notion that pol­i­tics should be a per­pet­u­al war between two camps with fixed ide­olo­gies inhibits our abil­i­ty to think cre­ative­ly about the real chal­lenges we face.
What social net­work­ing devices do you use (Face­book, MySpace, Digg, Del​.icio​.us, etc)?
I have only used MySpace on occa­sion, most­ly to hear a song by a band I've just heard about. I'm 37 years old, and I've final­ly fall­en inescapably behind the cut­ting edge of the infor­ma­tion revolution.
Scan through our archives. Give us two sto­ries that we should re-read today.
"A Win in the Water War," by Megan Tady, and ​"Farm­ing the Con­crete Jun­gle," by Phoebe Con­nel­ly and Chelsea Ross, both from August 2007.
What's a mis­take the main­stream media always makes that real­ly gets under your skin?
In its attempt to present ​"two sides" of an issue, the main­stream media gen­er­al­ly rein­forces the nar­row para­me­ters of debate that serve to uphold the sta­tus quo.
Pol­i­tics
[Grace Lee Bog­gs]
My polit­i­cal awak­en­ing occurred when…
My polit­i­cal awak­en­ing took place 67 years ago, when I became involved in the 1941 March on Wash­ing­ton Move­ment and dis­cov­ered the pow­er of a move­ment to bring about mas­sive changes in the life of a peo­ple. At the begin­ning of World War II, thou­sands of blacks all over the coun­try were mobi­liz­ing in response to a call from A. Philip Ran­dolph, Broth­er­hood of Sleep­ing Car Porters Pres­i­dent, to march on Wash­ing­ton to demand jobs in defense plants, When Pres­i­dent Roo­sevelt plead­ed with Ran­dolph to call off the march and Ran­dolph refused, FDR was forced to issue Exec­u­tive Order 8802 ban­ning dis­crim­i­na­tion at defense plants.
Who is your favorite elect­ed leader, past or present? Why?
My favorite elect­ed leader is Barack Oba­ma because he has the audac­i­ty to artic­u­late the hope for fun­da­men­tal change that is stir­ring in mil­lions of Amer­i­cans all over the country.
Which con­ser­v­a­tive politi­cian has pleas­ant­ly sur­prised you the most?
The con­ser­v­a­tive politi­cian who has pleas­ant­ly sur­prised me the most is Ron Paul, who nev­er wavered from his anti-war posi­tion dur­ing the Repub­li­can debates.
Per­son­al
[Julie Rosier, a Detroit artist and activist who found­ed the Sto­ry Own­ers Col­lec­tive in Detroit.]
What's the best piece of advice some­one gave you when you were young?
I was an actor in Mosa­ic Youth The­atre of Detroit when I was 13 and 14 years old. The founder of the group saw us as a pro­fes­sion­al the­ater com­pa­ny, and he told us to always work like a pro­fes­sion­al. I think this advice has helped me blur the divi­sion between ama­teur and pro­fes­sion­al and gives me con­fi­dence to pur­sue what I feel strong­ly about in a seri­ous manner.
What is your favorite child­hood memory?
I had sev­er­al imag­i­nary friends when I was young. One day I asked my par­ents to take me around the neigh­bor­hood to look for my invis­i­ble friend. My dad con­sent­ed and, in a sin­cere — as opposed to patron­iz­ing –  – way, he took my five-year-old hand and walked me door-to-door, ask­ing who­ev­er answered the door if my friend Susan lived there. Look­ing back, I am so impressed that my dad spent that hour indulging and par­tic­i­pat­ing in my imag­i­nary world.
Fill in the blanks: ​"____ is sexy; ___ is sexier":
Bond­ing in good times is sexy; stay­ing con­nect­ed in a human way through con­flict is sexier.
Have you ever had any run-ins with the law that you'd like to share?
I was rid­ing the sub­way back to Brook­lyn at about 1 a.m. from a very long day in Man­hat­tan. Nose-deep in a book, I heard a police offi­cer say­ing over and over, ​"Miss, please step off the train." He was hold­ing the door open and keep­ing the train from moving.
I final­ly tore myself away from my book to see what all the com­mo­tion was about and real­ized that he had been yelling at me. I couldn't believe it. He made me get off the train and the train pulled out of the station.
It turns out that it's against the law to take up more than one seat on the sub­way. Since my legs were up on the seat next to me, I faced puni­tive mea­sures. Even though the train was prac­ti­cal­ly emp­ty, he gave me a $50 ticket.
[Ker­ry Vach­ta, mem­ber of the Bog­gs Cen­ter.]
What's a lifestyle choice you've made recent­ly to be greener?
When I came back to Detroit, I found an apart­ment about six blocks from work and one block from the laun­dro­mat. I use the car about once per week for gro­ceries and errands –  – which I com­bine into a sin­gle trip –  – and Bog­gs Board/​City of Hope meetings.
What are your prej­u­dices? What are you doing to over­come them?
My broth­er has a seri­ous chron­ic men­tal ill­ness. I work hard to expand our under­stand­ings of ​'nor­mal', break down bar­ri­ers lim­it­ing where peo­ple who don't fit those ​'norms' fit in our soci­ety and make sure the sup­ports and resources are avail­able as need­ed. But when I tell some­one about his ill­ness, I often find myself fol­low­ing up by men­tion­ing that we're adopt­ed and have no bio­log­i­cal rela­tion­ship out of fear that they'll behave or think dif­fer­ent­ly toward me oth­er­wise. Unfor­tu­nate­ly, it's not unrea­son­able to expect that reac­tion — but I should be beyond wor­ry­ing about what igno­rant peo­ple who would stig­ma­tize my broth­er would think of me because of that rela­tion­ship. What I'm doing about it is talk­ing about it- – more often, more open­ly- – more active­ly engag­ing in advo­ca­cy and resist­ing falling into the pat­terns that play into the dis­crim­i­na­tion and stig­ma he and oth­ers still face.
Have you ever had any run-ins with the law that you'd like to share?
I was an NGO rep­re­sen­ta­tive at the UN con­fer­ence on Envi­ron­ment and Devel­op­ment (UNCED) in Rio de Janeiro in ​'92. Fol­low­ing a series of actions protest­ing George H.W. Bush's stonewalling the rest of the plan­et by refus­ing to sign any mean­ing­ful agree­ments, I was part of a group of stu­dents who held a five-day fast fol­lowed by a mock tri­al in the court­yard of the UN com­pound. UN Police went through and removed each of our cre­den­tials. Those of us from the Unit­ed States, Cana­da or Europe were polite­ly, if firm­ly, escort­ed one-by-one out of the build­ing and to the street and barred from re-entry. The folks from the South­ern hemi­sphere were dragged through the court­yard, over bro­ken glass and into the secu­ri­ty offices in the back of the compound.
The irony of the dif­fer­ence in our oppor­tu­ni­ties and treat­ment in response to our protest­ing the dif­fer­ence in our oppor­tu­ni­ties and treat­ment would have been rich if it hadn't been so ter­ri­fy­ing at the time. I found out that our com­rades and friends made it out OK. Def­i­nite­ly brought the urgency of the glob­al inequities we were striv­ing to address home…
Cul­ture
[Julie Rosier]
What is the last, best book you have read?
I'm halfway through an amaz­ing book called The Com­plete Perse­po­lis, by Mar­jane Satrapi. It is a graph­ic nov­el that recent­ly was turned into a movie. The author/​artist uses sim­ple but extreme­ly beau­ti­ful pic­tures to depict her life as a young girl deal­ing with rev­o­lu­tion, war and fun­da­men­tal­ism in Iran. I think telling one's own sto­ry in such a com­pelling way has huge social change potential.
Guilty tele­vi­sion watch­ing pleasure?
I grew up with­out a tele­vi­sion and still hard­ly watch any TV, but after a co-work­er gave me the DVD of a cou­ple sea­sons of the British ver­sion of ​"The Office," I was addict­ed. I think the writ­ing is very smart and fun­ny. I also like that the series focus­es on the inter­per­son­al dynam­ics of the work­place as the most piv­otal aspect of a job environment.
What is your favorite work of art or artis­tic move­ment? Who is your favorite artist?
One paint­ing that comes to mind is a depic­tion of Joan of Arc, done by Jules Bastien-Lep­age in 1879. I have always been intrigued by the sto­ry of this young French woman who felt called by God to lead the army. She inspires me in the way she tran­scend­ed gen­der expec­ta­tions as she fol­lowed her call­ing. Bastien-Lep­age real­ly cap­tures the focus and deter­mi­na­tion in her facial expres­sion as she walks away from the small cot­tage of her childhood.
What per­son deserves to be a lot more famous than they are?
Anna Dea­vere Smith is an actress who cre­ates one-woman shows by inter­view­ing peo­ple, and then becom­ing them on stage. Her first plays focused on race, as she inter­viewed peo­ple who were engaged in race riots of Brook­lyn and LA. She uses the­ater to study the Amer­i­can char­ac­ter, pay­ing spe­cif­ic atten­tion to lan­guage and lis­ten­ing between the lines for what peo­ple real­ly think and feel. Then she brings these find­ings to life on stage.
[Will Copeland, a Detroit poet active in the city's U.S. Social Forum Com­mit­tee.]
What is the last, best book you have read?
"This Bridge Called Home" is a pow­er­ful anthol­o­gy in response to issues of gen­der and race. It is a pow­er­ful inter­na­tion­al anthol­o­gy writ­ten most­ly by women of col­or that calls forth spir­i­tu­al and cul­tur­al activism. The book is well-edit­ed and filled with pow­er­ful visions of trans­for­ma­tion. The book rec­og­nizes that there is a free­dom that can come at the mar­gins that allow us to ques­tion and rede­fine the lim­its and cat­e­gories soci­ety places on us. It cen­ters women of col­or in free­dom strug­gles and explodes the lim­its of iden­ti­ty pol­i­tics, much less rep­re­sen­ta­tion­al or elec­toral politics.
Give an exam­ple of pop cul­ture that you love and make the case that it is sub­tly or sub­ver­sive­ly leftist.
Jay‑Z: ​"How you gon' rate music that thugs with noth­ing relate to it? I help them see their way through it… Not you." From Jay‑Z I have learned the val­ue of help­ing a sis­ter or broth­er ​"see their way through," which means being able to kick it and relate to a vari­ety of folks. I do not want to become one of those who can judge, crit­i­cize or ​"rate" oth­ers with­out being able to relate to ​'em, inspire, break bread. I always get inspired lis­ten­ing to ​"Blue­print," ​"Amer­i­can God­fa­ther" (remix album), or ​"Hard Knock Life." I think about my own abil­i­ty to hang with those who are oppressed and work with them on cre­at­ing sys­tems of survival/​ well being. Anoth­er Jig­ga quote: ​"I'm like Che Guev­era with bling on. I'm com­plex. I'm not an angel with wings on."
What is your favorite work of art or artis­tic move­ment? Who is your favorite artist?
Most days I lis­ten to only Michi­gan music while com­mut­ing to and from work. There is some­thing bril­liant brew­ing now in Detroit urban arts. There is an amaz­ing his­tor­i­cal con­ti­nu­ity between poet­ry, hip-hop, soul and slam poet­ry in the city. For many of these artists, love for the D or love of being from the D is a tan­gi­ble qual­i­ty you can feel in their bod­ies of work and live per­for­mances. My favorites include: Invin­ci­ble, Ver­siz, Blair, Mon­i­ca Blaire, Slum Vil­lage, Big A, Black Milk, Phat Kat, Dia­mond Dancer, Vievee Francis.
—Novem­ber 21, 2008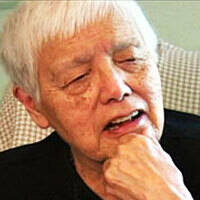 Grace Lee Bog­gs
is a writer and life­long activist whose career spans more than
60
years. Born in
1915
, she is the author of
Rev­o­lu­tion and Evo­lu­tion in the Twen­ti­eth Cen­tu­ry
(with her hus­band James Bog­gs),
Women and the Move­ment to Build a New Amer­i­ca
and
Liv­ing for Change: An Auto­bi­og­ra­phy
.