Graduate Workers Are Going to Fight Like Hell to Stop the Trump NLRB's New Rule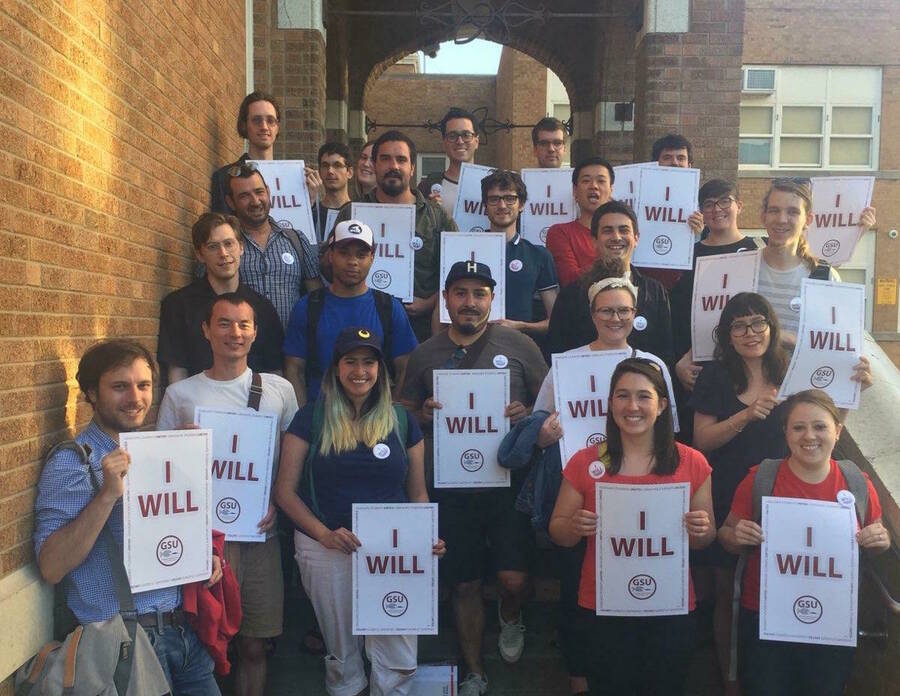 At uni­ver­si­ties across the coun­try, grad­u­ate stu­dent work­ers per­form essen­tial labor. We teach class­es, grade exams and assign­ments, tutor and men­tor under­grad­u­ates, main­tain labs, and per­form cler­i­cal duties. Some 66,000 grad­u­ate employ­ees at over 30 uni­ver­si­ties in the Unit­ed States are cur­rent­ly rep­re­sent­ed by unions and pro­tect­ed through col­lec­tive bar­gain­ing agree­ments, because pub­lic-sec­tor labor laws in many states rec­og­nize the obvi­ous — we are workers.
In August 2016, the Nation­al Labor Rela­tions Board (NLRB) issued a land­mark deci­sion rec­og­niz­ing that grad­u­ate employ­ees at pri­vate uni­ver­si­ties — who do the same labor as their coun­ter­parts at pub­lic uni­ver­si­ties — are also work­ers, and there­fore also have col­lec­tive bar­gain­ing rights. Since then, pri­vate uni­ver­si­ties have seen an explo­sion of grad­u­ate work­er orga­niz­ing. At least nine now have rec­og­nized grad unions, and five of those already have union con­tracts in place.
But now Pres­i­dent Trump is try­ing to per­ma­nent­ly reverse the 2016 deci­sion. His anti-union appointees who con­trol the Nation­al Labor Rela­tions Board declared on Sep­tem­ber 20 that grad­u­ate work­ers at pri­vate insti­tu­tions are not work­ers at all, but only ​"stu­dents," and there­fore have no right to union rep­re­sen­ta­tion or col­lec­tive bar­gain­ing. Tra­di­tion­al­ly, the NLRB set­tles ques­tions of labor law through case-by-case deci­sions, but this time it's exer­cis­ing its rarely used rule­mak­ing author­i­ty to set a defin­i­tive policy.
Before the rule can be imple­ment­ed, there is a 60-day pub­lic com­ment peri­od, which opened on Sep­tem­ber 23. The unions rep­re­sent­ing grad work­ers at pri­vate uni­ver­si­ties — includ­ing AFT, SEIU, UAW and UNITE HERE — are team­ing up by call­ing on all grad­u­ate work­ers and allies to sub­mit a pub­lic com­ment to the NLRB express­ing oppo­si­tion to the pro­posed rule. Their goal is to get 30,000 com­ments. With enough pub­lic pres­sure, the unions hope to stop — or at least delay — the new rule.
"We're look­ing at hav­ing fly­ers, peti­tions, del­e­ga­tions, ral­lies, and of course com­ment­ing guide­lines, to engage as many folks as pos­si­ble," says Yiran Zhang a Ph.D. stu­dent in phi­los­o­phy at Loy­ola Uni­ver­si­ty Chicago.
Zhang is co-chair of the SEIU-affil­i­at­ed Loy­ola Grad­u­ate Work­ers' Union, which the uni­ver­si­ty has refused to rec­og­nize or bar­gain with despite a major­i­ty of grad­u­ate employ­ees vot­ing to union­ize in Feb­ru­ary 2017. The admin­is­tra­tion has also faced mul­ti­ple protests, includ­ing a civ­il dis­obe­di­ence action and one-day walk­out this past spring.
"This is a cross­roads for Loy­ola," Zhang explains. ​"They must either pub­licly show they stand on the side of work­ers who are increas­ing­ly com­ing under attack by bar­gain­ing with us, or they will show once again that they eschew their pro­fessed social jus­tice val­ues to sim­ply hide behind Trump's anti-labor policies."
Nation­al­ly, grad­u­ate employ­ees have tak­en on increas­ing­ly heavy teach­ing work­loads in recent years while mak­ing pover­ty wages and receiv­ing few ben­e­fits. Between 2005 and 2015, the num­ber of grad­u­ate work­ers employed by uni­ver­si­ties increased by 16.7 per­cent, while the num­ber of tenured and tenure-track fac­ul­ty rose by only 4.8 per­cent. Mean­while, exec­u­tive com­pen­sa­tion at pri­vate uni­ver­si­ties has sharply increased, with the pres­i­dents of 61 pri­vate uni­ver­si­ties now mak­ing over $1 mil­lion every year.
The argu­ment that grad­u­ate employ­ees are not ​"real" work­ers is as old as it is absurd. It's not an inven­tion of Trump's NLRB, but of uni­ver­si­ty admin­is­tra­tors who are deter­mined to prof­it off of the exploit­ed labor of their grad work­ers, and don't want unions to get in the way.
This year marks the 50th anniver­sary of when the Teach­ing Assis­tants' Asso­ci­a­tion at the Uni­ver­si­ty of Wis­con­sin-Madi­son became the first rec­og­nized grad­u­ate work­er union in the coun­try. Since then, grad­u­ate work­ers at dozens of oth­er pub­lic insti­tu­tions — where labor rela­tions are gov­erned by state laws instead of the NLRB — have won union recognition.
Almost every time, admin­is­tra­tors fought tooth and nail to pre­vent union­iza­tion by trot­ting out the same line that grad work­ers are more ​"stu­dents" than ​"employ­ees." That's because, once they're required to nego­ti­ate with grad unions, admin­is­tra­tors are even­tu­al­ly forced to guar­an­tee high­er wages, bet­ter health­care, tuition and fee waivers, griev­ance pro­ce­dures, pro­tec­tions against dis­crim­i­na­tion and oth­er rights through union contracts.
After half a cen­tu­ry, it should be obvi­ous that the ​"stu­dents not work­ers" argu­ment is noth­ing more than anti-union pro­pa­gan­da. In real­i­ty, there's no ques­tion that grad­u­ate work­ers are indeed work­ers who can and should have col­lec­tive bar­gain­ing rights.
While uni­ver­si­ties claim to be ded­i­cat­ed to the pur­suit of knowl­edge and truth, admin­is­tra­tors hate unions so much they are now ally­ing them­selves with the most anti-intel­lec­tu­al and men­da­cious pres­i­dent in his­to­ry. Per­haps it's no sur­prise that the same insti­tu­tions that often cov­er up cam­pus sex­u­al assault and read­i­ly roll out the wel­come mat for white suprema­cists have found com­mon cause with the racist sex­u­al preda­tor who occu­pies the White House.
For all the talk from uni­ver­si­ties of fos­ter­ing col­le­gial dia­logue and debate, admin­is­tra­tors are afraid to sit down at the bar­gain­ing table and nego­ti­ate with their own work­ers. For all the talk of pro­mot­ing crit­i­cal think­ing, they cling to lazy union-bust­ing talk­ing points. For all the talk of com­mit­ment to diver­si­ty and democ­ra­cy, they do every­thing pos­si­ble to pre­vent their grad­u­ate stu­dent work­ers from hav­ing an inde­pen­dent voice.
If cam­pus admin­is­tra­tors and Trump's NLRB insist that grad­u­ate work­ers at pri­vate insti­tu­tions real­ly aren't work­ers, then per­haps they should all decide to col­lec­tive­ly stop work­ing — and see just how long the uni­ver­si­ties can func­tion with­out their labor.
Jeff Schuhrke has been a Work­ing In These Times con­trib­u­tor since 2013. He has a Ph.D. in His­to­ry from the Uni­ver­si­ty of Illi­nois at Chica­go and a Master's in Labor Stud­ies from UMass Amherst. Fol­low him on Twit­ter: @JeffSchuhrke