The House GOP's Tax Bill Would Make Graduate School Too Expensive For All But the Rich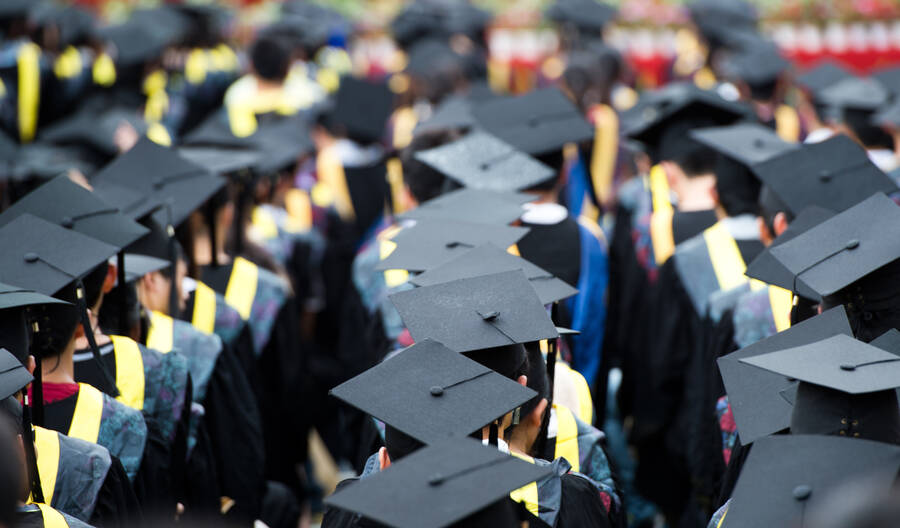 The tax reform bill passed by House Repub­li­cans on Novem­ber 16 wouldn't just slash tax­es for cor­po­ra­tions and bil­lion­aires, it would also dra­mat­i­cal­ly increase the tax bur­den for grad­u­ate stu­dent work­ers by count­ing their tuition waivers — which they receive in exchange for their labor as teach­ing and research assis­tants — as tax­able income.
Fur­ther­more, by elim­i­nat­ing stu­dent loan inter­est rate deduc­tions and the Life­time Learn­ing Cred­it, the House bill effec­tive­ly makes grad­u­ate school finan­cial­ly out of reach for all but the wealthy.
"I would hope that peo­ple like me in grad school would be iden­ti­fied as what we are — we're work­ing class," San­ti­a­go Vidales, a Ph.D. can­di­date in Span­ish and Por­tuguese stud­ies at the Uni­ver­si­ty of Mass­a­chu­setts Amherst, tells In These Times. ​"We make the day-to-day of a uni­ver­si­ty function."
Em Hall, 38, recent­ly left a suc­cess­ful career as a non­prof­it exec­u­tive to pur­sue a Ph.D. in Urban Plan­ning and Pol­i­cy at the Uni­ver­si­ty of Illi­nois at Chica­go (UIC), where she works as both a teach­ing and research assistant.
"At my age, it's def­i­nite­ly a cal­cu­lat­ed risk to switch fields and enter the world of acad­e­mia," she tells In These Times. If this bill had been passed before she applied to grad­u­ate school, Hall says she is ​"not sure I would have left my career to become a Ph.D. stu­dent in a field dif­fer­ent than the one I've worked in for a decade."
At UIC — where I'm also at Ph.D. stu­dent work­ing as a teach­ing assis­tant — the min­i­mum salary for grad­u­ate employ­ees is around $18,000, far below the esti­mat­ed liv­ing wage of $26,128 for a sin­gle adult in Chica­go. Mean­while, the waived tuition for out-of-state grads is $23,720 per aca­d­e­m­ic year. In oth­er words, under the House bill, low-paid UIC grad­u­ate work­ers would see their tax­able incomes more than dou­ble with­out see­ing any actu­al new income.
For inter­na­tion­al grad­u­ate stu­dent work­ers — whose visas typ­i­cal­ly require that they only work on cam­pus — the finan­cial sit­u­a­tion is often even more dif­fi­cult since their options for earn­ing sup­ple­men­tal income are limited.
In cer­tain aca­d­e­m­ic pro­grams with high­er oper­at­ing costs, includ­ing Hall's Col­lege of Urban Plan­ning and Pol­i­cy at UIC, grads are already often required to pay tuition ​"dif­fer­en­tials" — extra tuition fees that are not waived, some­times up to $5,000 per semester.
For UIC grad­u­ate stu­dent employ­ees whose work pri­mar­i­ly involves admin­is­tra­tive duties instead of teach­ing and research, a por­tion of their tuition waivers are already taxed because of how their posi­tions are legal­ly clas­si­fied. This tax is ​"an effec­tive, and bru­tal, pay cut," says Sarah Pat­ton Moberg, a soci­ol­o­gy Ph.D. stu­dent who serves as co-pres­i­dent of the Grad­u­ate Employ­ees Organization/​AFT 6297, the union of UIC grad workers.
These grad­u­ate assis­tants ​"have to fig­ure out how they're going to make it through an entire month with no pay because of the extra tax with­hold­ing," Moberg tells In These Times. ​"And on wages that don't meet the cost-of-liv­ing expens­es in Chica­go, that's no minor bud­get­ing feat."
At pri­vate uni­ver­si­ties, where tuition can range between $40,000 and $60,000 per year, grads would see their tax­es sky­rock­et under the GOP House bill. The tax bur­den for MIT grad stu­dents, for exam­ple, would increase by an astound­ing 240 per­cent.
"No one goes to grad school to make mon­ey," says Vidales, who is the co-chair of the Grad­u­ate Employ­ee Organization/​UAW 2322, the union rep­re­sent­ing teach­ing and research assis­tants at UMass Amherst. ​"Peo­ple make it through on very little."
"Tax­ing the tuition waiv­er seems, to me, a way to dis­in­cen­tive diver­si­ty in acad­e­mia, not just from a socioe­co­nom­ic stand­point, but in the sense that pro­grams like mine have stu­dents at both the Master's and Ph.D. lev­el with a wealth of diverse expe­ri­ence in their school­ing and in their work expe­ri­ence," Hall says. ​"That was a huge part of the appeal of this pro­gram to me."
The tax reform bill comes in the midst of a wave of grad­u­ate work­er union­iza­tion at some of the country's most elite uni­ver­si­ties, fol­low­ing an August 2016 Nation­al Labor Rela­tions Board (NLRB) rul­ing that teach­ing and research assis­tants at pri­vate uni­ver­si­ties are employ­ees and there­fore have col­lec­tive bar­gain­ing rights.
Now under Repub­li­can con­trol, thanks to Pres­i­dent Trump, the NLRB may reverse last year's rul­ing on grad employ­ees — some­thing many uni­ver­si­ty admin­is­tra­tors are count­ing on.
Mean­while, grad­u­ate work­ers at pub­lic uni­ver­si­ties like UIC and UMass — who have had the legal right to union­ize for decades — are brac­ing for next year's Supreme Court case, Janus v. AFSCME, which threat­ens to turn the entire pub­lic sec­tor ​"right to work."
"Peo­ple have been com­ing togeth­er to form unions and there's been a lot of ener­gy around it, but it's very pre­car­i­ous orga­niz­ing with these loom­ing Supreme Court and NLRB deci­sions, and now this tax bill," Vidales says. ​"There's so much out of your control."
He adds that the House bill is not only an attack on grad­u­ate unions, but an attack on grad­u­ate school itself. ​"It would be ruinous. Every­one I've talked to says the chances of con­tin­u­ing study­ing would be real­ly slim," he explains.
Grad­u­ate unions across the coun­try are mobi­liz­ing their mem­bers to call or write to law­mak­ers, and a nation­al walk­out of grad stu­dent work­ers is planned for Novem­ber 29.
The cur­rent ver­sion of the Senate's bill would not make tuition waivers tax­able, but what­ev­er leg­is­la­tion the Sen­ate pass­es will have to be rec­on­ciled with the House bill.
"Law­mak­ers should sup­port the pur­suit of high­er edu­ca­tion in ways that reduce the bur­dens on stu­dents, not just when they're in their pro­grams, but after­ward when the stu­dent loans are loom­ing," Hall says.
Point­ing to a recent report show­ing that 60 per­cent of House mem­bers and 76 per­cent of Sen­a­tors hold edu­ca­tion­al degrees beyond a bachelor's, Hall asks, ​"How many of them could have afford­ed grad­u­ate school if their own tuition waivers were tak­en away?"
Jeff Schuhrke has been a Work­ing In These Times con­trib­u­tor since 2013. He has a Ph.D. in His­to­ry from the Uni­ver­si­ty of Illi­nois at Chica­go and a Master's in Labor Stud­ies from UMass Amherst. Fol­low him on Twit­ter: @JeffSchuhrke