Dri­ving north through the Grand Stair­case region of the Col­orado Plateau is like trav­el­ling in a time machine. For more than 100 miles, as the Stair­case climbs from south to north, from low ele­va­tion to high, it climbs also through time — 245 mil­lion years cap­tured in the lay­ers of rock. The epochal steps of the Stair­case are marked by alti­tude, by age and by col­or, with the old­est rock at the bot­tom and the youngest at the top:
the Pink Cliffs.
the White Cliffs,
the Ver­mil­ion Cliffs,
the Choco­late Cliffs,
The Grand Canyon,
Here, ero­sion has carved a life-sized cross sec­tion from the Earth's crust and pro­vid­ed a chrono­log­i­cal, col­or-cod­ed dis­play. More recent his­to­ry, too, has left its mark in the rock: 6,000-year-old pet­ro­glyphs haunt these canyons like echo­ing voices.
In my mind and on maps, how­ev­er, the place stands out most­ly for what it lacks: those pre­em­i­nent pur­vey­ors of envi­ron­men­tal destruc­tion and fast food chains known as high­ways. Any­one who has made the dri­ve will know what I mean. From the town of Page on Arizona's north­ern bor­der, Moab, Utah lies only 150 miles north­east as the crow flies.
As the car dri­ves, how­ev­er, it's near­ly twice as far: to the east, a 275-mile arc through the Nava­jo Nation; to the west, a 400-mile zag through Bryce Canyon and Capi­tol Reef. In the mid­dle, the obsta­cle cir­cum­scribed by this noose of asphalt: 1.9 mil­lion acres of desert wilder­ness pro­tect­ed, until now at least, with­in the Grand Stair­case-Escalante Nation­al Mon­u­ment. The last area in the con­ti­nen­tal Unit­ed States to be mapped, the Grand Stair­case remains one of the last and largest stretch­es of wild land in the 48 states.
Pres­i­dent Trump's Dec. 4 mon­u­ment procla­ma­tion will change that.
The monument's orig­i­nal pro­tec­tions pro­hib­it the expan­sion or devel­op­ment of roads with­in its bound­aries. But like Bears Ears Nation­al Mon­u­ment, its more famous neigh­bor to the east, Trump's plan dras­ti­cal­ly shrinks Grand Stair­case-Escalante — reduc­ing it in size by near­ly half and chop­ping it into three, small­er mon­u­ments: Grand Stair­case, Kaiparow­its and Escalante Canyons.
Scott Groene, exec­u­tive direc­tor of the South­ern Utah Wilder­ness Alliance (SUWA), says, ​"You're liable to see imme­di­ate fights about off-road vehi­cle use and the coun­ties try­ing to break apart this wild coun­try with new and improved roads."
Indeed, the maps of the Trump plan show a large strip of land con­spic­u­ous­ly exclud­ed from mon­u­ment pro­tec­tion, sev­er­ing the north­east­ern Escalante Canyons sec­tion from the bulk of the mon­u­ment lands. That strip, it so hap­pens, con­tains a wash­board­ed dirt road — a road the state of Utah and the local coun­ties of Kane and Garfield hope to pave.
An old Mor­mon pio­neer trail, the road runs 63 miles from the town of Escalante to Ari­zon­a's Hole-in-the-Rock, where the mod­ern road ends and where the pio­neers low­ered their wag­ons to the canyon floor. Here, Utah pro­pos­es to des­ig­nate a state park and pave the road to increase tourist development.
"Paving it would explode the amount of use," says Math­ew Gross, media direc­tor at SUWA. ​"You'd see a tremen­dous growth of indus­tri­al tourism." That hap­pened at Arch­es, Canyon­lands and the Grand Canyon, to name a hand­ful of cas­es in the area. So few stretch­es of road­less, wild land remain, Gross thinks the very rar­i­ty of it makes it worth defend­ing. That, he says, and the increas­ing­ly rare ​"joy of hav­ing to work to explore something."
The land grab myth
When he ordered the review of nation­al mon­u­ments in April, Pres­i­dent Trump adopt­ed the lan­guage of Sen. Orrin Hatch (R‑Utah) and oth­er avowed ene­mies of fed­er­al land man­age­ment: Past mon­u­ment des­ig­na­tions like that of Grand Stair­case-Escalante, Trump said, were ​"a mas­sive fed­er­al land grab."
This is a good sto­ry, and one that plays well in much of the rur­al West. The prob­lem is, it's utter­ly false. The vast major­i­ty of the lands in Grand Stair­case-Escalante were fed­er­al pub­lic lands before the mon­u­ment was cre­at­ed in 1996, and the lands now exclud­ed from mon­u­ment sta­tus will remain fed­er­al pub­lic lands. (The feds bought out the few state inhold­ings in a 1998 land exchange.)
This is impor­tant to point out because some mon­u­ment oppo­nents and sup­port­ers alike seem to be either con­fused or lying. For exam­ple, in response to Trump's mon­u­ment reduc­tion the out­door cloth­ing com­pa­ny Patag­o­nia pre­sent­ed a blacked-out home page on its web­site bear­ing the words ​"The Pres­i­dent Stole Your Land," in large white let­ters — a mes­sage as arrest­ing, provoca­tive, and mis­lead­ing as the ​"Feds Stole Your Land" story.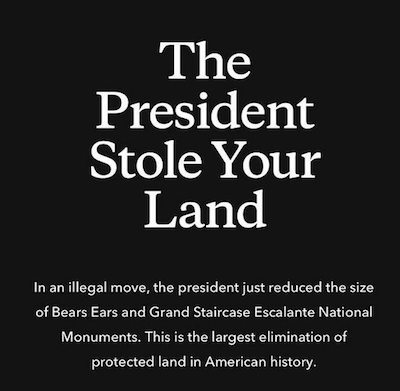 The mes­sage shared by Patag­o­nia, Inc., an Amer­i­can cloth­ing com­pa­ny, short­ly after Trump's Dec.

4

announce­ment.
(Source: Twitter)
When pres­i­dents cre­ate nation­al mon­u­ments, a pow­er vest­ed in them by the Antiq­ui­ties Act of 1906, they con­fer increased pro­tec­tions on fed­er­al lands. Under the Fed­er­al Land Pol­i­cy and Man­age­ment Act of 1976 (FLP­MA), the Bureau of Land Man­age­ment (BLM) man­ages fed­er­al lands for ​"mul­ti­ple uses" — for com­mer­cial uses like live­stock graz­ing and min­er­al extrac­tion, for recre­ation­al uses like hunt­ing and hik­ing, and for con­ser­va­tion of ecosys­tems and his­tor­i­cal arti­facts. In a nation­al mon­u­ment (in the­o­ry, at least) all oth­er uses of the land are sub­or­di­nat­ed to the demands of conservation.
When a nation­al mon­u­ment is des­ig­nat­ed what changes is not the own­er­ship of the lands but the lev­el of pro­tec­tion for ecosys­tems and arti­facts. By reduc­ing the size of Grand Stair­case-Escalante and Bears Ears, Trump's nation­al mon­u­ment procla­ma­tion strips these pro­tec­tions from some two mil­lion acres of land — the largest roll­back of land pro­tec­tions in U.S. history.
Geol­o­gy politics
The 1,600 square-mile Kaiparow­its Plateau in Grand Stair­case-Escalante con­tains one of the most com­plete fos­sil records of the Late Cre­ta­ceous peri­od, when the region was a trop­i­cal rain­for­est. Since 2000, 20 new species of dinosaur have been dis­cov­ered on the monument.
Accord­ing to the mon­u­ment web­site, the rock lay­ers ​"tell a 30 mil­lion-year-long pre­lude sto­ry to the cat­a­stroph­ic end of the dinosaurs." How­ev­er, the same geo­log­ic forces that cap­tured and pre­served lay­ers of dinosaur bones also cap­tured lay­ers of dense­ly accu­mu­lat­ed plant mat­ter, which were even­tu­al­ly pres­sur­ized into coal. ​"The two resources are inher­ent­ly mixed up togeth­er," writes Rebec­ca Wor­by for High Coun­try News, ​"both geo­log­i­cal­ly and politically."
When Pres­i­dent Bill Clin­ton des­ig­nat­ed the mon­u­ment in 1996 — to pre­serve its pale­on­to­log­i­cal trea­sures, its bio­log­i­cal diver­si­ty, and its char­ac­ter as a large and wild place — the order head­ed off plans for a coal mine on the Kaiparow­its. The gov­ern­ment bought out the min­er­al leas­es from the com­pa­ny, Andalex Resources, for $14 mil­lion. All lands in the new mon­u­ment were removed from the min­er­al leas­ing mar­ket and exist­ing oil and gas leas­es were sus­pend­ed. Road devel­op­ment and improve­ment were banned, and some back­coun­try roads and ATV routes were closed, infu­ri­at­ing some locals.
Under the Trump plan, a large por­tion of the Kaiparow­its will again be opened to poten­tial fos­sil fuel devel­op­ment. A leaked map of the new plan shows the Trump mon­u­ment bound­aries redrawn in a strange hour­glass shape that excludes much of the Kaiparow­its coal deposits from mon­u­ment pro­tec­tion. How­ev­er, SUWA Exec­u­tive Direc­tor Scott Groene thinks that, for now at least, coal devel­op­ment there prob­a­bly isn't eco­nom­i­cal­ly feasible.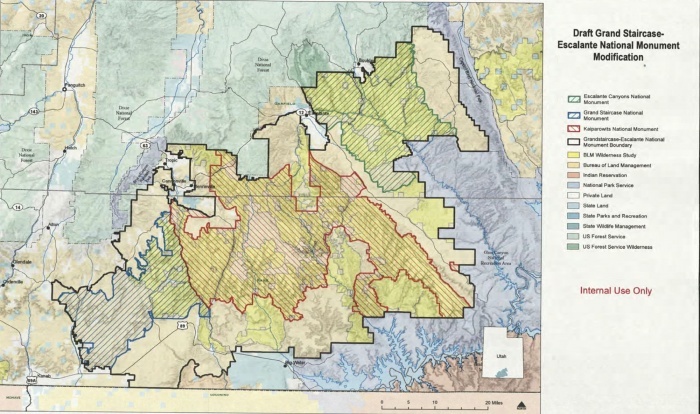 A map of the Trump admin­is­tra­tion's Grand Stair­case bound­ry mod­i­fi­ca­tions.
(Source:
wilder​ness​.org
)
He puts it this way: ​"From the top of Kaiparow­its, you can see the Nava­jo coal plant, which is sched­uled to be shut down in two years." The Nava­jo Gen­er­at­ing Sta­tion, which is con­nect­ed by an elab­o­rate infra­struc­ture of con­vey­or belt and elec­tric train to the Kayen­ta coal mine on the Nava­jo Reser­va­tion, is sched­uled to close in 2019 due to the cheap­ness of elec­tric­i­ty gen­er­at­ed from nat­ur­al gas.
The major­i­ty of the autho­rized oil and gas drilling leas­es sus­pend­ed by the monument's 1996 des­ig­na­tion are con­cen­trat­ed along Escalante's north­east­ern edge, where the 1996 mon­u­ment bound­aries abut Capi­tol Reef Nation­al Park. That area is most­ly cut out of Trump's redrawn mon­u­ment bound­aries, which means many of those leas­es could go back online while oth­er exclud­ed lands are put up for oil and gas lease.
The graz­ing issue
Some peo­ple see the Grand Stair­case-Escalante not as emp­ty, pris­tine wilder­ness but as lands from which they make their liv­ing, and have for gen­er­a­tions. Accord­ing to Ethan Lane, exec­u­tive direc­tor of the Pub­lic Lands Coun­cil (PLC), a D.C. based group that advo­cates for ranch­ers' use of pub­lic lands, many landown­ers in the Grand Stair­case-Escalante area depend on those fed­er­al lands to graze their cat­tle. The PLC praised the Trump administration's deci­sion to shrink the mon­u­ment because, accord­ing to Lane, local ranch­ers were not ade­quate­ly con­sult­ed when Pres­i­dent Bill Clin­ton cre­at­ed the mon­u­ment in 1996.
"In some of these west­ern com­mu­ni­ties you have a lot of mov­ing parts," Lane says. ​"You have a lot of con­ser­va­tion efforts going on on the ground on behalf of local landown­ers that real­ly depend on those fed­er­al lands that are adja­cent to them. When you hap­haz­ard­ly change the sta­tus of that resource with­out eval­u­at­ing that, the ram­i­fi­ca­tions can be intense."
In his procla­ma­tion des­ig­nat­ing the mon­u­ment, Clin­ton addressed graz­ing: ​"Noth­ing in this procla­ma­tion shall be deemed to affect exist­ing per­mits or leas­es for, or lev­els of, live­stock graz­ing on Fed­er­al lands with­in the mon­u­ment; exist­ing graz­ing uses shall con­tin­ue to be gov­erned by applic­a­ble laws and reg­u­la­tions oth­er than this proclamation."
Lane claims the fed­er­al gov­ern­ment did not live up to this promise. Accord­ing to the graz­ing fig­ures he has put togeth­er, 30 per­cent few­er cow-calf pairs were per­mit­ted to graze on fed­er­al lands in the mon­u­ment in 2013 com­pared to graz­ing lev­els before the mon­u­ment was designated.
Lau­ra Welp, who worked as a botanist for the mon­u­ment from 2001 to 2005 and is now an ecosys­tem spe­cial­ist for the West­ern Water­sheds Project, thinks that the mon­u­ment admin­is­tra­tion has per­mit­ted exten­sive graz­ing on mon­u­ment lands, at the expense of its con­ser­va­tion mis­sion. The monument's man­age­ment plan, signed in 1999, asserts the duty of the mon­u­ment admin­is­tra­tion to man­age graz­ing to meet the stan­dards of range­land health required by BLM regulations.
The plan called for an eval­u­a­tion of graz­ing allot­ments and a new graz­ing plan when the assess­ment was done. Welp spent two years on the mon­u­ment gath­er­ing data about ecosys­tem health and the impacts of graz­ing. In the end, she says, the data were not used and no new graz­ing plan was put in place. Graz­ing has con­tin­ued on the mon­u­ment, she says, based on eval­u­a­tions from the 1970s.
"They had a beau­ti­ful man­age­ment plan that could have been real­ly inno­v­a­tive," she says, ​"and in regards to graz­ing, at least, it's been ignored." Staff at the Grand Stair­case-Escalante head­quar­ters tell me they were instruct­ed not to talk to the press, and direct­ed inquiries to the BLM state office, which did not respond to mul­ti­ple requests for comment.
Accord­ing to Lane, the debate isn't about whether to pre­serve nat­ur­al resources in the West — it's about process. He thinks the Antiq­ui­ties Act itself is flawed, that it gives pres­i­dents too much pow­er to sus­pend lands from mul­ti­ple-use. Mon­u­ment sup­port­ers, too, are con­cerned with process. They argue that only Con­gress, not the pres­i­dent, has the pow­er to remove mon­u­ment des­ig­na­tions. But clear­ly more is at stake here than who decides whether wild lands are pre­served — at stake is an actu­al wild place.
The shrink­ing of Grand Stair­case-Escalante is not sym­bol­ic — it's more than a sim­ple case of Trump undo­ing Obama's lega­cy with an exec­u­tive order, some­thing that could be re-vis­it­ed again when the pen­du­lum of pow­er swings back to the Democrats.
Once roads are estab­lished, they tend to be main­tained. And once a wild place is carved up, we don't get it back.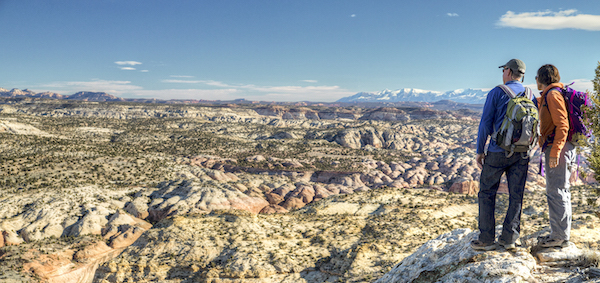 A man and a woman stand on a cliff look­ing out over Grand Stair­case-Escalante.
(Image:
blm​.gov
)