A Resounding Vow To 'Take Back Chicago' From Its Mayor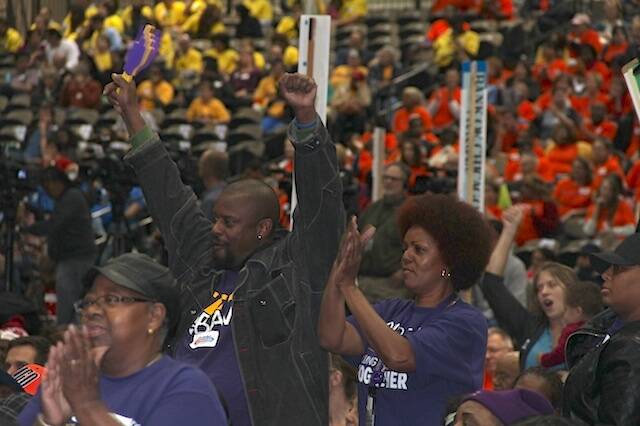 About 1,500 Chicagoans and a lineup of city and state elected officials convened Tuesday night to announce their intention to ​"take back Chicago" from a city administration they describe as rewarding corporations while punishing working people.
A wave of recent cuts has left almost 50 Chicago public schools shuttered, six mental-health clinics closed and thousands of public workers without jobs. According to a report released last week, these cuts have primarily hit Black and Latino neighborhoods, even as majority white and downtown neighborhoods have prospered — thanks in part to the city's Tax Increment Financing, or TIF, program. TIFs are meant to revive blighted areas by funneling property tax dollars to development projects, but critics see the program as a corporate giveaway, diverting dollars from public coffers to private corporations.
Tuesday's event marked the official launch of a campaign by the Grassroots Collaborative, the alliance of 11 neighborhood, housing and labor groups that commissioned the report, to correct these inequities through a host of measures such as fairer tax allocation, increased resources for education, living wage jobs and affordable housing.
The forum opened with a slate of community members testifying about how the cuts have exacerbated long-standing city problems such as low wages, sparse affordable housing and lack of services. Southside Together Organizing for Power activist N'Dana Carter said that since the clinic closures, the city's remaining six mental health clinics are ​"so understaffed that people can only see their psychiatrist two or three times a year" and each psychiatrist has a caseload of 3,000 to 4,000 patients. ​"The city is destroying its safety net along with many people's lives," she said.
Chicago Teachers Union organizer Brandon Johnson asked people to wave red cards if they used city mental health clinics, then yellow cards if they had seen a library in their community cut its hours and green cards if their community lacks adequate parks. Cards of each color rippled throughout the audience, with many people waving all three colors. Attendees were also asked to participate via text message in a real-time poll about the services available in their community. About 70 percent of texters said they did not have a public mental health clinic in their community, 10 percent had seen library cuts and 17 percent said they lacked parks.
Francine Rico, a home healthcare worker, gave a rousing speech about how things like city tax policy make low-income families like hers feel betrayed by the city they love. ​"I was born in the ghetto on Martin Luther King Drive 45 years ago, I've lived in the city of Chicago my whole life," said Rico. ​"I raised my son here and I still care for my 82-year-old mother who lives down the street from me…the city lives in my bones." Even while she spends her days providing home care, she wonders if her elderly mother will be able to afford home care when she needs it. She demanded that ​"the rich and the major corporations pay their fair share" of taxes to help bolster the public sector, including with a graduated state income tax.
​"As I see it, there's one issue underlying all the problems in Chicago, an issue no politician wants to face," Chicago Public Schools student Mina Waight told the crowd. ​"That's poverty."
Waight said her mother makes $10 an hour working at Marshalls and relies on subsidized housing to survive. ​"It's not my mom's fault," Waight said. ​"It's wrong that hardworking people with jobs can't make a decent living wage." She called for all businesses with revenue over $50 million to pay $15 an hour.
Eleven aldermen and a number of state representatives on the stage at the University of Illinois at Chicago auditorium were asked in turn whether they would support different policies, including an ordinance that would redistribute surplus TIF funds to schools, a proposal for a $15 citywide minimum wage and the long-standing call for an elected school board.
The elected officials heartily agreed to support each policy, often noting that they were cosponsors of the ordinances. Alderman Toni Foulkes said, ​"What pisses you off pisses me off…and I'm about this close to unleashing the bitch in me." Alderman John Arena promised to stop privatization deals and to work for an elected school board. Alderman Ricardo Muñoz said the town hall ​"is what democracy looks like." Alderman Bob Fioretti brought the crowd to its feet with fists pumping. ​"The winds of change are blowing in Chicago," he said.
Gov. Pat Quinn spoke at the end of the event, touting power that ​"bubbles up from grassroots community leaders" and the importance of investment in education and affordable healthcare.
Many in attendance said they appreciated the elected officials' promises, but it remains to be seen if those words translate to action.
​"Now we'll be in a position to hold their feet to the fire," north side resident Sarah Simmons told Working In These Times. Her daughter, Rachel Dickson, is working on documentaries about the school closings and the 1963 public schools boycott.
Michelle Young is president of Action Now, a citywide multi-issue community group. She told Working In These Times the event was a ​"wakeup call to politicians of Chicago — we've got to hold them accountable, we won't forget what they said today."
She was among those calling for the ouster of Mayor Rahm Emanuel, whom she called ​"a mayor who stays in hiding." At least two of the aldermen at the forum — Fioretti and Waguespack — are considering running against Emanuel in the 2015 mayoral election.
​"He came in on a handshake, we're going to throw him out on a boot," Young said of Emanuel.
The rally's last speaker was diminutive elementary school student Asean Johnson, who's become something of a celebrity speaking out about the school closings and budget cuts, including at the 50th anniversary of the March on Washington. With Gov. Quinn and several aldermen standing close behind him, and admirers clustered around taking video, Johnson led the crowd in a chant. Some have called for the student to run against Emanuel in the election.
​"Mayor Emanuel said he was going to love the children and take care of them," Johnson said. ​"But you didn't do that, did you?"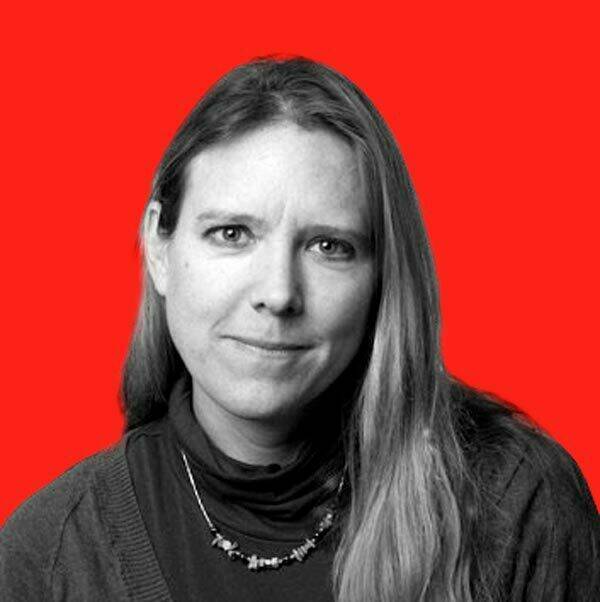 Kari Lydersen
is a Chicago-based reporter, author and journalism instructor, leading the Social Justice
&
amp; Investigative specialization in the graduate program at Northwestern University. She is the author of Mayor
1
%: Rahm Emanuel and the Rise of Chicago's
99
%.