Grassroots Organizers Breathe New Life Into UK's Big Labor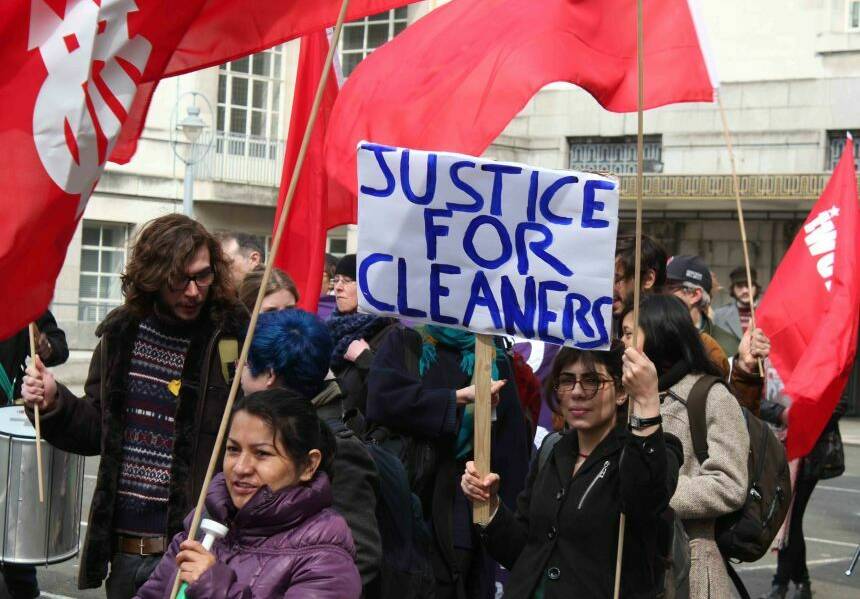 We wanted to make sure you didn't miss the announcement of our new Sustainer program. Once you've finished reading, take a moment to check out the new program, as well as all the benefits of becoming a Sustainer.

On July 10, hundreds of thousands of public sector workers across the United Kingdom — including firefighters, teachers, civil servants, National Health Service staff and local government workers — went on strike against pay freezes and pension cuts. The strike was coordinated by six of the United Kingdom's largest trade unions, and leaders claimed that it was the biggest strike since the 1926 General Strike. Dan Rawnsley, a teaching assistant and member of Unison, the United Kingdom's largest public-sector union, joined the strike rally in central London. ​"Days like this are really important," he said, ​"because it shows you the workers' movement is a force in society. But I think that rank-and-file members need to have much more control over the strategy for the strike. We need a plan to win, not just a plan for one-day protest strikes."
This sentiment — that labor struggles should shift away from top-down organizing methods like massive, symbolic one-day strikes — has been growing in the United Kingdom, especially since labor's leadership capitulated after a lackluster anti-austerity campaign in 2011. Yet, while the largest trade unions continue to use more traditional methods, low-paid, precarious workers across the United Kingdom are taking matters into their own hands through a series of smaller, more confrontational struggles that may be able to breathe new life into British trade unionism.
One of these grassroots initiatives is being led by workers at The Ritzy, a renowned art-house cinema in Brixton, South London. They have been campaigning to earn a living wage — which, in London, is 8.80 pounds ($15) an hour — for the last 10 months. Since April, they have held nine one-day strikes, attracting a huge amount of publicity and support, including from the high-profile film directors Ken Loach and Mike Leigh.
While The Ritzy has a reputation for radical film programming, its treatment of its workers has been anything but politically acceptable. The Ritzy's parent company, Picturehouse, is owned by Cineworld, the largest cinema chain in Europe. According to Ritzy worker Nia Hughes, Cineworld has been absorbing the costs of the strikes — which has been a costly strategy of containment. ​"They've almost lost what it would have cost them to pay us the London living wage for a year," said Hughes. ​"They fear contagion." According to workers, if the Ritzy strikers win a living wage, the battle will spread to other Picturehouse and Cineworld theaters. Already workers at Curzon Cinemas, another art-house chain, have started their own campaign. If these workers at The Ritzy and Curzon cinemas are successful, the victories will be among the first by low-paid service sector workers in the United Kingdom in recent memory.
On the other side of the Thames, the Tres Cosas campaign at the University of London has also become both a sign of life for the trade union movement — and a cautionary tale about the challenges that low-wage workers can face not only from their bosses, but also from institutional unions. Organized by cleaners and auxiliary staff who work for third-party companies contracted by the University of London, the Tres Cosas campaign seeks to ensure that these workers have sick pay, holiday pay and pensions. Yet, before sick pay and pensions, the campaign began with the simple demand of earning a living wage, explained Jason Moyer-Lee, president of the Independent Workers of Great Britain, an independent trade union to which the workers are now members.
The first step of the campaign was a massive union drive, during which a small group of cleaners already in Unison, the most prominent union on campus, began to organize their coworkers with support from a student group. Within six months, explained Moyer-Lee, the number of people working for third-party contract companies that were part of the Unison swelled from 20 to over 120. This provoked a great shift in the local union branch, especially since many of the new members were Latin American immigrants who spoke Spanish as their first language. ​"Overnight the local Unison branch, which was almost entirely University of London direct employees, and about 95 percent British, was suddenly made up of 50 percent Latin American cleaners who didn't speak English," said Moyer-Lee.
Not only did the meetings suddenly need translation, but, according to Moyer-Lee, the two groups of workers had entirely different concerns. Before the cleaners got involved, the branch was more preoccupied with organizing the Christmas social than pushing for better conditions. ​"All of a sudden," Moyer-Lee explained, ​"Latin American cleaners were talking about a campaign for the living wage, wanting money for the campaign, pressuring Unison to do something about late payments." Despite facing several instances of hostility and obstruction from the branch leadership, the newly unionized cleaning workers won their fight for a living wage in 2011. However, when they sought union support for their next campaign, Tres Cosas — which translates to ​"Three Things" in reference to the demands of sick pay, holiday pay and pensions — the vote was blocked. Next, when candidates were put forward for the then upcoming union elections, Unison invalidated 50 percent of the cleaning workers' candidates on technicality. Tres Cosas activists, in turn, demonstrated outside Unison's headquarters to demand the results of the vote, which had been delayed for three weeks. In response, Unison called the police on their own workers and invalidated the election results.
This retaliation was the final straw. The cleaning workers left Unison en masse and joined the independent union Independent Workers of Great Britain. Since the shift, the workers leading the Tres Cosas campaign have won several concessions from the University of London. Following a two-day strike last November, the University announced that all the workers employed by Cofely, one of the two main third-party contract companies, would get up to six months sick pay, up to 33 holiday days and access to the company's pension plan. Despite the concessions, the campaign is far from over. These workers and supporters recently occupied the Cofely company headquarters inside The Shard, London's tallest building, in protest of plans to eliminate the jobs of 80 cleaners and support staff, workers that are mostly migrant women.
Both the Tres Cosas campaign and strikes at The Ritzy are examples of the increasingly popular bottom-up labor organizing. ​"The two biggest lessons from Tres Cosas," explained Moyer-Lee, ​"are: one, keep the pressure on constantly and two, the campaign has to be led from the bottom-up by active worker participation." The remaining question is whether the United Kingdom's largest unions will heed the lessons of these grassroots campaigns.
Become a Sustainer
We surveyed thousands of readers and asked what they would like to see in a monthly giving program. Many of you expressed interest in magazine subscriptions, gift subscriptions, tote bags, events and books —and we've added all of those. Some of you said that cost was an issue, so we've kept our starting tier at just $5 a month—less than 17 cents a day.

Now, for the first time, we're offering three different levels of support, with unique rewards at each level, for you to choose from. Check out the new Sustainer program.
Decca Muldowney
is a writer based in London. You can read more of her work at www​.dec​ca​mul​downey​.com.