Why Unions Must Bargain Over Climate Change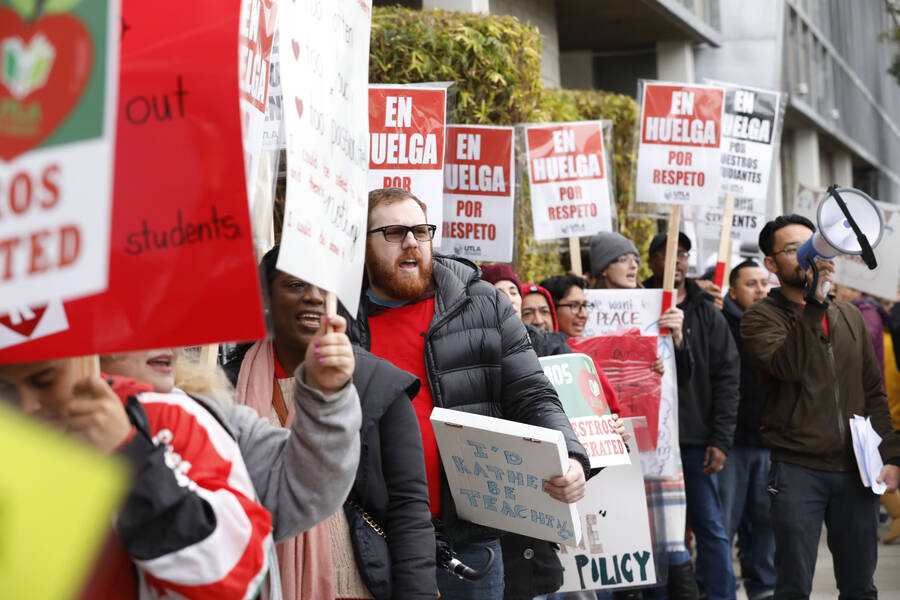 Union con­tract nego­ti­a­tions include manda­to­ry and per­mis­sive sub­jects of bar­gain­ing. Employ­ers are required by law to nego­ti­ate over manda­to­ry sub­jects — wages, ben­e­fits and work­ing con­di­tions. Per­mis­sive sub­jects, such as deci­sions about which pub­lic ser­vices will be pro­vid­ed and how, have his­tor­i­cal­ly been the purview of man­age­ment. We only nego­ti­ate over how man­age­r­i­al deci­sions affect mem­bers' jobs. Employ­ers may vol­un­tar­i­ly agree to nego­ti­ate per­mis­sive sub­jects, but unions can't legal­ly strike over them.
In recent years, some unions have embraced ​"bar­gain­ing for the com­mon good," which use the union cam­paign to win broad, right­eous pub­lic ben­e­fits. The best cur­rent exam­ple of this is the Los Ange­les teach­ers' strike, which opposed the under­fund­ing, pri­va­ti­za­tion and over­crowd­ing of schools — all of which hurt stu­dents. Com­mon good goals often bump against the con­straints of what is legal­ly bar­gain­able. For instance, does a demand from teach­ers' unions that school dis­tricts use dis­trict-owned prop­er­ty to fund and build afford­able hous­ing for teach­ers affect work­ing con­di­tions? While short­ages of afford­able hous­ing affect teach­ers very direct­ly, how school dis­tricts use their land and invest their mon­ey is nor­mal­ly con­sid­ered a man­age­r­i­al prerogative.
But last fall's report from the Inter­gov­ern­men­tal Pan­el on Cli­mate Change is a game-chang­er. It con­cludes that human­i­ty has 12 years to cut green­house gas emis­sions enough to hold glob­al warm­ing to 1.5 degrees Cel­sius — and avoid civ­i­liza­tion-threat­en­ing con­se­quences of cli­mate change. There is a lot of space between pro­ject­ed best- and worst-case future sce­nar­ios. It's the dif­fer­ence between bad and apoc­a­lyp­tic. That space rep­re­sents hun­dreds of mil­lions of peo­ple dying. Avoid­ing worst-case sce­nar­ios, in strict­ly sci­en­tif­ic terms, requires every­one to do every­thing, immediately.
The loom­ing time­line of the IPCC report means unions must have a right to bar­gain over cli­mate change, espe­cial­ly in the pub­lic sec­tor. What good is it to nego­ti­ate the assign­ment of over­time when the sky is on fire? Does a pub­lic employ­er real­ly want to claim that its direct com­plic­i­ty in the poten­tial col­lapse of civ­i­liza­tion has no bear­ing on work­ing con­di­tions? Can gov­ern­ment claim that aban­don­ing its work­force to die or flee their homes doesn't affect work­ing con­di­tions? If employ­ers don't accept that every choice made today affects the near future, they're deny­ing sci­ence. Local and state gov­ern­ments in Demo­c­ra­t­ic strong­holds may find it polit­i­cal­ly chal­leng­ing to pos­ture about resist­ing Repub­li­can­ism nation­al­ly while deny­ing the local impli­ca­tions of that stance.
Thanks to the Sun­rise Move­ment and Rep. Alexan­dria Oca­sio-Cortez (D‑N.Y.), the Green New Deal pro­vides a frame­work for us to declare our part in every­one doing every­thing imme­di­ate­ly. The Green New Deal calls for a gov­ern­ment-fund­ed jobs pro­gram to car­ry out a just tran­si­tion to a car­bon-free econ­o­my at the rates called for by the IPCC report. This is a per­fect com­mon good frame­work for unions to respond to the most urgent chal­lenge of our time, while simul­ta­ne­ous­ly pro­mot­ing a high-func­tion­ing pub­lic sec­tor as anti­dote to neoliberalism's degra­da­tion of pub­lic services.
Ser­vice Employ­ees Inter­na­tion­al Union (SEIU) Local 1021, the union where I work, sup­port­ed the cam­paign to divest the San Fran­cis­co pen­sion plan from fos­sil fuels and to stop a new coal ship­ping ter­mi­nal at the Port of Oak­land. In my union, we advance our goals on par­al­lel tracks via col­lec­tive bar­gain­ing and pub­lic pol­i­cy, using each to rein­force the oth­er. The nexus between the func­tions of local gov­ern­ment, cli­mate change and jobs goes even fur­ther. San Fran­cis­co has already made sig­nif­i­cant com­mit­ments on many of these ini­tia­tives, and plans to do more. A local gov­ern­ment Green New Deal col­lec­tive bar­gain­ing plat­form would include cli­mate mit­i­ga­tion strate­gies to reduce emissions:
Divest pen­sions from the fos­sil fuel industry.
Con­vert to

100

per­cent renew­ables for utilities.
Retro­fit pub­lic build­ings for ener­gy effi­cien­cy and dis­as­ter resilience.
Imme­di­ate­ly tran­si­tion to renew­able ener­gy vehi­cles for pub­lic bus­es, tran­sit and car fleets, which could achieve that crit­i­cal

1

.

5

degrees Cel­sius target.
Plant trees and expand parks and bike infrastructure.
Fund and expand pub­lic transit.
Reduce car­bon emis­sions in food pro­cure­ment by pub­lic agen­cies by encour­ag­ing local, real food, and reduc­ing meat.
It would also include cli­mate adap­ta­tion strate­gies to pre­pare vul­ner­a­ble com­mu­ni­ties to sur­vive com­ing floods, fires, droughts and diseases:
Man­date inclu­sion of cli­mate change in land use and planning.
Build cli­mate-adap­tive infrastructure.
Devel­op pro­ce­dures and train per­son­nel on emer­gency response, espe­cial­ly to care for our unhoused neigh­bors.
Per­haps the best cli­mate pol­i­cy is tran­sit-ori­ent­ed, high-den­si­ty afford­able hous­ing. It reduces com­mute times, and helps pub­lic work­ers and the peo­ple who depend on their ser­vices. In San Fran­cis­co, pub­lic ser­vices suf­fer from hous­ing costs as work­ers move away and com­mute fur­ther dis­tances. Hous­ing dri­ves teacher turnover, makes bus­es late because the Munic­i­pal Trans­porta­tion Author­i­ty can't hire dri­vers, and com­pro­mis­es emer­gency response when many first respon­ders live far away.
For unions deal­ing with State gov­ern­ments, a Green New Deal plat­form might also include:
Funds for wild­fire response and pre­ven­tion, includ­ing forestry, strength­en­ing over­sight of util­i­ty reg­u­la­tors, and fire­fight­ers, all of which are car­ried out by pub­lic work­ers. Since wild­fires are both the con­se­quences of cli­mate change and the cause of more accel­er­at­ing car­bon emis­sions, state gov­ern­ment needs greater invest­ments in rapid response.
Funds to sup­port indige­nous peo­ple to do for­est man­age­ment.
The trans­for­ma­tion of pri­vate util­i­ties into pub­lic agencies.
Funds for cli­mate research at pub­lic universities.
The pro­mo­tion of union­iza­tion in green jobs like elec­tric car man­u­fac­tur­ing and solar.
One obsta­cle to bar­gain­ing the Green New Deal is buy-in from mem­bers. Union mem­bers, like a lot of us, wor­ry about cli­mate change but are demor­al­ized that it is too vast for them to do any­thing about. They've tak­en it on the chin from neolib­er­al­ism for a long time, so have urgent goals about fight­ing to pro­tect pub­lic ser­vices from pri­va­ti­za­tion and their jobs from being dragged yet fur­ther down in a race to the bot­tom. Tack­ling the Green New Deal can under­stand­ably feel like one more bur­den added to an already stuffed agenda.
Unions have long been wag­ing defen­sive fights to main­tain basic work­place pro­tec­tions in an era of aus­ter­i­ty, but we're chang­ing. Where com­mon good strate­gies suc­ceed, most recent­ly show­cased with the Los Ange­les teacher strikes, the membership's readi­ness to strike for the com­mu­ni­ty result­ed from lengthy deep inter­nal edu­ca­tion, orga­niz­ing and coali­tion-build­ing. Union lead­er­ship would need to see the Green New Deal as a tool against aus­ter­i­ty pol­i­tics. We'd need to edu­cate mem­bers about their col­lec­tive pow­er to make a dif­fer­ence on the most fun­da­men­tal crises of our time — and raise expec­ta­tions of what an expand­ed pub­lic sec­tor could do.
The Green New Deal is basi­cal­ly the reverse of Nao­mi Klein's con­cept of the ​"shock doc­trine," which refers to the process where­by cap­i­tal­ists take advan­tage of crises to reorder poli­cies in their inter­ests. Civ­i­liza­tion is men­aced by the Two Horse­men of the Apoc­a­lypse: cli­mate change and inequal­i­ty. Inequal­i­ty is so bad that the rich­est 400 Amer­i­cans own more wealth than the poor­est 60 per­cent. The per­cent­age of young peo­ple who will earn more than their par­ents is plung­ing. Pub­lic work­ers and their unions belong at the cen­ter of the solu­tion to both. The poli­cies of a Green New Deal require a robust and well-fund­ed pub­lic sec­tor with good union jobs. Because of the nature of pub­lic sec­tor work, an expand­ed pub­lic sec­tor as part of a Green New Deal dis­pro­por­tion­ate­ly ben­e­fits women and peo­ple of color.
On Fri­day, the AFL-CIO issued a let­ter crit­i­ciz­ing the Green New Deal, appar­ent­ly on behalf of build­ing trades unions who work in the fos­sil fuel busi­ness. Those unions are inex­plic­a­bly con­cerned that the Green New Deal's expressed goals of meet­ing the chal­lenge of cli­mate change with a job guar­an­tee to pro­tect affect­ed work­ers doesn't include them. Con­trary to labor skep­tics who think the labor move­ment is hope­less, labor crit­ics of the Green New Deal are opti­mists, believ­ing that there are in fact jobs on a dead planet.
Any sea­soned union cam­paign­er worth her salt loves a con­tract fight because it has a hard dead­line that focus­es everyone's atten­tion — expi­ra­tion and a strike threat. We already know that the rul­ing class' answer to cli­mate change is dooms­day bunkers for bil­lion­aires, while the vast major­i­ty become cli­mate refugees. For the rest of us, every labor vic­to­ry in recent years has involved work­er mil­i­tan­cy and broad demands that link work­ers with their com­mu­ni­ties. Sim­i­lar­ly, through­out his­to­ry, every sig­nif­i­cant social move­ment has found an expres­sion in labor strug­gles. The cli­mate cri­sis will be no dif­fer­ent. Cli­mate sci­ence gives us a new dead­line and an oppor­tu­ni­ty to show that we're up to the task. We have 12 years.
Nato Green
is a standup come­di­an, writer, and Cam­paign Coor­di­na­tor for SEIU Local
1021
in San Francisco.