The Fight for a Green New Deal Can Start with Your Union Contract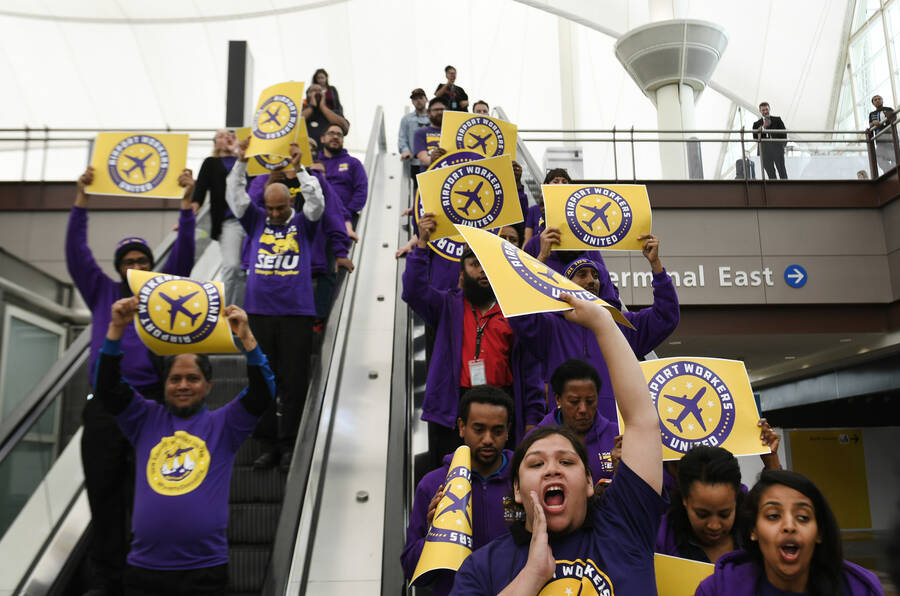 News cov­er­age of the Green New Deal por­trays orga­nized labor as a major obsta­cle to its enact­ment. But our new report for Data for Progress paints a dif­fer­ent pic­ture. In a poll con­duct­ed for the think tank by YouGov Blue, union mem­bers over­whelm­ing­ly favored the pro­posed reforms, with 62 per­cent in sup­port and 22 per­cent against. In a memo for Data Progress, where I am a legal fel­low, I show how union con­tracts can be an effec­tive way to fight for a Green New Deal.
In step with the rank-and-file, some union lead­ers have already backed the ambi­tious plan. In a res­o­lu­tion adopt­ed in June by its exec­u­tive board, the Ser­vice Employ­ees Inter­na­tion­al Union called the Green New Deal ​"an unprece­dent­ed oppor­tu­ni­ty to unite the fights for envi­ron­men­tal, racial and eco­nom­ic jus­tice." Los Ange­les Coun­ty Fed­er­a­tion of Labor sec­re­tary-trea­sur­er Rusty Hicks said in March the ​"frame­work is vital to fight­ing" inequal­i­ty and cli­mate change. Asso­ci­a­tion of Flight Atten­dants pres­i­dent Sara Nel­son explained in April that it is ​"not the solu­tions to cli­mate change that kills jobs," but cli­mate change itself. To be sure, a hand­ful of union lead­ers, such as Unit­ed Mine Work­ers of Amer­i­ca pres­i­dent Cecil Roberts and Inter­na­tion­al Broth­er­hood of Elec­tri­cal Work­ers pres­i­dent Lon­nie Stephen­son, have come out against the pro­pos­al. Yet even Roberts has said that he and Green New Deal sup­port­ers ​"agree on 75 percent."
Even as union sup­port for the mea­sure con­tin­ues to grow, the cur­rent polit­i­cal stale­mate in Wash­ing­ton means that pas­sage of the Green New Deal is unlike­ly in the near future. But labor lead­ers have an imme­di­ate way to trans­late mem­ber sup­port for the Green New Deal into tan­gi­ble wins: bar­gain­ing green union contracts.
Amer­i­can work­places are a major source of green­house gas emis­sions, even in indus­tries with­out a direct con­nec­tion to the pro­duc­tion of fos­sil fuels. Indi­vid­ual work­ers are rel­a­tive­ly pow­er­less to change a company's car­bon cul­ture on their own, but through unions, work­ers can join togeth­er and put real pres­sure on employ­ers to agree to bind­ing com­mit­ments to com­bat a warm­ing world.
Efforts to build cli­mate pro­tec­tion goals direct­ly into col­lec­tive bar­gain­ing agree­ments are already being under­tak­en by labor unions in coun­tries like Aus­tralia, Cana­da, and the Unit­ed King­dom. Work in a Warm­ing World (W3), a Cana­di­an research project link­ing aca­d­e­mics and com­mu­ni­ty part­ners to recen­ter the role of work in the fight against glob­al warm­ing, has under­tak­en an exten­sive project to doc­u­ment green claus­es in union con­tracts across the globe. Their research pro­vides a roadmap for Amer­i­can unions seek­ing to cre­ate sus­tain­able workplaces.
For one, unions can bar­gain for the estab­lish­ment of work­place envi­ron­ment com­mit­tees that give work­ers real pow­er to set sus­tain­abil­i­ty bench­marks and to play an active role in imple­men­ta­tion. In an agree­ment with a lead­ing Cana­di­an met­als and min­ing com­pa­ny, the Unit­ed Steel­work­ers Local 408 won con­tract lan­guage estab­lish­ing a com­mit­tee for work­ers and man­age­ment to joint­ly devel­op pro­grams aimed at pre­vent­ing pol­lu­tion, min­i­miz­ing envi­ron­men­tal impact and pro­tect­ing employ­ee health. The clause includ­ed an enforce­able require­ment that man­age­ment fur­nish the union with all rel­e­vant data about the company's envi­ron­men­tal impact. Union involve­ment in design­ing sus­tain­abil­i­ty ini­tia­tives can be par­tic­u­lar­ly crit­i­cal to ensur­ing there is real bite behind green pro­grams that can oth­er­wise be emp­ty pub­lic rela­tions ploys. When sev­er­al Amer­i­can hotel chains rolled out a pro­gram that reward­ed guests who for­went house­keep­ing ser­vices, it was hotel staff who spoke out about the per­va­sive prob­lem of guests who ​"cheat a bit" while reap­ing the program's perks.
Unions can also demand that employ­ers com­mit to spe­cif­ic envi­ron­men­tal goals direct­ly in their con­tracts. Some activists have sought to get employ­ers to agree to annu­al car­bon foot­print reduc­tions, or to pur­chase union-approved car­bon off­sets if reduc­tions can­not be achieved. Oth­ers have suc­cess­ful­ly bar­gained for build­ing effi­cien­cy improve­ments and recy­cling pro­grams. Seek­ing to reduce green­house gas emis­sions caused by trans­porta­tion, some unions have even won tele­work pro­vi­sions that give employ­ees more flex­i­bil­i­ty to work from home. Where in-per­son work is required, unions have obtained employ­er sup­port for employ­ee tran­sit pro­grams that pro­mote the use of pub­lic trans­porta­tion, bikes and carpooling.
Bar­gain­ing green con­tracts will sure­ly be most dif­fi­cult in fos­sil fuel-linked indus­tries, where the work itself con­tributes to the degra­da­tion of the cli­mate. But union con­tracts have an impor­tant role to play in ensur­ing a just tran­si­tion to a green econ­o­my. Employ­ees wor­ried about a Wash­ing­ton-nego­ti­at­ed Green New Deal can take con­trol of plan­ning for our cli­mate change future at their own work­places. To ensure that work­ers can com­pete for the grow­ing num­ber of green jobs, unions can bar­gain for employ­er-spon­sored train­ing pro­grams that give employ­ees an oppor­tu­ni­ty to learn new skills. They can also nego­ti­ate for robust sev­er­ance pay and lay­off ben­e­fit plans and even ear­ly retire­ment to ensure work­ers and their fam­i­lies are not left behind as tran­si­tion nears. And while the Nation­al Labor Rela­tions Act does not require employ­ers to bar­gain with work­ers over entre­pre­neur­ial deci­sions about the firm, unions can push man­age­ment to pur­sue green projects them­selves, so that work­ers can stay on as the com­pa­ny itself shifts missions.
Each of these goals will be far eas­i­er to achieve with gov­ern­ment inter­ven­tion, which is why pass­ing the Green New Deal is para­mount. But we have no time to wait. Amer­i­can work­ers may not have a seat at the table in Wash­ing­ton, but unions can take advan­tage of their seat at the bar­gain­ing table now. If they nego­ti­ate green new deals at work, we can pro­mote good jobs while avert­ing a cli­mate disaster.
Jared Odessky
is a legal fel­low at Data for Progress. He is also a law stu­dent at Har­vard, a reg­u­lar con­trib­u­tor to the blog OnLa­bor, and a for­mer union orga­niz­er. His writ­ing has been fea­tured in The New York Times, Slate, and the Har­vard Law and Pol­i­cy Review.