What the Green New Deal Means for Labor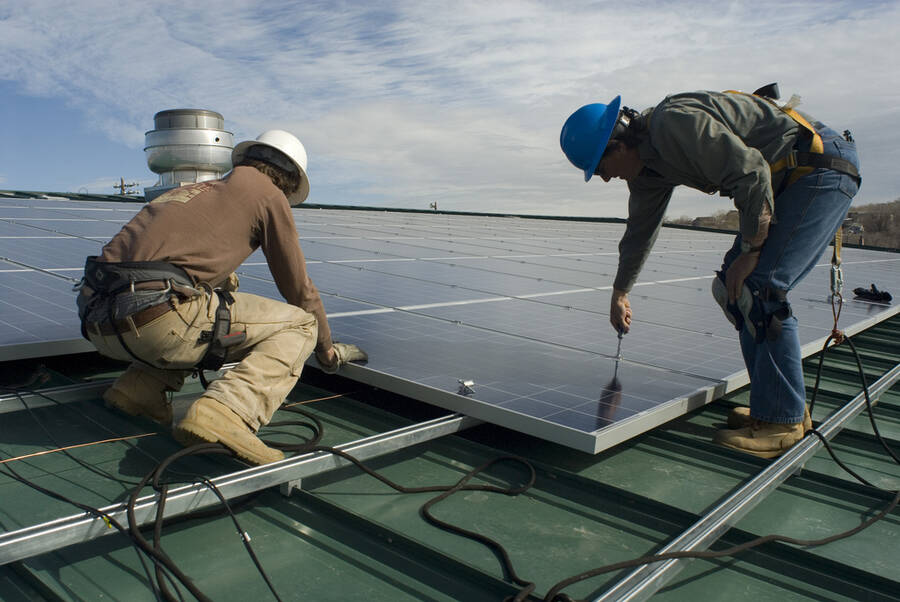 The sim­ple yel­low protest signs were sten­ciled ​"Green Jobs for All." Speak­er after speak­er stepped into the mid­dle of the office floor, marked with a U.S. House of Rep­re­sen­ta­tives seal. Rep­re­sen­ta­tive-Elect Alexan­dria Oca­sio-Cortez, fresh off her elec­tion win, gave the pro­test­ers high fives.
That was the scene in Novem­ber when the youth cli­mate jus­tice orga­ni­za­tion Sun­rise Move­ment held a sit-in at the office of Rep. Nan­cy Pelosi, who was soon to be the Speak­er of the House.
Most Amer­i­cans had nev­er heard of the ​"Green New Deal" at the time.
Now, it's on the main­stream radar. The New York Times and the Wash­ing­ton Post ran mul­ti­ple sto­ries when Oca­sio-Cortez intro­duced a res­o­lu­tion on Feb­ru­ary 7 to reduce car­bon emis­sions through a mas­sive good jobs pro­gram. The res­o­lu­tion has 67 House co-spon­sors, while the Sen­ate ver­sion has 12.
Just like the orig­i­nal New Deal in the ​'30s, her ver­sion of a Green New Deal would include a fed­er­al guar­an­tee of liv­ing-wage employ­ment — that is, any­one who want­ed a job could get one at a salary that could sup­port a fam­i­ly, with an empha­sis on union jobs and pro­tect­ing the right to organize.
The plan would also include pub­lic invest­ments in clean ener­gy infra­struc­ture. But ​"there are mil­lions of good, high-wage jobs that will be avail­able through the Green New Deal, and they're not just jobs that are in the man­u­fac­ture of clean ener­gy," said secu­ri­ty offi­cer Judith How­ell, a Ser­vice Employ­ees 32BJ shop stew­ard. For instance, she said, it will take work to clean up the envi­ron­ment where it's already been damaged.
How­ell has been an envi­ron­men­tal activist since hear­ing Ray Charles sing ​"Amer­i­ca the Beau­ti­ful" on Earth Day. Last year she helped push through a car­bon tax in her home­town of Wash­ing­ton, D.C.
Activists like her are respond­ing to the acute neces­si­ty to deal with cli­mate change before the earth is dras­ti­cal­ly damaged.
It's not too soon. Sci­en­tists now esti­mate that human­i­ty has 12 years to cut car­bon pol­lu­tion by 45 per­cent to avert dra­mat­ic increas­es in droughts, flood­ing, heat, and pover­ty. Among the costs will be expo­sure to dead­ly heat ill­ness­es for 350 mil­lion more peo­ple around the world by 2050 and $500 bil­lion lost annu­al­ly to the U.S. econ­o­my by 2100.
It has­n't been easy
Not every­one is on board, though. In fact, sig­nif­i­cant forces in the labor move­ment are active­ly opposed to a Green New Deal.
"It is dif­fi­cult to take this unre­al­is­tic man­i­festo seri­ous­ly, but the eco­nom­ic and social dev­as­ta­tion it would cause if it moves for­ward is seri­ous and real," said Ter­ry O'Sullivan, pres­i­dent of the Labor­ers union, in a state­ment about the Green New Deal resolution.
The Labor­ers are wor­ried that mem­bers will lose their jobs in fos­sil fuel indus­tries, which they say are paid much more than cur­rent jobs in the renew­able ener­gy sector.
The Amer­i­can labor move­ment has a long his­to­ry of mis­trust­ing envi­ron­men­tal groups as job-killers. Fre­quent­ly the Build­ing Trades are at odds with envi­ron­men­tal groups over projects like the Key­stone XL and Dako­ta Access oil pipelines.
Most often, the AFL-CIO backs the Build­ing Trades, though some unions, like Nation­al Nurs­es Unit­ed, Steel­work­ers, and Ser­vice Employ­ees, have forged ties with envi­ron­men­tal groups.
"A small group of unions with close ties to the fos­sil fuel indus­try appear to be set­ting the def­i­n­i­tion of what the mil­lions and mil­lions of union mem­bers in Amer­i­ca want and need," said his­to­ri­an Jere­my Brech­er, a staff mem­ber at the Labor Net­work for Sustainability.
It's not hard to see that a huge gap exists between cur­rent labor-envi­ron­ment col­lab­o­ra­tion and what it will take to win a mas­sive, fed­er­al­ly man­dat­ed good jobs pro­gram to com­bat cli­mate change.
Jobs, jobs, jobs
One union that finds itself in a unique posi­tion is the Elec­tri­cal Work­ers (IBEW), which ben­e­fits from solar ener­gy con­struc­tion but has tra­di­tion­al­ly allied with the oth­er Build­ing Trades and still sup­ports coal and nuclear ener­gy pro­duc­tion, anath­e­ma to environmentalists.
The IBEW has offered career train­ing for elec­tri­cians in the solar ener­gy indus­try in New York, Los Ange­les, Alame­da Coun­ty in Cal­i­for­nia, and Wash­ing­ton state.
Kevin Nor­ton is a mem­ber and for­mer assis­tant busi­ness man­ag­er of IBEW Local 11 in Los Ange­les. He strong­ly sup­ports his local's envi­ron­men­tal­ly friend­ly work. But his first reac­tion to the Green New Deal is that it's ​"a lot of well-mean­ing peo­ple who don't nec­es­sar­i­ly know what they're talk­ing about.
"There's always a group of peo­ple," Nor­ton said, ​"that want to do those kinds of projects, but they want to do them at $15 an hour, or $13 an hour." In con­trast, he said, wages and ben­e­fits for a union jour­ney­man can total up to $74 an hour.
He believes what's nec­es­sary for an envi­ron­men­tal­ly friend­ly jobs pro­gram is to ​"do it in a way that's respon­si­ble, so we don't kill every job in the state."
Cal­i­for­nia is a good exam­ple, he said — the state has cre­at­ed a ​"whole wave" of green jobs, and good ones at that. Local 11 has had as many as 1,000 elec­tri­cians work­ing on a solar project at a giv­en time. Why not do the same in Appalachia and Detroit?
In New York state, a coali­tion called Cli­mate Jobs NY has used pre-hire col­lec­tive bar­gain­ing agree­ments, called project labor agree­ments, to win guar­an­tees that work­ers will be paid pre­vail­ing wages in $1.5 bil­lion in renew­able ener­gy projects. These are in wind ener­gy con­struc­tion, solar, and the retro­fitting of schools and oth­er pub­lic build­ings to make them more energy-efficient.
The Work­er Insti­tute at Cor­nell Uni­ver­si­ty spear­head­ed the project along­side IBEW Local 3, the New York State Nurs­es, 32BJ, and oth­er unions, aim­ing to cre­ate union­ized jobs while invest­ing in sus­tain­able ener­gy. Impor­tant­ly, the project has the sup­port of the local Build­ing Trades council.
Lina Lopez is a jour­ney­woman elec­tri­cian in New York. She has tak­en two class­es at Local 3, one to install solar pan­els and the oth­er to learn how to work with elec­tric car charg­ing sta­tions. She likes doing the work.
"It's to help a lit­tle bit," she said, ​"to help keep this cli­mate clean for the next generation."
These local and state projects are exam­ples that a fed­er­al Green New Deal might draw upon — and they offer a glimpse at how the slo­gan ​"Green Jobs for All" could be made real.
This arti­cle first appeared on Labor Notes.