"The Show Must Go On": Guitar Center Workers Push for First Contracts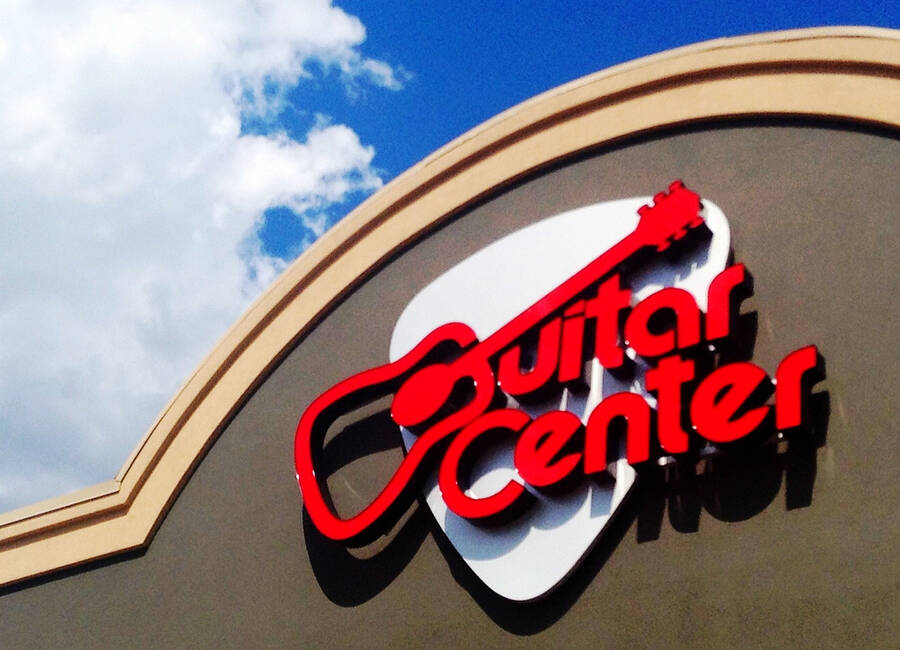 Gui­tar Cen­ter store work­ers are fight­ing for fair wages and improved con­di­tions at stores around the coun­try. The com­pa­ny has respond­ed with a fierce anti-union campaign.
"We love music and our jobs. But many of us bare­ly make more than min­i­mum wage," said Jeff Loehrke, Gui­tar Cen­ter drum depart­ment man­ag­er in Chicago.
The Retail Work­ers Union (RWD­SU) won elec­tions at three Gui­tar Cen­ter stores last year, in New York City in May, Chica­go in August and Las Vegas in Novem­ber. But work­ers at the three union­ized stores are still strug­gling for a contract.
Over the past year, the union and Gui­tar Cen­ter have had sev­er­al bar­gain­ing ses­sions in each city. Man­age­ment is drag­ging its feet in all three.
In their con­tract, work­ers hope to secure a liv­ing wage, a fair com­mis­sion struc­ture, and afford­able health ben­e­fits. Since Bain Cap­i­tal bought the com­pa­ny in 2007, com­mis­sions have been low­ered to the point where, work­ers say, many make bare­ly over the min­i­mum wage.
The com­mis­sion sys­tem, called the ​"fade," requires work­ers to sell against their hourly wage before they col­lect com­mis­sion. The store is also giv­ing work­ers more non-sell­ing duties on top of this. So you can make a big sale, but then if the com­mis­sion you'd col­lect doesn't sur­pass your hourly base rate, you don't col­lect any commission.
Musi­cians Alliance
Nego­ti­at­ing a first-ever union con­tract with the largest music retail­er in the world will be no small feat. It's com­mon for employ­ers to drag their heels on bar­gain­ing first con­tracts, in hopes that work­ers will get dis­cour­aged and give up.
But work­ers are using a num­ber of tools to put pres­sure on the com­pa­ny. In both Chica­go and Vegas, work­ers have deliv­ered peti­tions demand­ing a fair con­tract, with sig­na­tures from 80 per­cent of the work­force — show­ing man­age­ment that the work­ers are nowhere close to back­ing down.
Last month, work­ers in Las Vegas put up an inflat­able rat out­side the shop­ping cen­ter where the store is locat­ed. The same week, union orga­niz­ers and com­mu­ni­ty mem­bers put up the rat and leaflet­ed cus­tomers out­side Gui­tar Center's new flag­ship store in Times Square, New York.
The work­ers have col­lect­ed almost 7,000 online peti­tion sig­na­tures back­ing their effort. They've also built a sup­port net­work that includes com­mu­ni­ty groups, oth­er unions and a Musi­cians Alliance of 120 sup­port­ive bands and musi­cians, includ­ing such pop­u­lar artists as Tom Morel­lo, Kath­leen Han­na, and Roger Waters.
Selec­tive Improvements
The union filed unfair labor prac­tice charges with the Nation­al Labor Rela­tions Board in June, alleg­ing that Gui­tar Cen­ter has made an ​"effort to delay nego­ti­a­tions" and that it has ​"announced improve­ments in the wage prac­tices in all non-union stores around the Unit­ed States but has refused to con­sid­er those changes in three union rep­re­sent­ed stores, all as a method of pun­ish­ing the RWD­SU rep­re­sent­ed employ­ees for join­ing the union."
The com­pa­ny has made some minor improve­ments in the hopes of killing the union dri­ve — for exam­ple, mod­est wage increas­es at the non-union­ized stores, while cut­ting work­ers' hours in the union stores.
Although improve­ments have not been made in the union stores, work­ers know the changes came thanks to their orga­niz­ing efforts. They want to cod­i­fy and expand the gains in a contract.
In the stores, while they press for a con­tract, work­ers are con­tin­u­ing to act as a union. They hold meet­ings, orga­nize actions, and prac­tice their Wein­garten rights, which allow them to have a co-work­er sit in on dis­ci­pli­nary meetings.
"We will con­tin­ue fight­ing, with our fel­low work­ers in New York, Chica­go, Las Vegas and else­where," Loehrke said. ​"The show must go on."
This post first appeared at Labor Notes.
Diane Krauthamer
is a free­lance labor jour­nal­ist. She can be reached at diane.​krauthamer@​gmail.​com.