Justice for South Asian Migrant Workers in the Gulf Requires a New Kind of Solidarity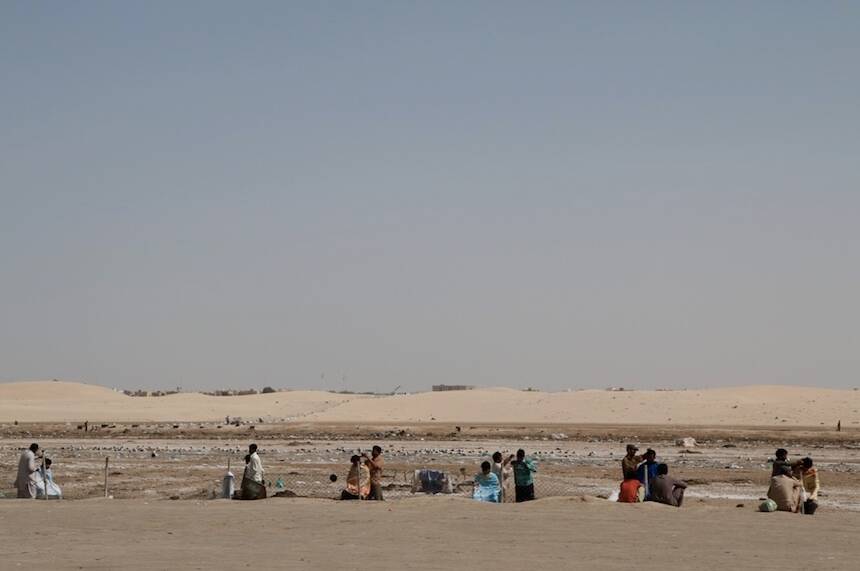 Since 2006, migrant work­ers have launched a spate of labor actions and strikes in the UAE. These actions, com­bined with mount­ing evi­dence of the mis­treat­ment and deaths of work­ers build­ing the World Cup infra­struc­ture in neigh­bor­ing Qatar, has attract­ed glob­al atten­tion to the plight of the work­force on which the eco­nom­ic growth of the Gulf has been built.
Of the rough­ly 22 mil­lion migrants who cur­rent­ly live in the six Gulf Coop­er­a­tion Coun­cil (GCC) coun­tries, South Asian work­ers have been the pri­ma­ry con­trib­u­tors to the region's pell-mell devel­op­ment since the sec­ond oil boom of the 1970s. In the UAE, up to 90 per­cent of its nine mil­lion res­i­dents are migrants; ​"low-skilled" work­ers from India make up the largest popula­tion (between 2.2 and 2.8 mil­lion), fol­lowed by work­ers from Pak­istan, Bangladesh, and the Philip­pines. The num­ber of migrant work­ers notably spiked after the spec­u­la­tive real estate boom began in 2002, when the Gulf's investors returned to the region fol­low­ing Sep­tem­ber 11 and a decade-long steep esca­la­tion of crude prices. Dubai, which host­ed a num­ber of inter­na­tion­al mega – real estate projects aimed at glob­al elite investors, became an icon for the region's growth.
The region's appetite for cheap labor dur­ing this peri­od was insatia­ble. But just as the 2008 finan­cial cri­sis dis­pro­por­tion­ate­ly hurt African-Amer­i­can and Lati­no home­own­ers tar­get­ed by risky ​"sub­prime" loans in the Unit­ed States, the pop­ping of the Gulf's real estate bub­ble took its worst toll on migrant work­ers: 5 mil­lion lost their jobs overnight and were sent home. Through­out this decade of boom and bust, work­ing con­di­tions and wages for an already pre­car­i­ous and indebt­ed work­force — one that despite its size is not cov­ered by the 1990 Inter­na­tion­al Con­ven­tion on the Rights of Migrant Work­ers because Gulf gov­ern­ments insist that they are ​"tem­po­rary work­ers" — have sig­nif­i­cant­ly deteri­orated. More­over, fol­low­ing the Arab Upris­ings of 2011, GCC states, fear­ful of inter­nal insta­bil­i­ty, have ramped up the secu­ri­ti­za­tion of immi­gra­tion pol­i­cy to fur­ther curb labor militancy.
Despite the lack of legal pro­tec­tions and their pre­car­i­ous posi­tion in the work­force, migrant work­ers have been active par­tic­i­pants in the evolv­ing polit­i­cal strug­gles over their future in the region. In our longer arti­cle in The Gulf: High Culture/​Hard Labor(2015), we exam­ine the con­di­tions that spurred their migra­tion from South Asia — urban­ization, neolib­er­al reform, decline of paid work, and debt — as well as the broad­er geopo­lit­i­cal forces that con­tin­ue to shape their lives in the Gulf. We believe that such an exam­i­na­tion offers a bet­ter start­ing point for build­ing transna­tion­al sol­i­dar­i­ty cam­paigns: instead of assum­ing that the exploita­tive sys­tem of migrant labor in the Gulf is due to ​"cul­tur­al dif­fer­ence," we link the con­di­tions of migrant work­ers today to the his­to­ry of Gulf cap­i­tal­ism and its racial and gen­dered divi­sion of labor.
The seg­re­ga­tion of mil­lions of ​"bach­e­lor builders" — with no for­mal rights to asso­ci­a­tion or rep­re­sen­ta­tion — into iso­lat­ed labor camps has brought inter­na­tion­al shame upon the GCC coun­tries. But what dif­fer­en­ti­ates the con­di­tions of these migrant work­ers from the plight of undoc­u­ment­ed work­ers in the Unit­ed States and Europe? They, too, face inse­cu­ri­ty, racial­ized vio­lence, and scant pro­tec­tion of their labor rights, espe­cial­ly since nation­al gov­ern­ments in the glob­al North have adopt­ed increas­ing­ly restric­tive migra­tion poli­cies and enforced deten­tion and depor­ta­tion for ​"low-skilled" non-white migrants.
The GCC's kafala work-per­mit spon­sor­ship sys­tem is often defend­ed by Gulf gov­ern­ment rep­re­sen­ta­tives and their busi­ness part­ners, whether the Guggen­heim or FIFA, as a mat­ter of ​"cul­tur­al dif­fer­ence" and crit­i­cisms of the sys­tem by ​"out­siders" (Gulf Labor or its NGO allies) are typ­i­cal­ly deflect­ed as eth­no­cen­tric insen­si­tiv­i­ty toward Arab cul­tur­al norms. By con­trast, the West­ern insti­tu­tions that employ and exploit the migrant work­ers hired through the kafala sys­tem, like NYU, the Guggen­heim, and the Lou­vre, are warm­ly wel­comed by the same gov­ern­ment rep­re­sen­ta­tives to the region as pro­po­nents of lib­er­al val­ues and norms such as free­dom of speech, cross-cul­tur­al dia­logue, and fair labor standards.
Yet it is also true that in some West­ern cam­paigns and media, kafala is depict­ed as a form of ​"mod­ern-day slav­ery" by sum­mon­ing up stock images of anony­mous suf­fer­ing and calls for West­ern inter­ven­tion to shut it down. Such nar­ra­tives trade on two trou­bling assump­tions: first, that kafala is a pre­mod­ern patron­age sys­tem out­side of lib­er­al demo­c­ra­t­ic norms, and sec­ond, that these migrant work­ers, dri­ven to des­per­a­tion by con­di­tions in their home coun­tries, are pas­sive vic­tims in need of res­cue by West­ern activists. Both these assump­tions must be chal­lenged if we are to mean­ing­ful­ly sup­port the efforts of migrant work­ers in the region to change their own liv­ing and work­ing conditions.
Researchers and activists from the region have shown that kafala is best under­stood as a mod­ern and espe­cial­ly lucra­tive visa-trad­ing sys­tem. The polit­i­cal com­pact that sep­a­rates migrants from cit­i­zens with­in the GCC is not a prod­uct of pre­mod­ern cul­tur­al dif­fer­ence. Rather, they argue, the vast wealth from oil and nat­ur­al gas is cen­tral to how the rul­ing class­es in the GCC main­tain their auto­crat­ic pow­er, pro­tect­ed in no small part by the Unit­ed States and West­ern allies. Their wealth allows the Gulf's rul­ing elites to ​"rent" for­eign work­ing class­es who have far few­er polit­i­cal and labor rights com­pared to the cit­i­zens who make up 10 to 15 per­cent of the region's pop­u­la­tion. In a recent essay, Adam Hanieh argues that cit­i­zen­ship laws, which vary across spe­cif­ic GCC states, are designed to cre­ate a ​"dou­ble exclu­sion": migrants are exclud­ed from cit­i­zen­ship, while cit­i­zens are exclud­ed from the pri­vate labor mar­ket. Design­ing and enforc­ing a sys­tem of ​"per­ma­nent tem­po­rary migra­tion" to meet eco­nom­ic demand has result­ed in a racial­ized dis­crep­an­cy in wages between migrant groups, high rates of exploita­tion, and an in-built mech­a­nism to dis­tin­guish the rights of cit­i­zens from those of migrant work­ers, espe­cial­ly when it comes to quash­ing poten­tial labor unrest. In prac­tice, as Anjali Kamat and oth­ers have doc­u­ment­ed, kafala has become a for-prof­it, pri­va­tized spon­sor­ship sys­tem that allows states to del­e­gate over­sight of migrants to either indi­vid­ual nation­als or, more com­mon­ly, to a chain of South Asian bro­kers and mid­dle­men who man­age recruit­ment in ori­gin coun­tries and in the Gulf itself.
The involve­ment of South Asian mid­dle­men in the Gulf's visa trad­ing sys­tem speaks to the sharp racial and class hier­ar­chies even with­in migrant groups. At the top are white North Amer­i­can and West­ern Euro­pean ​"expats," fol­lowed by non-nation­al Arab and Asian pro­fes­sion­als who are con­sid­ered ​"migrants," even though many of them were born in the Gulf or belong to fam­i­lies who have lived there for gen­er­a­tions. The ​"mid­dle­men" who bro­ker the visa-trad­ing sys­tem direct­ly with migrant work­ers come from this group. Next down the lad­der are South and East Asian ​"clerks" (office work­ers across var­i­ous sec­tors), fol­lowed by the large major­i­ty of South and South­east Asian man­u­al and ser­vice work­ers, includ­ing the most­ly female domes­tic labor force. Where one belongs on the migrant chain, argues Michelle Buck­ley in a recent essay, affects wages, the abil­i­ty to spon­sor fam­i­ly mem­bers, access to hous­ing and ser­vices, social sta­tus, sur­veil­lance of move­ment, and over­all job secu­ri­ty. But to under­stand how the kafala sys­tem was itself cre­at­ed, we must look far beyond local occu­pa­tion­al structures.
The Unit­ed States and oth­er West­ern pow­ers have direct­ly shaped the mod­ern polit­i­cal archi­tec­ture of the region by using the oil monar­chies of the Gulf to sub­si­dize what Tim­o­thy Mitchell has referred to as the ​"car­bon democ­ra­cies" of the West. This should make us ques­tion whether the GCC's exploit­ed migrant work­ers can be lib­er­at­ed by an influx of ​"West­ern val­ues" alone. In his 2009 book America's King­dom: Myth­mak­ing on the Sau­di Oil Fron­tier Robert Vital­is shows how the Ara­bi­an Amer­i­can Oil Com­pa­ny (ARAM­CO), an amal­ga­ma­tion of West­ern firms, imple­ment­ed a Jim Crow – like col­or­line in the post­war labor camps of Sau­di Ara­bia. Respond­ing to labor unrest in the sec­tor, ARAM­CO orga­nized the camps — work, com­pen­sa­tion, and hous­ing — along racial lines, in clear par­al­lel to the his­toric mis­treat­ment of African-Amer­i­can work­ers in the Unit­ed States.
The con­tra­dic­tion between Washington's pro­mo­tion of Cold War democ­ra­cy and free­dom and ARAMCO's enforce­ment of a racial divi­sion of labor trans­plant­ed from the ​"orig­i­nal Amer­i­can empire" did not go unno­ticed. Vital­is excerpts an oil worker's com­pelling tes­ti­mo­ny from a 1949 issue of a Pak­istani news­pa­per: ​"Their col­or dis­tinc­tion and racial dis­crim­i­na­tion cou­pled with their haugh­ti­ness and high-hand­ed­ness was at the root of every maneu­ver and machi­na­tion devised to degrade and insult us." For work­ers like these, the claim that U.S. polit­i­cal and cor­po­rate inter­ests pro­mot­ed social uplift, let alone free­dom, clear­ly rang hollow.
ARAMCO's seg­re­gat­ed labor camps, as doc­u­ment­ed by Vital­is, were large­ly made up of Sau­di and oth­er Arab work­ers. But labor unrest and strikes even­tu­al­ly led to the nation­al­iza­tion of Sau­di oil, and Sau­di work­ers were incor­po­rat­ed into pub­lic-sec­tor employ­ment while migrant work­ers from Yemen, Egypt, and oth­er parts of the Mid­dle East and North Africa replaced local work­ers in the oil indus­try. The large-scale use of a non-nation­al, pre­dom­i­nant­ly South Asian work­force through the kafala sys­tem began on a sig­nif­i­cant scale only after the post-1973 oil boom.
Unlike oth­er Gulf coun­tries like Bahrain and Oman, both of which had deep ties to the sub­con­ti­nent that pre­date Euro­pean colo­nial­ism, the Sau­di case makes par­tic­u­lar­ly explic­it how the racial­ized divi­sion of labor so char­ac­ter­is­tic of the Gulf today has colo­nial and neo­colo­nial roots. Amer­i­can and Euro­pean ide­olo­gies of white suprema­cy and Euro­pean priv­i­lege con­tin­ue to shape the insti­tu­tion­al­iza­tion of racial hier­ar­chies in the region, and are fur­ther rein­forced today by Arab and Asian vari­a­tions of racial/​caste superiority.
The turn to a major­i­ty South Asian labor force in the Gulf, begin­ning in the 1970s and accel­er­at­ing through the 1990s, is often explained by the low­er rel­a­tive wages and high­er num­bers of reserve work­ers from the sub­con­ti­nent. But this is only part of the sto­ry. The GCC states' ini­tial pref­er­ence in the 1960s for work­ers from Yemen, Egypt, Sudan, Jor­dan, Pales­tine, and Syr­ia also shift­ed because of polit­i­cal con­cerns. By the 1970s, lead­ers in the region were wary of left­ist pan-Arab polit­i­cal sen­si­bil­i­ties, insur­gent labor activism, and the growth of pro-Pales­tin­ian sentiment.
Dur­ing the 1991 Gulf War, Pales­tin­ian and Yemeni work­ers were deport­ed en massefrom sev­er­al GCC states because they were sus­pect­ed of sup­port­ing Iraq's inva­sion of Kuwait. In the 1990s, gov­ern­ments of send­ing nations in South and South­east Asia began to active­ly pro­mote labor migra­tion as an export strat­e­gy, with Bangladesh, the Philip­pines, Pak­istan, and Sri Lan­ka com­pet­ing with India over con­tracts for migrant work in the Gulf. Seek­ing to diver­si­fy its pre­dom­i­nant­ly Indi­an labor force, the UAE gov­ern­ment passed a law in 2005 decree­ing that con­trac­tors must ​"source work­ers from at least three coun­tries." This prompt­ed eco­nom­ic man­agers in the send­ing coun­tries to com­pete for the most ​"heat-resis­tant work­ers" who could endure the longest work hours. Fol­low­ing in this vein, embassies and con­sulates from source coun­tries, with the excep­tion of the Philip­pines, have done very lit­tle to pro­tect the well-being of the cit­i­zens they help send to the Gulf.
Our inves­ti­ga­tions found that in both India and the UAE, work­ers had paid (and in most cas­es, gone into debt for) between $1,500 to $2,000 to be recruit­ed, but they earned only about $250 a month, which is also the esti­mat­ed medi­an income in the UAE. Accord­ing to work­ers' own esti­mates, and tak­ing into account the dra­mat­ic increase in the cost of liv­ing in their home coun­tries where their remit­tances were being sent, a fair or ​"liv­ing" wage would fall clos­er to $550 per month. In March 2015, there­fore, Gulf Labor issued a let­ter to the Guggen­heim lead­er­ship sup­port­ing spe­cif­ic demands made by work­ers such as a liv­ing wage for those employed by the muse­um, a debt com­pen­sa­tion fund, and mea­sures to ensure mean­ing­ful work­er rep­re­sen­ta­tion and the right to free asso­ci­a­tion, whether on Saadiy­at Island or in Manhattan.
Labor orga­niz­ers in India and across South Asia have empha­sized the need to reform the pun­ish­ing terms of recruit­ment debt, espe­cial­ly for migrant work­ers com­ing from social­ly and eco­nom­i­cal­ly mar­gin­al­ized com­mu­ni­ties who often earn the low­est month­ly income and pay the high­est inter­est rates. They have crit­i­cized both their gov­ern­ments' lack of sup­port for migrant work­ers' rights in the Gulf and fail­ure to pro­vide ​"reha­bil­i­ta­tion" (find­ing paid work) when work­ers returned home.
Beyond the spe­cif­ic reforms out­lined above, today's ​"migrant cri­sis" offers an oppor­tu­ni­ty to rethink what we mean by sol­i­dar­i­ty. Hold­ing icon­ic insti­tu­tions of high cul­ture like the Guggen­heim and the Lou­vre account­able for their treat­ment of work­ers is not enough, nor is it suf­fi­cient to rec­og­nize that we are com­plic­it in cre­at­ing the con­di­tions that com­pel work­ers to leave their homes in the first instance. True sol­i­dar­i­ty means forg­ing a coali­tion of equals — rec­og­niz­ing that migrant work­ers in the Gulf are far from pas­sive vic­tims — and sup­port­ing their strug­gle for life and dignity.
This essay first appeared on Dis­sent online. A longer ver­sion of this essay appears in The Gulf: High Culture/​Hard Labor (OR Books, 2015).
Paula Chakravart­ty teach­es in the Depart­ment of Media, Cul­ture and Com­mu­ni­ca­tion and the Gal­latin School at NYU, and is a mem­ber of the Gulf Labor Coali­tion.Nitasha Dhillon is part of the MTL col­lec­tive, Tidal Mag­a­zine, and the Gulf Labor Coali­tion. She is also a doc­tor­al stu­dent in the Depart­ment of Media Study at SUNY Buffalo.