Haitian Sweatshops: Made in the U.S.A.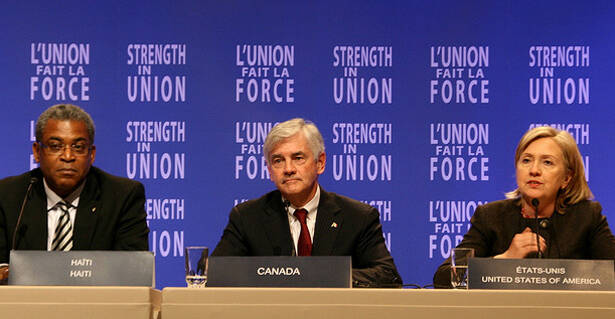 When the shift changes in the late after­noon, thou­sands of Haitians stream out from under an arched entrance labeled ​"Parc Indus­triel Met­ro­pol­i­tain" toward the traf­fic-choked streets of Port-au-Prince. Among them is David, a thin 32-year-old man in a short-sleeve dress shirt and slacks, who works at one of the many gar­ment assem­bly fac­to­ries here, sewing pants for export to the Unit­ed States. Through a Cre­ole inter­preter, David says the way he and his co-work­ers are treat­ed is pa bon—not right.
Yet a lot of high-pow­ered peo­ple with a stake in Hait­ian affairs think jobs like David's rep­re­sent the answer to Haiti's prob­lems. The U.S. State Depart­ment, the Inter-Amer­i­can Devel­op­ment Bank and the gov­ern­ment of Hait­ian Pres­i­dent Michel Martel­ly recent­ly pulled togeth­er more than $300 mil­lion in post-earth­quake sub­si­dies to cre­ate anoth­er indus­tri­al park just like this one but in north­east Haiti, with Kore­an tex­tile man­u­fac­tur­er Sae‑A as its anchor ten­ant. Then-Sec­re­tary of State Hillary Clin­ton and for­mer Pres­i­dent Bill Clin­ton both spoke at the park's open­ing cer­e­mo­ny, hail­ing it as the cen­ter­piece of U.S. efforts to help Haiti recov­er from the dev­as­tat­ing 2010 quake. Sec­re­tary Clin­ton echoed Pres­i­dent Martelly's mantra that Haiti ​"is open for business."
As the Hait­ian plant of Sae‑A began fill­ing its first order—76,000 T‑shirts for Wal­mart—the politi­cians smiled in sat­is­fac­tion. More than a thou­sand Haitians had been put to work — a sig­nif­i­cant step for a nation where 80 per­cent of the ten mil­lion cit­i­zens lack jobs in the for­mal sector.
At least that was the the­o­ry behind the enor­mous amount of effort and mon­ey invest­ed in bring­ing these jobs to Haiti. In 2008, the U.S. Con­gress passed the Hemi­spher­ic Oppor­tu­ni­ty through Part­ner­ship Encour­age­ment Act of 2008 (HOPE II), pro­vid­ing cus­toms exemp­tions that strong­ly incen­tivize cor­po­ra­tions to import goods to the US. assem­bled by the Hait­ian tex­tile and gar­ment indus­try. This pol­i­cy received a promi­nent impri­matur in 2009, when Paul Col­lier, an Oxford pro­fes­sor of eco­nom­ics and for­mer direc­tor of the World Bank's Devel­op­ment Research Group, pre­pared a report on Haiti at the request of UN Sec­re­tary-Gen­er­al Ban Ki-moon. The key to Haiti's eco­nom­ic recov­ery, Col­lier con­clud­ed, is the Hait­ian gar­ment indus­try and its poten­tial to cre­ate hun­dreds of thou­sands of Hait­ian jobs.
Col­lier expressed no con­cerns over the like­li­hood that those jobs would pay sub-pover­ty salaries. In fact, Col­lier and oth­ers see the key to Haiti's future in the large sup­ply of des­per­ate Haitians will­ing to work for rock-bot­tom wages. ​"Due to its pover­ty and rel­a­tive­ly unreg­u­lat­ed labour mar­ket, Haiti has labour costs that are ful­ly com­pet­i­tive with Chi­na, which is the glob­al bench­mark," he wrote in the report.
The U.S. has worked hard to keep them that way. Diplo­mat­ic cables obtained by Wik­ileaks show that the U.S. State Depart­ment assist­ed con­trac­tors for Fruit of the Loom, Hanes, and Levi's in a suc­cess­ful cam­paign to block a planned min­i­mum wage increase unan­i­mous­ly approved by the Hait­ian Par­lia­ment in 2009. That increase, dri­ven by a series of work­er strikes and demon­stra­tions, would have com­pelled the con­trac­tors to pay 62 cents per hour (about $5 per day) to Haitians sewing cloth­ing for sale over­seas. But Hait­ian gov­ern­ment lead­ers caved in to U.S. pres­sure and dropped the tex­tile indus­try min­i­mum wage to about $3/​day. The U.S. then pro­vid­ed more assis­tance to Hait­ian gar­ment com­pa­nies through duty exemp­tions in the Haiti Eco­nom­ic Lift Pro­gram (HELP) Act in 2010. Though this leg­isla­tive largesse cut over­head for the com­pa­nies, Hait­ian work­ers are still the low­est paid in the hemisphere.
David explains what that pay scale means in real terms. Ges­tur­ing in the direc­tion of the work­ers leav­ing the indus­tri­al park, he says that most of them earn about 200 Hait­ian gour­des per day. The typ­i­cal exchange rate is 40 Hait­ian gour­des for one U.S. dol­lar, so their salary equals about $5 each day. By the time they pay for trans­porta­tion to work and a sim­ple meal of plain spaghet­ti and juice dur­ing the work­day, they head home with only 40 gour­des, about one U.S. dol­lar. And they have not yet paid for din­ner or hous­ing. Yet unem­ploy­ment is so per­va­sive here that the com­pa­nies count on a reli­able sup­ply of Haitians will­ing to do the work at these sub-pover­ty wages — just as Paul Col­lier predicted.
David's cost of liv­ing analy­sis was backed up by oth­er Haitians I talked with. In 2011, the AFL-CIO-sup­port­ed Sol­i­dar­i­ty Cen­ter con­duct­ed a study esti­mat­ing the liv­ing wage for appar­el work­ers in Port-au-Prince. Fac­tor­ing in the costs of neces­si­ties like food, hous­ing, cook­ing fuel and child care, the Sol­i­dar­i­ty Cen­ter esti­mat­ed a liv­ing wage for an adult with two depen­dents to be 1,152 gour­des (about $29) per day.
The cur­rent wave of glob­al sup­port for gar­ment-export-based eco­nom­ic devel­op­ment in Haiti has a prece­dent, as does the result­ing strug­gle by Hait­ian work­ers to make ends meet. Under the dic­ta­tor­ship of Jean-Claude Duva­lier in the ​'70s, the U.S. Agency for Inter­na­tion­al Devel­op­ment launched a cam­paign to trans­form Haiti into the ​"Tai­wan of the Caribbean," i.e. the sup­pli­er of the cheap­est export-assem­bly labor in the West­ern Hemisphere.
Wages were held down by enor­mous unem­ploy­ment and by lit­tle prospect of work­er activism under a repres­sive régime. Duva­lier, polit­i­cal­ly and finan­cial­ly indebt­ed to the U.S. and the Inter­na­tion­al Mon­e­tary Fund, agreed to a neolib­er­al eco­nom­ic reg­i­men that elim­i­nat­ed near­ly every obsta­cle to free trade. By 1984, Haiti had become the 9th-largest sup­pli­er of goods to the U.S., most­ly assem­bled prod­ucts such as base­balls, cloth­ing and toys.
The assem­bly com­pa­nies and their U.S. con­sumers ben­e­fit­ed from the arrange­ment. But a host coun­try does not get much val­ue from an indus­try where raw mate­ri­als are import­ed in and the assem­bled prod­ucts are shipped out. The cov­et­ed ​"mul­ti­pli­er effect," pro­duced when goods are pro­duced and pur­chased local­ly, is absent from this export-only mod­el. Com­bined with sub-pover­ty wages that pro­vid­ed lit­tle pur­chas­ing pow­er to work­ers, the result was that all of the bustling export-assem­bly activ­i­ty did not move the eco­nom­ic nee­dle for the Hait­ian people.
Haiti cer­tain­ly needs eco­nom­ic devel­op­ment, but there are oth­er mod­els to pur­sue, includ­ing agri­cul­tur­al prac­tices the Hait­ian peo­ple suc­cess­ful­ly fol­lowed for gen­er­a­tions. Sep­a­rate from the often-dys­func­tion­al gov­ern­ment, rur­al Haitians adhered to the lak­ou sys­tem of prop­er­ty man­age­ment that divid­ed for­mer plan­ta­tions into small plots and yield­ed crops that sup­port­ed the extend­ed fam­i­lies liv­ing there. Haiti met its own food needs and export­ed to oth­er countries.
But heavy-hand­ed U.S. poli­cies destroyed that lega­cy. Begin­ning in the 1970s and 1980s, the IMF, with the U.S. as its largest share­hold­er and dom­i­nant voice, forced Haiti to dra­mat­i­cal­ly reduce tar­iffs on import­ed sta­ples. The Hait­ian tar­iff on rice, for exam­ple, was dropped from 50 per­cent to the cur­rent rate of 3 per­cent, com­pared to a region­al aver­age of 20 per­cent. Hait­ian farm­ers can no longer com­pete with food imports from the U.S. and oth­er coun­tries, where crops are high­ly sub­si­dized by their gov­ern­ments. As a result, hun­dreds of thou­sands of Haitians have migrat­ed from the coun­try­side to Port-au-Prince, where they com­pete to pro­vide cheap labor for gar­ment-assem­bly com­pa­nies under harsh conditions.
David says his work­place, at a com­pa­ny called Inter­amer­i­can Woven, is bru­tal­ly hot — a lit­er­al sweat­shop — with lit­tle ven­ti­la­tion and lim­it­ed potable water. An Octo­ber 2012 report, pro­duced by the Inter­na­tion­al Labor Orga­ni­za­tion as part of the Hope II leg­is­la­tion, con­firms that the com­pa­ny and sev­er­al oth­ers failed to meet base­line require­ments for work­place con­di­tions, such as high tem­per­a­tures and clean drink­ing water. The report includes sim­i­lar find­ings for sev­er­al oth­er gar­ment assem­bly companies.
Jack­son works for one of those com­pa­nies, Glob­al Man­u­fac­tur­ers and Con­trac­tors, assem­bling T‑shirts with tags like Hanes and Cham­pi­on. Jack­son and his wife have two young chil­dren. To make ends meet, both par­ents work six days per week in gar­ment fac­to­ries. Jackson's wife skips church on Sun­day to report to an addi­tion­al part-time job. Yet they still must bor­row from fam­i­ly and friends to pay the rent and keep food on the table.
Like David, Jack­son is an active mem­ber of a syn­di­cat of work­ers advo­cat­ing for bet­ter wages and con­di­tions. Com­pa­ny man­age­ment push­es against the union, they say, harass­ing its mem­bers when­ev­er pos­si­ble. Recent inves­ti­ga­tions by the Inter­na­tion­al Labor Orga­ni­za­tion and Haiti Grass­roots Watch con­firmed wide­spread union-bust­ing in the Hait­ian appar­el indus­try. ​"The peo­ple fired for being part of the union make a list this long, " Jack­son says, hold­ing his hands two feet apart. ​"They find a dif­fer­ent rea­son to let them go, but they are tagged because they are part of the syndicat."
The com­pa­nies could eas­i­ly pay their employ­ees bet­ter, Jack­son says. His posi­tion is backed up by eco­nom­ic analy­sis by the World Bank's Inter­na­tion­al Finance Cor­po­ra­tion, which reviewed the com­pet­i­tive­ness of the Hait­ian gar­ment assem­bly indus­try in 2011. The report con­clud­ed that pref­er­en­tial mar­ket access to the U.S. pro­vid­ed by HOPE II and HELP, along with com­par­a­tive­ly low sea freight costs, pro­vide a dis­tinct mar­ket advan­tage to these com­pa­nies. ​"The argu­ment that fac­to­ries in Haiti can't raise wages is bogus, as they have some of the most com­pet­i­tive costs in the world already," says Jake John­ston, a researcher on Haiti issues for the Cen­ter on Eco­nom­ic and Pol­i­cy Research.
The T‑shirts Jack­son makes for GMC are shipped to Etazi­ni — the U.S. — so I ask him if he has any mes­sage for Amer­i­cans. He thinks for a moment, then replies in Cre­ole. ​"Wi. I appeal to their con­science and hope they ask ques­tions about what they are buy­ing. We make T‑shirts for cents, they buy them for dol­lars," he says. ​"That is the rea­son we come togeth­er to sup­port each oth­er; to fight for fairness."
Name of work­ers in this piece have been changed to pro­tect them from retaliation.