Hand Over the Keys
A generous gesture can make a difference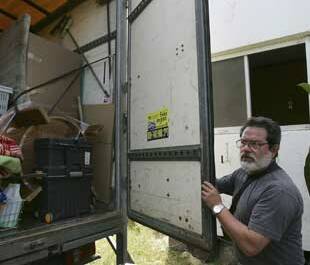 As Israel pre­pares to with-draw from the Gaza Strip, the ques­tion of what to do with the hous­es the set­tlers leave behind is becom­ing more and more con­tentious. Some pol­i­cy mak­ers argue that images of Pales­tini­ans danc­ing on the roofs of the hand­some cot­tages vacat­ed by the Jews would project Israeli weak­ness and embold­en mil­i­tants in the West Bank to step up their strug­gle. The only way to avoid this, they claim, is to destroy the hous­es before pulling out. Oth­ers warn that demol­ish­ing the homes would amount to a pub­lic rela­tions dis­as­ter; that Israel can­not afford the kind of media cov­er­age that comes with raz­ing entire neigh­bor­hoods in one of the world's most crowd­ed pieces of real-estate.
The dif­fer­ence between these two argu­ments is not as sig­nif­i­cant as it seems. Both are con­cerned with appear­ances. They revolve around the ques­tion of how we might seem, instead of ask­ing what we ought to do. For those Israelis not yet cyn­i­cal enough to col­lapse these two con­cerns into each oth­er, per­haps some ancient advice might be use­ful. In 425 B.C., six years into the Pelo­pon­nesian War, Spar­ta made Athens a peace offer. ​"If great enmi­ties are ever to be real­ly set­tled," the Spar­tan envoys told the Athen­ian assem­bly, ​"we think it will be not by the sys­tem of revenge and mil­i­tary suc­cess, but when the more for­tu­nate com­bat­ant waives his priv­i­leges, and, guid­ed by gen­tler feel­ings, con­quers his rival in gen­eros­i­ty and accords peace on more mod­er­ate terms than expected."
Gen­eros­i­ty!? Would those crazy Spar­tans rec­om­mend we hand over the keys? That Prime Min­is­ter Sharon take to the podi­um in the Knes­set and announce that the hous­es are a gift of good will? That, while he is at it, he pledge that Israel would finance new con­struc­tion projects to replace the squalid refugee camps in Jabalia, Rafah and Khan Younis?
In fact, yes. That is exact­ly what they would sug­gest. The idea is pret­ty sim­ple: A dra­mat­ic dis­play of gen­eros­i­ty can change the dynam­ics of a con­flict. Gen­eros­i­ty is so far removed from the pre­dictable, pet­ty, grue­some dance of blow and coun­terblow, that it can cause par­ties to stop and think. The book­keep­ers of death might be forced to look up from their desks. Once such an act of gen­eros­i­ty is per­formed, the Spar­tan envoy told the Athe­ni­ans, ​"instead of the debt of revenge that vio­lence must entail, [an] adver­sary owes a debt of gen­eros­i­ty to be paid in kind, and is inclined by hon­or to stand by his agreement."
Hope­less­ly naïve? Not quite. On Novem­ber 19, 1977, after fight­ing four wars with Israel, and in spite of vio­lent oppo­si­tion at home, Anwar Sadat, pres­i­dent of Egypt, stood before the Knes­set and addressed it in Ara­bic. ​"We real­ly and tru­ly wel­come you to live among us in peace and secu­ri­ty," he told a stunned Israeli pub­lic. Years of sus­pi­cion melt­ed away that night. Six­teen months lat­er, Sadat, Prime Min­is­ter Men­achem Begin of Israel, and Pres­i­dent Jim­my Carter were shak­ing hands on the White House lawn.
On March 16, 1997, King Hus­sein of Jor­dan stepped into a small apart­ment in the Israeli town of Beit Shemesh, kneeled before a woman sit­ting on the floor, took her hand and begged for for­give­ness. He repeat­ed this ges­ture in six oth­er res­i­dences, per­son­al­ly apol­o­giz­ing for the killing of sev­en Israeli school­girls by a Jor­dan­ian sol­dier. ​"I looked in his face and I saw that he was ashamed, and he had tears in his eyes, and he was hon­est," one of the moth­ers told the Wash­ing­ton Post. The ten­sion over the inci­dent, which had the poten­tial to desta­bi­lize the rela­tion­ship between the two coun­tries, was dis­si­pat­ed. Gen­eros­i­ty can make a difference.
Inci­den­tal­ly, the Athe­ni­ans reject­ed Sparta's offer. They had just scored a major naval vic­to­ry, and did not want to quit while they were ahead. Twen­ty-one mis­er­able years lat­er, their leg­endary navy all but destroyed, they sur­ren­dered to Spar­ta on humil­i­at­ing terms. The walls of their city were torn down, the for­ti­fi­ca­tions of their port were destroyed, their pop­u­lar assem­bly dis­solved. Fail­ing to be gen­er­ous, it turns out, can make quite a dif­fer­ence as well.
Nir Eisikovits
, an Israeli attor­ney, is a post-doc­tor­al fel­low at the Inter­na­tion­al Insti­tute for Medi­a­tion and Polit­i­cal Conciliation.