Not many pro­fes­sors teach class­es from the seat of a bicy­cle. But that's exact­ly how Har­ry Wray begins his DePaul Uni­ver­si­ty course ​"Dis­cov­er Chica­go: Bik­ing & Pol­i­tics," which uses the bicy­cle to explore polit­i­cal and social issues. Stu­dents in the intro­duc­to­ry course take a series of bike rides around the Windy City to bet­ter under­stand the impli­ca­tions of America's over­whelm­ing com­mit­ment to the automobile.
Wray, pro­fes­sor of polit­i­cal sci­ence at DePaul, is most recent­ly the author of Ped­al Pow­er: The Qui­et Rise of the Bicy­cle in Amer­i­can Pub­lic Life (2008, Par­a­digm Pub­lish­ers), as well as Sense and Non-Sense: Amer­i­can Cul­ture and Pol­i­tics (2001).
A pas­sion­ate urban bicy­clist, Wray rides year-round and can be occa­sion­al­ly spot­ted dur­ing month­ly ​"Crit­i­cal Mass" meet-ups in the Loop. In These Times caught up with him via email.
In 25 words or less, what makes you so spe­cial? (Keep in mind that humil­i­ty, while admirable, is boring.)
I am the first of my fam­i­ly to attend col­lege and, as an adult, I have expe­ri­enced more than one ver­sion of real­i­ty. I have been a fur­ni­ture mover, a bureau­crat and a col­lege professor.
What's the first thing that comes up when your name is Googled?
I had to Google my name to find out. It is reviews of my most recent book, Ped­al Pow­er: The Qui­et Rise of the Bicy­cle in Amer­i­can Pub­lic Life.
Shame­less­ly plug a colleague's project.
My col­league and friend, urban­ist Lar­ry Ben­nett, has recent­ly been tak­ing a ​"big pic­ture" look at Amer­i­can cities. He is at work on a very inter­est­ing paper, ​"Amer­i­can Cities and the Den­si­fi­ca­tion Imperative."
Describe your politics.
I'm an ecu­meni­cal, free-float­ing, some­what des­per­ate left­ist, dis­mayed by the anti-demo­c­ra­t­ic char­ac­ter of our polit­i­cal process. I am not a cre­den­tialed sec­tar­i­an. I believe we need all the help we can get and that impor­tant work can be done both with­in and around the polit­i­cal system.
Come up with a ques­tion for your­self and answer it.
Q: Can one be an aca­d­e­m­ic and seri­ous­ly com­mit­ted to social justice?
A: I think about this ques­tion all the time, and I have no defin­i­tive answer to it. Tenure is sup­pos­ed­ly lib­er­at­ing, but aca­d­e­m­ic dis­ci­plines can induce a mind-bog­gling con­for­mi­ty. Some­times I think, and I fear this in myself, left­ist aca­d­e­mics are con­tent with the social jus­tice of lunchtime conversations.
Media
Name a jour­nal­ist whose work you read reli­gious­ly. Why?
Sey­mour Hersh is fear­less and bril­liant; David Moberg is a pit bull, relent­less in his efforts to keep work­ers in our con­scious­ness. My favorite reporter, how­ev­er, is Bill Grei­der. He march­es to his own drum­mer and always reads the fine print. He works in the estimable tra­di­tion of Izzy Stone.
Pick your five favorite web­sites and tell us why.
1. Josh Mar­shall at talk​ing​pointsmemo​.com is, I think, cre­at­ing some­thing extra­or­di­nary. He has a clear pic­ture of the poten­tial of the Inter­net as a demo­c­ra­t­ic voice. He is thought­ful and bal­anced. He gath­ers infor­ma­tion from hun­dreds of folks around the coun­try, and it has led to a very pow­er­ful voice. I know that pro­gres­sive pols read him reg­u­lar­ly, as do old-line media insti­tu­tions. On sev­er­al occa­sions he has pulled them into stories.
2. Dai​lykos​.com has a remark­able sta­ble of live­ly writ­ers. Rush Lim­baugh hates them, so you know they are doing some­thing right.
3. John Aravo­sis at Amer​i​ca​blog​.com is excel­lent for gen­er­al polit­i­cal news and one of the best for track­ing issues of con­cern to the gay community.
4. Juan Cole at Informed Com­ment is essen­tial for keep­ing abreast of Mid­dle East­ern affairs.
5. Crooked Tim­ber is some­thing like an online New York Review of Books for me, with lots of aca­d­e­mics writ­ing about an array of things. Much of it does not inter­est me, but there are always things there that do.
Name five oth­er web­sites you go to when you're procrastinating.
Media Mat­ters is a tasty site ded­i­cat­ed to dis­pelling the ridicu­lous idea that the main­stream media have a lib­er­al bias. Mys­tery Poll­ster is the most decent polling web­site going, and I have an inter­est in that. Dun­can Black at Escha­ton is an econ­o­mist with a wicked sense of humor. Raw Sto­ry often breaks less­er-known but inter­est­ing sto­ries. When I'm real­ly into pain I go to espn​.com to note how, once again, the Cubs are break­ing my heart.
What's a mis­take the main­stream media always makes that real­ly gets under your skin?
I am appalled by the way the main­stream media will, in the name of objec­tiv­i­ty and bal­ance, give a liar equal weight to a truth-teller, with­out comment.
Pol­i­tics
What's one piece of leg­is­la­tion (state or nation­al) you'd like to see passed right now?
A uni­ver­sal, sin­gle-pay­er sys­tem of nation­al health care.
What is the great­est chal­lenge fac­ing humankind today? And what's one thing we can do about it?
I believe cli­mate change pos­es a huge chal­lenge. The prob­lem is, it requires inter­na­tion­al fore­sight. If noth­ing is done until its un-deni­a­bil­i­ty is phys­i­cal­ly expe­ri­enced, it will be too late to avoid cat­a­stro­phe. It rais­es inter­est­ing ques­tions about human nature. The good news about cli­mate change is that each of us can do some­thing about it, but the neces­si­ty of enlight­ened lead­er­ship can­not be over­stat­ed. Oba­ma should be talk­ing about it every day.
My polit­i­cal awak­en­ing occurred when …
This is going to sound trite, but my polit­i­cal awak­en­ing real­ly did occur in the ​'60s. I was a work­ing-class kid who believed that polit­i­cal lead­ers would not lie about some­thing like Viet­nam. When I start­ed hav­ing doubts about the war in 1965, I assumed it was because I did not know enough. So I wrote to the Depart­ment of Defense ask­ing for any infor­ma­tion they could pro­vide jus­ti­fy­ing it. They sent back a sub­stan­tial amount of mate­r­i­al, all of it crap. Then I went to a Har­vard-trained Inter­na­tion­al Rela­tions pro­fes­sor at UCLA and talked with him for about an hour about the war. That was when I first learned that Har­vards could be stu­pid too. I was pret­ty angry for a while.
Are you involved with any inter­est­ing forms of activism? Could you tell us about any of these projects?
Most recent­ly I have been involved in get­ting peo­ple on bikes. There are many rea­sons why I think this is impor­tant. It is an ongo­ing act of non­de­struc­tive liv­ing. There aren't many of those around. The bike also changes con­scious­ness. It con­nects peo­ple, unlike the car, which sep­a­rates and iso­lates them. As the car is an apt metaphor for a 20th cen­tu­ry cul­ture that is now in cri­sis, the bike can become a metaphor for a 21st cen­tu­ry cul­ture that rec­og­nizes shared fates and space.
Per­son­al
How do you get around (bike, pub­lic trans­porta­tion, car)? Why?
I esti­mate that about 85 per­cent of my trav­el trips are by bike, with pub­lic trans­porta­tion and the car split­ting the rest. I ride a bike year-round in Chica­go and logged close to 5,000 miles last year. There are so many rea­sons that I ride, but the biggest one is that I love it. It's fun!
What is your favorite child­hood memory?
I grew up in a close fam­i­ly. My mom is Ital­ian, and her fam­i­ly came from Sici­ly and set­tled with lots of oth­er Ital­ians in the San Joaquin Val­ley in Cal­i­for­nia. My dad's fam­i­ly is part of that ear­ly Irish stream that set­tled in the Appalachi­ans and even­tu­al­ly migrat­ed to Okla­homa. His fam­i­ly moved to the Impe­r­i­al Val­ley with oth­er Okie refugees à la Stein­beck. My dad went up to the San Joaquin Val­ley to pick fruit, where my mom was work­ing in a can­nery. They met at a Sat­ur­day night dance. Pret­ty Damned Roman­tic. There are great sto­ry­tellers on both sides of my fam­i­ly, and me and my many cousins nev­er tired of hear­ing them.
Have you ever had any run-ins with the law that you'd like to share?
Not exact­ly run-ins, but inter­est­ing con­ver­sa­tions. I have been stopped by police three or four times in the last cou­ple of years while rid­ing my bike in South and West Side Chica­go neigh­bor­hoods. The con­ver­sa­tion was always about how I should get the hell out of there. One asked me if I was pack­ing heat. I'm sure they were try­ing to do me a favor, and that they were talk­ing out of their expe­ri­ence, but I have nev­er felt threat­ened while bik­ing through these neigh­bor­hoods, and I do not think I am naïve. I attribute our dif­fer­ent per­spec­tives in part to our dif­fer­ent modes of trav­el. Cars are (I think inher­ent­ly) instru­ments of aggres­sion. In con­trast, bikes are much more benign. Don't get me started!
Fill in the blank: _______ scare(s) the hell out of me.
John McCain scares the hell out of me. I would not have said that about a year ago, but it became obvi­ous. He was real­ly spooky, like he was in some par­al­lel uni­verse and asleep in that one most of the time. The fact that he was regard­ed as a viable pres­i­den­tial can­di­date is stun­ning, a dubi­ous trib­ute to our cor­po­rate media system.
Cul­ture
What is the last great book you have read?
I just fin­ished [occa­sion­al In These Times con­trib­u­tor] Rick Perl­stein​'s Nixon­land: The Rise of a Pres­i­dent and the Frac­tur­ing of Amer­i­ca. I'm not sure I would call it a great book, but I real­ly loved it. In part this is because I have had a life­long con­nec­tion to Nixon. I grew up in Whit­ti­er, Calif., and grad­u­at­ed from Whit­ti­er Col­lege. I have always thought Nixon and LBJ were by far the two most inter­est­ing pres­i­dents of the 20th cen­tu­ry, in part because of their psy­cho­log­i­cal com­plex­i­ty. Perl­stein nails Nixon's life­long smol­der­ing resent­ment. What is inter­est­ing is that he uses it to frame the pol­i­tics of the last half-cen­tu­ry. It's a provoca­tive idea and pret­ty compelling.
What texts, per­sons, or events have inspired you the most?
In col­lege I came under the spell of Albert Camus. I read every­thing he wrote. He fell out of favor with much of the Left, but he nev­er did with me. He has helped get me through this bleak polit­i­cal era.
What trend in pop­u­lar cul­ture do you find the most annoying?
This will stamp me as a lud­dite, which I real­ly don't mind, but it is the cell phone. Life was much more inter­est­ing and ambigu­ous with­out them.
—Feb­ru­ary 23, 2009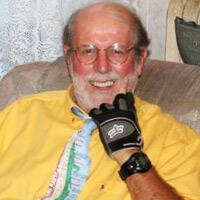 Har­ry Wray is a pro­fes­sor of polit­i­cal sci­ence at DePaul Uni­ver­si­ty in Chica­go. He is a for­mer chair of the depart­ment and has won two uni­ver­si­ty Excel­lence in Teach­ing awards. His most recent book, Ped­al Pow­er: The Qui­et Rise of the Bicy­cle in Amer­i­can Pub­lic Life, was released this year by Par­a­digm Pub­lish­ers. It is avail­able at book­stores and at par​a​digm​pub​lish​ers​.com.