Hawaiian Health Care Workers Push Back Against Health Care Giant Kaiser Permanente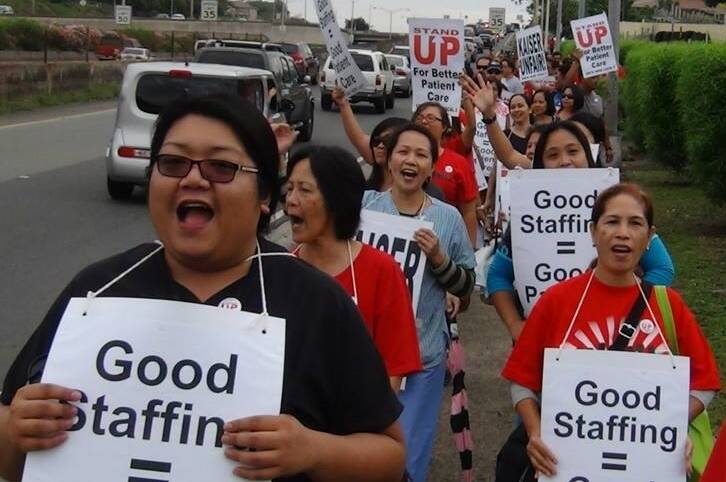 Mary Ann Barnes, the new­ly arrived pres­i­dent of health care giant Kaiser Per­ma­nente in Hawaii, recent­ly informed hos­pi­tal work­ers that the world fig­ure she most admires is the late Moth­er Tere­sa — because of ​"her human­i­ty and selflessness."
Pic­tured wear­ing a lei around her neck, Barnes explained in the com­pa­ny newslet­ter that her top man­age­ment pri­or­i­ty ​"is to make sure that the work envi­ron­ment is as good as it can be … so that every­one can love what they do."
For spread­ing such good island vibes, Barnes earns near­ly $1 mil­lion a year. Like oth­er top Kaiser exec­u­tives on the main­land, she's eli­gi­ble for mul­ti­ple pen­sion plans.
On Sep­tem­ber 24, sev­er­al hun­dred mem­bers of Unite Here Local 5, includ­ing those who work at Kaiser clin­ics and hos­pi­tals, tried to meet with Barnes about their pen­sions, arriv­ing on three bus­es from a union con­ven­tion site in down­town Hon­olu­lu and spilling out in the park­ing lot just below Barnes' window.
Wear­ing red union t‑shirts, the pro­tes­tors began chant­i­ng: ​"I don't know but I've been told, Kaiser's got a pot of gold. And if they don't give it up soon, we'll be march­ing here ​'til June!"
A small­er rank-and-file del­e­ga­tion went inside to ask Barnes why Kaiser is try­ing to cur­tail group pen­sion cov­er­age if it wants to improve the ​"work envi­ron­ment" for 2,000 Local 5 members?
Hav­ing helped gen­er­ate more than $4.8 bil­lion in prof­its for Kaiser in the last 18 months, these Hawai­ian health care work­ers want a new con­tract that doesn't force new hires into riski­er, cheap­er 401(k) retire­ment accounts. Unfor­tu­nate­ly, Barnes was tied up in a meet­ing else­where — and thus no more respon­sive than oth­er Kaiser offi­cials dur­ing 2 and ½ years of stalled nego­ti­a­tions. Last Jan­u­ary, man­age­ment pre­sent­ed Local 5 nego­tia­tors with a set­tle­ment offer they claimed was Kaiser's ​"last, best and final."
Reject­ed by the union, this pack­age includ­ed no retroac­tiv­i­ty and the low­est wage increase that the hos­pi­tal chain has pro­posed for any of its U.S. regions. Man­age­ment wants to deny defined ben­e­fit pen­sions to any new­ly hired ser­vice and tech­ni­cal work­ers. Kaiser also insists that cur­rent employ­ees, who remain eli­gi­ble for exist­ing cov­er­age, should work more hours to qual­i­fy for it. In the months ahead, Kaiser may try to declare a ​"bar­gain­ing impasse" and impose these new con­di­tions unilaterally.
"

Lit­tle Hawaii" Says No!

At oth­er major employ­ers with sim­i­lar prof­it mar­gins, the employ­er assault on tra­di­tion­al pen­sion cov­er­age has already suc­ceed­ed to vary­ing degrees. At Boe­ing, Ver­i­zon and the Wash­ing­ton Post, pen­sion cov­er­age has gone two-tier or worse.

To fend off this fate, Local 5 has done some very cre­ative mem­ber­ship edu­ca­tion and mobi­liza­tion, wor­thy of emu­la­tion else­where. At Kaiser in Hawaii, Unite Here sets the high­est stan­dard for wages and ben­e­fits in the entire health care indus­try, ben­e­fit­ing both its own mem­bers and fel­low work­ers at oth­er hos­pi­tals. The union's mul­ti-faceted cam­paign to defend retire­ment secu­ri­ty has also engaged the 8,800 work­ers it rep­re­sents in resort hotels.

"Management's plan is to divide and con­quer, " Local 5 Orga­niz­er Mar­sha Bruhn says. ​"If Kaiser suc­ceeds in tak­ing away pen­sions from new hires and then takes away the pen­sions of cur­rent employ­ees, what will hap­pen to the pen­sions of our hotel mem­bers in Hawaii?"
Savvy Use of Social Media
Local 5 has pro­duced an excel­lent ani­mat­ed video about what's wrong with pen­sion plan changes that pit young against old and leave new hires depen­dent on 401(k) cov­er­age rather than a real pen­sion, enti­tled ​"Kaiser Per­ma­nente, We're Not ​'Lit­tle Hawaii!'"
As Kaiser work­er and Local 5 mem­ber-orga­niz­er Jon­ah Pas­cual explains to his co-work­ers, ​"Our defined ben­e­fit is con­crete. It's the employer's respon­si­bil­i­ty to make sure the mon­ey is there and they can't touch it. But they're try­ing to switch over to a defined con­tri­bu­tion approach. …With that, they put in the mon­ey, but what­ev­er hap­pens, hap­pens. You nev­er know what's going to be in the pot when you retire."
Pen­sion Math Lessons
Local 5 cal­cu­lates that future mem­bers who work for Kaiser will lose at least $1,200/month when they retire at age 65 if Kaiser gets the give­backs it wants. ​"What's Your Num­ber?" became the ques­tion of the day, as union activists helped their co-work­ers do the indi­vid­ual pen­sion cal­cu­la­tions nec­es­sary to under­stand how plan changes would adverse­ly affect new hires or them, now or in the future.
Local 5 stew­ards have orga­nized a series of col­or­ful work­place actions. Orga­niz­ing around the theme, ​"Don't Blow Your Pen­sions," Kaiser work­ers spent a day blow­ing soap bub­bles at work. To urge co-work­ers: ​"Don't be a suck­er: Fight for your pen­sion!" they hand­ed out union-label lollipops.
This edu­ca­tion­al work paid off in June when near­ly 130 rank-and-file mem­bers, joined by their high school-age chil­dren, packed an open bar­gain­ing ses­sion with Kaiser. The observers car­ried ​"Don't Touch Our Pen­sions!" signs and applaud­ed wild­ly at co-work­ers' per­son­al tes­ti­mo­ny about their pen­sion needs.
Legislative/​Political Action
Kaiser work­ers also took their key con­tract cam­paign issue to the state con­ven­tion of the Demo­c­ra­t­ic Par­ty last May. There, hun­dreds of del­e­gates and elect­ed offi­cials were enlist­ed as supporters.
Local 5 also ran one of its own, Joli Tukusato, to run for a seat on the Hon­olu­lu City Coun­cil. While she was not elect­ed this time around, Tokusato's first-time cam­paign for elec­tive office engaged scores of Local 5 polit­i­cal vol­un­teers and enabled her to speak about a range of union issues includ­ing the community's stake in main­tain­ing good job-relat­ed benefits.
Local 5 has also been a main spon­sor of AiKea, a two-year-old com­mu­ni­ty-labor coali­tion which cam­paigns for ​"good secure jobs in Hawaii with decent wages, full fam­i­ly med­ical and a guar­an­teed pension."
Patient Advo­ca­cy
Accord­ing to Kaiser work­er Glo­ria Allen, ​"patients are not get­ting the qual­i­ty care like we had before and they're pay­ing more for it." So Local 5 is con­sid­er­ing the intro­duc­tion of leg­is­la­tion that would increase Kaiser's finan­cial trans­paren­cy and lim­it its abil­i­ty to hike con­sumer rates while main­tain­ing cash reserves in excess of $30 billion.
Anoth­er union-backed bill may seek improve­ments in Kaiser men­tal health cov­er­age, much con­test­ed now in Cal­i­for­nia due to fail­ings doc­u­ment­ed by the Nation­al Union of Health­care Work­ers (NUHW) that result­ed in a state-imposed $4 mil­lion fine.
Already, Local 5 mem­bers have lob­bied the Hawaii leg­is­la­ture on behalf of SB 2054, a bill that would require all state-reg­u­lat­ed health plans to expand their cov­er­age of young peo­ple with autism spec­trum dis­or­ders — a mea­sure opposed by Kaiser.
Ral­ly­ing Oth­er Unions
&

Polit­i­cal Allies

"Kaiser has attacked its own work­ers and its core clients at the same time," con­tends Local 5 sec­re­tary-trea­sur­er Eric Gill. ​"Union groups have been its core con­stituen­cy" but now face dou­ble-dig­it rate hikes in Hawaii. This has already led Team­sters Local 996 to drop Kaiser as a hospital/​HMO option for its mem­bers and take $10 mil­lion of annu­al health and wel­fare fund spend­ing elsewhere.

Like the Team­sters, Local 5 oper­ates its own health insur­ance fund, joint­ly admin­is­tered with hotel indus­try rep­re­sen­ta­tives. So Unite Here has used that lever­age to restrain Kaiser's price goug­ing that would oth­er­wise have adverse­ly affect­ed both its Kaiser and non-Kaiser members.

Mem­bers have also tar­get­ed Kaiser's board, includ­ing cur­rent mem­bers like Edward Pei, who also serves as head of the Hawaii Bankers Asso­ci­a­tion. Local 5 and its sup­port­ers have leaflet­ed the Bank of Hawaii, tak­en up the cause of low-paid bank tellers and con­front­ed Pei per­son­al­ly — all to keep the pres­sure on a top Kaiser decision-maker.
Inter­mit­tent strikes
Like NUHW and Cal­i­for­nia Nurs­es Asso­ci­a­tion (CNA) at Kaiser in 2011-12, Local 5 mem­bers have also orga­nized short-dura­tion protest strikes. Mem­bers par­tic­i­pat­ed in four one-day Kaiser job actions last year around issues includ­ing work­loads, staffing cuts and clin­ic closings.
These ​"minor­i­ty strikes" involved select groups of work­ers, from only a hand­ful to more than 400, in mul­ti­ple depart­ments. One walk­out last year was in response to sev­er­al work­ers being writ­ten up for par­tic­i­pat­ing in an ear­li­er strike.
From Coop­er­a­tion to Conflict
When Cal­i­for­nia indus­tri­al­ist Hen­ry J. Kaiser came to Hawaii in the late 1950's, such labor-man­age­ment dis­cord was not what he envi­sioned. Kaiser built what is now the Hilton Hawai­ian Vil­lage and brought Kaiser Per­ma­nente from the main­land, where it was a pio­neer­ing, labor-ori­ent­ed pre-paid med­ical plan with its own health care facil­i­ties. Kaiser's recog­ni­tion of Local 5 in both hos­pi­tal­i­ty and health­care — like the cre­ation of the Kaiser Labor-Man­age­ment Part­ner­ship (LMP) in the mid-1990s — reflect­ed a cor­po­rate deci­sion to work with the union instead of fight­ing it.
At the time, Local 5 was head­ed by Arthur Rut­ledge, a con­ser­v­a­tive busi­ness union­ist who also ran Team­sters Local 996. Rutledge's son became his suc­ces­sor until he was oust­ed from Local 5 by reform­ers led by Eric Gill in a nar­row elec­tion vic­to­ry in 2000. Gill inher­it­ed a local whose trea­sury was deplet­ed and its finances a mess.
After fend­ing off a Rut­ledge fam­i­ly-led attempt to decer­ti­fy Local 5 in its Kaiser unit, Gill began sys­tem­at­ic rebuild­ing of the local. Its stew­ard struc­ture was revi­tal­ized and help­ful advi­sors from HERE (before its 2004 merg­er with UNITE to form Unite Here) were import­ed from the main­land to aid con­tract nego­ti­a­tions and strikes.
In 2004, with help from SEIU Local 250, lat­er known as Unit­ed Health­care Work­ers (UHW), Local 5 won retiree med­ical cov­er­age at Kaiser and per­suad­ed the employ­er to join its health­care trust. As a non-part­ner­ship union, how­ev­er, Local 5 mem­bers say they have been exclud­ed from ​"unit-based teams" that include RNs rep­re­sent­ed by the OPEIU-affil­i­at­ed Hawaii Nurs­es Asso­ci­a­tion (HNA), which is part of the Labor-Man­age­ment Partnership.
Care­givers in Local 5 were free to blow the whis­tle on Kaiser staffing cuts in its out-patient clin­ics last year. HNA offi­cials went along with this move and now face inter­nal oppo­si­tion in upcom­ing union elections.
Down­ward Ratchet
Top Kaiser exec­u­tives remain on close terms with the lead­er­ship of UHW/SEIU, but Local 5 has not. In Cal­i­for­nia, UHW rep­re­sents a ser­vice and tech­ni­cal unit of 45,000 mem­bers, includ­ing many of the equiv­a­lent jobs to those rep­re­sent­ed by Unite Here in Hawaii. UHW's cur­rent lead­er­ship was installed by then-SEIU Pres­i­dent Andy Stern when he trusteed the local in 2009, remov­ing the elect­ed offi­cers who had assist­ed Local 5. These activists became founders of NUHW, which was exclud­ed from the LMP.
While Local 5 mem­bers were bang­ing on Mary Ann Barnes's door in Hon­olu­lu, UHW offi­cials were wel­com­ing her main­land coun­ter­part to a statewide union lead­er­ship meet­ing. North­ern Cal­i­for­nia Vice Pres­i­dent Greg Adams urged UHW/SEIU to ​"embrace change" and work togeth­er with Kaiser to reduce costs.
Adams appar­ent­ly didn't pro­pose any cut in his own $2.2 mil­lion salary or reduced pen­sion cov­er­age for him­self. Instead, with the short­sight­ed acqui­es­cence of its part­ner­ship unions, Kaiser hopes to extract cost­ly ben­e­fit con­ces­sions from its small­er, non-LMP unions. These give­backs would then estab­lish a pat­tern for con­tract con­ces­sions by the 90,000 or more work­ers in the coali­tion of LMP unions, which SEIU dominates.
"There is no strong nation­al health care union," Gill not­ed at Local 5's con­ven­tion last month. ​"There was one, but it got turned around." The role of UHW/SEIU, which he called a ​"sell­out union on the main­land," has made defend­ing pen­sions at Kaiser much more difficult.
The main obsta­cle to Kaiser's divide-and-con­quer strat­e­gy is the con­tin­u­ing resis­tance of three groups: Local 5 in Hawaii, 4,000 NUHW-rep­re­sent­ed Kaiser work­ers in Cal­i­for­nia and hope­ful­ly the CNA's 18,000 Kaiser mem­bers, who began nego­ti­a­tions over the sum­mer. On Octo­ber 16, they ral­lied, by the hun­dreds in Oak­land after a bar­gain­ing ses­sion on work­place health and safe­ty issues, which focused on CNA pro­pos­als for han­dling patients with Ebola.
Based on the recent Kaiser expe­ri­ences of NUHW and Local 5, defend­ing RN pen­sions will require the same high­ly focused approach.
Steve Ear­ly worked for 27 years as an orga­niz­er and inter­na­tion­al rep­re­sen­ta­tive for the Com­mu­ni­ca­tions Work­ers of Amer­i­ca. He is the author of sev­er­al books, includ­ing Refin­ery Town: Big Oil, Big Mon­ey, and the Remak­ing of an Amer­i­can City (Bea­con Press).