Heather Heyer Picked Her Side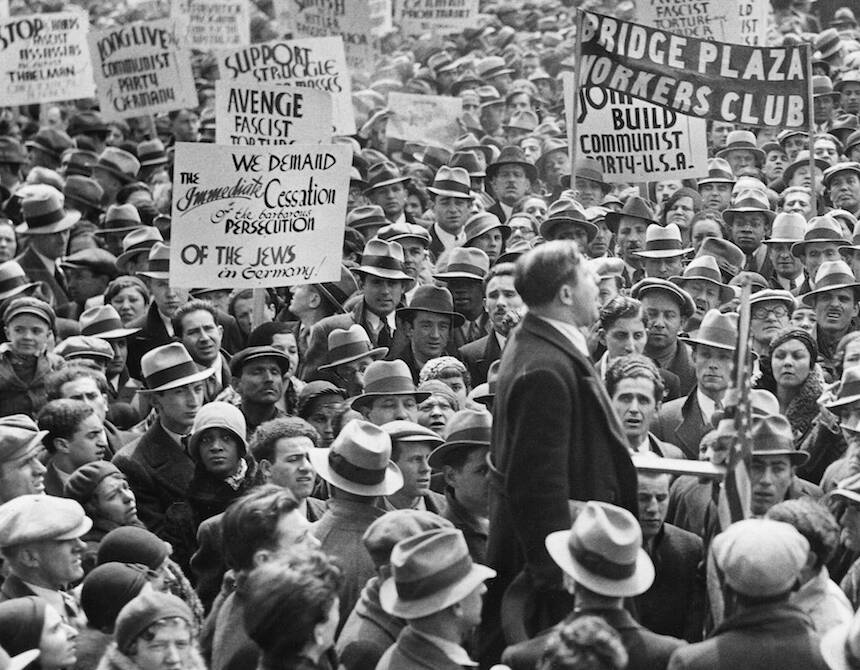 The trag­ic death of Heather Hey­er, the 32-year-old para­le­gal who was killed when a motorist plowed into a crowd of counter-pro­test­ers who had gath­ered to oppose a white suprema­cist ral­ly in Char­lottesville, Va., may, in its own way, help pre­fig­ure the rebuild­ing of a more gen­uine­ly trans­for­ma­tive Left in the Unit­ed States.
Don't get me wrong; there is lit­tle to cel­e­brate in the bloody onslaught in Char­lottesville. Still, the pass­ing of Hey­er, who was report­ed­ly a mem­ber of the Indus­tri­al Work­ers of the World (IWW), reminds us that a seg­ment of egal­i­tar­i­an-mind­ed, white ant­i­cap­i­tal­ists remain among the ardent foes of racism in Amer­i­can life. Amid the ​"race ver­sus class" debates cur­rent­ly divid­ing pro­gres­sives, it is refresh­ing to note that some young left­ists still believe that the tran­si­tion to a more humane econ­o­my requires a frontal assault on white supremacy.
This prin­ci­ple has a sto­ried past. Bat­tles against racial hier­ar­chy helped shape the sen­si­bil­i­ties of work­ers of all col­ors with­in the IWW, the Com­mu­nist Par­ty, and the Con­gress of Indus­tri­al Orga­ni­za­tions dur­ing the first half of the 20th cen­tu­ry. The IWW, an anar­cho-syn­di­cal­ist union whose mem­bers are called ​"Wob­blies," was known for orga­niz­ing across lines of race and eth­nic­i­ty. Its direct actions and its will­ing­ness to recruit African Amer­i­cans and immi­grants led to its vio­lent repres­sion by gov­ern­ment agents and cor­po­rate goons in the wake of World War I.
Decades lat­er, dur­ing the civ­il rights era, white Amer­i­cans of var­i­ous ide­o­log­i­cal back­grounds took part in what was essen­tial­ly a black work­ers' rebel­lion. Vio­la Liuz­zo, a white Uni­tar­i­an Uni­ver­sal­ist who was mur­dered by the Ku Klux Klan in 1965, was among the pro­gres­sives who gave their lives for the cause of racial jus­tice. Less remem­bered are the three white mem­bers of the Com­mu­nist Work­ers Par­ty, a Maoist orga­ni­za­tion, who were killed along with black activist San­di Smith and Lati­no orga­niz­er Cesar Cauce when parad­ing Klans­men and Nazis fired into a throng of counter-pro­tes­tors in the 1979 Greens­boro Massacre.
Black and brown peo­ple, it must also be said, have always per­formed the most ardu­ous labor — and paid the great­est cost — in the fight against white nation­al­ism. One study found that 4,075 African Amer­i­cans were lynched between 1877 and 1950 at the hands of the Klan and sim­i­lar groups.
While we must con­stant­ly resist the era­sure of black mar­tyrs, past and present, it is impor­tant to acknowl­edge white ​"race trai­tors" who have made the ulti­mate sac­ri­fice. For they offer pow­er­ful evi­dence that race is not des­tiny — that some mod­est por­tion of white Amer­i­cans are capa­ble of reject­ing the cor­rupt priv­i­leges of whiteness.
Com­par­ing dis­parate his­tor­i­cal moments can be dan­ger­ous. We need to under­stand the spe­cif­ic fac­tors behind the cur­rent wave of white nation­al­ist ter­ror in the Unit­ed States. At the same time, as peo­ple of col­or and oth­ers attempt to fash­ion a response to the sav­agery of the far Right, it is use­ful to recall the tra­di­tions of left antiracism that have long bol­stered quests for redis­trib­u­tive justice.
By all appear­ances, Hey­er was an heir to such tra­di­tions. Now the Left should hon­or her as a sym­bol of rad­i­cal commitment.
Though Hey­er did not choose mar­tyr­dom, she must have rec­og­nized the risks of join­ing the front lines of a con­fronta­tion with fas­cism. Based on her report­ed affil­i­a­tion with the Wob­blies, one imag­ines that she rushed to the bar­ri­cades in Char­lottesville not out of pure benev­o­lence or noblesse oblige, but because she rec­og­nized her per­son­al stake in the cre­ation of a tru­ly demo­c­ra­t­ic Unit­ed States in which unjust hier­ar­chies are erad­i­cat­ed and all are able to real­ize their full poten­tial. Per­haps she under­stood that because white suprema­cy, like cap­i­tal­ism itself, is pred­i­cat­ed on mas­sive exploita­tion, it nar­rows prac­ti­cal­ly everybody's oppor­tu­ni­ty to expe­ri­ence real equal­i­ty, dig­ni­ty, and peace.
Such aware­ness is as sig­nif­i­cant as it is rare. Remem­ber that for some time now, white Amer­i­ca has dis­played an acute unwill­ing­ness to move beyond white­ness as a polit­i­cal iden­ti­ty and as a frame­work for com­pre­hend­ing soci­ety. The alarm­ing pro­por­tion of white folks, across class and gen­der, who vot­ed for Trump is just one indi­ca­tion of the salience of white nation­al­ist con­scious­ness. Under­stand­ably, many peo­ple of col­or resent the white mass­es that swept a racist dem­a­gogue into the White House and that remain large­ly indif­fer­ent to the suf­fer­ing of non-white peo­ple, even as their own mate­r­i­al fates decline.
As polit­i­cal sym­bol, Hey­er thus rep­re­sents an alter­na­tive not just to white moral paral­y­sis, but also to the duplic­i­ty of those pro­gres­sives who regard racial jus­tice as, at best, a sec­ondary con­cern. Her mar­tyr­dom may help under­score a larg­er truth; name­ly that a con­sci­en­tious strand of rad­i­cals, rather than lib­er­als writ large, con­sti­tute the vital antiracist con­stituen­cy among white folks.
This is not to ele­vate Hey­er into some sort of polit­i­cal ide­al. I am sug­gest­ing only that her death may hold lessons for a frag­ment­ed Left strug­gling to reboot itself. For one glimpses in her final act of sol­i­dar­i­ty — join­ing an ide­o­log­i­cal­ly and racial­ly diverse gath­er­ing to face down neo-Nazis — a route beyond the pater­nal­ism and con­de­scen­sion that too often char­ac­ter­izes white left encoun­ters with black and brown peo­ple. By the same token, Heyer's death may serve as a reminder to some peo­ple of col­or that all white left­ists can­not be dis­missed as self-serv­ing opportunists.
Hey­er was no sav­ior. She was mere­ly a com­rade on the line, some­one striv­ing con­crete­ly to resist domes­tic ter­ror­ism while work­ing toward broad social transformation.
Yet her sac­ri­fice must be under­stood and appre­ci­at­ed. She died not as a cos­mopoli­tan cap­i­tal­ist (think of the ease with which Demo­c­ra­t­ic Par­ty elites espouse mul­ti­cul­tur­al­ism) but as a sis­ter in a work­ing people's strug­gle. While lib­er­als wrung their hands and mouthed plat­i­tudes, she embod­ied the pos­si­bil­i­ties of gen­uine sol­i­dar­i­ty. Per­haps her mem­o­ry can inspire greater urgency and aware­ness as the Left attempts to forge new tra­di­tions of mul­tira­cial resistance.
Rus­sell Rick­ford
teach­es Amer­i­can his­to­ry, social move­ments and the Black Rad­i­cal Tra­di­tion at Cor­nell Uni­ver­si­ty. He is the author of
We Are an African Peo­ple: Inde­pen­dent Edu­ca­tion, Black Pow­er, and the Rad­i­cal Tra­di­tion
.