Hedge Funds Have Cost Workers Billions. This is How They're Fighting Back.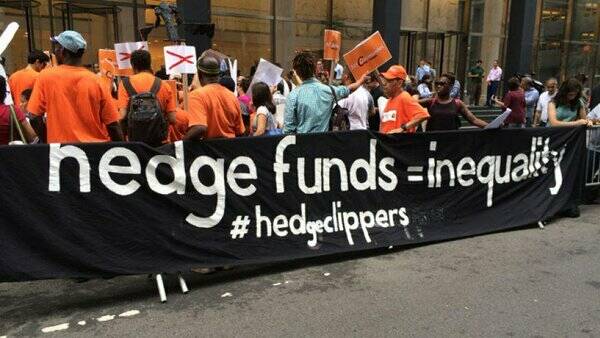 The num­ber of com­plex invest­ment tools has explod­ed over the last sev­er­al decades. Hedge funds, which have sky­rock­et­ed since the 1990s, are one such tool. They're called hedge funds — in the sense of hedg­ing your bets — because, unlike more tra­di­tion­al invest­ment options, they can bet against the mar­ket and, in the­o­ry, make prof­its even if stock prices are drop­ping across the board.
This promise of a safe­guard against the whims of the mar­ket is espe­cial­ly attrac­tive to large, insti­tu­tion­al investors, like pub­lic pen­sion funds and uni­ver­si­ty endow­ments — groups that want a steady rate of return. Not only has this promise proved false dur­ing bad times, but hedge funds have proved a mediocre invest­ment dur­ing good times too. Poor returns com­bined with exor­bi­tant fees have cost uni­ver­si­ties and pub­lic employ­ees bil­lions of dollars.
The total val­ue of pub­lic employ­ee pen­sion funds in the Unit­ed States is $4.7 tril­lion. That's mon­ey that sup­pos­ed­ly belongs to work­ers, but labor often has lit­tle-to-no say in how employ­ee pen­sions are invest­ed. In fact, most of this mon­ey is fund­ing the same cor­po­ra­tions and finan­cial insti­tu­tions that have been aggres­sive­ly attack­ing the inter­ests of work­ing peo­ple for decades.
A grow­ing move­ment to take pen­sion mon­ey out of hedge funds, then, isn't just about high fees and bad returns. It's part of a larg­er effort to wrest con­trol of the econ­o­my away from the financiers who've cre­at­ed a sys­tem that works only for the super-rich.
In a recent exam­ple, union rep­re­sen­ta­tives of New Jer­sey state employ­ees on the New Jer­sey State Invest­ment Coun­cil (NJSIC) suc­cess­ful­ly pushed through an ini­tia­tive last month to cut the state employ­ees' pen­sion fund's invest­ments in hedge funds in half, a reduc­tion of $4.5 billion.
Pri­or to the vote, a report done by Hedge Clip­pers, an anti-hedge fund orga­ni­za­tion launched in 2015 by the Amer­i­can Fed­er­a­tion of Teach­ers (AFT), found that hedge funds have cost New Jer­sey pub­lic employ­ees $2.7 bil­lion since 2007, includ­ing $1.1 bil­lion in below-aver­age returns. The oth­er $1.6 bil­lion was prof­it col­lect­ed by the hedge funds in fees.
Num­bers like these are com­mon when it comes to pub­lic pen­sion invest­ments in hedge funds. It's no won­der, then, that union rep­re­sen­ta­tives for pub­lic employ­ees are push­ing to get their pen­sions tak­en out of these under­per­form­ing, expen­sive funds, even if that just means putting the mon­ey back into oth­er, more tra­di­tion­al investments.
New Jer­sey is a land­mark vic­to­ry for hedge fund crit­ics in the labor move­ment. Not only is it the biggest divest­ment so far, but the win is par­tic­u­lar­ly impres­sive giv­en that the state pre­vi­ous­ly had one of the high­est pro­por­tions of state pen­sion fund invest­ments in hedge funds in the coun­try — 12.5 percent.
Accord­ing to Adam Lieb­tag, the rep­re­sen­ta­tive of the AFL-CIO on the NJSIC, the council's deci­sion is the result of esca­la­tion and tough nego­ti­a­tion by labor unions.
"This vote is a win for the ben­e­fi­cia­ries and a win for orga­nized labor," he says.
He says get­ting the votes took a lot of work, since labor union rep­re­sen­ta­tives are per­ma­nent­ly out­num­bered on the NJSIC by guber­na­to­r­i­al appointees. But pres­sure from below to divest has grown as harsh cuts imposed on pub­lic employ­ee pen­sion ben­e­fits have left work­ers increas­ing­ly unwill­ing to tol­er­ate the high fees and low returns of hedge fund investments.
"The whole pen­sion sys­tem in New Jer­sey is extreme­ly frus­trat­ing," Lieb­tag says. ​"We, as mem­bers, have made every con­tri­bu­tion we're sup­posed to. We've nev­er missed a pay­ment, even as we've been asked to con­tribute more and a high­er pro­por­tion of the total every year. We should have a larg­er say in how our pen­sions are invested."
"

They should be held accountable"

The efforts of unions and activists have put divest­ment on the nation­al agen­da. Increas­ing­ly, both uni­ver­si­ties and pub­lic retire­ment funds are decid­ing to take their busi­ness elsewhere.

The Cal­i­for­nia Pub­lic Employ­ees' Retire­ment Sys­tem (CalPERS) pulled $4 bil­lion in 2014; the New York City Employ­ees' Retire­ment Sys­tem (NYC­ERS), large­ly at the urg­ing of the AFT, divest­ed $1.5 bil­lion in April. The Illi­nois State Board of Invest­ment, the Uni­ver­si­ty of Cal­i­for­nia, and the Uni­ver­si­ty of Mary­land have also all ini­ti­at­ed reduc­tions in their invest­ments in hedge funds in just the past few months, and Pennsylvania's audi­tor gen­er­al has called for an audit of all state hedge fund investments.

In June, a vote to con­sid­er reduc­ing allo­ca­tions to hedge funds for the Ohio Pub­lic Employ­ee Retire­ment Sys­tem (OPERS) failed. OPERS is the largest insti­tu­tion­al investor in hedge funds in North Amer­i­ca, and the fifth largest in the world.

Though not all of these divest­ments were the direct result of anti-hedge fund activism — CalPERS, for exam­ple, refused to com­ment on the polit­i­cal dimen­sions of its deci­sion — activists can take cred­it for expos­ing the unnec­es­sary com­plex­i­ty, lack­lus­ter returns and exor­bi­tant fees char­ac­ter­is­tic of the industry.

Hedge Clip­pers has played an espe­cial­ly impor­tant role in shed­ding light on some of the dirt­i­er truths of the hedge fund industry's prac­tices. Since 2015, it has released dozens of reports — which they call the ​"Hedgepa­pers" — doc­u­ment­ing the industry's high costs and poor results, and pro­vid­ing detailed stud­ies to bol­ster the case for local efforts to divest. The OPERS vote, for exam­ple, came after Eliz­a­beth Parisian of Hedge Clip­pers pre­sent­ed its method­ol­o­gy for cal­cu­lat­ing fees to trustees in March, which she says helped spark a seri­ous dis­cus­sion about hedge fund fees and performance.

Hedge Clip­pers' work is cru­cial, as clear infor­ma­tion about what hedge funds do and cost is hard to come by. It's easy enough to learn that these funds typ­i­cal­ly use what's called a ​"two and twen­ty" fee struc­ture, which means the fund takes 2 per­cent of the total amount invest­ed up front in fees, and an addi­tion­al 20 per­cent of any returns. But since the fees are dif­fer­ent each year, hedge funds have long been able to keep the par­tic­u­lars of their prof­its secret.

At the Uni­ver­si­ty of Cal­i­for­nia, AFSCME Local 3299 has part­nered with Hedge Clip­pers in an ongo­ing push for full dis­clo­sure of fees paid to hedge funds and pos­si­bly divest­ment for both employ­ees' pen­sions and the endow­ment. The Local's spokesman Todd Sten­house says, ​"There's no real trans­paren­cy around fees. We had to dig through indus­try stan­dard for­mu­las to find out what (the UC sys­tem) is pay­ing." When Hedge Clip­pers did some dig­ging, though, Sten­house says, ​"We dis­cov­ered we'd been pay­ing $1 bil­lion in fees for returns worse than a stan­dard mutu­al fund."

Sim­i­lar­ly, one OPERS trustee — Steve Toth — who vot­ed against main­tain­ing the cur­rent lev­el of hedge fund allo­ca­tions asked the board, "'What kind of bang for our buck are we getting?

"An exam­ple of this is reflect­ed in our hedge fund returns last year (2015) when we lost over $84 mil­lion and paid more than $133 mil­lion in fees…and this year we have not done much bet­ter," he said.

These num­bers aren't unusu­al. On aver­age, ​"Fifty-eight cents on the dol­lar (of returns) is prof­it for the hedge funds," says Ran­di Wein­garten, pres­i­dent of the AFT and a lead­ing advo­cate for hold­ing hedge funds accountable.

"So many of these hedge fun­ders talk about how teach­ers should be account­able in their class­rooms, despite not hav­ing ade­quate resources. Well then they should be held account­able for their per­for­mance too. I'm not sure you should only look at num­bers, but even based on their own stan­dards we should be divest­ing," says Weingarten.
"

They're the real pow­er players"

Michael Kink is exec­u­tive direc­tor of Strong Econ­o­my for All, a coali­tion of labor and grass­roots orga­ni­za­tions that worked with Hedge Clip­pers to win divest­ment in New York. ​"Just say­ing ​'You're los­ing a lot of mon­ey' isn't enough," he says. ​"The fidu­cia­ry duty is cru­cial, but when there's pow­er­ful polit­i­cal fig­ures and insti­tu­tion­al elites who want the insti­tu­tion ripped off so that they can get rich, you have to make those peo­ple con­tro­ver­sial and expose the awful things they're doing, both in pol­i­tics and in their per­son­al lives."

In New Jer­sey, for exam­ple, between 2012 and 2014, the State Invest­ment Coun­cil allo­cat­ed over a $1 bil­lion to hedge funds whose top man­age­ment donat­ed large sums of mon­ey to either the Repub­li­can Nation­al Com­mit­tee or the Repub­li­can Governor's Asso­ci­a­tion, both of which have helped fund Chris Christie's guber­na­to­r­i­al cam­paigns. Their col­lec­tive con­tri­bu­tions totaled $7.6 mil­lion. New Jersey's hedge fund invest­ments have dou­bled since Christie took office in 2010.

This mas­sive influx of hedge fund mon­ey from just a few super-wealthy indi­vid­u­als isn't unique to New Jer­sey. In Illi­nois, Repub­li­can Bruce Rauner won the 2014 guber­na­to­r­i­al elec­tion with a record-break­ing $65 mil­lion cam­paign fund­ed by just ten peo­ple, most­ly pri­vate equi­ty and hedge fund man­agers like bil­lion­aire Ken Grif­fin. Rauner him­self, who made hun­dreds of mil­lions of dol­lars invest­ing pub­lic pen­sions, gave $40 million.

Kink thinks that tak­ing on hedge funds is the future of the pro­gres­sive and labor move­ments as a whole.

"Our focus on hedge fund bil­lion­aires and pri­vate equi­ty reflects their out­sized influ­ence on the econ­o­my," he says. ​"They're the real pow­er play­ers, the guys behind the guys. In all dif­fer­ent sec­tors of the econ­o­my, they're the poster chil­dren for every­thing Amer­i­cans hate: lousy jobs, lousy pay, and inequality."

Strong Econ­o­my for All and Hedge Clip­pers have pushed a vari­ety of mea­sures to curb the pow­er of hedge funds through a cre­ative direct action cam­paign. In March 2015, they marched on bil­lion­aire Paul Tudor Jones' water­front man­sion in the Hamp­tons. That same month they pick­et­ed Dan Loeb's $45 mil­lion ​"man­sion in the sky" in New York City, and went back to the Hamp­tons to dis­rupt a fundrais­er for Gov. Andrew Cuo­mo at Loeb's res­i­dence there. Recent­ly, they suc­ceed­ed in get­ting a bill intro­duced to the New York State Leg­is­la­ture that would close the so-called ​"car­ried inter­est loop­hole." This is what allows a large por­tion of the income of mul­ti-bil­lion­aires to be taxed at the ​"cap­i­tal gains" rate of just 20 per­cent. That's less than the rate of a fam­i­ly mak­ing $75,000 a year.

Unions are also look­ing beyond divest­ment to seek alter­na­tive invest­ments that bet­ter serve their mem­bers, both as stake­hold­ers in their pen­sion funds and as work­ers. The AFT recent­ly com­mit­ted $16 bil­lion in bonds to invest in the expan­sion of LaGuardia air­port, a project which it expects to cre­ate 100,000 jobs.

"We're stand­ing on the shoul­ders of the peo­ple who've been doing this work for decades, Kink says, ​"push­ing for invest­ments in clean ener­gy, afford­able hous­ing, com­mu­ni­ty com­mons, things our com­mu­ni­ties need that pen­sion funds could pro­vide. They're start­ing to look at oth­er options, and our hope is that those options are going to be a whole lot bet­ter for work­ing peo­ple. There's almost no way they could be worse."
Spencer McAvoy
is a Sum­mer
2016
edi­to­r­i­al intern at In These Times. He is a recent grad­u­ate from the Uni­ver­si­ty of Chica­go with a degree in Eng­lish and a mem­ber of The People's Lobby.