Here Are Jobs That Are Being Outsourced Under Trump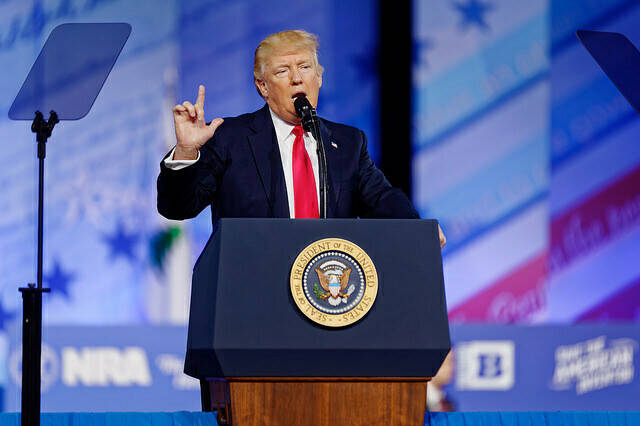 This arti­cle was first post­ed by AlterNet.
Again and again on the cam­paign trail, Don­ald Trump made promis­es he couldn't keep, play­ing on the igno­rance of his base and reveal­ing his own glar­ing mis­un­der­stand­ing of pol­i­cy. The GOP can­di­date repeat­ed­ly vowed to stron­garm com­pa­nies into keep­ing jobs at home instead of send­ing them to Mex­i­co, rene­go­ti­ate NAF­TA and impose stiff import tax­es on for­eign goods. It was a mes­sage that appealed wide­ly to Trump sup­port­ers, blend­ing the illu­sion of eco­nom­ic hope with the rubric of ​"Amer­i­ca First" nationalism.
Prob­lem is, noth­ing about Trump's vision has any­thing to do with real­i­ty, and U.S. jobs con­tin­ue to be sent across the bor­der. As Bloomberg reports:
Illi­nois Tool Works Inc. will close an auto-parts plant in Mazon, Illi­nois, this month and head to Ciu­dad Juarez. Tri­umph Group Inc. is reduc­ing the Spokane, Wash­ing­ton, work­force that makes fiber-com­pos­ite parts for Boe­ing Co. air­craft and mov­ing pro­duc­tion to Zacate­cas and Baja Cal­i­for­nia. TE Con­nec­tiv­i­ty Ltd. is shut­ter­ing a pres­sure-sen­sor plant in Pennsauken, New Jer­sey, in favor of a facil­i­ty in Hermosillo.
Those com­pa­nies aren't alone. Indi­anapo­lis-based firm Rexnord is mov­ing 300 jobs to Mon­ter­rey, Mex­i­co, despite a Decem­ber tweet by Trump meant to shame the com­pa­ny into stay­ing. That com­pa­ny is locat­ed just up the road from Car­ri­er, the air con­di­tion­ing man­u­fac­tur­er Trump false­ly claimed to have bribed into keep­ing 1,100 jobs in its home state. Like near­ly every vic­to­ry claimed by the pres­i­dent, it too was a lie. As CNN Mon­ey notes, only 800 fac­to­ry jobs were saved while 500 are still being shift­ed south.
Trump's false­hood moved a local union leader to declare POTUS had ​"lied his ass off."
"Trump and Pence, they pulled a dog and pony show on the num­bers," Chuck Jones, pres­i­dent of the local steel­work­ers union, told the Wash­ing­ton Post. ​"I almost threw up in my mouth."
More smoke-and-mir­rors shenani­gans sur­round Trump's recent boasts of job-sav­ing at Ford Motor Com­pa­ny. ​"Big announce­ment by Ford today," Trump wrote in an inten­tion­al­ly mis­lead­ing tweet. ​"Major invest­ment to be made in three Michi­gan plants. Car com­pa­nies com­ing back to U.S. JOBS! JOBS! JOBS!"
But those jobs — there are just 130 of them — had noth­ing to do with Trump. The same is true of the company's deci­sion to put the brakes on a plan to trans­port 700 jobs to Mex­i­co, announced after Trump crit­i­cized the move on social media. As Reuters notes, ​"both projects were part of 2015 nego­ti­a­tions with the UAW, when Ford said it would invest $9 bil­lion in U.S. plants over four years." If, as Trump seems to think, a pres­i­dent deserves cred­it for every new job cre­at­ed when he is in office, then the point for this one goes to Obama.
Trump may also be back­ing off of promis­es to raise tar­iffs on incom­ing goods and rene­go­ti­ate NAF­TA. The shift in tone comes on the heels of a series of calami­tous fail­ures that have come to define this bum­bling pres­i­den­cy. Days ago, accord­ing to the New York Times, ​"a draft let­ter sug­gest­ing a soft­en­ing of his views began cir­cu­lat­ing among mem­bers of Con­gress this week." The report goes on to state that the draft pro­pos­al appears ​"to pro­pose keep­ing much of the agree­ment in place."
Kali Hol­loway
is a senior writer and the asso­ciate edi­tor of media and cul­ture at AlterNet.