The "Identity Politics" Debate Is Splintering the Left. Here's How We Can Move Past It.
We must redefine "identity politics," because the debate about it is mostly wrong. We can start by recognizing that Clintonian identity politics aren't intersectional—they're racist.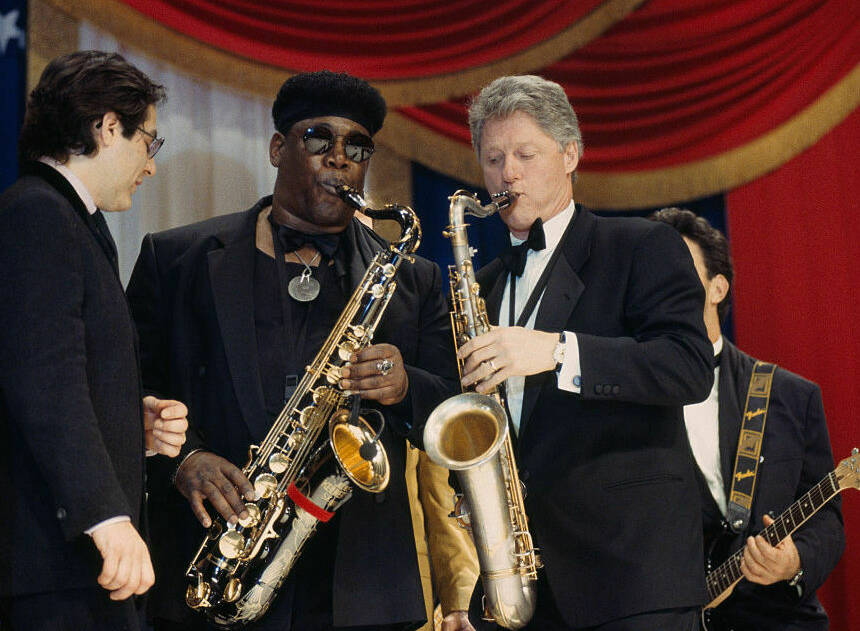 Don­ald Trump won in no small part thanks to cru­cial votes cast by down­ward­ly mobile white peo­ple across Amer­i­ca's shat­tered man­u­fac­tur­ing belt. The media nar­ra­tive describ­ing a mas­sive right­ward shift by these vot­ers might be an over­sim­pli­fi­ca­tion. But the fact remains that a big chunk of a demo­graph­ic that sup­port­ed Barack Oba­ma in 2012 vot­ed for Trump or a third par­ty this year, or else stayed home. As a result, a renewed debate over whether to mobi­lize the ​"white work­ing class" is roil­ing the Demo­c­ra­t­ic Par­ty (and those to its left). The New York Times framed the ques­tion like this: ​"Should the par­ty con­tin­ue tai­lor­ing its mes­sage to the fast-grow­ing young and non­white con­stituen­cies that pro­pelled Pres­i­dent Oba­ma, or make a more con­cert­ed effort to win over the white vot­ers who have drift­ed away?"
The debate shouldn't be about whether "identity politics" is a good or bad thing, but rather over the term's very different and too rarely explicated meanings.
We might instead frame it like this: Peo­ple from left to cen­ter are engag­ing in heat­ed, rarely help­ful and often con­fused con­ver­sa­tions about ​"iden­ti­ty pol­i­tics" that present false choic­es about how to move for­ward. In the wake of Trump's inau­gu­ra­tion, the debate has become some­what mut­ed as left to lib­er­al resis­tance has coa­lesced into per­sis­tent, mul­ti­fac­eted and enor­mous nation­wide protest move­ments. Dis­putes, how­ev­er, will no doubt reemerge and con­tin­ue to frac­ture the left wing of this resis­tance. While inter­nal debate is pro­duc­tive, a unit­ed front is cru­cial. At issue is not only the future of the Demo­c­ra­t­ic Par­ty but, more broad­ly, the strate­gies of polit­i­cal resis­tance and social mobi­liza­tion under a Trump pres­i­den­cy and the future of an inde­pen­dent Left that has now set its sights on win­ning power.
Some lib­er­al writ­ers, like Rebec­ca Trais­ter, are con­cerned that appeal­ing to white work­ers will ulti­mate­ly dis­tance the Demo­c­ra­t­ic Par­ty from the ​"women and peo­ple of col­or" who make up its base. Mean­while, oth­er lib­er­als, hos­tile to ​"iden­ti­ty pol­i­tics" but by no means left­ists — intel­lec­tu­al his­to­ri­an Mark Lil­la, for exam­ple—argue that ​"Amer­i­can lib­er­al­ism has slipped into a kind of moral pan­ic about racial, gen­der and sex­u­al iden­ti­ty." On the social­ist left, Shu­ja Haider and oth­ers skew­er ​"iden­ti­ty pol­i­tics" for divid­ing the col­lec­tive ​"we" nec­es­sary for rev­o­lu­tion­ary politics.
The first argu­ment assumes that a focus on class entails a nar­row focus on the griev­ances of white work­ers and the aban­don­ment of a diverse Demo­c­ra­t­ic con­stituen­cy; the sec­ond and third that nar­row iden­ti­tar­i­an appeals under­mine the more encom­pass­ing iden­ti­ty ("Amer­i­cans as Amer­i­cans" per Lil­la; the ​"work­ing class" for social­ist crit­ics) required for a suc­cess­ful lib­er­al or left coali­tion. Iron­i­cal­ly, despite their vehe­ment dis­agree­ment over whether ​"iden­ti­ty pol­i­tics" should be the mobi­liz­ing strat­e­gy, all three posi­tions pre­sume the same neolib­er­al fram­ing of iden­ti­ty pol­i­tics — posit­ing a zero-sum game between indi­vid­ual groups with nar­row and mutu­al­ly opposed inter­ests — that has guid­ed the lib­er­al estab­lish­ment for decades.
All three argu­ments are mis­con­ceived because they con­strue iden­ti­ty as atom­istic, and thus mis­un­der­stand the rela­tion­ship between what they call ​"iden­ti­ty" and class. Con­tem­po­rary Amer­i­can cap­i­tal­ism is a sys­tem struc­tured by race, gen­der and unequal cit­i­zen­ship — from hous­ing seg­re­ga­tion to the unre­mu­ner­at­ed sec­ond shift worked by women to the growth of the low-wage ser­vice sec­tor and its impact on immi­grants and women and on men dis­placed from man­u­fac­tur­ing. Those who are mar­gin­al­ized on account of their race, gen­der or immi­gra­tion sta­tus — or some com­bi­na­tion there­of — are dis­pro­por­tion­ate­ly more like­ly to be poor and work­ing-class. A work­ing-class polit­i­cal pro­gram should but­tress rather than exclude the strug­gles of mar­gin­al­ized groups.
By pit­ting race and gen­der against class, some lib­er­als' eschew­al of class-based mobi­liza­tion and oth­ers' dis­missal of ​"iden­ti­ty pol­i­tics" ensure elec­toral defeat for the Demo­c­ra­t­ic Par­ty. And inso­far as this zero-sum under­stand­ing of iden­ti­ty res­onates among left­ists com­mit­ted to class strug­gle, it threat­ens to sow divi­sions among those work­ing towards eco­nom­ic and social jus­tice — divi­sions we can scarce­ly afford giv­en the mil­i­taris­tic, xeno­pho­bic, and plu­to­crat­ic agen­da pur­sued by the White House.
A clar­i­fi­ca­tion of terms, and of his­to­ry, is in order.
"

Iden­ti­ty pol­i­tics" vs. ​

"

neolib­er­al iden­ti­ty politics"

Con­tra anti-"PC" cru­saders like Lil­la, the prob­lem is not that lib­er­als are exces­sive­ly focused on the rights of queer and non-white peo­ple — as Lil­la claims in a mean-spir­it­ed aside tar­get­ing trans­gen­der peo­ple, that lib­er­als spend too much time focus­ing on bath­rooms. Nor, in its left vari­ant, is the prob­lem that a uni­ver­sal­ly con­ceived class iden­ti­ty ought to super­sede par­tic­u­lar­is­tic group identities.

Achiev­ing a sense of shared class iden­ti­ty, as social­ists from Karl Marx to E. P. Thomp­son have long made clear, has always proved a chal­leng­ing task. And not just because of the way cap­i­tal­ism dri­ves a wedge between work­ers along lines of race, gen­der, reli­gion and eth­nic­i­ty — from white male-dom­i­nat­ed craft unions' exclu­sion of women and peo­ple of col­or to white suprema­cy stymy­ing union­iza­tion dri­ves in the South. Cap­i­tal­ism also frag­ments work­ing-class iden­ti­ty by pit­ting work­ers against one anoth­er as they com­pete over jobs and wages, and hier­ar­chizes them by trade and rank. It down­plays people's role as work­ers and val­orizes their iden­ti­ties as indi­vid­ual con­sumers. Cap­i­tal­ism, and not strug­gles for racial or gen­der jus­tice, is what pre­emp­tive­ly under­mines the poten­tial for shared and cohe­sive class iden­ti­ty among the work­ing-class majority.

Indeed, ​"iden­ti­ty pol­i­tics" isn't the prob­lem at all. The debate should­n't be about whether ​"iden­ti­ty pol­i­tics" is a good or bad thing, but rather over the ter­m's very dif­fer­ent and too rarely expli­cat­ed mean­ings. As sug­gest­ed by the recent pro­lif­er­a­tion of ref­er­ences to the ​"white work­ing class," iden­ti­ty pol­i­tics does not exclu­sive­ly refer to groups mar­gin­al­ized on account of their race or gen­der. Rather, iden­ti­ty pol­i­tics is impli­cat­ed in all mass pol­i­tics. Peo­ple inter­pret their con­di­tions and their inter­ests in rela­tion to his­tor­i­cal­ly con­struct­ed col­lec­tive iden­ti­ties. Whether it be a black McDonald's work­er who thanks to Fight for 15 comes to under­stand the links between pover­ty wages and mass incar­cer­a­tion or a white machin­ist who wit­ness­es a boss use a co-worker's immi­gra­tion sta­tus as lever­age against a union­iza­tion dri­ve, iden­ti­ties are nev­er etched in stone but con­tin­gent on polit­i­cal and social con­text. Con­tra left­ists who implic­it­ly assume that class iden­ti­ty would mag­i­cal­ly cohere if work­ers were not divid­ed by race or gen­der, the suc­cess of any polit­i­cal move­ment depends on both res­onat­ing with exist­ing iden­ti­ty cat­e­gories and, as strug­gles and con­di­tions evolve, form­ing new ones. For left­ists, then, the crit­i­cal issue is not whether ​"iden­ti­ty" is the basis for pol­i­tics, but rather how iden­ti­ties are artic­u­lat­ed, and whose iden­ti­ties are being mobi­lized, in what ways, and toward which ends.

The neolib­er­al vari­ant of iden­ti­ty pol­i­tics ascen­dant in recent decades is suc­cess­ful in artic­u­lat­ing and mobi­liz­ing atom­ized iden­ti­ties, but it is an obsta­cle to build­ing broad move­ments ground­ed in sol­i­dar­i­ty because it regards those iden­ti­ties as mutu­al­ly opposed units. This pol­i­tics, adopt­ed as a polit­i­cal strat­e­gy by seg­ments of the Demo­c­ra­t­ic estab­lish­ment and uncrit­i­cal­ly rein­forced by its crit­ics, is rad­i­cal­ly non-inter­sec­tion­al. It assumes that social groups — say, gay or black — are homo­ge­neous mono­liths with uni­form inter­ests. And when class isn't tak­en into account, social­ist crit­ics right­ly note that ​"iden­ti­ty pol­i­tics" has become a vehi­cle for the inter­ests of elite lead­ers who sub­sti­tute diver­si­ty in the White House and on Wall Street for sub­stan­tive jus­tice. Poor black peo­ple and poor white peo­ple both face increas­ing eco­nom­ic pre­car­i­ty and thus share many of the same griev­ances. Con­verse­ly, wealthy black elites share eco­nom­ic inter­ests with wealthy peo­ple as a whole — inter­ests opposed to those of the much larg­er num­ber of black peo­ple who are eco­nom­i­cal­ly mar­gin­al­ized. The same goes for wealthy women or wealthy LGBTQ people.

The fact of inter­sect­ing iden­ti­ty need not devolve into infi­nite frag­men­ta­tion. Rather, inter­sec­tions can ori­ent indi­vid­u­als and com­mu­ni­ties toward oth­ers pre­cise­ly through those points of par­tic­u­lar­i­ty and dif­fer­ence — nodes that, when linked, can strength­en people's bonds instead of break­ing them. This debate is not mere­ly seman­tic. For the last 25 years, neolib­er­al iden­ti­ty pol­i­tics has not only hurt poor and work­ing class peo­ple but con­fused the Left's expla­na­tion as to why it has happened.
Bill Clin­ton, the archi­tect of neolib­er­al iden­ti­ty politics
Though Trump rode nation­al­ist right-wing white iden­ti­ty pol­i­tics into the White House, the rein­car­na­tion of the Demo­c­ra­t­ic Par­ty under Bill Clin­ton helped lay the ground­work. Clinton's mas­ter strat­e­gy of tri­an­gu­la­tion (out-right­ing the Right) cou­pled neolib­er­al eco­nom­ics with mass incar­cer­a­tion and sold both with racial­ly cod­ed rhetoric. This strat­e­gy helped con­sol­i­date the ​"white work­ing class" (at the time, fig­ured as the white mid­dle class because far more work­ing peo­ple iden­ti­fied as mid­dle-class than they do now) as an iden­ti­ty — and as a reac­tionary polit­i­cal constituency.
In the 1990s, Bill Clin­ton employed anti-black racism to appeal to the ​"Rea­gan Democ­rats" who had been exit­ing the par­ty in part due to Repub­li­cans' by-no-means-entire­ly-South­ern South­ern Strat­e­gy — a strat­e­gy abet­ted by Jim­my Carter's anti-labor agen­da. This was the very same demo­graph­ic group that Clin­tonites today accuse the Left of appeal­ing to on the grounds of the nar­row sin­gle-issue of class strug­gle. Respond­ing to and draw­ing on the ris­ing con­ser­v­a­tive move­ment, Clin­ton out­flanked the right by back­ing wel­fare reform, the war on crime and a crack­down on immi­grants. He deployed racial­ized and gen­dered lan­guage to con­trast the cul­ture of ​"depen­den­cy" (implic­it­ly asso­ci­at­ed with black peo­ple, espe­cial­ly women) with ​"work," res­onat­ing with the pre-exist­ing Rea­gan­ite trope of ​"the wel­fare queen" and racial­ly divid­ing the work­ing class between hon­est pro­duc­ers and belea­guered tax­pay­ers on one side and unde­serv­ing poor tak­ers on the other.
The increas­ing iden­ti­fi­ca­tion of pover­ty and wel­fare with African Amer­i­cans, and the stereo­typ­ing of black peo­ple as lazy and sex­u­al­ly irre­spon­si­ble, pre­cip­i­tat­ed wel­fare's grow­ing unpop­u­lar­i­ty. Per­verse­ly, for­mal racial equal­i­ty facil­i­tat­ed neolib­er­al iden­ti­ty pol­i­tics by blam­ing poor black peo­ple for their prob­lems (what did they have to com­plain about now?) as well as the ascen­sion of a black elite uncon­cerned with the con­di­tion of the incar­cer­at­ed poor.
On mass incar­cer­a­tion, Clin­ton crowed that ​"it's three strikes and you're out." On immi­gra­tion, Clin­ton boast­ed of sign­ing ​"a tough anti-ille­gal immi­gra­tion law pro­tect­ing U.S. work­ers." Regard­ing wel­fare, Clin­ton con­demned a sys­tem that ​"under­mines the basic val­ues of work, respon­si­bil­i­ty and fam­i­ly, trap­ping gen­er­a­tion after gen­er­a­tion in depen­den­cy and hurt­ing the very peo­ple it was designed to help" (what Paul Ryan would lat­er call ​"offer­ing people…a full stom­ach and an emp­ty soul").
Peo­ple of col­or bore the brunt of poli­cies, enact­ed at the local, state and fed­er­al lev­el, which dis­pro­por­tion­ate­ly sub­ject­ed them to police vio­lence, incar­cer­a­tion, pover­ty and depor­ta­tion — with dras­tic social and eco­nom­ic con­se­quences. At the same time, Clinton's race pol­i­tics pro­vid­ed him with the polit­i­cal cov­er to push through an eco­nom­ic agen­da that pri­or­i­tized finance over labor and so was detri­men­tal to work­ing class peo­ple as a whole. Of course, the race pol­i­tics were also eco­nom­ic at their core: wel­fare reform pro­vid­ed employ­ers with an expand­ed and unpro­tect­ed low-wage labor force while mass incar­cer­a­tion locked up huge num­bers of sys­tem­at­i­cal­ly dis­em­ployed young men and made them invis­i­ble to the public.
Wel­fare reform and the war on crime, though jus­ti­fied by appeals to racist stereo­types, ulti­mate­ly harmed many low­er income and work­ing class whites. As Ian Haney-López and Heather McGhee write at The Nation, racism has been the key tool that Repub­li­cans and neolib­er­al Democ­rats have used not only to advance racist poli­cies but to attack labor and shred social wel­fare pro­tec­tions across the board: "The reac­tionary eco­nom­ic agen­da made pos­si­ble by dog-whis­tle pol­i­tics is respon­si­ble not just for the devalu­ing of black lives but for the declin­ing for­tunes of the major­i­ty of white fam­i­lies." Wel­fare reform's pol­i­tics — pre­sent­ing eco­nom­ic suc­cess and fail­ure as a reflec­tion of indi­vid­ual moral­i­ty — would smooth the way for a broad­er assault on the col­lec­tive under­pin­nings of human well-being, from George Bush's ​"own­er­ship soci­ety" through Gov. Scott Walk­er's dec­i­ma­tion of orga­nized labor in Wis­con­sin. These well-fund­ed and tight­ly orga­nized right-wing attacks on unions and the poor have been facil­i­tat­ed by the col­lapse of left-of-cen­ter work­ing class insti­tu­tions and the era­sure of class as a point of com­mon interest.
Divide and convince
Clin­ton, of course, still felt black people's pain. As polit­i­cal sci­en­tist Claire Jean Kim argues, Clin­ton ini­tial­ly sought sup­port from whites by sym­bol­i­cal­ly reject­ing blacks (run­ning against ​"racial quo­tas," mak­ing a point of pre­sid­ing over the exe­cu­tion of a men­tal­ly-dis­abled black man and rebuk­ing Jesse Jack­son vis-a-vis a mis­lead­ing denun­ci­a­tion of rap­per Sis­ter Soul­jah) and then lat­er employed a strat­e­gy of ​"pla­cat­ing blacks for their rel­a­tive lack of pol­i­cy influ­ence with large­ly sym­bol­ic gestures."
Clin­ton kicked off his sec­ond term by apol­o­giz­ing for the Tuskegee exper­i­ments (he con­sid­ered back­ing a bill for­mal­ly apol­o­giz­ing for slav­ery, Kim writes, but decid­ed not to: it did­n't poll well) and launched the One Amer­i­ca in the 21st Cen­tu­ry ini­tia­tive, a nation­al con­ver­sa­tion about race — neolib­er­al elites love con­ver­sa­tions about race — that empha­sized race rela­tions rather than racism and dia­logue over jus­tice. He also appoint­ed, Kim writes, a record num­ber of women and peo­ple of col­or to his cab­i­net, the judi­cia­ry and oth­er positions.
It's a form of sym­bol­ic diver­si­ty pol­i­tics still very much in vogue, as seen in the Hillary Clin­ton campaign's behind-the-scenes push to lever­age friend­ly woman and non-white writ­ers to attack Sanders, exposed in John Podesta's hacked emails. Those emails also showed for­mer Labor Sec­re­tary Tom Perez, an Oba­ma ally chal­leng­ing Bernie­crat Rep. Kei­th Elli­son for DNC chair­per­son, push­ing the Clin­ton cam­paign to change the ​"nar­ra­tive … from Bernie kicks ass among young vot­ers to Bernie does well only among young white lib­er­als" — a nar­ra­tive that, giv­en Sanders' strong sup­port from young peo­ple of any col­or, was false but res­o­nant for those primed to believe it.
Black faces in high places, the neolib­er­al take on ​"some of my best friends are black," still pass­es for racial jus­tice in many cir­cles. Or as a New York Times head­line put it recent­ly: ​"Trump Diver­si­fies Cabinet."
After the Demo­c­ra­t­ic Party's crush­ing defeats under Rea­gan, Bill Clinton's ver­sion of iden­ti­ty pol­i­tics did win mod­est plu­ral­i­ties of white work­ing class votes and tem­porar­i­ly slowed their slide to the right. But this strat­e­gy sac­ri­ficed the future of the Demo­c­ra­t­ic Par­ty — not to men­tion the lives of many who were impov­er­ished or impris­oned — for short-term elec­toral gains. In the long run, Trump and the Repub­li­can Par­ty reaped the fruits of Clinton's pur­port­ed genius: It was the Right, of course, that would ulti­mate­ly prof­it from the Democ­ra­t's appeal to white reaction.
Bill Clin­ton addressed work­ing-class whites as whites rather than as peo­ple who shared eco­nom­ic inter­ests with work­ing-class black and brown Amer­i­cans, all while under­min­ing both their qual­i­ty of life and their main source of polit­i­cal pow­er: orga­nized labor. The finan­cial and eco­nom­ic poli­cies his ver­sion of iden­ti­ty pol­i­tics abet­ted caused the per­cent­age of work­ers who were union mem­bers to con­tin­ue its slide dur­ing the Clin­ton era from 16.1‑percent in 1990 to 13.5‑percent in 2000. This was ulti­mate­ly self-defeat­ing: Labor unions served as both the insti­tu­tion­al under­pin­nings of white work­ing class ties to the Demo­c­ra­t­ic coali­tion and the frame­work for inter­pret­ing their lives through the lens of their class interests.
Clinton's strat­e­gy was intend­ed to woo white vot­ers by sev­er­ing the Demo­c­ra­t­ic Party's per­ceived alle­giance to black inter­ests, but it didn't stop the right from mak­ing its Nixon­ian case to white work­ers that the Demo­c­ra­t­ic Par­ty rep­re­sents an elite-under­class alliance set against hard-work­ing and tax­pay­ing (read: white) Amer­i­cans. Instead, by high­light­ing diver­si­ty while push­ing an anti-work­er agen­da, the strat­e­gy frac­tured the Demo­c­ra­t­ic coali­tion and facil­i­tat­ed the right-wing's ascen­dance. When the cred­it bub­ble popped and Clinton's eco­nom­ic gold­en age was exposed as a fraud, Trump was lying in wait to explain what went wrong.
Neolib­er­al iden­ti­ty pol­i­tics today
Oba­ma mod­u­lat­ed the Clin­ton mod­el with­out break­ing it. He offered mod­est reforms to the crim­i­nal jus­tice sys­tem, orches­trat­ed both mass depor­ta­tions and then pro­tec­tions from depor­ta­tion for some immi­grants, boost­ed finan­cial reg­u­la­tion while fail­ing to attack Wall Street pow­er head on. He com­mu­ni­cat­ed his poli­cies not through the lens of par­tic­u­lar iden­ti­ties or class but rather by por­tray­ing Amer­i­ca as unit­ed by hope — some­thing along the lines of what Lil­la pro­pos­es. It was the friend­lier, cathar­tic inverse of George W. Bush's post‑9/​11 mes­sage that Amer­i­cans stood togeth­er in their vul­ner­a­bil­i­ty before and sto­ic resolve against terrorism.
For Oba­ma, this approach reaped polit­i­cal rewards — he left office with an approval rat­ing of 59 per­cent — but the lack of a coher­ent pro­gram (com­bined with restric­tive vot­er ID laws and ger­ry­man­der­ing) allowed the Demo­c­ra­t­ic Par­ty to be wiped out at the state and local lev­el. Over the last eight years, the prob­lem with the par­ty has­n't been embrac­ing iden­ti­ty pol­i­tics too fer­vent­ly, as Lil­la con­tends, but not con­struct­ing a tru­ly inter­sec­tion­al iden­ti­ty pol­i­tics aligned with a con­crete, broad­ly con­ceived and clear pol­i­cy pro­gram that can win elec­tions with­out a unique­ly skilled com­mu­ni­ca­tor in the White House.
Enter Hillary Clin­ton. She and Bill, as Hillary's defend­ers are quick to note, are not the same per­son. But it is obvi­ous that they are the most pow­er­ful polit­i­cal part­ner­ship of our gen­er­a­tion, and each has been the oth­er's top advi­sor. Hillary, after cling­ing tight­ly to her hus­band's cen­trist image for years in the White House and the Sen­ate — and then recy­cling his racial­ly cod­ed rhetoric in her 2008 pri­ma­ry con­test against Oba­ma — rec­og­nized that Bill's dog whistling was no longer a win­ning strat­e­gy in a Demo­c­ra­t­ic pri­ma­ry. In the cur­rent polit­i­cal con­text — marked by the emer­gence of Occu­py, the Move­ment for Black Lives and Bernie Sanders —  — she shift­ed course to appeal to an increas­ing­ly left-lean­ing par­ty elec­torate. How­ev­er, rather than artic­u­late a com­pre­hen­sive and encom­pass­ing cri­tique of Amer­i­ca's rul­ing polit­i­cal-eco­nom­ic régime (which, to be fair to Clin­ton, was a nigh-impos­si­ble task for a lead­ing mem­ber of that régime), she built a new appeal on the foun­da­tions of the old neolib­er­al iden­ti­ty pol­i­tics that tech­no­crat­i­cal­ly reduced indi­vid­ual groups to dis­parate data points with zero-sum interests.
At New York mag­a­zine, Trais­ter argued that Hillary Clin­ton ​"did not repeat her husband's Sis­ter Soul­jah strat­e­gy and instead empha­sized themes of fem­i­nism and racial equal­i­ty through­out her campaign."
It's true: Unlike in 2008, when she attacked Obama's pas­tor, Rev. Jere­mi­ah Wright, Clin­ton in 2016 high­light­ed the needs of women and peo­ple of col­or. But her new empha­sis on mar­gin­al­ized groups — after years sup­port­ing wel­fare reform and the war on crime, and defin­ing mar­riage as ​"a sacred bond between a man and a woman" — was still based on the same Clin­ton play­book, if with new talk­ing points. For the most part, she took peo­ple of col­or for grant­ed and fig­ured their inter­ests as nar­row and sym­bol­ic, while ulti­mate­ly fail­ing to out­line a big pic­ture eco­nom­ic agen­da that appealed to poor or work­ing peo­ple of any race as such. Instead, she empha­sized Trump's dan­ger­ous­ness — a weak strat­e­gy giv­en how many Amer­i­cans have come to con­sid­er the sta­tus quo to be an exis­ten­tial threat.
Dur­ing the Clin­ton era, it was the Left, bat­tered and divid­ed in the wake of Rea­gan, that unsuc­cess­ful­ly protest­ed police bru­tal­i­ty, mass incar­cer­a­tion, wel­fare dec­i­ma­tion and cor­po­rate rule. Dur­ing this year's pri­ma­ry cam­paign, how­ev­er, Hillary Clin­ton turned this his­tor­i­cal debate on its head, sug­gest­ing that it was the Left that opposed the establishment's embrace of racial jus­tice: Sanders' pro­gram for class strug­gle, she warned, not only failed to attend to racial, gen­der and queer jus­tice but was also inher­ent­ly hos­tile to them.
"If we broke up the big banks tomor­row, and I will if they deserve it…would that end racism?" Clin­ton asked at a Neva­da ral­ly. ​"No!" the crowd cho­rused. ​"Would that end sex­ism? Would that end dis­crim­i­na­tion against the LGBT com­mu­ni­ty? Would that make peo­ple feel more wel­com­ing to immi­grants overnight?"As Matt Karp writes at Jacobin, Clin­ton staked her cam­paign on an ​"alliance between the Upper East Side and East Flat­bush," appeal­ing not to work­ing class peo­ple of any race but to a nar­row sliv­er of mod­er­ate sub­ur­ban Repub­li­cans who she incor­rect­ly believed would be the swing vote turned off by Trump's vul­gar­i­ty. As for­mer Penn­syl­va­nia gov­er­nor and DNC Chair Ed Ren­dell put it, ​"For every one of those blue-col­lar Democ­rats he picks up, he will lose to Hillary two social­ly mod­er­ate Repub­li­cans and inde­pen­dents in sub­ur­ban Cleve­land, sub­ur­ban Colum­bus, sub­ur­ban Cincin­nati, sub­ur­ban Philadel­phia, sub­ur­ban Pitts­burgh, places like that."
That did­n't work out so well.
The Demo­c­ra­t­ic Par­ty elite, with an eye toward demo­graph­ic trends, com­pla­cent­ly believed that class pol­i­tics were unnec­es­sary because there were too few white work­ers and work­ers of col­or had nowhere else to turn. But demog­ra­phy is not des­tiny. Peo­ple of col­or, ham­mered by eco­nom­ic cri­sis and mass incar­cer­a­tion, were stuck with vot­ing Demo­c­ra­t­ic or stay­ing home — and many did the lat­ter. Obvi­ous­ly, most black peo­ple won't join a Repub­li­can Par­ty that has become unapolo­get­i­cal­ly white suprema­cist. But as weak black turnout — though com­plete data is not yet avail­able, sharp declines have been report­ed in pre­dom­i­nant­ly black Philadel­phia, Mil­wau­kee, Wash­ing­ton, D.C., New York City, and St. Louis neigh­bor­hoods — makes clear, the par­ty can­not depend on black vot­ers unless it changes the con­tent of pol­i­cy to address racial and eco­nom­ic injustice.
Oba­ma now appears to be a charis­mat­ic inter­reg­num in a par­ty oth­er­wise ruled by a scle­rot­ic elite that lacks polit­i­cal vision and even the will to gov­ern. Seg­ments of the Demo­c­ra­t­ic Par­ty lead­er­ship don't want to learn any lessons from Hillary Clinton's loss save for some throw­away lines about need­ing to bet­ter hone their eco­nom­ic mes­sage. Oba­ma, for one, put the blame not on eco­nom­ic poli­cies but on mes­sag­ing. It was, he told Rolling Stone, ​"a com­mu­ni­ca­tions issue. … What­ev­er pol­i­cy pre­scrip­tions that we've been propos­ing don't reach, are not heard, by the folks in these com­mu­ni­ties." Oba­ma, of course, is sell­ing his com­mu­ni­ca­tion skills short: no one does it bet­ter. The prob­lem is the pol­i­tics that Democ­rats have been try­ing to sell. As Eliz­a­beth War­ren put it last Novem­ber: ​"That's where we failed, not in our mes­sag­ing, but in our ideology."
Dur­ing the pri­ma­ry, Clin­tonites com­plained that Sanders' strat­e­gy would side­line the inter­ests of women and peo­ple of col­or. Now, some allies of Oba­ma and Clin­ton (though by no means all) are intent on block­ing a lead­er­ship bid from Rep. Kei­th Elli­son, a black Mus­lim close to Sanders who seeks to refo­cus the par­ty on eco­nom­ic jus­tice to mobi­lize the work­ing class of all races. The oppo­si­tion stems from a heady cen­trist stew: on the one hand, dis­com­fort with Ellison's alle­giance to Sanders-style class pol­i­tics (the pol­i­tics that sup­pos­ed­ly side­lines iden­ti­ty pol­i­tics) and on the oth­er, uneasi­ness with putting a black Mus­lim a the par­ty's head.
The only path back to pow­er is a coali­tion that rep­re­sents a durable major­i­ty of Amer­i­cans. That coali­tion can­not be led by the Clin­tonites whose immis­er­at­ing and racist white iden­ti­ty pol­i­tics facil­i­tat­ed Trump's elec­tion. If the Left is to take the lead in the fight and, ulti­mate­ly, pre­pare to take pow­er, it needs to dis­card the long-run­ning debate over iden­ti­ty pol­i­tics. As we have shown, pit­ting race, gen­der and sex­u­al­i­ty against class is mis­con­ceived and dan­ger­ous­ly divisive.
A rad­i­cal iden­ti­ty politics
Clin­ton­ian iden­ti­ty pol­i­tics has pro­voked, under­stand­ably, a vig­or­ous back­lash on the left, lead­ing some social­ists to con­clude that antiracist pol­i­tics is the ide­o­log­i­cal hand­maid­en of neolib­er­al eco­nom­ic policies.
Pro­po­nents of neolib­er­al iden­ti­ty pol­i­tics eschew an empha­sis on class nec­es­sary to enact broad social and eco­nom­ic trans­for­ma­tion for obvi­ous rea­sons: such a trans­for­ma­tion threat­ens the polit­i­cal-eco­nom­ic order they pro­tect and rep­re­sent. But anti-iden­ti­tar­i­an social­ists suf­fer from a sim­i­lar short­com­ing, if for dif­fer­ent rea­sons. By fail­ing to engage exist­ing col­lec­tive iden­ti­ties or hop­ing to argue them out of exis­tence, anti-iden­ti­tar­i­an social­ists also fail to rec­og­nize pol­i­tics and peo­ple as they are and thus how they can be mobi­lized for change. Racial or gen­der iden­ti­ty is not inher­ent­ly hos­tile to uni­fied class iden­ti­ty; iron­i­cal­ly, how­ev­er, the alien­at­ing polit­i­cal pos­ture of anti-iden­ti­tar­i­an social­ists may help to ensure that they are.
The pit­falls of equat­ing iden­ti­ty pol­i­tics with neolib­er­al iden­ti­ty pol­i­tics were appar­ent at a Novem­ber event in Boston, dur­ing which Bernie Sanders fell into the trap of knock­ing ​"iden­ti­ty pol­i­tics" — thus unfor­tu­nate­ly rein­forc­ing its nar­row meaning.
But what he sub­stan­tive­ly said was­n't a crit­i­cism of iden­ti­ty pol­i­tics full stop but of such pol­i­tics in its neolib­er­al guise.
"It is not good enough for some­one to say, ​'I'm a woman! Vote for me! … What we need is a woman who has the guts to stand up to Wall Street, to the insur­ance com­pa­nies, to the drug com­pa­nies." He also said that hav­ing a black CEO was a good thing but not so great for black and Lati­no work­ers if they were exploit­ing their work­ers. From a stand­point of inter­sec­tion­al­i­ty this state­ment need not offend: If group inter­ests are not mono­lith­ic but instead con­sti­tut­ed by mul­ti­ple sets of pow­er rela­tions, then know­ing one vec­tor of an individual's iden­ti­ty (gen­der, or race) does not tell you much about who they are or what their inter­ests might be. This fact should be uncon­tro­ver­sial on the left.
Pun­dits sup­port­ive of estab­lish­ment Democ­rats were nev­er­the­less aghast. One charged that Sanders wants ​"the left at-large to take up the man­tle of the white work­ing class — eras­ing in the process the unique mar­gin­al­iza­tion faced by women and peo­ple of col­or, who more often live in pover­ty than their white and male counterparts."
Rad­i­cal iden­ti­ty pol­i­tics do no such thing.
Mar­gin­al­ized and exploit­ed groups form col­lec­tive iden­ti­ties in response to shared con­di­tions of dom­i­na­tion — often in direct oppo­si­tion to the iden­ti­ties imposed upon them by elites. To trans­form pow­er rela­tions, we must build sol­i­dar­i­ty between mar­gin­al­ized, exploit­ed and exclud­ed groups. That sol­i­dar­i­ty must be premised upon but not lim­it­ed to com­mon inter­ests so as to pre­empt efforts to divide workers.
Despite the online ran­cor, there are count­less exam­ples of rad­i­cal inter­sec­tion­al orga­niz­ing: cross-fer­til­iza­tion between Black Lives Mat­ter and Fight for $15 (as described in Sarah Jaffe's recent book); the Move­ment for Black Lives plat­form, with its explic­it empha­sis on sys­temic racism and eco­nom­ic exploita­tion; hotel work­er union­iza­tion efforts spear­head­ed by Lati­na women; or mul­ti-racial and urban/​rural coali­tions to demand health­care as a human right.
Build­ing effec­tive mass pol­i­tics requires the artic­u­la­tion of forms of iden­ti­ty pol­i­tics that are durable and con­ducive to sol­i­dar­i­ty. This does not mean that there are no ten­sions between the demands of dis­tinct groups or between dif­fer­ent strate­gies and tac­tics to advance those demands. Main­tain­ing mil­i­tant oppo­si­tion to homo­pho­bia, anti-Mus­lim Chris­t­ian suprema­cism, and police vio­lence might not help win over white work­ers in the rur­al Mid­west. But com­bined with a strong class pro­gram, social­ly con­ser­v­a­tive work­ers can not only stom­ach such posi­tions but might even be con­vinced, over time, to change their minds. Dif­fer­ence, con­ceived inter­sec­tion­al­ly, high­lights our com­mon inter­ests — and our real enemies.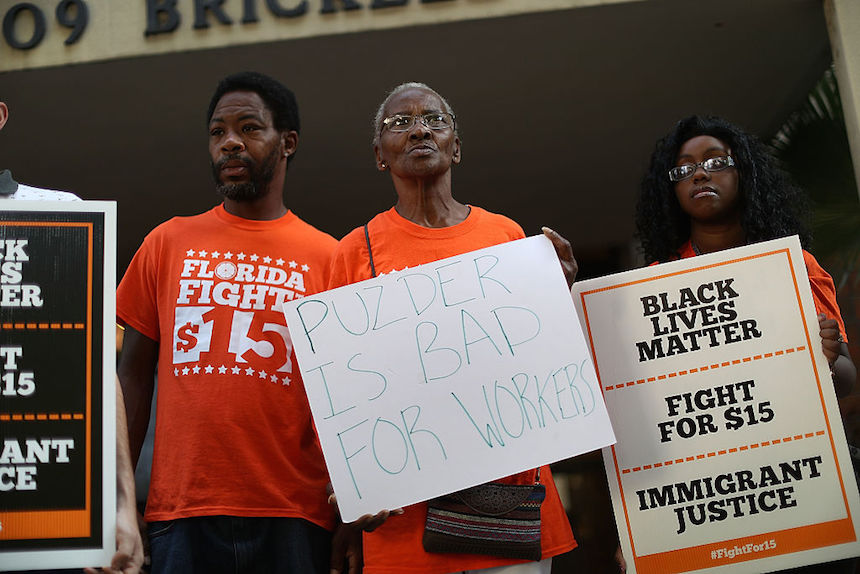 A protest against Pres­i­dent Don­ald Trump's pick for Labor Sec­re­tary, fast-food CEO Andy Puzder, out­side the Mia­mi Depart­ment of Labor on Jan­u­ary 26 shows what rad­i­cal iden­ti­ty pol­i­tics can look like. (Pho­to by Joe Raedle/​Getty Images)
Thea N. Riofran­cos is an Assis­tant Pro­fes­sor of Polit­i­cal Sci­ence at Prov­i­dence Col­lege. Her research focus­es on the pol­i­tics of resource extrac­tion in South Amer­i­ca, social move­ments, and rad­i­cal democ­ra­cy.Daniel Den­vir is a fel­low with the Fair Pun­ish­ment Project at Har­vard Law School's Charles Hamil­ton Hous­ton Insti­tute for Race and Jus­tice and the host of The Dig, a pod­cast from Jacobin mag­a­zine. He is work­ing on a book about immi­gra­tion pol­i­tics from
1965
to Trump.