Hidden in New Highways Bill, 'Stealth Attack' Stuns Ship Unions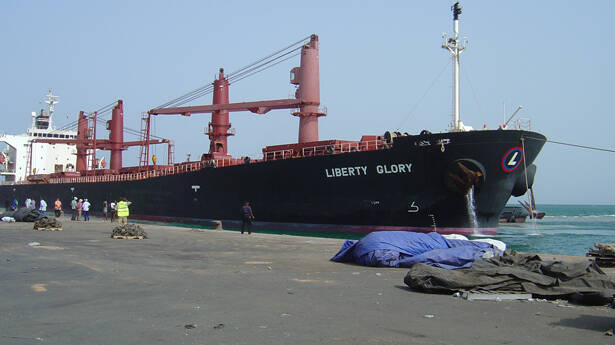 Unions representing the crewmembers aboard U.S.-flag cargo ships are reeling from a stunning setback in Congress that threatens to idle as many as 16 vessels and eliminate up to 2,000 maritime jobs.
One of the unions described the move by Congress as a ​"stealth attack" because it took place in the hurried atmosphere of final negotiations between the House and Senate over a new surface transportation bill. Signed into law by President Barack Obama on July 7, the broader law provides about $105 billion over two years for federal highway construction and related transportation projects.
But buried in the details of the legislation is a funding provision that shifts federal money away from a program that uses U.S.-flag cargo ships to transport food aid to poor countries and allocates the money instead to unrelated highway-spending projects. That shift threatens to divert 500,000 tons of cargo to non‑U.S. ships, thereby eliminating some 2,000 job for American mariners and shoreside workers, according to the labor-management lobby group USA Maritime.
This ​"midnight maneuver will cause the loss of thousands of U.S. jobs at sea and ashore and the waste of millions of dollars in private investment in U.S.-flagged merchant ships and supporting landside infrastructure," Tom Bethel, president of the American Maritime Officers (AMO) union, said in a statement.
The AMO, along with the Seafarers International Union (SIU), Marine Engineers' Beneficial Association (MEBA) and the Masters, Mates & Pilots (MM&P) union, admit to being blindsided by the move and are now working feverishly to repair the damage. Charlie Papavizas, a Washington, D.C.-based lawyer who represents one of the shipping companies most directly affected, called the development a ​"debacle" and said all efforts are now focused on a legislative initiative to reverse the new funding provision.
Fortunately for the maritime union members, the attack on the food-aid program does not appear to be motivated by animus to the unions, or a specific desire to cut government support to U.S.-flag shipping companies, Papavizas said. Rather, in a rush to clarify the funding measures behind the broader highway bill, the food-aid language was hastily added to the law with no congressional debate and little formal consideration. That means it should be possible to have the measure reversed as part of some future funding bill as it makes it way through Congress, Papavizas said.
​"This was not accomplished through hostile legislation filed in the House or in the Senate. There were no hearings…and there were no votes on this specific provision…before the language found its way into the highway bill conference report," AMO's Bethel confirmed.
But the job of repairing the damage is made more difficult by the complicated and politically charged nature of the food-aid program. Under the previous arrangements, food aid was shipped using U.S. vessels for 75 percent of the cargo, with 25 percent transported using low-cost ​"flag-of-convenience" ships. That system had been in place since 1985, when the Cargo Preference Act of 1954 was amended in response to complaints about the high cost of American ships.
The 1985 compromise has not quieted political controversy over cargo preference and foreign aid, and the issue pops up again and again on Capitol Hill. It has sometimes taken the form of an attack on the maritime unions, or on profiteering shipping companies, but at other times the government's entire approach to foreign aid is criticized. In recent years, for example, some food-aid activists have pushed for the elimination of all food-aid shipping managed by the federal government in favor of direct cash disbursements to distressed countries. This has been steadfastly opposed by American unions because it would eliminate good-paying U.S. jobs in that sector of the economy.
It doesn't help that foreign-aid programs seem inordinately complicated and confusing. Many Americans were surprised, for example, when a highly publicized piracy incident off the coast of East Africa in 2009 highlighted the vessel Maersk Alabama. The containership, crewed by members of SIU, MEBA and MM&P, appeared to be under the control of the Danish company Maersk, even though it was carrying U.S. cargo preference shipments to Kenya, Somalia and Uganda. The ownership arrangements of the vessel were entirely proper under existing U.S. law, experts said, but raised the question whether foreign shipping corporations were the real beneficiaries of the cargo-preference laws.
Such questions notwithstanding, maritime unions are turning now to their friends in Congress to push new legislation to restore full funding for the cargo provisions of the food aid program.
Among them is Rep. Elijah Cummings (D‑Md.). Cummings said he was concerned that the new bill ​"would reduce by one-third the percent of food aid shipped on U.S. vessels. As a former chairman on Coast Guard and Marine Transportation subcommittee, I have closely examined the state of the U.S. merchant marine… . Without our cargo preference programs, we would have no domestic merchant marine, leaving our military and indeed our economy completely dependent on foreign vessels. This provision should never have been included…and I will work to repeal it," he said.
Papavizas told Working In These Times that there is significant bipartisan support in Congress for the cargo-preference elements of the food-aid program, resulting in some optimism that the law can be changed before lasting harm is done to the merchant fleet. But ​"we have our work cut out for us, that's for sure," he said.
Bruce Vail
is a Baltimore-based freelance writer with decades of experience covering labor and business stories for newspapers, magazines and new media. He was a reporter for Bloomberg BNA's Daily Labor Report, covering collective bargaining issues in a wide range of industries, and a maritime industry reporter and editor for the Journal of Commerce, serving both in the newspaper's New York City headquarters and in the Washington, D.C. bureau.