On Israel and Palestine, Bernie Sanders Is Right—And Hillary Clinton Knows It
For the first time in memory, a major American political figure insisted publicly that the Jewish state and its leaders are "not always right," and that they had killed and injured far too many blameless human beings.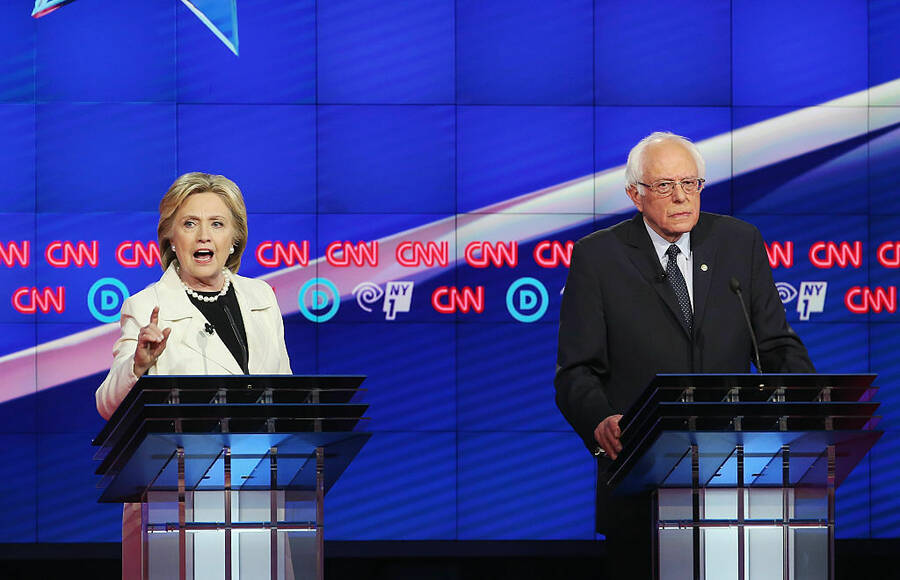 The most sig­nif­i­cant moment of the Demo­c­ra­t­ic pri­ma­ry debate in Brook­lyn — and per­haps any pres­i­den­tial debate this sea­son — came when Bernie Sanders chal­lenged Hillary Clin­ton over her refusal to crit­i­cize Israel's exces­sive use of force against the Pales­tini­ans in Gaza. For the first time in mem­o­ry, a major Amer­i­can polit­i­cal fig­ure insist­ed pub­licly that the Jew­ish state and its lead­ers are ​"not always right" — and that in attempt­ing to sup­press ter­ror­ism, they had killed and injured far too many blame­less human beings.
Hillary Clinton knows that the right-wing government of Benjamin Netanyahu, responsible for the Gaza disgrace and more, is far closer in outlook to the ultra-nationalists who applauded Rabin's assassination than to the peacemaker whose death she lamented.
Asked by CNN's Wolf Blitzer about his judg­ment that Israel's mil­i­tary response to attacks from Gaza in 2014 was ​"dis­pro­por­tion­ate and led to the unnec­es­sary loss of inno­cent life," the Ver­mont Sen­a­tor answered firm­ly: ​"Yeah, I do believe that." He men­tioned that many oth­er nations, includ­ing long­time allies of Israel, had denounced the atroc­i­ties in Gaza, along with human rights orga­ni­za­tions around the world.
Hav­ing reit­er­at­ed that he sup­ports Israel as our ally — with every right to self-defense — Sanders said that ​"in the long run, if we are ever going to bring peace to that region which has seen so much hatred and so much war, we are going to have to treat the Pales­tin­ian peo­ple with respect and dignity."
That should be blind­ing­ly obvi­ous, espe­cial­ly to Clin­ton, who has worked along­side Pres­i­dent Clin­ton and Pres­i­dent Oba­ma toward a decent two-state solu­tion for almost a quar­ter cen­tu­ry. Her dis­ap­point­ing reply to Sanders reflect­ed her polit­i­cal pri­or­i­ties in the New York pri­ma­ry, rather than her com­mit­ment to human rights or her assess­ment of Amer­i­can diplo­mat­ic interests.
She talked about her effort in nego­ti­at­ing a Gaza cease­fire, but that self-serv­ing paean was eva­sive, as Sanders point­ed out. Pressed for a seri­ous answer, she pan­dered to the most con­ser­v­a­tive vot­ers, Jew­ish and Chris­t­ian, who mis­tak­en­ly believe friend­ship with Israel means sup­port­ing any vio­lence per­pe­trat­ed by Israel's gov­ern­ment. She blamed the casu­al­ties among Pales­tin­ian civil­ians sole­ly on Hamas, even as she vague­ly men­tioned ​"pre­cau­tions" that Israel should have tak­en to pre­vent them.
This dis­play of sub­servience to the most right-wing ele­ments in Israel and its Wash­ing­ton lob­by was all too typ­i­cal of Amer­i­can pres­i­den­tial aspi­rants. Rarely does any U.S. politi­cian dare to utter the truth about the con­flict in Israel and Pales­tine. But com­ing from Clin­ton the usu­al pap sounds worse because, unlike the aver­age pol, she pos­sess­es deep knowl­edge of the region.
When Bill Clin­ton was pres­i­dent, he and Hillary became close friends of Prime Min­is­ter Yitzhak Rabin, a for­mer gen­er­al in the Israel Defense Forces and a war hero who coura­geous­ly sought a just peace with the Pales­tini­ans — and paid for that brave pol­i­cy with his life when a right-wing fanat­ic assas­si­nat­ed him in Novem­ber 1995. Her mem­oir, ​"Liv­ing His­to­ry," describes hope­ful moments with Rabin and his wife Leah around the time of the Oslo accords — and an affect­ing account of the moments after Pres­i­dent Clin­ton, who loved Rabin like a father, told her he had been murdered.
Hillary Clin­ton knows that the right-wing gov­ern­ment of Ben­jamin Netanyahu, respon­si­ble for the Gaza dis­grace and more, is far clos­er in out­look to the ultra-nation­al­ists who applaud­ed Rabin's assas­si­na­tion than to the peace­mak­er whose death she lament­ed. She knows that Netanyahu's aim is annex­a­tion, not nego­ti­a­tion. She knows that our inter­ests — indeed, those of the entire world — can only be advanced by a just peace that both pro­tects Israel and relieves the suf­fer­ing of the Pales­tin­ian people.
The day after the Brook­lyn debate, her cam­paign issued a lengthy press release: ​"Hillary Clin­ton and Israel: A 30-Year Record of Friend­ship, Lead­er­ship, and Strength." But its fail­ure to men­tion Pales­tin­ian rights and needs again revealed weak­ness, not ​"strength." We can only hope that if she wins the pres­i­den­cy, she will prove her­self to be a true friend of Israel and its peo­ple — as her hus­band did when he warned that unless they achieve a durable agree­ment with a new Pales­tine, Israelis will even­tu­al­ly lose their nation­hood, their democ­ra­cy, or both.
Unfor­tu­nate­ly, Clin­ton's cur­rent approach is the dis­mal stan­dard in Amer­i­can pol­i­tics, which made Sanders' hon­esty even more refresh­ing. What a sur­prise to hear a Jew­ish can­di­date for pres­i­dent — the first with a real­is­tic shot at his par­ty's nom­i­na­tion — speak so can­did­ly and coura­geous­ly about the coun­try where he worked on a kib­butz as a young man. With those words Bernie made a bit of his­to­ry, and earned a lot of respect.