Hillary Clinton Won Super Tuesday, But Bernie Sanders Won the Future
The millennials have spoken, and they overwhelmingly chose Sanders' radical change over Clinton's incremental reform.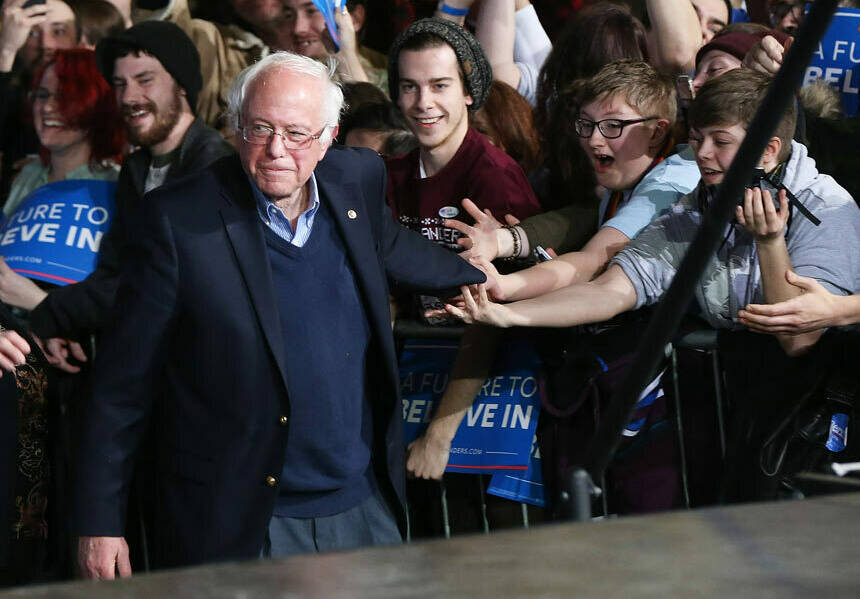 Judg­ing from Super Tuesday's results, Sen. Bernie Sanders has a long row to hoe if he is going to over­take Hillary Clin­ton and become the Demo­c­ra­t­ic nom­i­nee. By and large, the mar­gins of her vic­to­ries were larg­er than the mar­gins of his. And as In These Times Deputy Pub­lish­er Christo­pher Hass report­ed last week, it is in the size of these mar­gins that the Demo­c­ra­t­ic stan­dard bear­er will be determined.
With Clinton moving closer to the nomination, it looks like we're sitting down to a pretty lean victors banquet. Where is "change" on the menu? Next to "crumbs"?
But the race for the Demo­c­ra­t­ic nom­i­na­tion is not only a con­test between Hillary Clin­ton and Bernie Sanders. It is also the venue for com­pet­ing ideas about how social change is made, in which two visions for the future have been offered.
Look at how the debate over health­care has played out. Sanders is an unabashed sup­port­er of get­ting insur­ance cor­po­ra­tions out of the health­care busi­ness and estab­lish­ing a sin­gle-pay­er, Medicare-for-all sys­tem. Clin­ton has cam­paigned to defend the Oba­macare sta­tus quo, and tin­ker about the edges. Dit­to with bank­ing. Sanders promis­es he will break up banks that are too big to fail. Clin­ton wants to — well, she says she will hold Wall Street account­able and reduce risks, but we don't exact­ly know what her agen­da is, since she has refused to release the texts of speech­es she gave to the bankers who have fund­ed her. As for mak­ing col­lege afford­able, Sanders wants to pro­vide free tuition for stu­dents who attend state insti­tu­tions. Clin­ton wants to make com­mu­ni­ty col­leges free and reduce costs at pub­lic uni­ver­si­ties. The list goes on, but you get the pic­ture. The choice is between rad­i­cal change and incre­men­tal reform.
Again and again we hear the same mea­sured cau­tion from can­di­date Clin­ton, her cam­paign sur­ro­gates and her cheer­lead­ers in the lib­er­al cor­po­rate media. Bet­ter to eschew rad­i­cal solu­tions (no mat­ter how ratio­nal) and sup­port Clinton's doable, com­mon­sense alternatives.
Dreams are for the future.
We are told: Enjoy the feast. Half a loaf is bet­ter than none.
Sanders, is hav­ing no truck with such a mea­ger meal. He put it this way on the stump in Fort Collins, Col­orado, on Feb­ru­ary 28:
I believe that if you start your cam­paign and run on a plat­form call­ing for a full loaf, at worst you're gonna get a half loaf. If you start your cam­paign talk­ing about a need for a half loaf, you're going to get crumbs. And the Amer­i­can peo­ple today do not want, do not need crumbs. They need the whole loaf.
In the short-term, with Clin­ton mov­ing clos­er to the nom­i­na­tion, it looks like we're sit­ting down to a pret­ty lean vic­tors ban­quet. Where is ​"change" on the menu? Next to ​"crumbs"?
But in the long-term, who is the real win­ner? Who has put ideas on the table that her­ald a future that tran­scends the sta­tus quo? As he has done before, on Super Tues­day, in state after state, Sanders won a major­i­ty of Demo­c­ra­t­ic vot­ers under the age of 30. Clin­ton may yet win the nom­i­na­tion, but the future of the par­ty belongs to Sanders.
The kids in the Sanders' move­ment are not clue­less dream­ers. The harsh real­i­ties of employ­ment pre­car­i­ty, debt, low wages, inequal­i­ty, cli­mate change, etc., have forced young Amer­i­cans to reassess their cir­cum­stances in a cold, harsh light.
If life in Amer­i­ca is basi­cal­ly peachy keen, then the small-bore reforms pro­posed by Clin­ton and the neolib­er­al tech­nocrats who helm the Demo­c­ra­t­ic Par­ty make a lot of sense.
If, on the oth­er hand, the sta­tus quo is intol­er­a­ble — as it is for mil­lions of Amer­i­cans — then what Sanders calls ​"polit­i­cal rev­o­lu­tion" becomes a moral imperative.
Clin­ton and Sanders offered America's mil­len­ni­als two futures. They made their choice.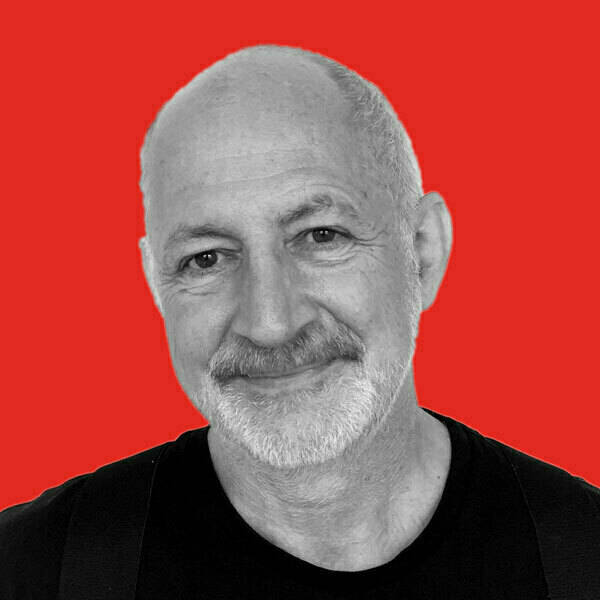 Joel Blei­fuss, a for­mer direc­tor of the Peace Stud­ies Pro­gram at the Uni­ver­si­ty of Mis­souri-Colum­bia, is the edi­tor & pub­lish­er of In These Times, where he has worked since Octo­ber 1986.