On Bill and Hillary Clinton's First Date in 1971, They Crossed a Picket Line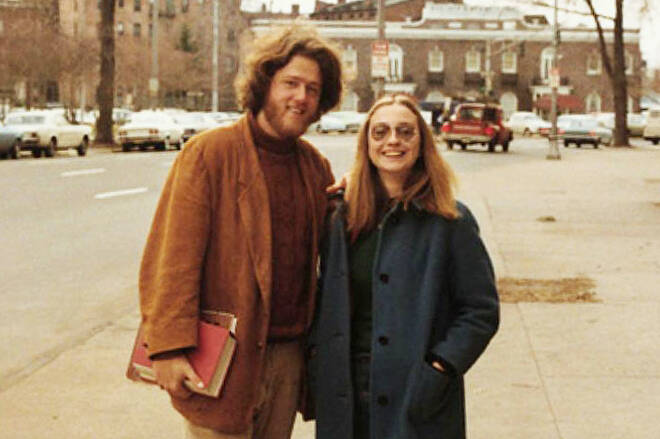 Yale Law School students Hillary Rodham and Bill Clinton were both members, alongside future Connecticut senator Richard Blumenthal and Bill Clinton's eventual Secretary of the U.S. Department of Labor Robert Reich, of the Yale Law School Students Committee for Local 35, the university's blue-collar worker union, and signatories, during the week before the union went on strike, to a statement asserting ​"WE BELIEVE THE UNION DESERVES THE SUPPORT OF YALE STUDENTS AND FACULTY." Bill Clinton was even, former UNITE HERE President John Wilhelm would note decades later in his eulogy for Vincent Sirabella, the Voter Registration Chairman of the Sirabella for Mayor Campaign.
And yet, on her first date with classmate Clinton in 1971, Rodham would later recall:
We both had wanted to see a Mark Rothko exhibit at the Yale Art Gallery but, because of a labor dispute, some of the university's buildings, including the museum, were closed. As Bill and I walked by, he decided he could get us in if we offered to pick up the litter that had accumulated in the gallery's courtyard. Watching him talk our way in was the first time I saw his persuasiveness in action. We had the entire museum to ourselves. We wandered through the galleries talking about Rothko and twentieth-century art. I admit to being surprised at his interest in and knowledge of subjects that seemed, at first, unusual for a Viking from Arkansas. We ended up in the museum's courtyard, where I sat in the large lap of Henry Moore's sculpture Drape Seated Woman while we talked until dark.
The relationship between Rodham and Clinton, two instrumental figures in the decoupling of the Democratic Party from the priorities of the mainstream labor movement, thus began with the crossing of a picket line.
When Rodham and Clinton picked up the garbage strewn about the art gallery courtyard (if, indeed, they ever did so), they were doing exactly what everyone from Vincent Sirabella to the Black Student Alliance at Yale had asked students not to do: they were performing — or at the very least offering to perform — the work that members of Local 35's Grounds Maintenance division, had refused.
Rodham and Clinton were offering themselves as replacement labor, blunting, if only temporarily, the effects of the strike on the university. The two law students then bartered their litter pickup, which was, in essence, scab labor (or maybe just the promise thereof) into access to a struck building.
The art gallery and other nonessential buildings were closed because the university did not have enough managers to keep them open during the strike. They were closed because the people who usually cleaned and repaired them, whose labor helped make the university's display of art possible, had been forced to absent themselves by the necessity which fueled the ongoing strike.
For Rodham and Clinton, the workers' concerns were at best secondary to the romance of the empty museum, the sophistication and transgressive pleasure offered not only by the modernist art, but also by the act of violating the strike. Hillary Rodham Clinton offers this anecdote in her 2003 memoir Living History not in her discussion of how her time in New Haven affected her understanding of urban politics and life, but rather in a distinct chapter devoted entirely to the origins of her relationship with the ​"Viking from Arkansas." The ​"labor dispute," not even named here as a strike, is not only abstracted from the very spaces the future Clintons inhabit in this narrative, it is made incidental to them, an obstacle which has to be sidestepped in order for the art to be viewed and the date to acquire its romantic ambiance.
Excerpted and adapted from Beneath the University: Service Workers and the University-Hospital City, an unpublished Ph.D. dissertation.
Get the best of our labor news and analysis direct to your inbox: Sign up for the weekly Working In These Times newsletter.
Did you know?
Many nonprofits have seen a big dip in support in the first part of 2021, and here at In These Times, donation income has fallen by more than 20% compared to last year. For a lean publication like ours, a drop in support like that is a big deal.

After everything that happened in 2020, we don't blame anyone for wanting to take a break from the news. But the underlying causes of the overlapping crises that occurred last year remain, and we are not out of the woods yet. The good news is that progressive media is now more influential and important than ever—but we have a very small window to make change.

At a moment when so much is at stake, having access to independent, informed political journalism is critical. To help get In These Times back on track, we've set a goal to bring in 500 new donors by July 31. Will you be one of them?
Zach Schwartz-Weinstein
is an independent scholar who writes about universities and labor. He received his Ph.D. in American Studies from New York University in September.
Here's how you can help
In These Times is funded entirely by readers like you, but through the first half of 2021, reader donations are down 20% compared to last year. If that continues, it could spell real trouble for In These Times. We're running a short fundraising drive (from now until July 31) to get things back on track. Will you chip in?