How Factory Farm Pollution Harms the Quality of Life in Rural Communities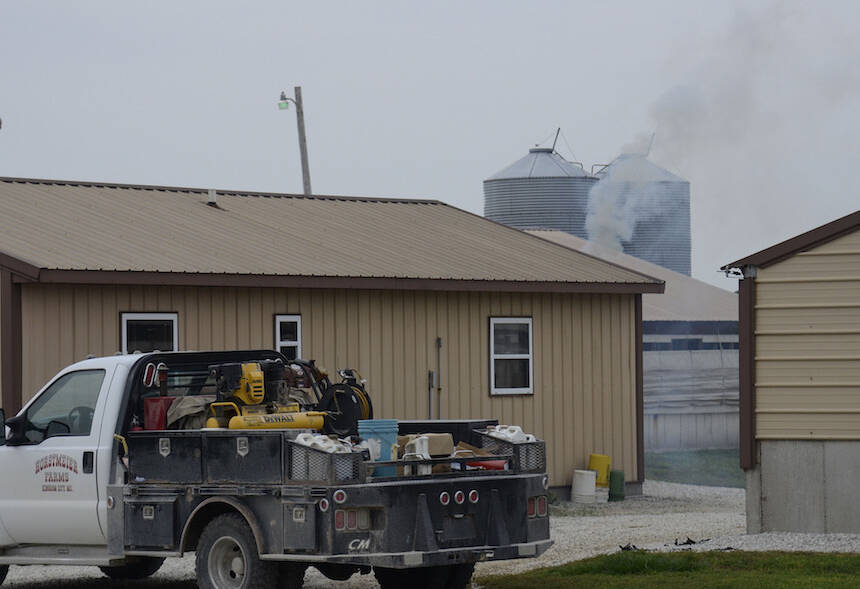 As U.S. live­stock farm­ing becomes more indus­tri­al, it is chang­ing rur­al life. Many peo­ple now live near Con­cen­trat­ed Ani­mal Feed­ing Oper­a­tions (CAFOs) – large facil­i­ties that can house thou­sands of ani­mals in close quar­ters. Neigh­bors have to con­tend with nox­ious odors, tox­ic emis­sions and swarms of insects, and have had lit­tle suc­cess in obtain­ing relief – but this could be changing.
On April 26, Mur­phy Brown LLC, a divi­sion of Smith­field Foods, was required to pay $75,000 in com­pen­sato­ry dam­ages and $50 mil­lion in puni­tive dam­ages in a nui­sance law­suit filed by ten res­i­dents of Bladen Coun­ty, North Car­oli­na over impacts from a near­by hog farm. On June 29, anoth­er North Car­oli­na jury award­ed $25 mil­lion to a cou­ple in Duplin Coun­ty in a sim­i­lar law­suit against Smith­field Foods. Oth­er cas­es are pend­ing in North Car­oli­na and Iowa.
Smith­field Foods is the largest hog proces­sor and pro­duc­er in the world, so these ver­dicts are major vic­to­ries for peo­ple orga­niz­ing against indus­tri­al­ized ani­mal agri­cul­ture. Based on my expe­ri­ence study­ing envi­ron­men­tal health at the com­mu­ni­ty lev­el, I see them as break­throughs after decades of gov­ern­ment fail­ure to pro­tect rur­al com­mu­ni­ties from neg­a­tive impacts of CAFOs.
Threats to health and the environment
Iowa and North Car­oli­na are the largest pork-pro­duc­ing states in the nation. Hog farms gen­er­at­ed US$6.8 bil­lion in sales in Iowa in 2012 and $2.9 bil­lion in North Carolina.
They also pro­duce mas­sive quan­ti­ties of waste. Unlike human biosolids, which must meet reg­u­la­to­ry stan­dards for pathogen lev­els, vec­tor attrac­tion reduc­tion and met­al con­tent, no such stan­dards are required for CAFO waste. Stud­ies have linked expo­sure to hog farm emis­sions, such as ammo­nia and hydro­gen sul­fide, to symp­toms includ­ing increased stress, anx­i­ety, fatigue, mucous mem­brane irri­ta­tion, res­pi­ra­to­ry con­di­tions, reduced lung func­tion and ele­vat­ed blood pressure.
Hog waste can con­t­a­m­i­nate ground and sur­face water reserves through runoff, leach­ing and rup­tur­ing of stor­age facil­i­ties. High quan­ti­ties of nitrates and phos­phates, from both ani­mal waste and fer­til­iz­ers used to grow feed, can also con­t­a­m­i­nate rivers and streams.
Bac­te­ria and resid­ual antibi­otics present in hog waste have the poten­tial to cause acute ill­ness and infec­tion, as well as antibi­ot­ic resis­tance. Rur­al com­mu­ni­ties are espe­cial­ly vul­ner­a­ble to water con­t­a­m­i­na­tion because many rely on pri­vate well water, which is not reg­u­lat­ed by gov­ern­ment agen­cies.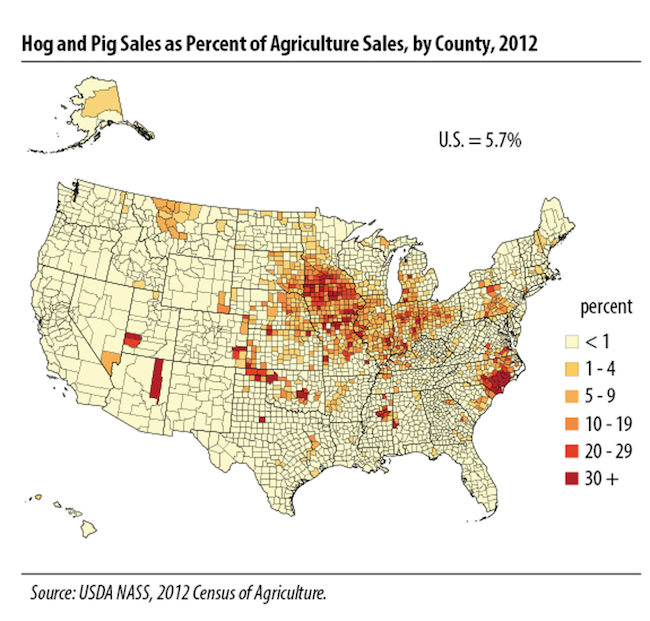 U.S. hog farms are con­cen­trat­ed in the Mid­west and Southeast.
Impacts beyond the farm
The Bladen Coun­ty law­suit charged that waste man­age­ment tech­niques employed by Kin­law Farm, a local hog pro­duc­er for Mur­phy Brown LLC, put neigh­bors' health at risk and severe­ly low­ered their qual­i­ty of life. The farm stored liq­uid manure in on-site lagoons and sprayed it on local fields as fertilizer.
High vol­umes of waste and fre­quent mis­han­dling exposed near­by res­i­dents to nox­ious odors. The lagoons attract­ed swarms of insects onto neigh­bor­ing prop­er­ties, and plain­tiffs com­plained in the law­suit that trucks packed with dead ani­mals drove through the neigh­bor­hood at all hours of the day.
Such con­di­tions char­ac­ter­ize the lives of peo­ple who live close to CAFOs. Peo­ple who cher­ish the free­dom of rur­al life are anguished when pol­lu­tion and over­pow­er­ing smells make it impos­si­ble to per­form every­day tasks and engage with their com­mu­ni­ty. Many feel impris­oned with­in their own homes.
In May 2018 Shane Rogers, a for­mer EPA and USDA envi­ron­men­tal engi­neer, pub­lished an air qual­i­ty inves­ti­ga­tion that pro­vid­ed evi­dence to sup­port the nui­sance law­suit. Using sam­ples col­lect­ed from the air and exte­ri­ors of homes neigh­bor­ing Kin­law Farm, Rogers was able to iso­late hog feces DNA at 14 of the 17 homes test­ed. All six of the dust sam­ples col­lect­ed from the air con­tained ​"tens of thou­sands to hun­dreds of thou­sands of hog feces DNA particles."
Based on such high con­cen­tra­tions, Rogers deemed it high­ly like­ly that these con­t­a­m­i­nants could enter the hous­es. The pres­ence of fecal mat­ter in homes may pro­vide grounds for a tres­pass­ing claim, as it falls under the def­i­n­i­tion of a phys­i­cal inva­sion of anoth­er person's property.
https://​www​.youtube​.com/​w​a​t​c​h​?​v​=​h​a​u​f​t​M​ODKJ
4
Pork pro­duc­ers respond
Although the North Car­oli­na set­tle­ment is a major step for­ward for rur­al com­mu­ni­ties, the indus­try is push­ing back. Smith­field Foods has con­demned such law­suits as ​"noth­ing more than a mon­ey grab by a big lit­i­ga­tion machine." The com­pa­ny asserts that because Kin­law Farm ful­ly com­plied with all fed­er­al, state and local laws and reg­u­la­tions, such law­suits only threat­en the liveli­hoods and eco­nom­ic pros­per­i­ty of thou­sands of North Car­olini­ans employed by the industry.
A few weeks after the April ver­dict, the judge reduced the set­tle­ment from $50.75 mil­lion to $3.25 mil­lion, pur­suant to a North Car­oli­na law which caps puni­tive dam­ages at either three times the amount of com­pen­sato­ry dam­ages award­ed or $250,000. This allot­ment does not address com­mu­ni­ty mem­bers' suf­fer­ing, and jurors were unaware of the law lim­it­ing puni­tive dam­ages when they reached their decision.
In response to 23 nui­sance cas­es filed by over 500 res­i­dents, the North Car­oli­na leg­is­la­ture recent­ly vot­ed to expand its right-to-farm law, over­rid­ing Gov­er­nor Roy Cooper's veto. These laws were orig­i­nal­ly designed to pro­tect farms from peo­ple who moved in near­by and then com­plained about noise and odors. How­ev­er, indus­tries in some agri­cul­tur­al states have pushed leg­is­la­tures to expand the statutes to make it hard­er to sue CAFOs.
An under-reg­u­lat­ed industry
In my view, cur­rent mea­sures in place to pro­tect rur­al com­mu­ni­ties from fac­to­ry farms are gross­ly insuf­fi­cient. CAFOs have been defined as point sources of pol­lu­tion under the Clean Water Act for over 40 years. This means they should have to obtain per­mits to dis­charge waste into riv­er, streams or sur­face waters. But due to indus­try push­back, lob­by­ing and pri­va­cy con­cerns, it is esti­mat­ed that only 33 per­cent of CAFOs oper­at­ed with such per­mits as of 2017.
Envi­ron­men­tal advo­cates also con­tend that CAFOs qual­i­fy as sta­tion­ary pol­lu­tion source under the Clean Air Act. Instead, the U.S. Envi­ron­men­tal Pro­tec­tion Agency has pur­sued a vol­un­tary approach for more than a decade that cen­ters on study­ing how to mon­i­tor CAFO air emis­sions.
In sum, I see gov­ern­men­tal agen­cies as com­plic­it with­in a sys­tem of pro­duc­tion that pri­or­i­tizes pri­vate inter­ests rather than the well-being of com­mu­ni­ties and the envi­ron­ment. Research has shown that these oper­a­tions dis­pro­por­tion­ate­ly bur­den com­mu­ni­ties of col­or in rur­al North Car­oli­na, so this is a major envi­ron­men­tal jus­tice issue.
In order for CAFOs and com­mu­ni­ties to coex­ist har­mo­nious­ly, the entire struc­ture of the present food sys­tem must change. In addi­tion to strength­en­ing reg­u­la­tions on fac­to­ry farm emis­sions and dis­charges, I think reg­u­la­tors should pro­vide incen­tives for CAFOs to invest in sus­tain­able tech­nolo­gies and alter­na­tive waste man­age­ment systems.
These farms should also be offered incen­tives to pub­licly report qual­i­ty and safe­ty data and expect­ed impacts on host and near­by com­mu­ni­ties. This kind of infor­ma­tion would increase rur­al res­i­dents' nego­ti­at­ing power.
Giv­en the Trump administration's anti-reg­u­la­to­ry slant and pro­posed bud­get cuts, the fed­er­al gov­ern­ment is unlike­ly to lead in this area. How­ev­er, the North Car­oli­na ver­dicts and pend­ing cas­es in Iowa could lead to greater indus­try trans­paren­cy and empow­er more rur­al cit­i­zens to take action against CAFOs in their communities.
(Saco­by Wil­son orig­i­nal­ly wrote this arti­cle for The Con­ver­sa­tion, and it repost­ed on Rur­al Amer­i­ca In These Times thanks to a cre­ative com­mons license. Crys­tal Mehdizadeh, a bachelor's degree can­di­date in pub­lic health sci­ence at the Uni­ver­si­ty of Mary­land-Col­lege Park, con­tributed to this arti­cle. Saco­by Wil­son received fund­ing for research on hog CAFOs from the U.S. Envi­ron­men­tal Pro­tec­tion Agency and the Nation­al insti­tutes of Health from 1998 – 2005.)
Saco­by Wil­son
is an envi­ron­men­tal health sci­en­tist with over ten years of expe­ri­ence work­ing in com­mu­ni­ty-uni­ver­si­ty part­ner­ships on envi­ron­men­tal health and jus­tice issues. He is an assis­tant pro­fes­sor with the Mary­land Insti­tute of Applied Envi­ron­men­tal Health.