Holy Crap: New Poll Puts Bernie Sanders Ahead of Hillary Clinton in Iowa
Iowa is feeling the Bern.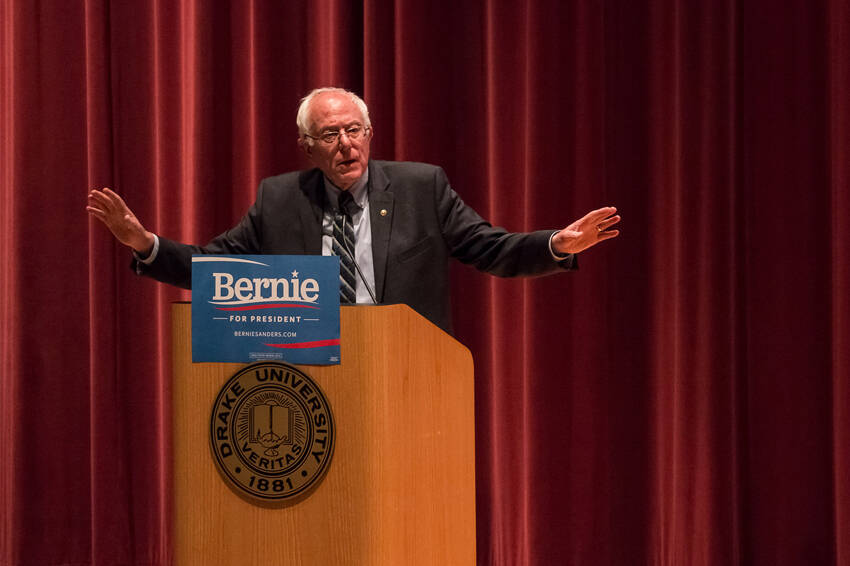 Bernie Sanders has overtaken Hillary Clinton as Iowa's top choice for the Democratic caucus, according to a Quinnipiac University poll. Sanders edged ahead of Clinton 41 percent to 40 percent in the survey of more than 800 likely Iowa participants in the Democratic caucus four months from now. This comes on the heels of Sanders' surge in New Hampshire, where he polled 41 percent and Clinton 32 percent.
Sanders' rise has made him the one to watch in an exciting Democratic race. He is running ​"against his own party's bosses and the prized presidential candidate," noted Peter A. Brown, the assistant director of the Quinnipiac University Poll. ​"Sanders has seized the momentum by offering a message more in line with disproportionately liberal primary and caucus voters."
Sanders' showing in this September poll saw an 8 percent jump from when the poll was last conducted in July, the same time Sanders spoke to a 2,500-strong crowd, his biggest in Iowa yet. In comparison, support for Clinton has dropped 12 percent since July.
Sanders was ​"stunned" by the poll results, he told CNN's Wolf Blitzer Thursday afternoon. ​"We have a message I believed from day one was going to resonate with the American people," he said, listing issues such as America's diminishing middle class, income inequality and climate change. ​"I thought those issues would resonate. Did I think they would resonate as quickly as they have? The answer is no."
Sanders also performed strongly in the remainder of the survey, which assessed voters' opinions of the Democratic candidates and the candidates' perceived trustworthiness and leadership qualities. Sanders topped the poll as the candidate most believed to ​"care about the needs and problems of the people like you" at 85 percent, compared to Clinton at 78 percent and Biden — who has not announced if he will run — at 84 percent.
Eighty-six percent of those polled considered Sanders ​"honest and trustworthy," compared to 64 percent for Clinton, a poor showing likely due to the controversy surrounding her use of a private email server when she was in public office.
Be one of the first
Help kick off the new era of In These Times! Without a media that brings people together and creates a written record of the struggles of workers, their voices will be fragmented and forgotten.
The mission of In These Times is to be that written record, and to guide and grow those movements.
We have a lot of work ahead of us, and that work starts today. Early support is the most valuable support, and that's why we're asking you to pitch in now. If you are excited for this new era of In These Times, please make a donation today.
Karen Gwee
is a Summer
2015
editorial intern at In These Times. She is a rising junior studying journalism and English at Northwestern University, and she tweets at @karen_gwee.