Home Care Workers Win Big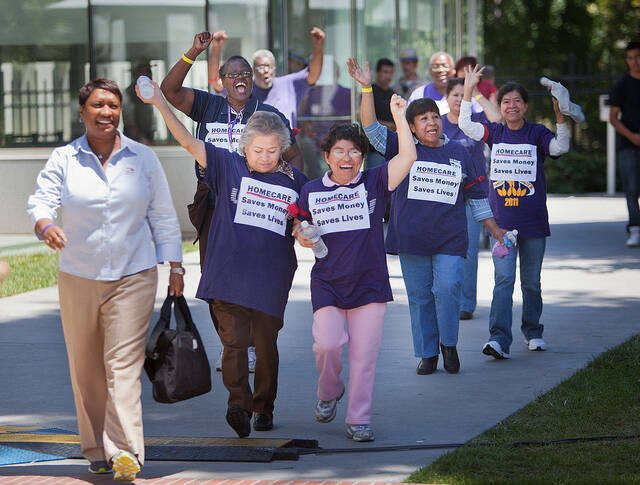 Nearly two million American workers will now be covered by federal minimum wage and overtime protections, thanks to a rule change announced by the U.S. Department of Labor on Tuesday. Home care workers, who provide in-home care for the elderly and disabled, often fill jobs like personal-aide, home-health aide or certified nursing assistant. Home care is a rapidly growing occupation, fueled by demand from an aging baby boomer generation that wants to keep living at home for longer. The Department of Labor estimates the number of workers in this industry will grow by almost
70
percent in the next decade.
These new rules serve to clarify the definition of
&
ldquo;companionship service,
&
rdquo; a category of work that Congress exempted from the Fair Labor Standards Act in
1974
. The exemption was originally intended for casual babysitters and caregivers of the elderly, disabled or ill, but has since become a widely exploited loophole that lumps together all
&
ldquo;domestic service.
&
rdquo; In reality, home care workers are skilled healthcare professionals. Labor advocates have long called for the strengthening of wage and hour protections in this industry to affirm that home care work is real work of real value. With these new rules in place, workers in
20
states will gain wage and hour protections for the first time, and workers living in states with existing protections will benefit from stronger federal ones. Up until now, many home care workers have earned slightly above the national minimum wage, $
7
.
25
, but because of the companionship service designation, they weren
&
rsquo;t compensated the normal time-and-a-half overtime premium for work beyond
40
hours/​week. Obama first raised the exemption issue during his campaign in
2007
with the photo-op worthy exercise of
&
ldquo;walking in the shoes
&
rdquo; of home care worker Pauline Beck for a day. In
2011
, after four years in office, he announced his intent to actually close the loophole. Despite the lag, labor advocates are still lauding the administration
&
rsquo;s follow-through. The new regulations won
&
rsquo;t take effect until January
1
,
2015
, an unusually long grace period that purportedly allows time for employers and families to prepare. Whatever you make of the various delays, it
&
rsquo;s still an undeniable victory for these workers and the millions of Americans that depend on their care. It
&
rsquo;s also pertinent to note that
&
nbsp;this is more than just a labor issue
&
mdash;the intersection of gender, race and class makes it a victory on multiple fronts. Ninety-two percent of home care workers are women, more than half are people of color, and many are low-income and rely on government assistance like food stamps and Medicaid. Good news is hard to come by in labor reporting, so enjoy this one!
Nat Stein
was a Fall
2013
Intern. She is currently a junior at Colorado College where she studies Philosophy and Journalism, with a minor in skiing and beer. Don't follow her on Twitter.