'Nothing Stops a Bullet Like a Job'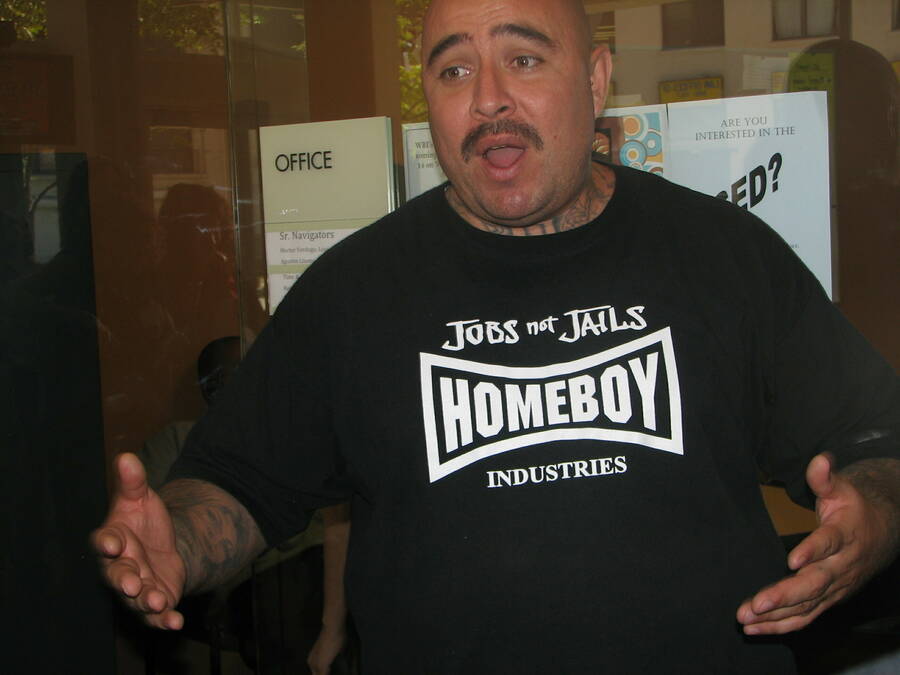 Despite lay-offs, Homeboy Industries continues mission of bringing ex-gang members into mainstream
LOS ANGELES — Ray Moreno once had a job as a chef, but as the Los Angeles gang member got more and more tattoos on his hands, arms, neck and shaved head, co-workers became intimidated and he was fired.
Tattoos are just one of the things that make it extremely hard for gang members and former gang members to get jobs, even years after they have left gangs. Not to mention criminal records, a lack of legitimate job experience (the underground economy doesn't look so good on a resume) and post-traumatic stress that makes them ever-suspicious and hyper-vigilant, interfering with regular social interactions.
When Moreno walked out of Lancaster state prison in California last year at age 32 after a decade in and out of jail and prison, he vowed to never go back behind bars. He knew he would need a job to start a new life. Luckily, he was able to turn to Homeboy Industries, a hive of entrepreneurial and social service activity in downtown Los Angeles, founded in 1988 by a priest named Greg Boyle.
Homeboy Industries employs former gang members — who are under zero tolerance drug and gang policies — working as drug and domestic violence counselors, chefs, bakers, mentors, printers, silk-screeners and other positions in their cluster of commercial enterprises. The organization also offers free literacy and other classes, training in solar panel installation, tattoo removal and other services to help them enter the job world.
Employees describe it as the perfect workplace, with strict rules but also a complete range of supportive services including mental and physical health care. Employees can bring children to work in a pinch, and they are paid for the days they need to miss work to visit parole officers or do other things to keep their lives on track. Chronic tardiness can result in suspension or firing, but first a counselor will try to find out what is at the root of the problem.
"Maybe Grandma lost a leg to diabetes and you have to help her wash before you come in to work," says Fabian ​"Spade" Debora, another ex-gang member who now works as a certified drug counselor.
At its height, Homeboy Industries employed more than 400 former gang members and at-risk young people. In May more than 300 were laid off, with Boyle acknowledging publicly that their ambitions had surpassed the reality of their business model and philanthropic donations. Ironically, their commitment to working with former gang members also hurt the organization, as state funding is currently targeted for intervention efforts aimed at active gang members. Staff helped the laid-off employees look for other jobs. Moreno says many were able to find other work thanks to their experience at Homeboy Industries, while others have returned to the streets.
With a rebounding economy and the international attention and respect that the program has long garnered, they are hoping revenue and donations will help them rehire some of the people who were laid off. Along with providing the free social and educational services – many of those programs employing as well as serving former gang members – Homeboy Industries also includes a popular upscale café and bakery, a retail store featuring T‑shirts, tote bags and the like, and an on-site embroidery and printing shop.
Moreno is now working as a domestic violence counselor, and credits Boyle and Homeboy Industries for giving him a second shot at life. He is undergoing the lengthy, painful process of having the tattoos on his head and hands removed. He feels like he got into gangs to gain acceptance from his peers, but he finally feels like he can be proud of a life and accomplishments outside gangs.
"I'm like a sponge, I soak up so much information, and I know whatever I get into I'll make it to the top," he says, wearing a Homeboy Industries T‑shirt that says ​"Jobs Not Jails."
Likewise, Debora credits Boyle and Homeboy Industries with making it possible for him to turn his life around, after decades in the grips of gang life and drug addiction. His family moved to the local housing projects from El Paso when he was five, and his father worked construction.
But his father ​"felt like less of a man because his dreams didn't turn out as he'd hoped," Debora said.
So when Debora was seven, his father took to trafficking heroin from Juarez, Mexico – and involved his young son in the business. The boy would play basketball at the park, his clothes stuffed with heroin inside balloons, the color of balloon indicating the quantity. As his father was making deals, he'd call his son over. Debora watched his once happy family spiral into a nightmare of drugs and domestic abuse. His only refuge from the turmoil was art. But when a Catholic school teacher forbid him from drawing and ripped one of his drawings in half, he snapped, threw a desk at the teacher and was kicked out of school.
He first met Boyle at this point. Rather than berating him for drawing, Boyle asked him for drawings about his life. More than 15 years later, after years of methamphetamine addiction, gang life and putting his mother through hell, he feels he's finally symbolically and literally completed Boyle's long-ago assignment.
He has painted many murals around Los Angeles, and his art has been exhibited around the country and even in Rome. Both Moreno and Debora say that the lack of jobs and opportunities for young men like themselves and Debora's father played a major role in their descent into the urban underworld.
"If you knew there was something else out there for you, it would be much easier to leave" this life, says Moreno.
Their jobs at Homeboy Industries have been their lifeline out of gangs and drugs. But especially in light of the massive lay-offs, it is clear that Homeboy Industries or other institutions that exist thanks largely to the creativity and dedication of individuals like Boyle and to donations cannot come near meeting the needs of all those like Moreno and Debora.
Nevertheless, they hope Homeboy Industries and their own experiences can provide a model and also a window into a world many try to ignore, showing just how dire the need is for a more equitable economy. As a popular Homeboy Industries T‑shirt says, ​"Nothing stops a bullet like a job."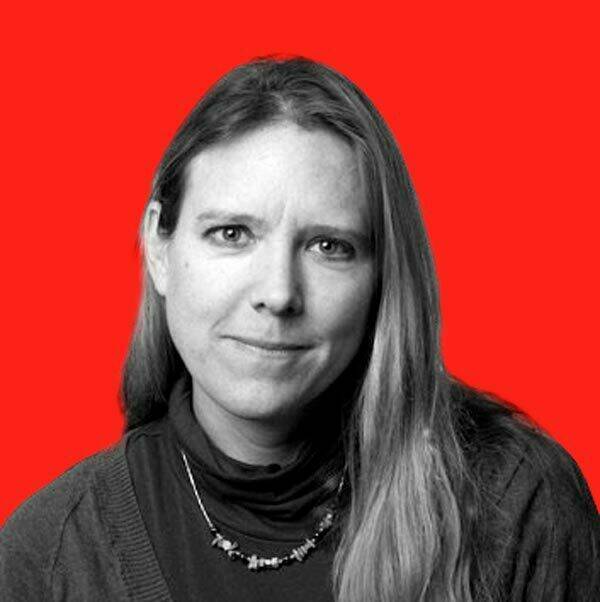 Kari Lydersen
is a Chicago-based reporter, author and journalism instructor, leading the Social Justice
&
amp; Investigative specialization in the graduate program at Northwestern University. She is the author of Mayor
1
%: Rahm Emanuel and the Rise of Chicago's
99
%.