How A Few Harm All
Police abuse may arise from just a few "bad apples," but if left unpunished, it rots the entire instititution.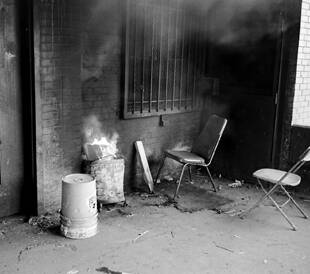 The fol­low­ing is an excerpt from ​"Kick­ing the Pigeon," a 17-part series on police abus­es by Jamie Kal­ven, a jour­nal­ist who for more than a decade immersed him­self in the life of the State­way Gar­dens pub­lic hous­ing devel­op­ment on the South Side of Chica­go. Orig­i­nal­ly post­ed on the Web site The View From The Ground, Kalven's report­ing focus­es on a series of inci­dents that gave rise to a fed­er­al civ­il rights suit against five police offi­cers known on the street as ​"the skull­cap crew," their super­vi­sors and the City of Chica­go. The City respond­ed by serv­ing Kal­ven with a sub­poe­na demand­ing his notes and oth­er writ­ings regard­ing 24 named indi­vid­u­als ​"and/​or any alle­ga­tions of mis­con­duct by any police offi­cer at the State­way Gar­dens." Kal­ven has refused to com­ply with the sub­poe­na. The issue is cur­rent­ly being lit­i­gat­ed in fed­er­al dis­trict court. In seek­ing to jus­ti­fy the breadth of its sub­poe­na, City lawyers have argued that ​"Kick­ing the Pigeon" is ​"a blan­ket indict­ment of vir­tu­al­ly all police offi­cers who have ever worked in pub­lic hous­ing." We read Kalven's work dif­fer­ent­ly, as an inquiry into the vast dam­age – to indi­vid­u­als, com­mu­ni­ties, insti­tu­tions – that ​"a few bad apples" can do, if they are allowed to oper­ate with impuni­ty. –Eds.
"In a democ­ra­cy, there is noth­ing as good as a good police offi­cer, and noth­ing as bad as a bad one." –Susan Herman
The uni­ver­sal defense offered by police depart­ments charged with bru­tal­i­ty – as by gov­ern­ments charged with tor­ture – is that ​"there will always be a few bad apples in any bar­rel." There is a mea­sure of truth in this; it is gen­er­al­ly agreed that the vast pre­pon­der­ance of abuse is com­mit­ted by per­haps five per­cent of officers.
In Chicago's police force of more than 13,000, this is not an insignif­i­cant num­ber. And there is no rea­son to assume the five per­cent is even­ly dis­trib­uted; there may be sec­tions of the police force, such as the pub­lic hous­ing sec­tion, where the per­cent­age is sig­nif­i­cant­ly high­er. Yet the image of ​"a few bad apples" remains a plau­si­ble way of talk­ing about police abuse that keeps vis­i­ble the large major­i­ty of offi­cers who do not com­mit abus­es and can be assumed to deplore such conduct.
And yet, the ​"bad apple" defense is fatal­ly flawed in two respects. It does not com­pre­hend the scale of the harm a hand­ful of vio­lent agents, act­ing with impuni­ty, can do. Nor does it con­vey the impact those few bad apples, if not removed, will have on the barrel.
"We're the real police." Sev­er­al State­way res­i­dents have quot­ed this dec­la­ra­tion by mem­bers of the skull­cap crew. Also: ​"You know what we're capa­ble of." Or alter­na­tive­ly: ​"You have no idea what we're capa­ble of." The impli­ca­tion is clear: We are above the law. Res­i­dents have lit­tle rea­son to ques­tion that asser­tion because, despite numer­ous com­plaints against them, crew mem­bers have con­tin­ued to prey at will on pub­lic hous­ing communities.
Day after day, month after month, year after year, a rogue crew can do a stag­ger­ing amount of dam­age to indi­vid­u­als, fam­i­lies and com­mu­ni­ties. This is espe­cial­ly true in the set­ting of pub­lic hous­ing where an arrest for ​"drug-relat­ed activ­i­ty" – even if the case is dis­missed or yields a ver­dict of ​"not guilty" – can result in the evic­tion of the entire fam­i­ly under HUD's ​"One Strike" policy.
A rogue crew, oper­at­ing with impuni­ty, can also do pro­found, long-last­ing dam­age to the legit­i­ma­cy of gov­ern­ment, alien­at­ing whole pop­u­la­tions from civ­il author­i­ty and engen­der­ing the crim­i­nal and anti-social behav­iors it is sup­pos­ed­ly com­bat­ing. I have seen this dynam­ic at work­ing dur­ing my years at Stateway.
Accord­ing to the social sci­en­tif­ic lit­er­a­ture, chil­dren in inner city neigh­bor­hoods are drawn, in the absence of oth­er mod­els of con­struc­tive activ­i­ty and effec­tive agency, to the charis­mat­ic fig­ure of the drug-deal­ing gang­banger. This analy­sis – wide­ly accept­ed and large­ly unchal­lenged – is refract­ed through jour­nal­is­tic accounts of inner city dys­func­tion. And it coheres tight­ly with a set of pol­i­cy pre­scrip­tions that cen­ter on dis­man­tling inner city neigh­bor­hoods. The only prob­lem is that it is a dan­ger­ous­ly mis­lead­ing half-truth. Far more than the charis­ma of the drug deal­er, it is, in my expe­ri­ence, the ugly face of civ­il author­i­ty that fuels the out­law sol­i­dar­i­ty of the street.
In over a decade spent on the ground at State­way, I have not observed the lure of the gang­banger as a strong pat­tern. Yes, I have seen ado­les­cents drift toward the drug trade, as they begin to explore the world beyond their house­holds. The drug mar­ket­place is a form of activ­i­ty in pub­lic space in their imme­di­ate geog­ra­phy that car­ries the req­ui­site trans­gres­sive charge for ado­les­cent adven­tur­ers. And, yes, I have observed inner city teenagers who are every bit as caught up in media cel­e­bra­tions of thug life as white teenagers in sub­ur­bia or South Dako­ta. But the idea that the bored men stand­ing all day ​"up under the build­ing" in every kind of weath­er are pow­er­ful role mod­els is lost on me. I sim­ply have not seen it.
What I have seen again and again (but not found much reflect­ed in the social sci­en­tif­ic lit­er­a­ture or jour­nal­ism) is the impact on these young peo­ple of being abused by the police and wit­ness­ing oth­ers being abused. A nat­ur­al response to see­ing your friends and neigh­bors beat­en and humil­i­at­ed – I have expe­ri­enced it myself – is to think, ​"If this is the face of author­i­ty, then I'm going to stand with my guys." If I feel this as a mid­dle-aged white guy from the rel­a­tive­ly afflu­ent Hyde Park neigh­bor­hood, imag­ine what a four­teen-year-old boy try­ing to find his legs as a man feels. This dynam­ic pro­duces out­laws not because peo­ple are igno­rant of the wider world or some­how stunt­ed in their devel­op­ment. It is a fun­da­men­tal­ly healthy response: not nec­es­sar­i­ly healthy in where it leads – it can lead to some very dan­ger­ous places – but healthy in that it is ani­mat­ed by a sense of justice.
Again, it is impor­tant to empha­size that most of the abuse is com­mit­ted by a rel­a­tive­ly small num­ber of offi­cers. It does not fol­low, how­ev­er, that the com­pe­tent, respect­ful con­duct of the major­i­ty off­sets the injuries inflict­ed by the abu­sive few. For one thing, we are talk­ing here about the impact of vio­lent crime–about the way the vic­tim of an assault by a per­son with green hair there­after responds with intense fear to green-haired peo­ple. That response is not a mat­ter of choice. It is vis­cer­al – a reflex fired by the victim's nerve end­ings – and it can be the work of a life­time to undo its grip. Why do we imag­ine the dynam­ic is any dif­fer­ent when the dis­tin­guish­ing fea­ture of the threat is a police uni­form (or the de fac­to uni­forms of plain­clothes officers)?
The vio­lence inflict­ed by rogue offi­cers is a betray­al of pub­lic trust: pro­tec­tors reveal them­selves to be preda­tors. And the impact of this vio­lence is great­ly com­pound­ed by the insti­tu­tion­al fail­ure to dis­ci­pline them. Pre­cise­ly because the insti­tu­tion does not hold them account­able for their crimes, rogue offi­cers come to embody the insti­tu­tion for their vic­tims. Again, this is not cor­rect­ed by the good police work of oth­er offi­cers. For the mes­sage con­veyed by the insti­tu­tion­al fail­ure to hold abu­sive offi­cers account­able is that they are indeed ​"the real police."
Imag­ine what it would be like to live under such a cru­el, arbi­trary régime. To be vul­ner­a­ble at any moment to hav­ing vio­lent men invade your home, ver­bal­ly and phys­i­cal­ly abuse you and your chil­dren, then deny it ever hap­pened. To be sub­ject to being false­ly accused by them of crimes you did not com­mit and con­vict­ed on the basis of fab­ri­cat­ed evi­dence. To live from day to day with the fear their pres­ence – the mere sight of them – pro­vokes. ("You know what we're capa­ble of.") To know there is no mean­ing­ful avenue for redress open to you, no respon­sive author­i­ty to which you can appeal for relief.
The impuni­ty of ​"a few bad apples" can cre­ate con­di­tions of life on the ground in aban­doned com­mu­ni­ties that resem­ble those in the most repres­sive police states.
For much of the last year, there was an exhi­bi­tion at the Chica­go His­tor­i­cal Soci­ety of pho­tographs and post­cards tak­en as sou­venirs at lynch­ings. It evoked a world in which unspeak­able vio­lence com­mit­ted by a rel­a­tive hand­ful was an effec­tive tool for oppress­ing an entire pop­u­la­tion, because the insti­tu­tions of gov­ern­ment and the ​"good" peo­ple of the soci­ety acqui­esced, there­by under­writ­ing the impuni­ty of the vio­lent ones. The title of the exhi­bi­tion was unex­pect­ed, pro­found, and on reflec­tion, pre­cise in nam­ing the impact of such impuni­ty on those sub­ject to abuse. It was called With­out Sanc­tu­ary.